Time for another round of great wire service photos. The first two are from Bo Baize, and the rest are from Bruce Menard. Big thanks to both of them.
• Interesting to see that Oklahoma City had a minor league team with an "Okla City" chest insignia. Really like that block-shadowed lettering.
• Remember my recent entry about the children's book about the Little Leaguer with the oversized uniform? I thought of that when I saw this 1957 photo. The tyke is Mike Robertson, nephew of Senators president Cal Griffith.
• Another adorable kid: Babe Herman's five-year-old son in catcher's gear. Love the Dodgers cap that Herman is wearing, too.
•  Another athlete with his sportswear-clad kids: Jim Thorpe and family.
• And one last photo of a kid in uniform: Rod Carew and his 19-month-old daughter. Love the stirrups doubling as stockings!
• Check this out: Walter Johnson in a Dr. Pepper uniform! Meanwhile, what's the beer brand on the jersey at lower-left — Old Milwaukee? Something else?
• This is pretty funny: Don Sutton and Toni Tennille wearing Sutton fan club T-shirts.
• Love this team portrait of the 1935 Cardinals wearing pith helmets. Also, look how the headspoon piping doesn't extend below the chest insignia. I've seen that in Okkonen's mock-ups, but this might be the first time I've seen it in a photo.
• I think we've seen this before, but it never gets old: Big Klu holding up MLB's first-ever NOB typo.
• Here's a rare sight: Hank Greenberg in a Yankees uniform! As you can see in the caption, it was a borrowed uni that he wore for BP prior to a benefit game to promote the sale of war bonds. Looks like the BP session wasn't open to the public — did he really need a full uni?
• As long as baseball has existed, there have been endless attempts to define the strike zone. Love those umpires' suits and short-brimmed caps.
• This is great: Harmon Killebrew hitting a golf ball in his Twins uniform! (Contrary to popular legend, however, Killebrew is not the basis for the silhouetted figure on the PGA logo.)
• Who's that baserunner in the L.A. Angels uni? None other than heavyweight boxing champ Jack Dempsey.
• Pretty easy to figure out that the guy on the right is Dizzy Dean. The gent on the left? That's Bob Feller, wearing a Great Lakes Naval Station baseball uni (which you can get a better view of here, and here's a color photo of a throwback reproduction).
+ + + + +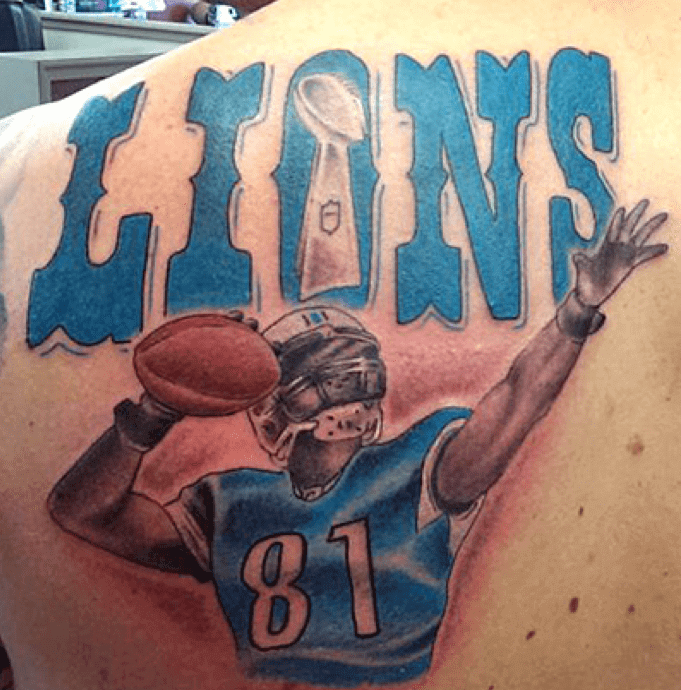 ESPN update: Remember my recent ESPN column on Uni Watch readers with team logo tattoos? We published a follow-up piece yesterday, and some of these tats are pretty elaborate — enjoy.
Attention Chicago-area readers: A Uni Watch party will take place on Saturday, June 7, 6pm, at Black Rock. I won't be there, but lots of Uni Watch luminaries will be in attendance, including intern Mike Chamernik, Comrade Robert Marshall, Jimbo Huening, Marty Hick (coming all the way from St. Looie), and more. Come out and meet your fellow Uni Watch readers!
+ + + + +

'Skins Watch: Simon Moya-Smith, a citizen of the Oglala Lakota Nation who happens to have a master's degree from the Columbia University School of Journalism, has written an excellent piece on why it's demeaning for Native Americans to be depicted as mascots (from Brent Becker).

Baseball News: Two more players wearing the Mizuno belt buckle: Mets pitcher Daisuke Matsuzaka and Tigers slugger Miguel Cabrera. Cabrera the first non-Japanese player to be spotted wearing it (from Mike Engle and Troy Fowler, respectively). … Ryan Connelly's latest DIY project: He combined the Pirates' "P" logo with the skull/crossbones from the hat of the team's old logo character and rendered them in plywood. "I made some Pirates stencils, traced them on. cut them out with my jigsaw, painted them, and put them together." Nice! … Disgraced Mets equipment manager Charlie Samuels, who was booted from the team in 2010 following allegations of his involvement in a memorabilia scam (for which he eventually struck a plea bargain with the D.A.'s office), is shopping a tell-all book proposal. I look forward to the chapter on David Wright's orange undershirt. "¦ For reasons that aren't clear — at least to me — Yasiel Puig was wearing a two-tone jersey the other day (thanks, Phil). … Fun little item on the guy who's known for wearing a Mets bucket hat. … 1939 throwbacks last night for the Salem Red Sox (thanks, Phil). "¦ Great home movie footage from the BP session prior to a 1971 A's/Yanks game (priceless stuff Richard Paloma). "¦ Mississippi State wore seriously ugly "Hail State" uniforms last night (from Joseh Claywell). "¦ Joseph Gerard attended last night's O's/Bucs game in Pittsburgh. "This year, when the opposing team is at bat, the Bucs will show the player on a circus-like background, with a nickname based on the team or the city (e.g., Cardinals are 'Two birds on a bat,' Brewers are 'The Brew Crew,' etc.) and an 'Established in' year based on the team's founding. For the Orioles, they simply use the city's nickname, the Charm City, but interestingly enough acknowledged their Western League origins by giving them 'Established 1894,' when the then-Milwaukee Brewers started playing. I'd have thought they'd acknowledge 1901 (the first year of the AL as a major league) or even 1954 (the team's first year in Baltimore) as the 'Established in' year, especially since the Pirates themselves acknowledge 1887 as their founding year (their first year in the NL), not 1882 (when the team actually started playing in the American Association)." "¦ A fan at last night's Yanks/Cubs game was wearing a Yanks/Cubs frankenjersey (from Mike Mongada). "¦ In that same game, the Cubs logo was coming loose from Starlin Castro's batting helmet (screen shot by Dave Rakowski).

NFL News: Have we ever seen the Steelers using their wordmark on nose bumpers before? (Good spot by Michael Korczynski.) … Some Bills fans aren't too thrilled about all this Jon Bon Jovi talk (from Mark Coale). "¦ These NFL "Ugly Sweaters" will probably end up in this year's Uni Watch holiday gift guide (from Chris Howell).

Hockey News: If you're a Blackhawks fan, you could do a lot worse than to pick up a pair of these team-inspired socks (nice find by Nathan Haas). "¦ Check out the texture on this old Eveleth High School hockey jersey. The base material almost looks like fleece, no?

NBA News: The Hornets will unveil their new uniforms on June 19, with their new court design coming a week after that. Also, you look at the bottom of that sheet, you'll see that they're pulling the old Cleveland Browns move of importing all the stats and records from the original Hornets (who are now the Pelicans). So there'll be no continuity in franchise records — only continuity in team-name records. What do you folks thing of that — yea or nay? (Thanks, Phil.) "¦ The Charlotte Observer has an interactive page featuring NBA team logos through the years. "There are several notable mistakes, though, such as grouping Sonics history with the Thunder and original Hornets history with New Orleans," says Joe Rummage.

Soccer News: New line of Japanese soccer jerseys from Adidas (thanks, Phil). "¦ Also from Phil: New home kit for Barca. "¦ The rest of these are from Trevor Williams: Here's a gallery of Nike World Cup jersey T-shirts. "¦ New kits for Roma and Chelsea. "¦ A new report indicates that soccer gear from Adidas, Nike, and Puma contains toxic materials (thanks, Phil).

Grab Bag: An L.A. Kiss player played with a torn jersey the other night. "It was like that from warm-ups through the end of the game with no attempt at any repairs," says Brian C. … How many stadiums and arenas can you fit inside of Daytona International Speedway? This many (from Alan Borock). … Latest Aussie football team with an indigenous-themed jumper design: the Brisbane Lions (from Leo Strawn Jr.). "¦ Terry Crews wore a full camouflage suit on Jimmy Fallon's show the other night (thanks, Phil). "¦ Why shouldn't a high school invest in a $60 million football stadium? For starters, that's a perverse use of civic resources. But also because the stadium may end up getting closed down because it's unsafe. … Two very promising-looking sock manufacturers came across my radar yesterday: Sock 101 and American Trench (which specializes in trenchcoats but, as you can see in the last link, also has a good line of socks). … NASCAR driver Kyle Larson's No. 42 car will be painted silver for this weekend's race. Additional photos here and here. And remember, today is Wednesday, which means NASCAR will be updating its paint scheme preview page, showing all the new car designs for this weekend.