[Editor's Note: Last Friday's piece on jersey retailing prompted longtime reader Brian Erni to share some thoughts about his jersey-buying habit. "" PL]
By Brian Erni
I can pinpoint exactly what started my jersey collection: a Pirates T-shirt my mom made for me when I was five or six. I had this gold Pirates tee, and my mom took a tube of black T-shirt paint and wrote "Bonds 24" on it. I loved it and wore it nearly every day. This was in the early '90s, before you could really get player-specific gear, especially for an out-of-town guy (Bonds was my favorite player).
Once I had the gold tee, she made me a black one with yellow paint. I loved them, and I loved the idea of the variety. When I played Wiffle ball outside with my dad, I could wear one "on the road" and one "at home."
As I got older (nine or 10) and merchandising ramped up, I slowly started to collect what are now known as shirseys (God, I hate that term). My dad would get them at the now-defunct Herman's Sporting Goods at the Smith Haven Mall. I loved wearing them before and after baseball practice, and I thought it was cool to have items that weren't just the typical Mets or Yankees shirts that you'd see living here on Long Island. I had tons of first basemen (Frank Thomas, Fred McGriff, etc.) because I played first base at the time.
Fast forward to 1998. The first authentic jersey I purchased was the snow white Mets replica, at Shea. For whatever reason, this unlocked something within me. I was determined to collect as many Mets jerseys as I could (a sizable task, given how many different jerseys they wore in the late '90s). It led to some obscure purchases, because soon it wasn't just about complete-ism — it was about a statement, almost as if I had to prove my intelligence on a jersey level: Who else has a Derek Bell authentic jersey? I do, because he tore the cover off the ball in April and May of 2000! Then I moved on to hockey (Anyone want a Tim Connolly or Brad Isbister Islanders jersey? Because I have 'em.)
Honestly, it became crazy. Even after I stopped using "kid money" — i.e., saved-up Christmas or birthday money, summer job money, or begging my parents into submission — I kept it going. When I got my first real job, my first purchase was an authentic Johan Santana jersey. At one point I had over 200 jerseys.
A few things happened, though, that got me unhooked. One, although it sounds trite, is that I got married. I realized part of my jersey obsession was based on wanting to hold onto the past. Islanders jerseys reminded me of going to the Coliseum with my dad on weeknights; Mets jerseys reminded me of their 1999-2000 teams that sort of made me believe anything was possible in baseball. The jersey purchases were steeped in nostalgia and, frankly, habit: A new jersey comes out, mindlessly fork over money. It was like I was competing against myself. When I began looking forward with my life, instead of nostalgically looking back, I realized it's really unfeasible to carve out money in your budget for jersey after jersey.
Secondly, there were the constant cash grabs. Honestly, it was the Stars and Stripes jerseys that did it for me. I saw more and more jerseys come out and thought, "Wow, another $250 just because the script is rendered in camo? These leagues and teams really think I'm an idiot." And by buying the jerseys, I was proving them right! So I stopped.
Third, in October of 2012, I pulled the trigger on a team-centric tattoo: visual elements of Shea Stadium that come together in a half-sleeve. Throwing on a jersey over it seemed like overkill.
Also, Uni Watch had an effect on me. Paul framed this issue quite eloquently when he said the NFL and other leagues send the message that you're not a true fan if you don't have a jersey. That's a load of horseshit. I can easily wear a $20 T-shirt and still be a fan. I can always wear a black V-neck and still be a Mets/Jets/Islanders/Nets fan. Since 2008, I've kind of realized just how much corporations think they own you, and one way I've tried to break that cycle is by curbing mindless spending.
I've now thinned out my collection by about half. I sold many of them via private sales to friends or on eBay (including some wompers like a Mercury Mets jersey, the Mets 2009 fauxback, and a Piazza Marlins jersey). Others I hang onto, either due to sentimental value or because I find myself wearing at night when I watch a game at home.
———
Paul here. My thanks to Brian for sharing his story. Personally, I'm intrigued by his final line — putting on a jersey just to watch a televised game at home? Do lots of you out there really do that?
+ + + + +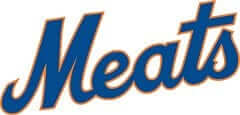 With grilling season right around the corner — not to mention Father's Day — wouldn't it be nice, just hypothetically speaking, if T-shirts like these were available? I'm speaking just theoretically, of course. If you feel similarly, let's discuss.
+ + + + +
IMPORTANT! Today is Purple Amnesty Day — the one day of the year when you can order a purple-inclusive Uni Watch membership card (like Leon Davenport III's U. of Washington basketball treatment, shown at right).
I will grudgingly reluctantly teeth-clenchedly happily accept your purple orders until 11:59pm Eastern tonight. Non-purple membership orders are also welcome today, of course. All orders, purple or otherwise, can be made here.
+ + + + +

Baseball News: Mets pitcher Jacob deGrom made his MLB debut last night and had a very interesting NOB. That made deGrom the second Met this season to wear a lowercase "d" — the first one being, of course, catcher Travis d'Arnaud (who, unfortunately, just went on the DL, otherwise the Mets could've had an all-lowercase-"d" battery last night). And no, that's not an upside-down "P" — the Mets got real lowercase letters this season. It's just that the "d" and the upside-down "P" look pretty much identical. Okay, this is the part where all you start debating whether the use of lowercase letters in NOBs is awesome or awful — have at it! (My thanks to Cork Gaines and Phil for the deGrom screen shot.) "¦ Great article about some old uniforms on display at the Wayne County (Ohio) Historical Society (from Jonathan Daniel). … Reprinted from yesterday's comments: Another Yankee besides Jacoby Ellsbury is wearing a Cool Base jersey: Masahiro Tanaka. … You can see all the Memorial Day G.I. Joe cap/jersey pairings by scrolling down a bit on this page. … The Padres responded to the San Diego wildfires by hanging this jersey in the dugout (from Brady Phelps). … Douglas Byrd High School in North Carolina just renamed its field after a deceased coach. As part of the field's dedication, the umpiring crew wore the coach's number. Interesting to the umps taking part in a memorial gesture tied to a specific team (from Ryan Burns). … Green camo, striped stirrups, and black sannies, all in one photo. That's from the Idaho state baseball tourney (from Grady Harmon). … Oh baby, how great is this: Pregame footage from the 1937 MLB All-Star Game (big thanks to Tom Shieber). … "No pics, but I was watching MLB Network last week and saw Jose Reyes wearing a Spider-Man shirt during BP," says Andre Torres. "C'mon, man, that's ridiculous. No reason for that to make an appearance on the field, even pregame. Team event = team uniform (even if it's a BP one) to me." Hmmm, maybe it's because Reyes has a spider web tattoo. … New uniforms for Western Kentucky (from Josh Claywell). "¦ Hmmm, will the Cubs' Memorial Day cap have a blue brim or a red brim? "I've tried getting to the bottom of it, but I've pretty much been blown off or given stories," says Johnny Cushing. "Based on my phone calls, my best guess is that the blue one is correct." "¦ More G.I. Joe, this time for Alabama (thanks, Phil). "¦ Speaking of G.I. Joe, did you know Armed Forces Weekend is about to start? Actually, it's not — there's no such thing — but the Angels are celebrating it anyway. Why not just declare the whole calendar Armed Forces Year and get it over with? "¦ Old-timey throwbacks two nights ago for Indiana (from Harrison Hamm). "¦ Here's some absolutely awesome home movie footage of the A's Camera Day from 1968 and 1971. Yes, the web page says 1969, not '68, but the uni designs and personnel clearly date the footage to '68. Either way, great stuff — not to be missed! (Big thanks Rich Paloma.)

NFL News: Rut-roh — are the Bills bringing back the neck roll? Sure hope not (as spotted by Dirk Walker). … The Dolphins wore white jerseys for 14 of their 16 games last season, but a little birdie tells me they may be wearing more aqua this season. … New rookie uni number assignments for the Jags and Steelers (thanks, Phil). … Jon Dies was at a friend's house and found this cool-looking NFL board game in the basement. "¦ Several new football helmet models have been given five-star ratings — the highest in the industry (from Michael Princip).

Hockey News: Reader Jean Labbé notes that Rangers winger Carl Hagelin wears his visor tilted upward. Does that really do him any good? Are there any other players in the NHL who wear their visors this way?

Soccer News: Here's a close look at the differences between Nike's authentic and replica soccer jerseys (from Mark Coale). … Here's an interesting site devoted to potential soccer kits of the future (good find by Paul Kos). … New kits for Inter Milan, Ross County, Levski Sofia, Grasshopper Club Zürich, and EC Vitória (all of those from Trevor Williams). … Also from Trevor: While Nike jersey prices are skyrocketing, they have made quality T-shirt jerseys, at least for Brazil, at a much lower price. "¦ New yellow away kit for Liverpool. … "Apparently Chile is not happy with Puma for several reasons," says Ryan Burns. "They claim designs weren't submitted to FIFA on time. Several players said the uniform is too tight and uncomfortable. And lastly, a recent shipment to the national team included about a dozen articles that actually belong to Ghana. Good news is they're still planning to sell an 'authentic' shirt to the public for a mere $180." Ryan gleaned all that from this article, which is in Spanish. There's an admittedly iffy Google translation available here. … Anyone recognize this maker's mark or this maker's mark? If so, please post the answer in the comments — thanks. … Companies pay tons of money for those jersey ads, but can you actually remember the EPL teams' shirt sponsors? (From George Chilvers.) … Iran's soccer federation told its players not to participate in the customary jersey-swap ritual at the World Cup because it's not packing extra jerseys for Brazil (from Yusuke Toyoda).

Grab Bag: Some good Houston sports-themed T-shirts here (from my buddy Rob Walker, who says, "I'm sorely tempted by the home run scoreboard tee"). … As part of its 'Do Something' craft series, The Guardian has made a paper doll of 2013 Tour de France winner Chris Froome (from Sean Clancy). … No photo or video, but Coleman Mullins says, "My grandfather is watching Fox News and they were just discussing advertisements being placed on women's tennis players' chests. Sounded like a bunch of prepubescent boys talking about boobies for the first time." … Also from Coleman: Sports-shaped pancakes! Uniform contracts with public universities are usually public documents, but the Ohio State student newspaper is reporting that the school's new headwear contract with Lids is full of redactions due to "trade secrets." "They're speculating that we will see this practice increase as vendors bid against each other for these types of deals," says Kevin Mueller. … Great question from Brinke: Why is the circle-R trademark symbol in the Levi's logo usually clipped off at the top or at the side? I confess I'd never noticed this before, and now I'm intrigued. … The Flint Tropics live on in the form of this youth travel team from West Virginia. "I wonder how many of those kids have seen the movie, know where Flint is located, or know anything about the '70s," says Brice Wallace). … The state of Ohio is issuing bright yellow license plates to shame DUI offenders. "¦ Good article on the guy who paints the infield grass at Charlotte Motor Speedway (from Dan Tarrant).