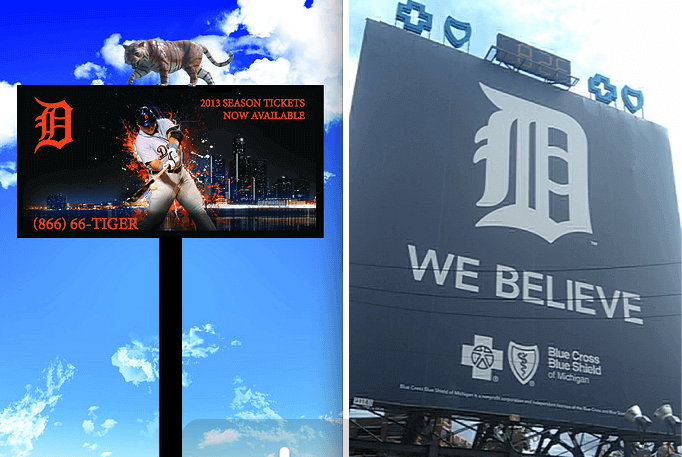 So let's say you're in charge of the Detroit Tigers' billboard projects. Which version of the old English "D" do you put on the billboards — the cap version or the jersey version? The answer, as you can see above, is that it depends. Same goes for team calendars and lots of other applications.
My latest ESPN column takes a closer look at teams that, like the Tigers, have logo inconsistencies. Check it out here. "" Paul
+ + + + +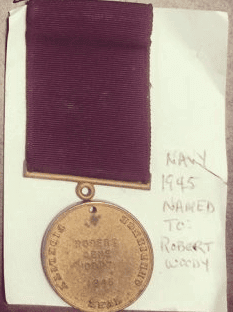 PermaRec update: A bunch of old military medals were recently found in a tree (!), and one of them — the one shown at right — is being returned to the son of the man to whom it was awarded. Full details on Permanent Record.
+ + + + +

'Skins Watch: Very interesting article about the McGill University Redmen. "The team name wasn't originally meant to tie in with aboriginals, then it became tied in, and then they cut those ties by not using aboriginal logos," says Chris Blackstone. "¦ Here's a particularly nasty version of Chief Wahoo that I hadn't seen before (from Bruce Menard).

Baseball News: I've written several times about the Dodgers' red-lettered spring training jerseys. Christina Kollas recently picked up one of those jerseys at a yard sale. Great score! … The Yankees don't use Cool Base jerseys — but Jacoby Ellsbury seems to have one, as you can see from his armpit vents. "What's next, beards?" asks David Sanchez. … Oliver Staleyhas decided to rank all the MLB team names. "¦ Christian Yelich of the Marlins broke his belt during a head-first slide on Monday night (from Andre Torres). "¦ Preparations for the Cubs' next throwback game will include Wrigley Field's marquee being repainted in its original colors. Further info here (from Phil and Steve Goluch). "¦ Mariners CF James Jones says he wears stirrups because long pants don't look good on him. Of course, that only explains why he goes high-cuffed but doesn't really explain why he prefers stirrups over solid socks. Whatever — he looks great (from John Kimmerlein). "¦ The Astros will be wearing Houston Eagles Negro Leagues throwbacks for the Civil Rights game on May 30 (thanks, Phil). "¦ New ads for the video game MLB 14 The Show feature actor Danny McBride wearing a 1914 Brooklyn Dodgers throwback uni. Clever, although it looks like they got the hosiery wrong (from Brayden Ruthart). "¦ Kevin Kleinhans recently visited the Ted Williams Museum and Hitter's Hall Of Fame, which is located within Tropicana Field, and took a bunch of photos. "¦ I was emailing former Yankees PR guy Marty Appel about something when he mentioned this to me: "The uniform Babe Ruth wore for appearances late in his life — the one with the 'NY,' which he never actually wore during his career — was given to him by the costume department when he did Pride of the Yankees. He kept it and wore it when he appeared around the country." "¦ MLB's latest hosiery hero: Rays pitcher David Price who wore striped stirrups last night. Here's a closer look at his blousing (from Phil and Mike Edgerley). "¦ Also from Phil: a rare view of the Dodgers' 1971 shoulder-piped road grays, a one-year style that many folks aren't aware of. "¦ "During Tuesday night's Tigers/Orioles game, Fox Sports Detroit did a brief piece during the game about the 77 home runs at Camden Yards that have reached Eutaw Street and how they each have a baseball medallion commemorating the blast," says Jeff Sak. "It turns out that the Tigers' Mickey Tettleton hit the first one in 1992. They showed his medallion and as you can see, they spelled 'Mickey' incorrectly." "¦ Giants pitcher Sergio Romo caught the first pitch, thrown by a local politician, prior to Monday night's game. Romo normally goes high-cuffed but he was pajama-pantsed for that first pitch. In fact, those pants were so long that it's hard to imagine him cuffing them up to his usual game height. Does he switch to a different pair of pants when he goes down to the 'pen? (From Timothy Appel.)

NFL News: New 20th-season patch for the Jaguars. It'll be worn on the opposite side of the jersey from the "Jags" patch. "¦ The Jets' mismatched shades of green are getting out of hand (from Gordon Blau). … New rookie uni number assignments for the Seahawks and 49ers (from Kyle Hanks and Brinke, respectively). … Never seen this neat little NFL helmet bottle openers before. Click on the thumbnails to appreciate them in all their niftiness (nice find by Bruce Menard). "¦ More uni-numerical news: New Jets QB Tajh Boyd is listed as No. 3 on the roster but has No. 9 on his locker (good spot by Patrick Sesty). "¦ Still more rookie uni numbers, this time for the Bucs, Bears, 'Skins, Dolphins, and Panthers (Phil again).

College Football News: If Texas A&M ever wants to call its stadium "The House That Johnny Built," they may have to pay Johnny Manziel (thanks, Phil). "¦ Also from Phil: Here's a sneak peek at East Carolina's new jersey design. "¦ Reprinted from yesterday's comments: The visitors' locker room at the U. of Iowa's stadium is painted pink, and the school's student newspaper thinks it's time to change that. "¦ New solid-red uni combo for Cincinnati (Phil again).

Hockey News: Reader John O'Leary sent along a bunch of items relating to the 1986 NHL All-Star Game, which took place in Hartford. "¦ Good piece on the L.A. Kings' equipment manager (from Austin Glover). "¦ Broadcasters during the NHL playoffs have been wearing a lapel pins that apparently show the blade of a stick and a puck (from Alan Kreit).

NBA News: Big research project about to be undertaken by Mark Roberts, who writes: "I've been gathering information on the shoes NBA players have worn historically, hoping to create some kind of shoe/player Wikipedia that will detail who wore which individual brand during any given season (e.g., listing of every player who wore adidas during the 2004-2005 season), information on individual shoes/models (e.g., an entry on the Air Jordan 8, and every player who wore that shoe during the course of their career), and entries for every player in NBA history (e.g., being able to search for Gary Payton and having every shoe he's known to have worn, sorted by season, brand, and model). Right now I'm looking for additional researchers and collaborators with a fair amount of knowledge regarding this subject area." If you'd like to help Mark out, contact him here.

Soccer News: New jersey for the Baltimore Bohemians (thanks, Phil). "¦ Also from Phil: Peru has new uniforms for friendlies against England and Switzerland. "¦ Here's your regularly scheduled Herculean data dump from Trevor Williams (deep breath): Lots of English clubs with new kits, including Crystal Palace, Doncaster Rovers, Bradford City, Gillingham, and Crewe Alexandra. Also lots of new German kits, for Schalke, FSV Mainz, Hertha BSC Berlin, SC Paderborn, FSV Frankfurt, and FC Ingolstadt. Also new French kits, for Olympique Marseille, Bordeaux, and EA Guingamp. And finally, new kits for three other European clubs — Sevilla, Lazio, and Motherwell. "¦ "FIFA's uniform assignments for the World Cup are trickling out," says Yusuke Toyoda. "Brazil will wear its traditional yellow throughout the group stage, while England will wear all-white in all three group matches and both Korea and Iran will wear white, red, then white again." "¦ Also from Yusuke: New 150th-anniversary jersey for Wrexham. Wow, who knew there was jersey advertising and Nike logos 150 years ago? "¦ "There's discontent amongst West Brom fans, as the team had elected to ditch the traditional navy blue/white stripes next season in favor of a New York Yankees-esque look," says Simon Harrow. "This has happened in recent years with Southampton going for all red instead of red/white stripes, and Cardiff City (nickname: the Bluebirds) changing to red beacuse it's considered lucky in owner Vincent Tan's native Malaysia."

Grab Bag: I love this slideshow of old Irish handball courts. "¦ Men's shorts are getting shorter (from Yusuke Toyoda). "¦ New volleyball uniforms for the Japanese men's team (from Jeremy Brahm). "¦ Tennis pros, with an eye toward Wimbledon, are switching to high-tech racquets (thanks, Brinke). "¦ New logo for the motorcycle company Royal Enfield.