My brother and I spent yesterday with our Mom, so I didn't see any of MLB's annual pink-ification. Judging by the photos I saw when I got home last night, the best move of the day came from Bosox catcher A.J. Pierzynski, who painted his fingernails pink (or maybe just used a pink set of those press-on fingernail sticker thingies). Can't say I'm as fond of his pink sunglasses, but whaddaya gonna do.
Pretty much everyone and everything else was pink — the now-familiar assortment of pink jersey ribbons, pink wristbands, pink bats, pink-laced balls, pink-trimmed bases, pink shoes, pink arm sleeves, pink Tooth Fairy necklaces, you name it. Here are some photos to give you an idea: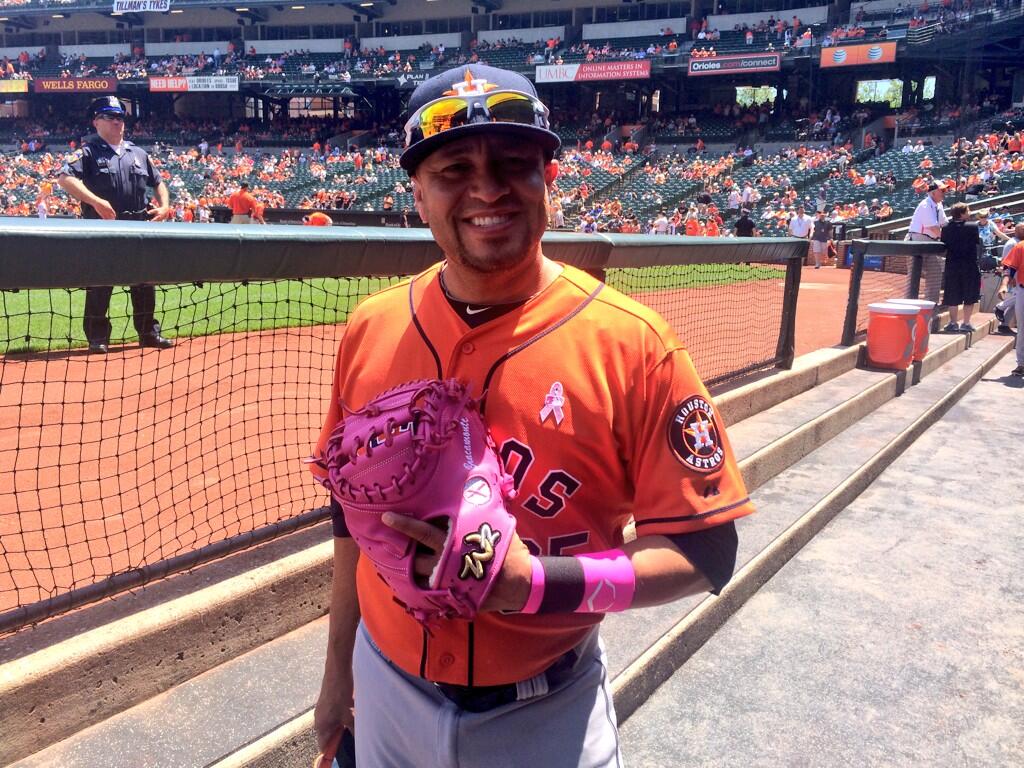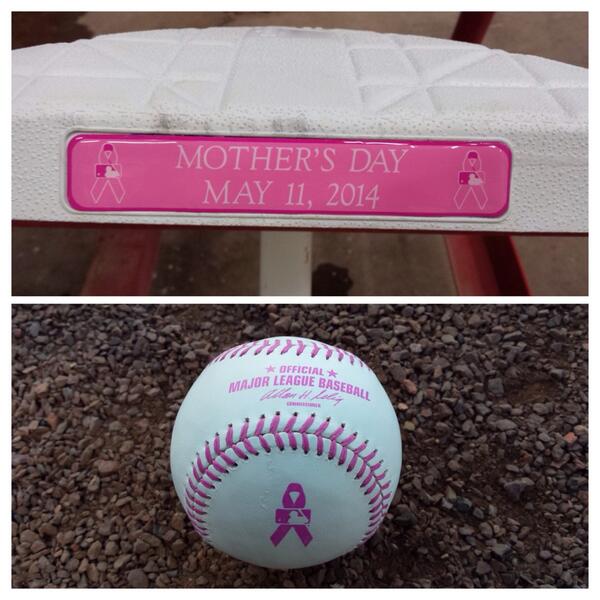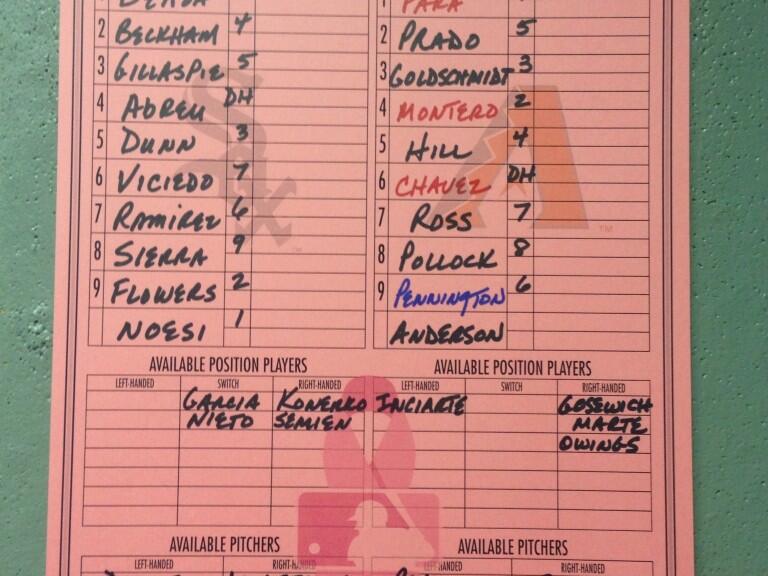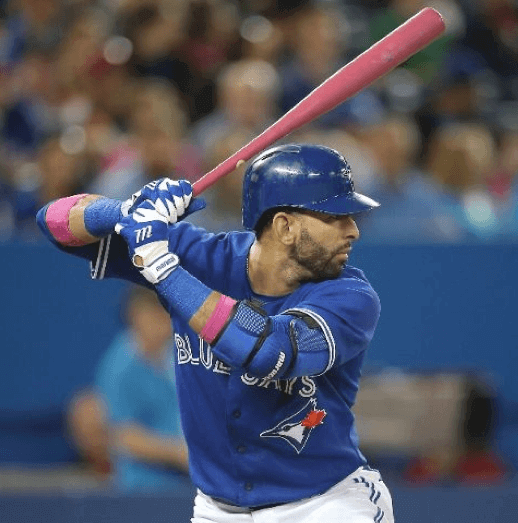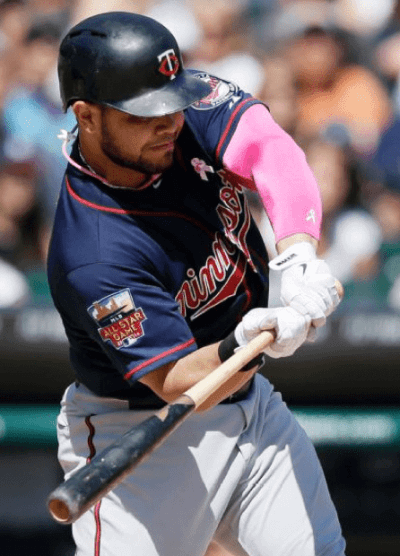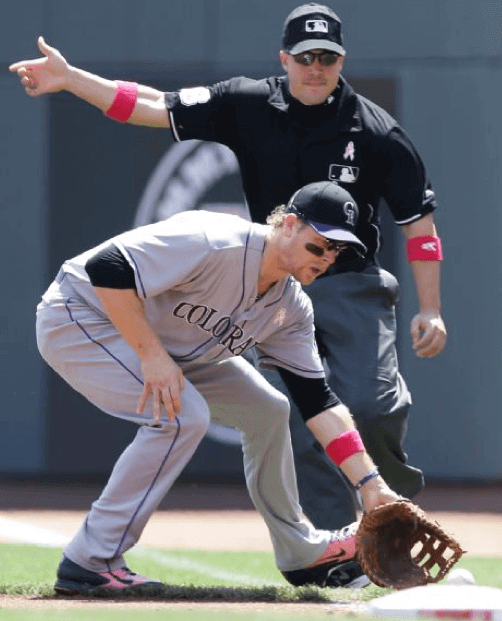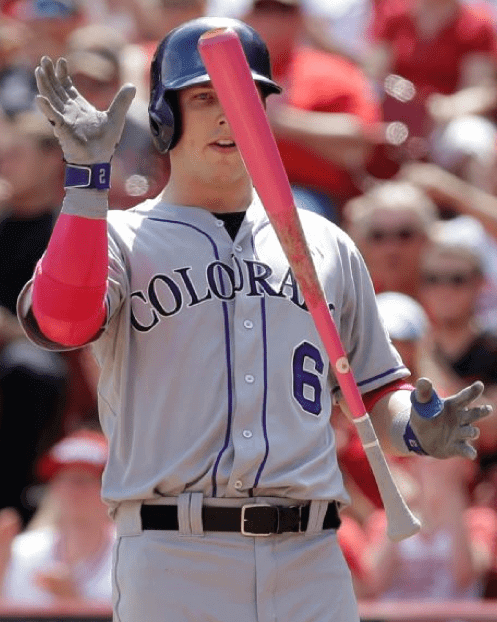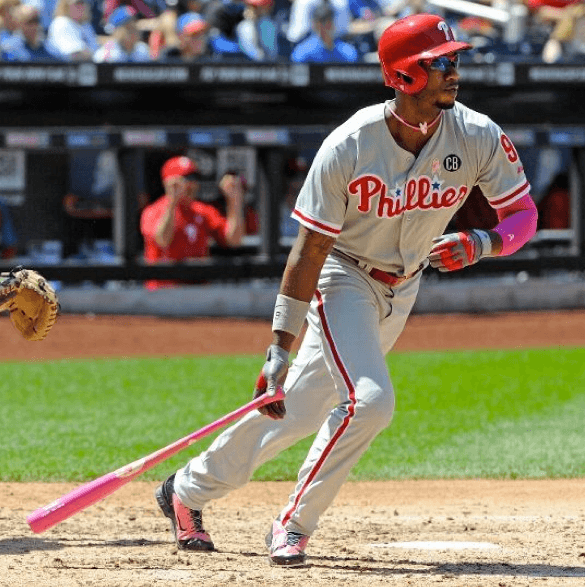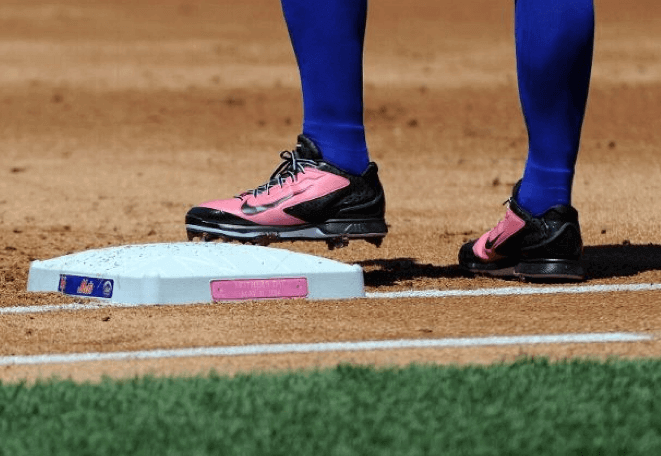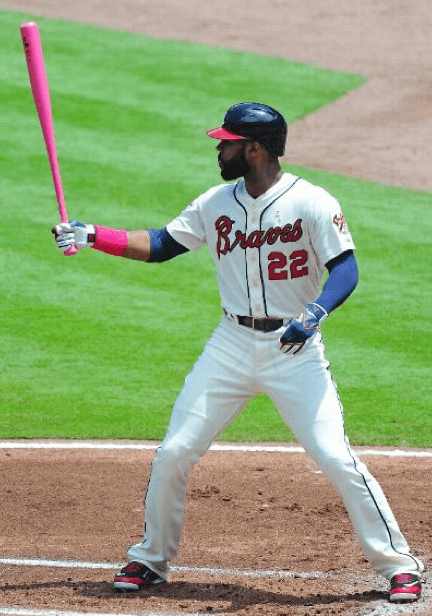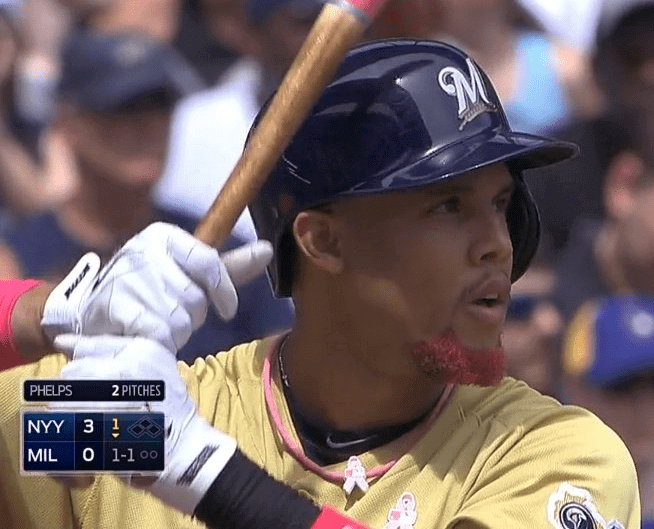 That last shot is Brewers outfielder Carlos Gomez, who dyed his beard pink for the occasion.
Cardinals pitcher Carlos Martinez had a slight glitch, as his pink ribbon was initially upside-down, but then it was corrected the following inning:
Also: Several mascots had their moms on hand. I particularly like that Bernie Brewer's mom has a mustache.
Also-also: In case you missed it in Phil's post yesterday, the White Sox jumped the line on the whole pink thing by wearing pink caps on Saturday. Further details here.
Finally, one storyline we missed from last week: Remember all the bullshit last year about MLB not letting players use pink bats unless they were Louisville Sluggers? In a welcome move, that restriction was dropped this time around. Good job.
(Big thanks to Jordan Caramack, Dave Garabedian, James Mellett, Jared VanderWeele, and of course Phil for their contributions to this section.)
+ + + + +
Membership reminder: Remember, people, Purple Amnesty Day — the only day of the year when you can order a membership card with a purple-inclusive design — is this Friday, May 16. So if you want a purple card (like Nicholas Popczun's Raptors treatment, shown at right), be sure to place your order that day.
Of course, you can order non-purple designs anytime by signing up here.
+ + + + +

'Skins Watch: California Congressman Henry Waxman, drawing parallels to the Donald Sterling situation, has indicated that he wants the House Energy and Commerce Committee to hold a hearing on the 'Skins name.

Baseball News: What's worse than a team in pink camo? Two teams in pink camo. That's Troy High School's Flying Horses and LaSalle Institute's Cadets, both of Troy, New York (from Joe Makowiec). … MLB 14 The Show shows the Indians wearing red helmets with their home alternate uniforms. "I don't ever remember seeing that in real life," says Brandon Bush). … Prince Fielder has been using Elvis Andrus's bat (screen shot by Dave Curs). … Here's something you don't often see: orange vs. orange. That's the Coldwater Cavaliers and Minster Wildcats, both from Ohio (from Razz). … The Lehigh Valley IronPigs went solid-black the other day (Phil again). … You already knew this, but the Yankees are running out of single-digit numbers (thanks, Brinke). "¦ Bruce Genther made some nice mock-ups of the very nice uniforms worn in the 1930s by the minor league Baltimore Orioles. "¦ SI's recent cover photo of Mike Trout showed him wearing Angels-branded eye black (from Adán Encinas). "¦ The bases in yesterday's Yanks/Brewers game in Milwaukee had the "Derek Jeter Final Season" logo (thanks, Phil). "¦ The Mets' embarrassing "True New Yorkers" email, which you've probably heard about, has now led to a line of "True New Yorkers" merch, which is even more embarrassing. It doesn't even make any sense, because most of the Mets' fan base is in the suburbs. "¦ Nice powder blue stirrups for UCLA (from Alex Allen). "¦ The Indians' pitchers have bowling uniforms (from Joanna Zwiep). "¦ Also from Joanna: Reds reliever Aroldis Chapman was wearing an undershirt with "Pro Combat" printed on the back collar yesterday.

NFL News: Here's a slideshow of NFL draft picks posing for photos with their new teams' jerseys (thanks, Phil). … Here's a video on the making of Jimmie Ward's 49ers jersey (thanks, Brinke). … When the Texans had Jadaveon Clowney pose for photos with his new No. 90 jersey, it looks like they used an upside-down "M" instead of a "W." Compare that to his NOB on draft night. "¦ Giants first rounder Odell Beckham Jr.'s jersey on draft night had JrOB, with a period. At LSU he had JrOB without the period.

Hockey News: We all know Criag MacTavish was the last NHL player to go without a helmet. But I didn't know he did wear a helmet at one point, as you can see in this shot from his time with the Bruins (from Tris Wykes). "¦ Blackhawks goalie Corey Crawford was wearing his black Stadium Series socks for last night's game against the Wild (good spot by Mike Engle).

NBA News: Who's that really tall bellhop? None other than Wilt Chamberlain, who spent a summer working at Kutsher's Hotel, a Borscht Belt resort (nice find by Alan Kreit).

Soccer News: There's a new book about soccer jerseys (from Mark Coale). … "Inter Milan wore this sleeve patch in honor of Javier Zanetti's last home game of his career," says Andy Dunbar. "Was strange to see a team wear a patch for a current player. And even weirder to see Zanetti wear his own patch. He also wore a special captain's arm band that said 'Zanetti 4 Ever' (and also featured the names of all his teammates), which was also spelled out on his back." "¦ Speaking of Zanetti and armbands, here are all the armbands he's worn over the years (from Yusuke Toyoda). "¦ West Ham United went BFBS yesterday (from Laurence Holland). "¦ Two more from Yusuke Toyoda: AC Milan was scheduled to wear its new yellow and green third kit against Atalanta this weekend but was told by officials to wear its all-white away kit instead, and Newcastle United went GFGS, wearing next season's away kit against Liverpool.

Grab Bag: "Was flying out of Boston Logan on Friday and spotted a plane sporting the defunct America West livery," says Mike Delia. "After inquiring with US Airways (which bought America West), I was told they fly a fleet of 'heritage' or throwback planes to honor their history." … the Brisbane Lions wore 1987 Brisbane Bears throwback jumpers for their Round 8 match against the Essendon Bombers (from Graham Clayton). "¦ Short item about flight attendant uniforms (from Leo Thornton). "¦ Johns Hopkins lacrosse wore a throwback logo helmet decal for their first-round game in the NCAA tourney (from Jared Buccola). "¦ Good piece on wigs currently used on Broadway. "¦ Filmmaker Morgan Spurlock (Super-Size Me) has a West Virginia throwback helmet in his office.