Odd move yesterday by the Hawks, who chose the middle of a playoff series as the time to release a new secondary logo. It's unusual timing, but in this case the new logo is actually an updated version of their old Pac-Man design. You can compare the new version to the original, which was used from 1972 to 1995, above.
According to this press release, the new logo will "officially launch" this summer and yesterday's move was merely a "sneak peek," but that's just a shorter way of saying, "The merch with the new logo isn't available yet." (It'll supposedly be ready this summer.) The did use the new design on a T-shirt that was given out to all fans at last night's game against the Pacers, however.
The Hawks have one of the blandest, most characterless visual programs in all of pro sports, so I welcome Pac-Man's return, although it's depressing to see that they had to do the standard furrowed-brow thing on the updated version. Sigh. On the plus side, they posted a a good logo timeline on their website.
A personal anecdote: I grew up in the 1970s and had no idea — like, zero idea — that the original version of this logo included a hawk's head. I just saw it as a giant mouth taking a bite out of something. The Pac-Man video game didn't yet exist (it was released in 1980), so I couldn't make that connection between the game and the logo — I just thought of it as one of those inscrutable grown-up things that must have made sense to someone at some point. Like, I didn't understand why CBS used an eyeball design as its logo, or why Ralston-Purina used a checkerboard pattern, and I didn't question those things either — they were just The Way Things Were. I figured that was also the explanation for why the Hawks had a giant mouth for a logo.
I don't recall when I finally saw the logo as it was meant to be seen — while I was in college, maybe? — but it was definitely one of those "mind blown" moments. I also felt rather stupid. But when I learned that the logo had been colloquially dubbed the "Pac-Man logo," I felt somewhat vindicated, since that obviously meant other people had interpreted the logo the same way I had.
Even today, my natural instinct is to see the giant mouth, and I have to fight to see the hawk. Sometimes I don't bother to fight — I just enjoy seeing the mouth.
+ + + + +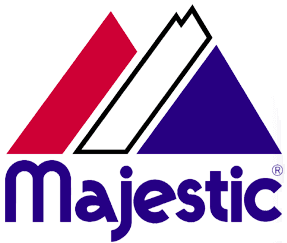 Coming soon "" Eat Food for Dinner Night: In a scenario that sounds like something out of The Onion or maybe Idiocracy but is, sadly, all too real, one of the more absurd promotions in recent memory began unfolding yesterday, as six MLB teams — the Braves, Rockies, Phillies, Astros, Red Sox, and Yankees (the latter two of whom you'd think would know better) — teamed up with with Majestic to encourage fans to wear their jerseys to the ballpark, and also to school or to work.
Hey, what an innovative idea! As you know, nobody ever wears a jersey to the ballpark, or anywhere else, so this will really break some new ground and let people show their team pride in a brand-new way (that just happens to push the sale of $200 polyester shirts). Exciting!
The Mets will be pulling the same stunt on May 25. Which is a Sunday. Which means the "work and school" thing won't apply. (Maybe they want you to wear your jersey to church.) No word on which of the Mets' 17 jerseys fans are supposed to wear, but I suppose Majestic doesn't really care as long as you buy a jersey for the occasion. Honestly, how can these people even stand to look at themselves in the mirror?
Now, I don't want to get too crazy with these radical marketing concepts — after all, Majestic and MLB are the professionals in that area, not me — but here's an idea I offer at no extra charge: Maybe next time they can encourage fans to wear a baseball cap. That would really be a pioneering move.
(Thanks to reader Paul Ricciardi for bringing this hokum to my attention.)
+ + + + +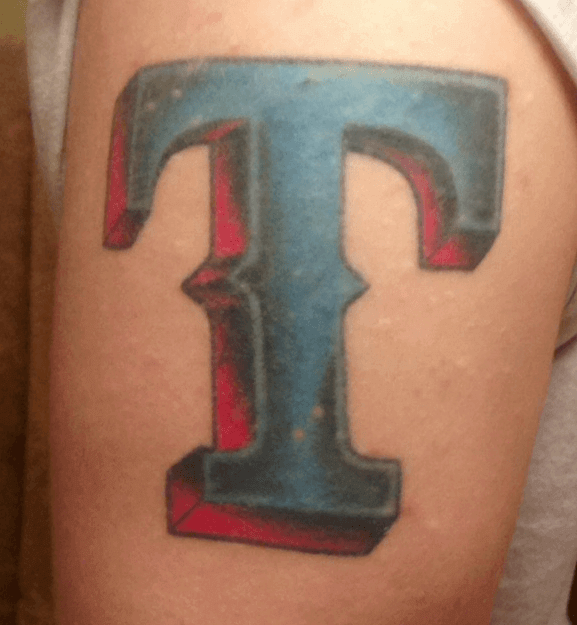 Rat-a-tat-tat: We had lots of chatter in yesterday's comments regarding team logo tattoos. Many of you said you've gotten logo tats, but only a couple of you sent in photographic proof (including reader Ryan Campbell, whose Texas Rangers tat is shown at right). If you've gotten some team-logo ink, please send a photo this-a-way and I'll feature it in a future blog post. Thanks.
ESPN reminder: In case you missed it yesterday, my latest ESPN column is about MLB uniform first and lasts.
One follow-up on that column: At one point I linked to this photo of the White Sox announcing the MLB's first-ever NOBs. That prompted the following from reader Jeff Sak:
Apparently that is a Luis Aparicio jersey (he is the only "Aparicio" to have ever played in the majors), but it shows No. 33. Aparacio wore No. 11 for all 18 seasons of his career and it has been retired by the White Sox in his honor. What's more, no one wore 33 for the White Sox from 1954 to 1977. Seems like a very odd picture.
Excellent eye, Jeff — thanks!
+ + + + +
Culinary Corner: Tomorrow is the first Saturday of May, which means it's time for the Kentucky Derby. The New Girl and I will be attending a party in Connecticut (the hostess used to live in Louisville, so the party has Kentucky cred), and I'll be bringing the dish that I always prepare on Derby Day — a derby pie.
Technically speaking, you're not supposed to use the term "derby pie," because that's a registered trademark of some annoying people in Kentucky who insist that they own the name and love to send their lawyers after anyone who thinks otherwise. (They even sued their own chocolate chip supplier, Nestlé, for printing a "Tollhouse Derby Pie" recipe on the chip package.) So you'll often see wink-wink names like Triple Crown pie, race day pie, winner's circle pie, and so on. But screw all of that — derby pie belongs to the people. It's also really easy to make. Here's how to do it:
If you know how to make pie crust, make some dough and position it in a 9-inch pie pan; if you don't know how or just can't be bothered, get yourself a frozen 9-inch pie shell.
Set your oven to 350 degrees. While it's heating up, get a big mixing bowl and beat together four eggs, a cup of light corn syrup, 3/4 cup of light brown sugar. and 1/3 cup of melted butter. Then add 3 tablespoons of decent bourbon (or maybe a smidge more than that, if you're so inclined), a tablespoon of vanilla extract, a tablespoon of flour, 6 ounces of chocolate chips, and a cup of chopped walnuts.
Mix all of that together, pour it into the pie dough or frozen shell, and pop it into the oven for an hour. It'll puff up high like a soufflé, but it'll settle back down while it cools, which you should allow it to do for an hour or so.
It's standard to serve each slice with a dollop of whipped cream, although I frankly think that's unnecessary — the pie is rich enough on its own. Less traditional and even less necessary, but nonetheless delicious: this bourbon sauce, which is pretty much the bomb.
Trust me, there won't be any leftovers.
+ + + + +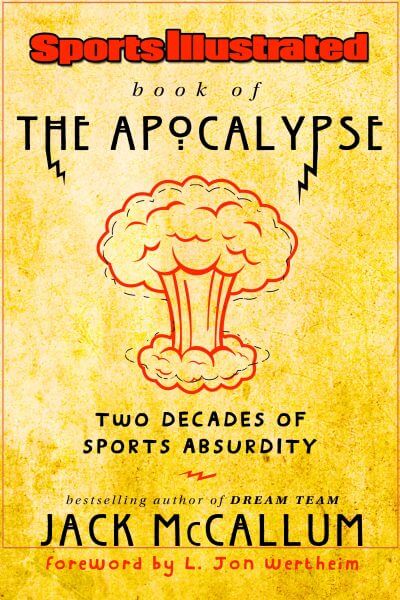 Apocalyptic fun: In case you missed it earlier this week, we're running another e-book promotion, and this one is for a book that should be a no-brainer for most of you: The Sports Illustrated Book of the Apocalypse: Two Decades of Sports Absurdity, which is a compendium of SI's long-running "Signs of the Apocalypse" series. It's basically an encyclopedia of Donald Sterling-esque stupidity from the sports world, presented in a very entertaining fashion.
Our friends at Diversion Books are making the e-version of the book available to Uni Watch readers for the exclusive low price of $1.99. That price will only be good for this week — don't miss.
+ + + + +

'Skins Watch: Here's a really funny video that connects the dots between the Donald Sterling situation and the 'Skins (from Jake Kessler). … Plenty of other folks appear to be connecting those same dots (from Eric Wright). … Flaming Lips drummer Kliph Scurlock was sacked from the band last month, reportedly because he criticized fellow rocker Christina Fallin — who also happens to be Oklahoma Gov. Mary Fallin's daughter — for wearing a Native American headdress.

Baseball News: Good article on the Royals' seamstress (thanks, Phil). "¦ Also from Phil: Check out this great photo of an old Colt Stadium usherette. … One of the White Sox's promotions this summer will feature a throwback Sox cap in U. o Illinois colors (from Kevin Tamosaitis). … There's a "Name the team" contest for the new minor league team in Biloxi, Mississippi (from Alan Filipczak). … Florida State is going G.I. Joe. … Latest team to do the Star Wars thing: the Syracuse Chiefs (Phil again). … Paul Ricciardi notes that the Lids is selling a "2014 On Field" Phillies throwback cap. "Their promotional schedule shows a 1960s Retro Night on June 13, so I would guess that's when it'll be worn," he says. … In a related item, the Cubs' next throwback game will be this Sunday night against the Cardinals. Both teams will be wearing 1929 uniforms, which means this for the Cubbies and this for the Redbirds. Further details on giveaways and such here. … New 10,000th-win logo for the Dodgers. "¦ "My friend's five-year-old son loves baseball, so he painted stripes on his backyard to create a miniature diamond," says Brian Viafore. "Love the outfield configuration!" "¦ Check out this old photo of a young Derek Jeter wearing what appears to be a very old cap, uni, and glove. Wonder what that was about (from Jamie Burditt). "¦ You know how BP pitchers will stand behind a screen? Jerry Wolper found a 1928 article about an early (or maybe the first) example of that.

NFL News: Looks like there are two different templates for the NFL Draft caps (from Eric Wright). … Duane Bank recently took a tour of Soldier Field and saw these uni- and equipment-related posters in the locker room.

College Football News: Here's another team-branded AR-15 rifle, this time for Texas A&M. By odd coincidence, the wife of Dolphins QB Ryan Tannehill — who happens to have attended aTm — left an AR-15 in a rental car a few months ago (from John Parker and David Wilson, respectively). … Oregon's uniforms for the spring game will have — surprise! — a military theme. Nike and their clients can pander all they want, but the fact remains: Not all soldiers are heroes, not all heroes are soldiers.

NBA News: Here are the four finalists for the new Grand Rapids D-League team's name. "As a Michigander, I find these choices exceptionally boring, especially when you compare them to some of the minor league names around the state: Grand Rapids Griffins, West Michigan Whitecaps, Lansing Lugnuts," says Jay Winkler. … There's an app out there called Band of the Day. Yeserday they featured an Icelandic band called Retro Stefson, whose members were shown wearing old NBA gear (from Chris Edwards).

College Hoops News: I like this: The Johnson Bible College hoops team used to be called the Preachers. "The church that I attended in the early '80s was loosely affiliated with JBC, and one of the coaches tried to recruit me while I was there for a youth event," says Kevin Crothers. "That's how I ended up with this old jersey." The school is now known as Johnson University, and its teams are called the Royals. … New court design for Washington.

Soccer News: New kits for Newcastle United and Werder Bremen (from Trevor Williams). "¦ Also from Trevor: This special FC Barcelona shirt features a farewell message for coach Tito Vilanova, who passed away on April 25.

Grab Bag: Another team-wide uni protest, of sorts: After the 1992 U.S. Olympic volleyball team lost a match due to a controversial protest that involved shaven-headed teammate Bob Samuelson, the American players shaved their heads in solidarity. Further info here (from Wilkins Kearney). "¦ The U. of Minnesota hockey team may stop using the wider, Olympic-style ice sheet (from Tris Wykes). … Here's another piece about how the Army's new hairstyle regulations affect black women in the service. … Reprinted from yesterday's comments: Snooker player Dennis Taylor used to wear glasses with upward-extended lenses to help him line up long shots. … Here are the first logos used by Apple, Microsoft, and other tech companies (thanks, Brinke). … The North Melbourne Kangaroos (Aussie football) have an indigenous-patterned jumper. "First thing I thought of was the Raptor's claw logo," says Leo Strawn Jr. … "It's not unusual for pro cyclists to use products made by companies other than their official sponsors," says Sean Clancy. "What is unusual, though, is when an official sponsor helps a cyclist cover up the non-sponsored product. That's the case with Rui Costa's shoes. The world champ rides for Lampre-Merida, a team sponsored by shoe manufacturer Sidi. Costa's shoes, at first glance, appear to be Sidi Wires, but a closer inspection reveals that they are just covered in a Sidi wrap." … Will Kanye West help Adidas's sneaker sales? Beats me, but here's an article about it (from Tommy Turner). … Pinkwashing is coming to the Indy 500 (from Chris Cruz). … A Kentucky National Guardsman who wants to join the U.S. Army is suing ovr the military's new anti-tattoo rules.