Photos taken yesterday; click to enlarge
When people hear that I work from home, they often say, "So you're all by yourself, all day long? That sounds pretty lonely." But as I then explain to them, I'm not by myself — I share Uni Watch HQ with mascots Caitlin (left) and Tucker, who provide plenty of fun, affection, and purring every day. And no lie, just as I was typing this sentence, Tucker walked over and hopped up in my lap. Good kitty!
Caitlin and Tucker turn nine years old today. That's about 53 in human years, but they don't look or act their age (something we have in common). They're the best cats in the uni-verse and the universe, and I can't imagine life without them. They'll be getting lots of catnip and other birthday treats today. Meow! "" Paul
+ + + + +
A Film Fit for Uni Watching: I knocked off work a bit early yesterday and caught a late-afternoon screning of the new Wes Anderson film, The Grand Budapest Hotel. It's enjoyable in that now-familiar Wes Anderson way (I don't love all his films but I do tend to like most of them), but what really struck me was that it's that rarest of cinematic creatures: a great uniform movie.
Seriously, the film is one great set of uniforms after another. One at a time:
1. Hotel uniforms. The movie is set in an early-1930s hotel, back when being part of the uniformed service class still meant something, and the unis worn by the concierge, the lobby boy, the elevator operator, and so on are all so beautifully rendered that I don't even mind the purple-centric color scheme (for all of these images, you can click to enlarge, and it's totally worth doing so to see the texture and details):
2. Prison uniforms. The lead character, played by Ralph Fiennes, spends part of the film in prison, where he and his fellow inmates wear some classic-looking striped uniforms: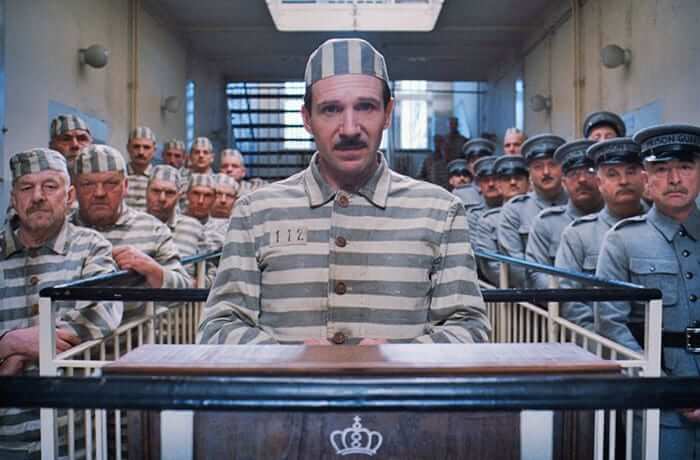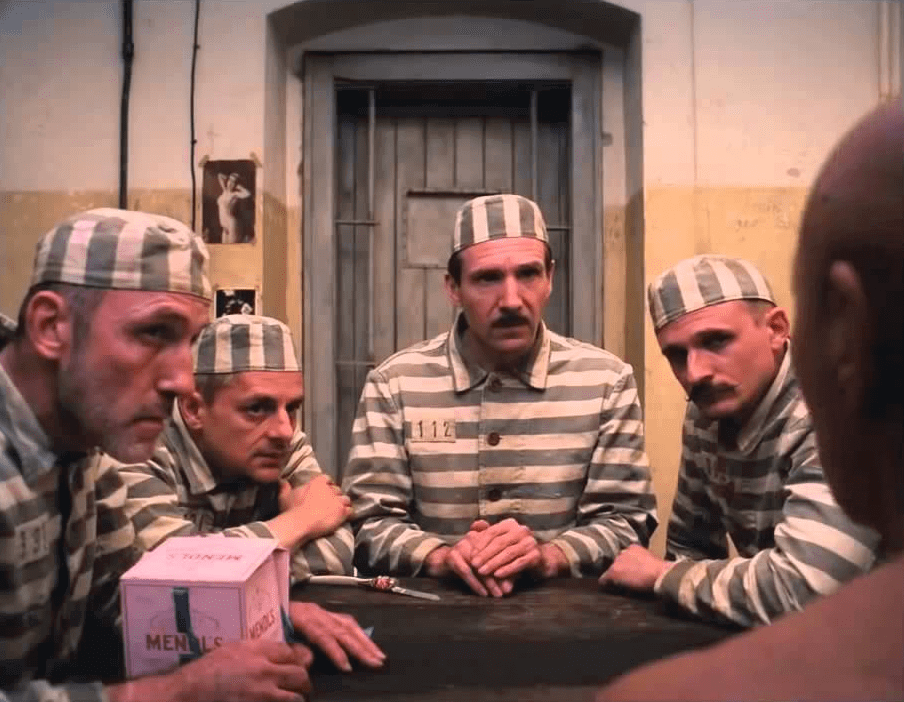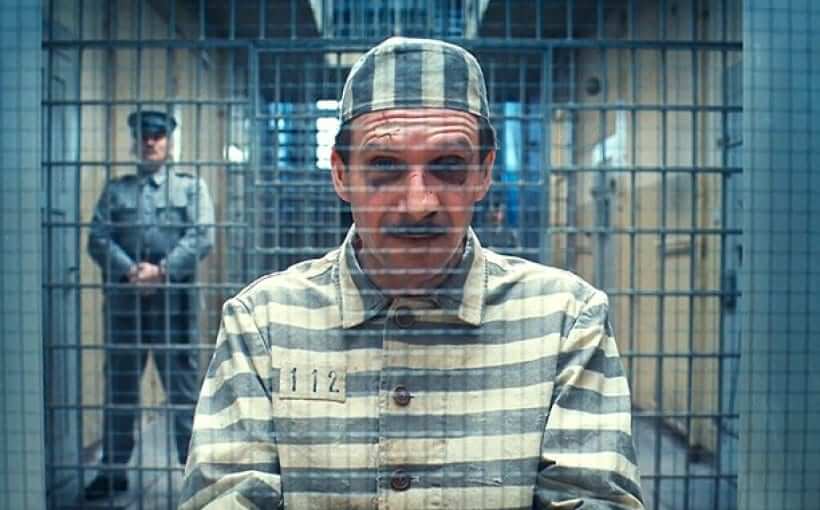 3. Police and military uniforms. There are several encounters with the local gendarmes, whose uniforms are spectacular: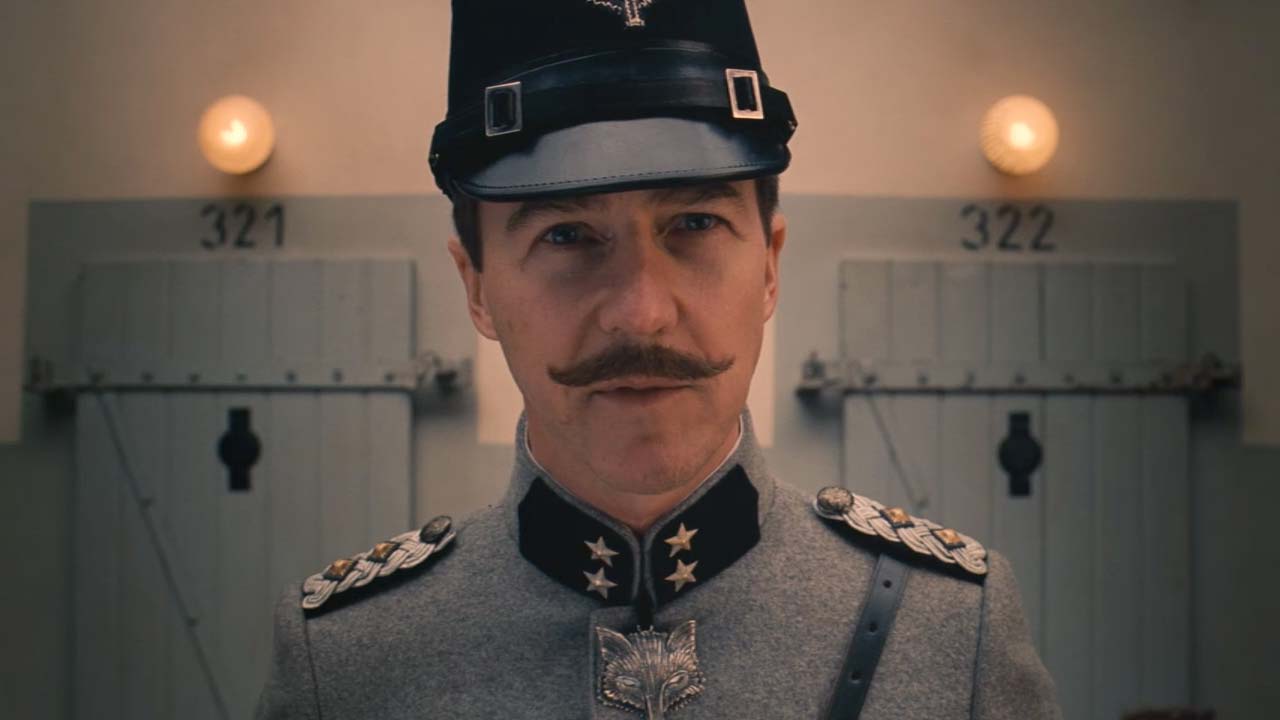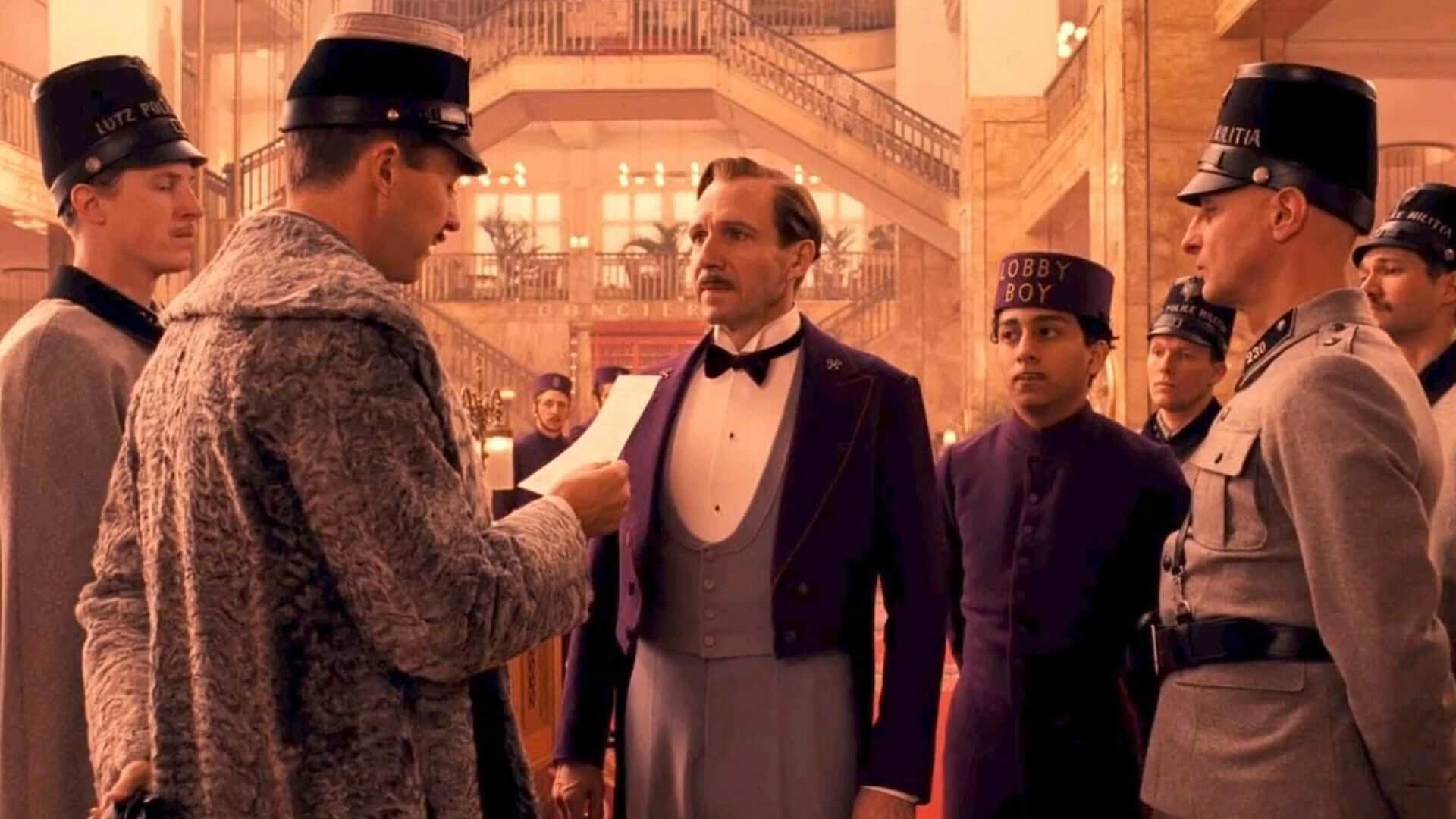 4. Bakery uniforms. There are a few scenes that show the uniforms of a local bakery called Mendl's. I particularly like the caps: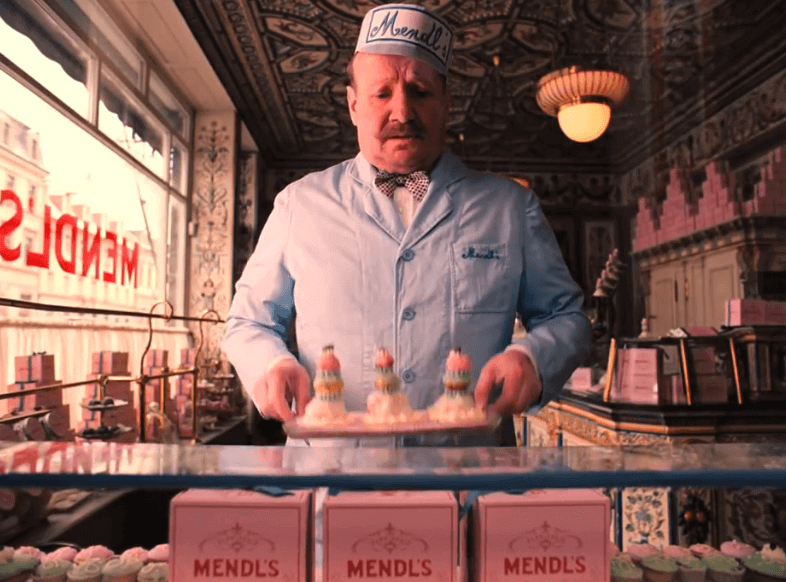 5. Usherette uniform. There's a brief scene set in a theater, and I noticed that the usherette — who was onscreen for maybe three seconds — had an absolutely magnificent uniform. I wasn't able to find an image of it online, unfortunately.
Anyway: Very good movie. But a great, great uniform movie. Kudos to costume designer Milena Canonero.
+ + + + +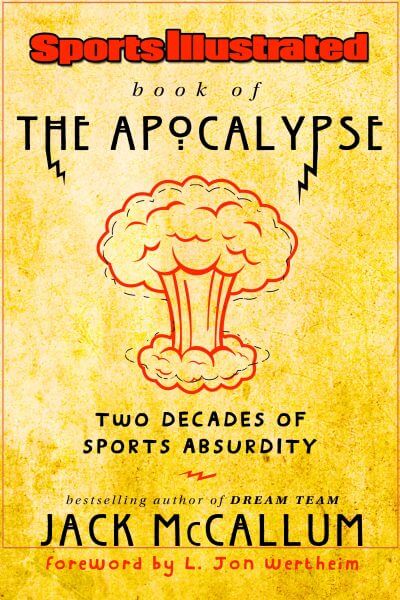 Apocalyptic fun: In case you missed it earlier this week, we're currently running another e-book promotion, and this one is for a book that should be a no-brainer for most of you: The Sports Illustrated Book of the Apocalypse: Two Decades of Sports Absurdity, which is a compendium of SI's long-running "Signs of the Apocalypse" series. It's basically an encyclopedia of Donald Sterling-esque stupidity from the sports world, presented in a highly entertaining fashion.
Our friends at Diversion Books are making the e-version of the book available to Uni Watch readers for the exclusive low price of $1.99. That price will only be good for this week — don't miss.
+ + + + +

'Skins Watch: Never a dull moment in 'Skins-ville, as a 'Skins-themed semiautomatic rifle showed up at a DC-area gun show and online. Now the NFL is investigating, because the league doesn't allow the use of its team logos on firearms. "¦ Brady Graham reports that the North Dakota Highway Patrol has a Native American mascot character called Red Tomahawk. "I'd be interested in hearing what the public opinion of this would be," he says. (Update: Turns out Red Tomahawk was an actual Lakota Indian who had a career in law enforcement. Interesting!)

Baseball News: While looking through Bill Henderson's jersey guide for something else, I came across a detail I hadn't been aware of before: The Rockies used to have team-branded buttons on their jerseys! … I'd previously reported that the Angels had begun wearing red belts and red shoes when wearing their red alternate jerseys at home. But on Monday night they went with the red accessories while wearing their home whites (good spot by Brett Crane). … Red Cross-themed jersey for the Pensacola Blue Wahoos (from Kourage Kundahl). … The Iowa Cubs were rained out last night, but they had been slated to wear Iowa Oaks jerseys. The Oaks were the franchise's original name from 1969 through 1981. … When the Cubs wear their 1994 throwbacks while hosting the Orioles on Aug. 24, the Orioles will be wearing '94 throwbacks as well (thanks, Phil). … "I recently came across a photo of my high school's 'unique' alternate jerseys," says Mike Schwartz. "That's West Linn High School in Oregon. This is the only picture I can find right now, so I can't tell what the design is on the jerseys, but I'll bet they're little lions." … At least two fans have Nats jerseys with "Ovechkin" NOBs. "¦ Someone needs to tell this dude how a baseball cap works. "¦ Lots of uni-notable stuff going on in this photo from last night's game between Kansas and Wichita State: the nice stirrups on the Kansas hitter, the awful truncated striping on the Wichita pitcher's jersey and pants, and — most intriguingly — a base runner wearing a jacket! Remember, college teams all use the DH, so that can't be a pitcher out there. What's the deal? "The announcer said it was because he was going to pitch the next inning," says Colin Harrison. "He started the game as a DH." Interesting — never heard of anything like that before. "¦ Something else I've never seen or heard of: Daisuke Matsuzaka warmed up in Philly last night while wearing a Mets ski cap (from @STLMetsFan5). "¦ All the recent talk about uniform protests reminded Douglas Smith of this one: When the Reds traded a bunch of players during a fire-sale season in the late '90s, Barry Larkin removed his captaincy patch and replaced it with the uni numbers of his traded teammates.

NFL News: Contrary to what was reported in yesterday's Ticker, Michael Vick might not be wearing No. 8 after all. "¦ Former Packers RB Bill Butler has donated some rare Lombardi-era gear to the team's archives, including a very cool-looking 1959 Packers basketball uniform (from Lee David Wilds). "¦ The Browns are exploring the possibility of adding a cheerleading squad in 2015.

Hockey News: Reprinted from yesterday's comments: What is every NHL team had its own Game of Thrones-style banner? (From Kevin Kurz.) … A Canadiens fan and a Bruins fan both have serious basement shrines devoted to their favorite teams (thanks, Phil). "¦ NHL ref Steve Kozari ended up with a black eye during last night's Rangers/Flyers game (screen shot by Alan Kreit). "¦ Speaking of the Flyers, they're selling team logo-shaped pretzels at their arena (from John Muir).

NBA News: After NBA commish Adam Silver lowered the boom on Clippers owner Donald Sterling yesterday, the Clippers' website replaced all its content with a simple message on a black background. There was no link, no way to enter the site — that was it. At some point — I'm not sure when — they added a link to enter the site. "¦ Meanwhile, some enterprising fans came up with a T-shirt response to the Sterling situation, and someone else retired Sterling's jersey (thanks, Phil). "¦ I have nothing to add regarding the Sterling mess except this: It's now quite apparent that Adam Silver can move quickly and decisively when the circumstances allow, and this episode has no doubt strengthened his position within the league, all of which doesn't bode well for those of us who oppose corporate ads on uniforms.

College Hoops News: No photo, Wayne D'Antoni submitted another example of a team-wide uniform protest: "Back in the early '70's the University of Loyola in New Orleans announced during the season that they were ditching the men's varsity basketball program. The players peeled the nickname 'Wolfpack' off of their unis, and a local media type dubbed them (or they dubbed themselves, can't remember which) the 'Orphans.' They were referred to in that manner when they were mentioned on sports broadcasts and in the local papers at the time."

Soccer News: You say you wanna support the Japanese World Cup team and celebrate Hello Kitty's 40th anniversary? Yusuke Toyoda has the perfect jersey for you.

Grab Bag: Lots of examples of team-wide uniform protests — including a bunch we hadn't come up with earlier this week — in this solidly executed article. There are a few in there that I definitely should have come up with for my own piece on that same topic earlier this week (from Matt Shepardson). "¦ USA Today invited kids to redesign the paper's logo. … Latest team to wear pink: the Aussie football team the Melbourne Demons (from Leo Strawn Jr.). "¦ All you colorizers out there — and everyone else, really — will enjoy these before/after colorized photos (big thanks to Andrew Rader). "¦ Rock drummer Mick Fleetwood loves wearing hats. No, I mean he really loves wearing hats. "¦ After repeated criticisms of new military hairstyle regulations, which many observers argued were unfair to black women, Defense Secretary Chuck Hagel has ordered a review of the regulations. "¦ Here's an early cricket helmet from 1933 (from Graham Clayton).