Got a note the other day from reader Chris Giorgio, who's been pondering the much-discussed possibility of corporate advertising patches on NBA uniforms:
Since the dreaded seems inevitable, at least according to Adam Silver, I got to thinking about which logos and corporations would best fit each team while causing the least aesthetic minimal disruption to the uniforms. Then I chose a potential advertiser for each team.

I based the pairings on several factors, including logo similarities (Bucks/John Deere), team/company commonalities (Pacers/Goodyear), and locality (Warriors/Cisco) and other factors. Here's what I came up with [click to enlarge]:
.
Then I wondered what it might look like if the ads evolved from small patches to full-blown chest ads, like on soccer jerseys, so I did a few mock-ups of those:
Good stuff, Chris. I'll be frank: I was (and to a certain extent still am) uneasy about posting this material, because on some level it serves to normalize and therefore legitimize the notion of NBA uniform ads. Many of Chris's ad pairings are so smart, so clever, that it's easy to forget that the whole notion of uniform ads is something to be reviled, not admired.
I ultimately decided that his work deserved to be showcased, but let's not lose sight of the big picture: Uniform advertising is unacceptable. #NoUniAds
+ + + + +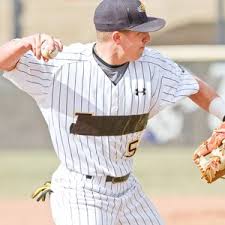 ESPN reminder: In case you missed it yesterday afternoon, I followed up on the story about the Clippers' inside-out warm-up tops by whipping up an ESPN piece on other examples of team-wide uniform protests (including last year's Towson baseball insignia cover-up, shown at right). Most of the examples in that piece came from reader comments that were posted yesterday morning — thanks so much, people. Couldn't have done this one without you.
One additional team-wide uni protest example came in too late for that column: Reader Darrel Marusek points out that the 1991 Wisconsin baseball team responded to the news of the baseball program's elimination by wearing black caps, stirrups, cleats, and undershirts.
Tom Shieber, eager to help, did a bit of extra research and came up with some additional uni-related protests that don't quite fit into the same category because they weren't team-wide protests, but they're still interesting. So:
• After the NCAA put Yale's track team on probation in 1970, a Harvard track and field competitor protested by wearing a Yale shirt while accepting an award at a track meet.
• After Texas Rangers fans protested the team's poor play by wearing bags over their heads in 1982, some of the Rangers' players responded by donning bags of their own.
• When the NFL told Seahawks linebacker Brian Bosworth that he had to change his uni number from 44 (which he'd worn in the preseason) to 55, he protested by painting "44" on his cleats.
• When Cavaliers guard Jeff McInnis was benched in 2005, teammate Robert Traylor wore McInnis's armband in protest.
• When the Bengals cut center Dave Rimington during the 1988 exhibition season, teammate Boomer Esiason protested by wearing Rimington's number for one day.
+ + + + +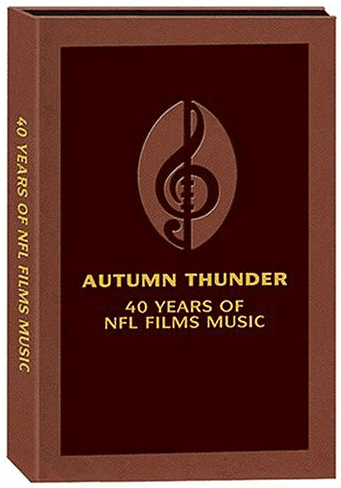 Collector's Corner
By Brinke Guthrie
"Autumn Thundah." You can practically hear John Facenda's velvety voice providing the narration for a crisp autumn contest between the vaunted offense of John Constantine Unitas and the Coastal Division's Baltimore Colts, against Ray Nitschke and the tough Packah defence from the Central Division, at Lammm-beau Field. And now that I've properly set the vibe, buy this 10-CD set right here. (If you're truly old-school, here's the five-LP vinyl set.
Now on to the rest of today's eBay finds:
• Does anybody really know what time it is? If you're an A's fan, you'll know the time with this vintage 1970s Swingin' A's alarm clock. Great detail on this, right down to the Riddell shoes on the logo.
• Look at the artwork on this 1950s 49ers/Little Miss Sunbeam bread display wrapper. (It's wrapped around foam in that photo, not an ancient loaf of bread.)
• This one takes me back — the practice uniform of former ABA/Kentucky Colonel Cincy Powell. And here's a signed Colonels 1975 championship anniversary ball. Gotta admit, that KC logo is still great after all these years.
• Here's a nice vintage Dolphins NFL Helmet Lamp. Do the colors look a bit off, or did they used to have blue rather than turquoise?
• Big lot of 1970s MLB stickers here, but hurry, this listing expires tonight!
• Nice cover art on this American Football Coaches All-American Game program. Redundant, no?
• The gold stripe is rather prominent on this 1970s Falcons bottle opener.
• Got nothin' but love for the cool graphics on this 1967 SI cover featuring the LA Rams.
Seen something on eBay or Etsy that you think would make good Collector's Corner fodder? Send your submissions here.
+ + + + +
Tick-Tock: Today's Ticker was compiled and written by Garrett McGrath.

Baseball News: Reader Tony Burke found this 1948 photograph of the Yankee Clipper wearing "gloves to protect his hands during batting practice." … The Minnesota Twins unveiled the 2014 American League All-Star batting practice jerseys at an All-Star Game press conference yesterday (thanks, Phil). … According to News 12 NJ, Washington Capitals Nationals outfielder Bryce Harper is on DL (from Adam Treiber).

NFL News: New Era has shared some of the NFL Draft hats that the future hopefuls will be wearing when they are on stage at Radio City Music Hall (thanks, Paul). … While watching the NFL network, Jared Buccola noticed the Jaguars wearing new helmets and practice tops with old game pants. … From yesterday's comments: it seems that New York Jet Michael Vick will wear No. 8 this year, according to a post on his Instagram. The choice is reported to be a tribute to Steve Young.

College Football News: Yesterday, Paul asked what was on the back of Rutgers QB Gary Nova's helmet. Robert Daniel Lim pointed out that its a part of the Schutt Vision system (the section specifically protects the camera's electronics). … The pioneer of the football helmet sun-visor, David Langer, passed away last weekend. Hunter Towns sent in pictures including a close up of his helmet with some nice period details.

Soccer News: Nike released the home and away kits for Slovenia to be worn by all of the national teams during the 2014-2015 season of international play (thanks, Phil).

NBA News: CarMax, State Farm, Virgin America, Kia, and Red Bull were in the first group of sponsors to pull their support from the Los Angeles Clippers yesterday, following the controversy surrounding the team and its owner Donald Sterling (thanks, Paul). … Reader Joseph Hiley points out that the Pacers/Hawks series has not yet had the same uniform match-up twice. Game 1 was Pacers in yellow versus Hawks in blue; Game 2, white versus blue; Game 3, blue versus white; Game 4, yellow versus white; and Game 5, white versus red. "¦ The Heat showed solidarity with the Clippers last night by wearing their warm-up tops inside-out prior to their game against the Bobcats.

Grab Bag: "Over the weekend, the University of Kentucky opened a time capsule that was buried on campus in 1956," says Josh Claywell. On the left is a copy of the Herald Leader with a Wildcat logo and on the right is a picture of two students in cool university sweaters. Here is the story behind how the national flag of South Africa was designed–in one week (from Tom Mulgrew). … Last weekend, MetLife Stadium in New Jersey hosted a Supercross event. A.J. Cantanzaro wore a New York Giants and Jets split personality helmet while James Stewart's lid had an NYC subway map detail (from Sean Clancy). … A look at the market leaders in sport footwear and apparel (from Tommy Turner). … Star Wars has spread across the galaxy — or at least from baseball to lacrosse. … Ronald McDonald — not the one from the Taco Bell commercials — has received a makeover (thanks, Brinke).
+ + + + +
Click to enlarge

What Paul did last night: I've long been a huge fan of the satirical British cartoonist Ralph Steadman, who's best known for his illustrations accompanying the work of gonzo journalist Hunter S. Thompson. Now there's a new documentary about Steadman, called For No Good Reason, and last night my friend Jon and I went to see it.
Steadman was (and still is) part of a generation of satirical illustrators and caricaturists, but his work has always been darker than that of his contemporaries. His characters look diseased and psychotic, and his narrative points aren't exactly subtle. As is so often the case, he turns out to be nothing like his work — a soft-spoken gentleman, a peach, a pussycat.
The film has its weaknesses, but it's totally worth dealing with them just to see Steadman at work. His technique all splatter and stipple, but the result is some seriously powerful art. Definitely worth seeing. Here's the trailer: