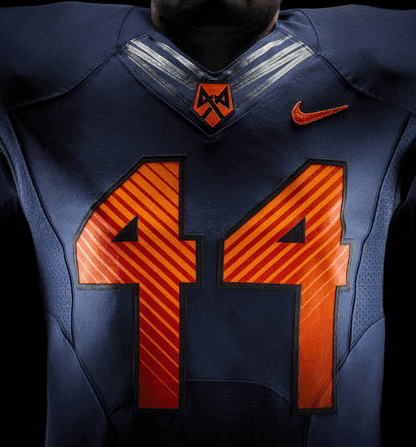 "Custom numbers appear taller and more narrow, mimicking the height of New York City's skyline. The numbers also feature a unique 44-degree linear 'V' pattern. This pattern is mirrored on the uniform pant lines and shoulder panels for unified positioning of the Orange as New York's College Team."
That's the explanation, courtesy of the friendly fabulists in Nike's marketing department, for the numbers you see at right, which appear on the new Syracuse football uniforms. You can see the full press release on the new uni set here, and there are tons of photos and mock-ups here and here.
The numbers and the explanation for them reflect two of Nike's core tropes: (1) Every team must have its own custom number font, and (2) every uniform element must have an underlying "story." The numerals that supposedly evoke the NYC skyline (trust me: they don't), the obsession with "44" (because of Ernie Davis) — it's the kind of mythmaking that makes people go oooh and ahhh at an unveiling (or at least makes them stop saying, "What the fuck is the deal with those weird numbers?"), but nobody remembers that stuff once the ball is snapped, at which point you're just wearing a weird-looking number design. I suppose if some kid gets out a protractor and checks to see if the diagonal lines on the numerals of his Syracuse jersey are really angled at 44 degrees, then Nike will have succeeded in advancing the cause of youth mathematics, so at least there's that. Otherwise, the whole thing is embarrassing.
Once you get past all the storytelling bullshit, it's your standard college football set — three helmets and three mix-and-match jersey/pant combinations, including a really ugly GFGS (click to enlarge):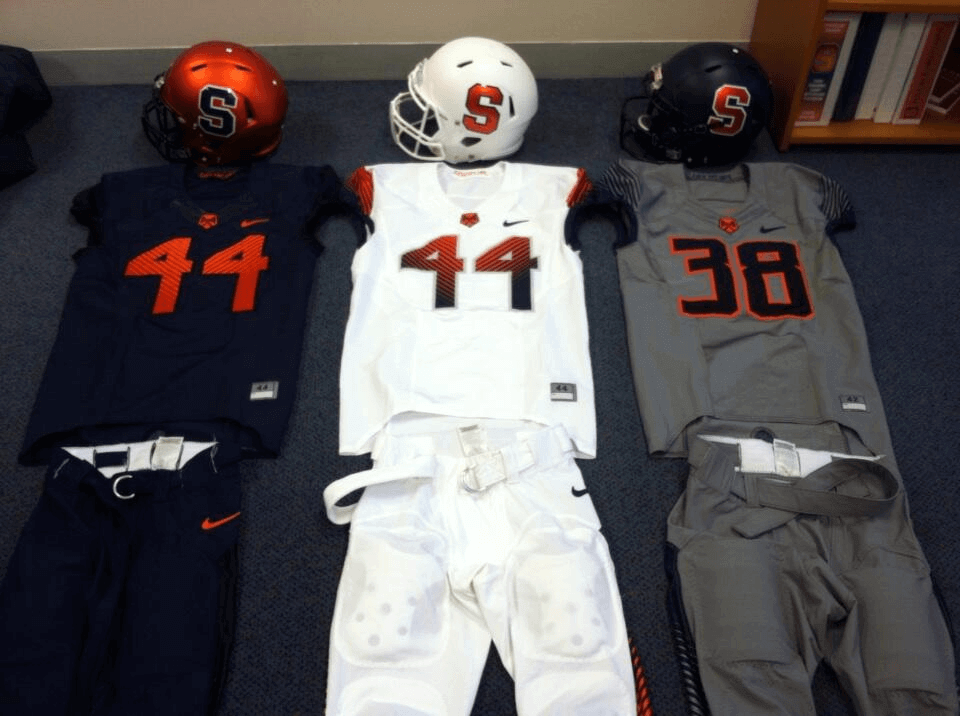 Not sure how or if they're gonna get away with the gradation on the white jerseys numerals, which seems to violate the NCAA's current regulations, but why let the rulebook get in the way of a good unveiling?
I do like the orange cap sleeves on the white jersey (especially with those orange undersleeves, although most players probably won't be wearing that). In fact, the white jersey will probably look decent with all of the pant options. I'm less fond of the blue and gray jersey options.
Meanwhile, another school with a blue/orange color scheme — Illinois — unveiled its new uniforms yesterday, although there was less suspense about that one because the designs had leaked the night before (and were in yesterday's Ticker). Here are the basketball set, the football set, the football helmets, and a close-up of the football jersey patch, all of which you can click to enlarge: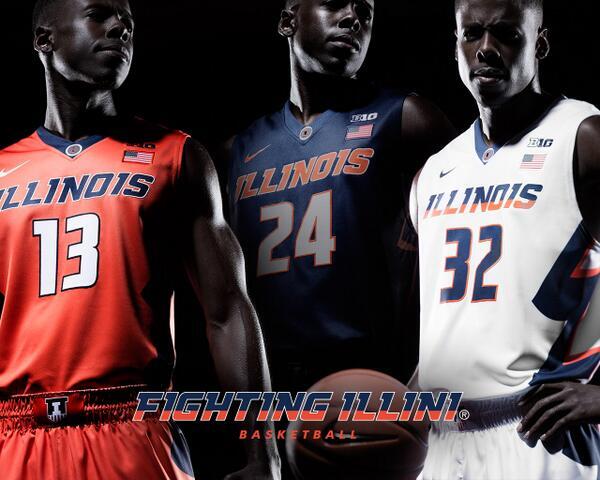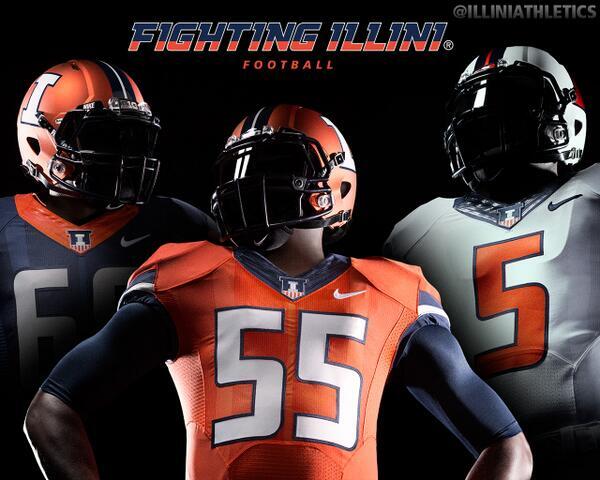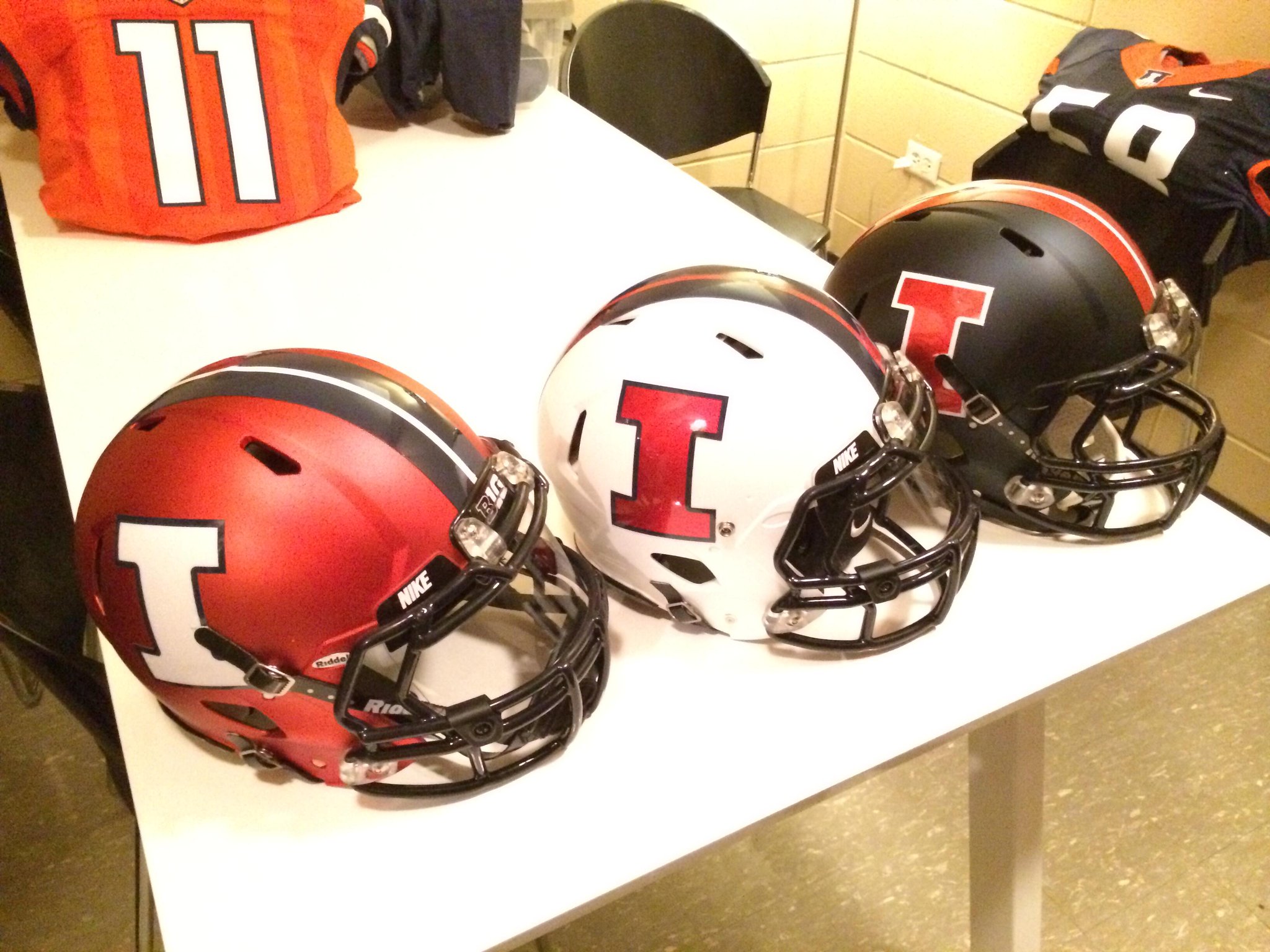 Does Nike have a "story" for jersey patch? Of course it does:
The primary "I" logo is at the center of the badge, encased by two facing F's that symbolize the fight that Illini embody when they take the field of play. The Victory Badge is grounded by vertical stripes that reference the columns at Memorial Stadium, paying tribute to the original Fighting Illini who gave their lives for their country. The mark ends in a powerful V shape, which stands for victory.
That quote comes from this detailed explainer on the school's new visual program, which is worth checking out.
+ + + + +
ESPN reminder: In case you missed it yesterday, my latest ESPN column is about the new Riddell SpeedFlex helmet, which has a bunch of interesting features. Check it out here.
+ + + + +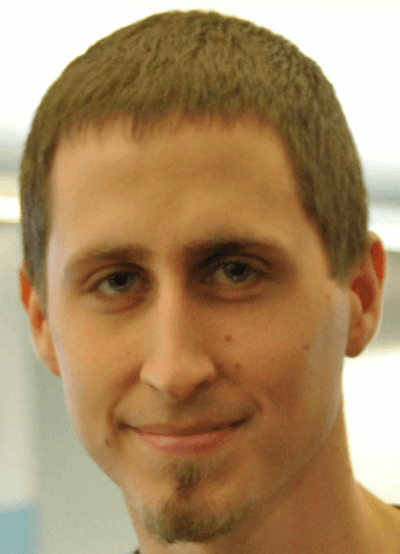 Mike's Question of the Week (aka "I Wanna Know"): Each Thursday intern Mike Chamernik comes up with a question for the Uni Watch readership. Here's his latest:
The other day we saw a Padres redesign concept in the Ticker, and I really liked it. San Diego should totally go back to their brown and yellow logo and uniforms, not just because it's uniquely Padres.

Brown and yellow isn't used too much in sports for fairly obviously reasons (use your imagination), but I don't care. It's my favorite color scheme in sports, in part because they're so rare to see together. I might just buy a retro Padres hat and T-shirt for that reason, even though I'm not a fan of the ballclub.

So here's what I wanna know: What's your favorite color combination in sports?
Good one, Mike. Post your responses in today's comments section.
+ + + + +
Unmasking the Commenters: I recently invited the site's commenters to tell us a bit more about themselves and give us a peek at what they look like, just because I thought it would be fun to pull back the internet's curtain of anonymity. I'll keep showcasing you folks as long as you keep sending in your photos and quick bios.
Today we're spotlighting Jamie Dupler, who comments every now and then:
I'm Jamie, 30, from Columbus (Ohio State '07), and I'm all OSU/Cleveland everything (married Feb. 2012 at the Horseshoe). My favorite jerseys are clean and simple, and I love stripes — especially UCLA stripes. My two top teams are Ohio State football and the Browns, and if the Browns change their unis to a Seahawks or Bucs style I'm going to revolt. I also wish the Buckeyes would go back to the Cooper/early Tressel-era gray stripes instead of this faux throwback Pro Combat crap.

I am diehard Nike and have been since my Reebok pumps blew out every three months in elementary school. I used to be a sneakerhead but now I have a wife and family, so I can't and won't spend $150 on retro shoes. My favorite pair of all time is the Jordan III. Unlike another Ohio-based commenter [rhymes with "The Jeff" "" PL], I love gray facemasks, because all the masks were gray back in the '60s and '70s. I hate the leotard look in the NFL and I love the high white socks of college and NFL from the '70s-'90s. I also love colored visors and arm sleeves.
Hmmm, diehard Nike but hates Pro Combat and the newfangled NFL designs? Sounds like Jamie has some conflicting impulses. But hey, there's nothing wrong with that. Thanks for chiming in, Jamie — you help make Uni Watch a better place!
Do you want to be featured in "Unmasking the Commenters"? If so, send me a photo and a quick paragraph about yourself. You don't have to reveal your real name, and the photo doesn't have to show your face, but you must include a photo to be considered. Send everything this-a-way.
+ + + + +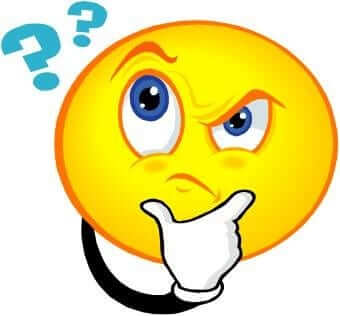 Question Time: It's been a while — more than 10 months! — since our last installment of Question Time (not to be confused with Mike's question of the week), so I'm throwing open the floor for questions.
In case you're new to this (or need a refresher), Question Time works like so: Everyone is invited to ask me one — and only one — question on any topic. It can be uni- or sports-related but doesn't have to be. Personal questions are fine, although I reserve the right not to answer ones that I think are too personal. Send your queries here, and I'll do my best to answer as many of them as possible in an upcoming blog post.
+ + + + +
Tick-Tock: Today's Ticker was compiled and written by Mike Chamernik.

Baseball News: The Cubs will hold a 100th birthday celebration for Wrigley Field during their April 23 game against the Diamondbacks. We already knew the Cubs would be wearing Federal League throwbacks for that game, and now it turns out that the D-Backs will as well (from Dave Flapan and Phil). "¦ The Cubs decorated one of their tunnels with a collage based on their 1965 scorecard cover (from Marc-Louis Paprzyca). "¦ A Giants fan walked around the stadium in full catcher's gear Tuesday night. "¦ Check out this Twitter feed that shares pictures of empty seats at sporting events. "¦ Paul has featured Left Field Cards on both this site and ESPN, so here's an interview with the artist behind LFC, Amelie Mancini, and a look into her studio (from Pete Woychick). "¦ The Cubs and Yankees wore Jackie Robinson Day jerseys for the scheduled night game during yesterday's doubleheader, not for the afternoon make-up game. "¦ The George Springer era in Houston is off to a great start! (Thanks, Kenny Ocker and Phil.) "¦ "These trash bins are placed all around Camden yards," says Jerry Bruno. "Pretty neat how the helmet serves as a type of lid." "¦ A reader and Padres fan named Darick is wondering what's up with Andrew Cashner's undershirt. "It looks like camo, which would make sense due to our Sunday alternates, but it also looks like it has lime green sleeves," he says. "¦ Yesterday a few hundred people went to New Jersey's Hinchliffe Stadium, a former Negro League ballpark, for an unveiling of a bronze plaque to commemorate it as a national landmark (from Dave Rakowski). "¦ The Sugar Land Skeeters send out their season tickets in a home plate-shaped box (from Cort McMurray). "¦ Journeyman reliever Chris Resop has an interesting behavioral tic: He grabs his crotch after every pitch.

NFL News: Russell Athletic had to put its logo on the 1994 Browns jerseys somewhere (from Alan Borock). "¦ Caleb Borchers found a landscaping service that uses the Eagles' old logo. "¦ The Niners' new stadium will have some state-of-the-art grass (from Don Silsby). "¦ Might these be the new Browns unis for 2015? Or is it just another fan design? (From Edward Hahn). "¦ If Donald Trump buys the Bills, a new logo may be coming (from Robert Silverman). "¦ ESPN's SportsNation used a really, really bad Photoshop of Mike Vick in a tweet (from Jared VanderWeele). "¦ The Lombardi-era Packers got creative with padding in practice (from Gene Sanny).

College Football News: A Hurricanes player wore a helmet camera during this year's spring game so we can see what it's like to be a middle linebacker.

Hockey News: Tuukka Rask got a girl with cancer her own Bruins goalie mask, modeled after his own mask (from Matt Bessette). "¦ As promised earlier this week, Rob Ullman has weighed in with his annual Stanley Cup pin-up picks. "¦ Whoa! Who's that wearing Bruins goalie gear? Why, it's Yogi Berra (cool stuff, Garrett). "¦ Here's a cool video on how crews change center ice logos at Rexall Place (from Carla Cadger).

NBA News: Forget NBA logo socks. Pick up some socks with NBA players' photos on them (from Brad Iverson-Long). "¦ Timely, I know, but here's a pretty harsh review of the Wizards' original logo. "¦ New Bucks owner Wesley Edens wore a lapel pin of the Bucks' old logo during his introductory press conference yesterday (from Nick Haering). "¦ The Raptors posted a teaser video with a brief shot of a husky dog at the end. Is a rebranding on the horizon? The team did wear Huskies throwbacks a few years ago (from Phil). "¦ This isn't confirmed yet, but some commentary toward the end of this video clip suggests that the Celtics may wear gray alternate unis next year (from Phil).

College Hoops News: "Cal hired former Tennessee basketball coach Cuonzo Martin on Tuesday," says John Furstenthal. "At the press conference, they had a basketball uni with number 20, and you can read "˜Johnson' backwards on the NOB stitches. There's no number 20 on the roster and no recruit I could find named "˜Johnson.' Where did this jersey come from? And this number makes no sense — he's the 16th Cal basketball coach, so that's not it." Anybody have any theories?

Grab Bag: Check out this Nike annual report from 1981! It contains some great photos of John McEnroe and Dan Fouts (from Kenn Tomasch). "¦ The sneakerhead scene is a big-money market. "¦ Arkansas's new secondary logo looks like the Calgary Flames' old alternate logo. "¦ "I watched The Kroll Show the other day," says Joe Grant, "and I noticed that in one of the skits a football team seems to be wearing the uniforms that the Washington Sentinels were wearing in The Replacements." "¦ I was out covering high school softball last evening in suburban Chicago and afterwards I stopped to eat at a burger place called The Sandlot. I found it odd that they used the logo from the film but they didn't have any Sandlot (or even baseball) décor inside the restaurant. Whatever, the food was good.