[Editor's Note: I had a social obligation last night (more on that at the bottom of today's entry), so intern Mike Chamernik was on Jackie Day duty. Here's his report on MLB's annual salute to the man who broke the color barrier. "" PL]
By Mike Chamernik
Okay, I blog about the White Sox, and last evening I had their game on while I was compiling all the Jackie Robinson-related uni news for you guys. I was reading email, checking twitter, monitoring other games, and listening to Mike Francesa Show clips, and every so often I looked up at my TV to see what the Sox were doing. All I saw every time was that No. 42 was on the mound, facing No. 42 at the plate. I had no idea what was going on.
The league-wide No. 42 jerseys on Jackie Robinson Day are a cool gesture, and it's important that we remember the man, but they're murder to people who multitask.
Here are some uni-notable details from yesterday's action:
• The Pirates and Reds completed a suspended game before their regularly scheduled game yesterday. In the first game, they wore regular uniforms, meaning two teams wore something other than No. 42 on April 15 — a rarity. In the second game they all wore 42, and the Pirates switched to gray tops (and, as you can see in that screen shot, they added a "42" to the mound). Here's more on how the Reds honored Robinson.
• The umps wore 42 as well, including in the first game between the Pirates and Reds.
• The benches cleared during the 4th inning of the Nationals/Marlins game, which produced this odd sight.
• Unusual move by the Diamondbacks, who wore their black alternate jerseys and BP caps.
• The Dodgers wore their "Dodgers" script road alternates. The team's website also posted a detailed history on the players who wore No. 42.
• Over in the NBA, the Nets wore their Brooklyn Dodgers-esque alternates.
• The active roster on every MLB team's website everyone's uniform number as 42. And if you asked Siri for a player's number yesterday, she gave you the correct answer.
• Four games were postponed and all eight teams will wear No. 42 today. That includes the Yankees, who had a Nelson Mandela tribute planned for last night.
(Thanks to Paul and Phil for their submissions.)
+ + + + +
Click to enlarge
Flex time: Paul here. You've probably seen some of those tweets from various college football teams touting their use of the new Riddell SpeedFlex helmet. My latest ESPN column takes a closer look at the SpeedFlex, which has some very clever engineering features that I think you'll find interesting. Check it out here.
+ + + + +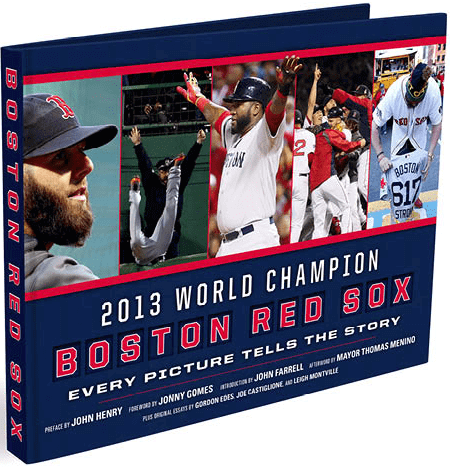 Book deal reminder: In case you missed it yesterday, Uni Watch readers are being offered a special deal on 2013 World Champion Boston Red Sox: Every Picture Tells a Story, a gorgeously produced coffee table-style book (not an e-book) that chronicles the 2013 Bosox season. It features over 200 photos (some of which you can see here), along with essays by team owner John Henry, outfielder Jonny Gomes, manager John Farrell, Boston broadcaster Joe Castiglione, former mayor Thomas Menino, journalists Gordon Edes and Leigh Montville, and more.
The book lists for $40, and Amazon has if for $27.33. But if you go here and use the checkout code RSX131, you can get it for $24.95 — definitely the lowest price you're gonna find. You know what to do.
+ + + + +
Unmasking the Commenters: I recently invited the site's commenters to tell us a bit more about themselves and give us a peek at what they look like, just because I thought it would be fun to pull back the internet's curtain of anonymity. I'll keep showcasing you folks as long as you keep sending in your photos and quick bios.
Today we're featuring longtime reader/commenter James Huening, who posts comments as "JTH" (and who is pushing back against the "unmasking" thing, as you can see below):
I live in Chicago and I'm a Sagittarius. I go pretty far back with Uni Watch — not all the way back to the Village Voice days, but I'm mentioned by name in the second or third post on this blog. I'm the handsome one on the right in the photo. On the left is my friend Dan. Between us is someone who works in the front office of a local professional sports franchise. Let's just call him "Theo."

I spend a great deal of time as a coach and/or spectator at the many sporting events of my three children: hockey, basketball, baseball, softball, football, lacrosse, and various other things. I sing and play guitar in a band that never practices, has never played a gig, and doesn't have a name. But if we ever do pick a name, I would like for it to be Otis' Birdsong. I also play hockey (poorly) and brew beer on those rare occasions when I get a day all to myself.
Thanks, Jimbo, and thanks also for all your contributions and friendship over the years — you make Uni Watch a better place!
Do you want to be featured in "Unmasking the Commenters"? If so, send me a photo and a quick paragraph about yourself. You don't have to reveal your real name, and the photo doesn't have to show your face, but you must include a photo to be considered. Send everything this-a-way.
+ + + + +

'Skins Watch: Four Houston-area schools whose teams were called the Redskins, Indians, Warriors, and Rebels have been given new team names, part of a new school district policy to ban mascots deemed to be culturally insensitive. But here's the fascinating subtext to that story: One of the schools, Lamar High, used to be known as the Redskins and will now become the Texans, but that wasn't their first choice. They wanted to be known as the Texians. As this Houston Press article explains, "[The term 'Texian'] sounds like just some old-fashioned way of referring to the people who came [to Texas] to live about the time of the state's move to independence from Mexico. But others point out that the Texians were the Anglos, and that probably Tejanos or Hispanic Texans were excluded from this group. Also that the Anglos who identified as Texians may have had motives other than truth and freedom — maybe continued slave ownership — as their rallying point." In other words, "Texians" might actually have been a step backwards in terms of culturally appropriate team names, which is why the school board decided to have Lamar High be the Texans instead. That article, which Phil brought to my attention, is super-interesting — highly recommended. "¦ Three Utah-related items from Dom Lewis: (1) The University of Utah has reached a new agreement with the Ute tribe that will allow the school to keep using the Ute name and imagery. The third graf of that story mentions that the school plans to "donate proceeds from sales of a special football jersey worn during a home game in November (either for Oregon or Arizona) to a Boys & Girls Club the tribe plans to open." (2) Did you know Utah's teams used to be called the Redskins? It's true, as you can see on this 1963 media guide cover. (3) A youth football league in Salt Lake City calls itself Ute Conference Football and uses a depiction of an Indian child as its logo. Not sure if they have the tribe's permission.

Baseball News: While looking for something else I came across this shot of Jackie Robinson in a really cool UCLA baseball uni. "¦ Great little DIY project from Scott Davis, who writes: "I went to a Red Sox game last week and ended up with a small ziplock bag of Fenway infield dirt (they have it prebagged — all you have to do is ask for it at the fan relations desk!). I had a handful of those little 1/8-oz. Tabasco sauce bottles and they seemed like the perfect fit for some dirt. I pulled the various Red Sox logos off of Chris Creamer's website, threw them onto some Avery labels, and cut to fit." Nicely done! … Ooo-la-la, look at this amazing Trolley Tavern jersey. "Pete Rose's father, Harry, played for them, and Pete was the bat boy as a kid," says Dennis Hasty, which explains the Rose autograph on the flannel. … A 1971 episode of The Brady Bunch showed Bobby in an inaccurate Dodgers jersey. "Don't think they were particularly concerned with accuracy back then," says Phil. … Just what the world's been waiting for: a baseball cap with an electronic screen that lets you switch out the logo (Phil again). "¦ The El Paso Chihuahuas' new mascot is pretty damn scary (Phil yet again). "¦ The Red Sox were in Chicago last night, where some White Sox players joined in the marking of the Boston Marathon bombing anniversary by wearing "Boston Strong" T-shirts (Andy Chalifour). "¦ Speaking of the Chisox/Bosox game, it was pretty cold in Chicago, so some players were wearing balaclavas. So was the home plate ump. As you can also see there, the umps are wearing a memorial patch for Wally Bell, which I don't think we've noted yet this season. "¦ Cold weather in Minnesota last night too, so Brett Lawrie of the Blue Jays was wearing his balaclava over his cap (thanks, Phil). "¦ Mariners pitching coach Carl Willis mistakenly wore his BP cap during a mound visit last night (from Samuel Lam). "¦ Oklahoma base coaches wore G.I. Joe helmets last night. Sigh (Phil yet again)"¦ And still more from Phil: You know the Yankees wear pinstripes, but did you know they once wore multi-colored pinstripes? That's from 1912. "¦ The left-handed batter's box in Miami was crooked last night (thanks, Mike).

NFL News: Bears WR Brandon Marshall has a big collection of jerseys that he's accumulated from other NFL players over the years (from Joshua Williams). "¦ Here's a gallery of unusual NFL facemasks and a Reddit discussion of same (from Jon Mostowy). … More of those NFL draft caps are showing up on eBay, even though they haven't been officially announced yet (from Mark Gonillo).

College Football News: Syracuse is planning a "major announcement" for today, and the thinking is that it will likely involve new football uniforms (thanks, Phil).

Soccer News: "Liverpool held a 25th-anniversary ceremony for the Hillsborough tragedy on Tuesday," writes Yusuke Toyoda. "The centerpiece was '96' — the number of victims — written with scarves donated from around the world, including one from Boston Red Sox, who share owners with Liverpool. The tributes also included 96 empty seats draped with donated scarves. More photos here and here." … Also from Yusuke: "Melbourne Heart is changing its colors to sky blue so it's the same as Manchester City, its parent club. The only problem? Sky blue is also worn by Melbourne Heart's rival, Sydney FC, which has filed a complaint to Football Federation Australia."

NBA/WNBA News: Currently for sale at Madison Square Garden: Phil Jackson T-shirts (from Alan Kreit). "¦ The D-League's newest team will be in Grand Rapids, Michigan, and they're having a contest to name the team. "Which will presumably lead to a logo design contest," notes P.K. Richardson. "¦ New road uniforms for the WNBA's New York Liberty (from Kevin Brown).

Grab Bag: Illinois is scheduled to unveil lots of new uniforms in various sports today, but they leaked last night. "¦ Oh, for fuck's sake — camouflage cake?! (Blame Ryan Burns.)
+ + + + +

What Paul did last night: If you look again at that photo of the SpeedFlex helmet that appears earlier in today's entry, you can see that it includes a reflection of the photographer (who happens to have been me) — a fairly common phenomenon when you're photographing a shiny object.
I thought about that last night when my buddy Rob Walker and I met up at the Morgan Library to check out a program of presentations about collecting. One of the presenters was the artist Penelope Umbrico, who specializes in collecting photos of objects for sale on Craigslist. As she explained in her talk, she's particularly fascinated by Craigslist photos of TVs in which the camera's flash is visible, in part because you can often see a reflection of what was going on in the room. This in turn led her to discuss something called "reflecto-porn," which is the term commonly used when the reflected photographer isn't fully clothed (don't worry, that photo link is totally safe for work).
All of this actually relates pretty directly to Uni Watch, because a lot of you folks submit uni-notable screen shots by taking flash photos of your TV sets, which often results in some interesting reflected imagery. I don't think I've ever seen any of you in a state of undress, but I've definitely seen some parts of your living rooms that you probably didn't intend to share. Might wanna turn off the flash next time — just sayin'.