Time for another round of wire service photos. Most of these came from Bruce Menard, but Bob Gassel, Todd Radom, the Hungry Hungry Hipster, Brice Wallace, and Rick Friedel also contributed.
Here we go:
• Looks like one of these Orioles helmets had some sort of side-guard attachment. The player wearing No. 39 at that time was pitcher Eddie Watt. I've never seen a photo of him wearing a helmet with any kind of attachment or modification, but now we have something to look for!
• Speaking of helmet modifications, this hockey jaw-protection attachment made the wearer look like a Star Wars storm trooper. Also, look at his chin — that's the Gerry Cosby logo!
• Here's a shot of the Pirates unveiling their pillbox caps in January of 1976. Skipper Danny Murtaugh looked just thrilled to be there, eh?
• Here's one of the best photos I've ever seen of the white umpire's pants that were sometimes worn back in the 1920s, '30s, and early '40s.
• Speaking of MLB umps, here's one of the funniest examples I've seen of what can happen when the umps lose their luggage.
• And here's yet another new (to me) example of an ump who lost his luggage. That's Paul Pryor umping behind Phillies catcher Bob Boone. So many great details in that photo — Pryor using resin bags as toe guards (!), Boone's flapless helmet, and Boone's white shoes (which dates the photo to 1975, the only season in which the Phils went white-shod).
• Here's an odd one: Maury Wills playing banjo while in uniform prior to a game at Crosley Field.
• Before Reggie Jackson became known as Mr. October, his nickname was Buck, as can be seen inscribed on his batting glove.
• Not sure what's going on here, but there was apparently a softball team that wore question marks on its jerseys and caps.
• If you're the president, you get to throw out the first pitch at a big league ballgame. But if you're the vice president, you're left with a Nashville/Chattanooga minor league game.
• Never get tired of these executioner-style football helmets.
• This is pure gold: The Big Red Machine used to have a basketball team. Here's how they looked in their warm-up outfits, which had NOBs.
• Here's a great shot of the 1938 San Francisco Seals' huge sleeve patch promoting the 1939 Golden Gate Expo. (Here's a color close-up of the patch.)
• I think it's safe to say that this shot suggesting that a football helmet could be safety-tested by having a man whack a woman with a baseball bat wouldn't fly today.
• Hank Greenberg never played another MLB game after 1947. But he did suit up for the Indians for a spring exhibition game in 1948.
• I love this: One-armed outfielder Pete Gray was an inspiration for a one-armed kid.
• Here's something I didn't know: The House of David's baseball team played against all-women's teams. Ditto for their basketball squad.
• Did Satchel Paige have his own baseball team? He definitely had a jersey with his name across the chest.
+ + + + +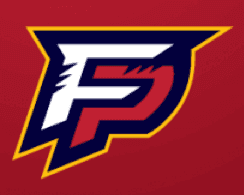 Good enough to steal: Crazy story yesterday out of the NHL, as Panthers goalie Roberto Luongo unveiled a new mask design that includes the "FP" logo shown at right.
Just one problem: That logo was part of a Panthers concept originally posted on Chris Creamer's site way back in 2007 by a Creamer reader named Matt Kauzlarich, who says neither Luongo nor the mask painter asked for his permission. According to Creamer's own report on this story, the mask painter says the logo "was sent to us and requested to be used in the mask design," although it's not clear if the logo design was supplied directly by Luongo, by one of Luongo's representatives, or by the team.
For those of you who create and post concepts on various sites, including this one, this seems like a cautionary tale. As for Kauzlarich, I hope he's compensated for his work now that his connection to the logo has come to light.
+ + + + +
ESPN reminder: In case you missed it yesterday afternoon, my latest ESPN column gives equal time to Indians fans who want to keep Chief Wahoo. I realize this ruins the narrative for those of you who think I only show one side of this story — sorry about that.
+ + + + +

'Skins Watch: Is an offensive logo more acceptable if it's worn as a throwback? Chris Creamer explores that question here. "¦ Disappointing move during last night's Mets/Braves game, as the Mets' SNY network ran a graphic featuring the Braves' Indian head logo (screen shot by Brian Erni).

Baseball News: Back on Monday I wrote about how Yankees pitcher Masahiro Tanaka was anchoring his pant cuffs to his cleats with the dreaded strap, which has been banned. For his next start, on Wednesday night, he was strap-free. … Speaking of the Yankees, in case you were under a rock last night, here's a good shot of the pine tar, or "dirt," or whatever it was, on Michael Pineda's hand. "¦ The Twins' navy jersey with "Minnesota" on the chest is officially listed as their road alternate, but they wore it at home yesterday. … Two amazing Brooklyn Dodgers finds from Bruce Menard: an Ebbets Field vendor's cap and Tex Rickards's "Dodgers Announcer" sweater! … Here's a new one: UNC-Wilmington has been wearing tequila sunrise jerseys with uni numbers just below the front collar. Never seen anything like that — and I can't say I'm in any hurry to see it again, either (from Zane Tuck). … Oooh, look at the amazing William Penn patch that the Phillies wore in 1938 (thanks, Phil). … Mississippi State will be wearing these retro-styled alts against Ole Miss tomorrow. "¦ We've all seen players flying the Hoover flag (i.e., with their back pocket turned inside-out), but it's rare to see a pitcher doing that. That was the case last night, however, for Mets closer Jose Valverde. Someone must have said something to him about it, because the pocket was tucked back in after he faced his first batter (from Steve Dodell).

NFL News: Possibly the most unexpected place to see an NFL team logo: in the middle of a synthetic chemistry research paper (thanks, Mike). … Peter Kirschenbaum got to see an advance screening of the new movie Draft Day, which opens today, and reports that there are some logo inconsistencies in a scene that takes place in the Jags' war room. "The logo and the wordmark on the TV screens are the current logo, but all the coffee mugs and phone screens show the old logo," he says. "My guess is that they shot the scene before they knew of the updated logo. When the new one came out, they were able to change the bigger screens, but the finer details of the mugs couldn't be updated." "¦ A school district in Alaska, of all places, is using Bucco Bruce as its logo. You have to scroll down a little to see it, but it's there (from John Kimmerlein).

College Football News: FSU is due to unveil its new logo (which we've all seen already) and uniforms today. The new helmet will reportedly include an updated spear graphic, and here's a shot of the logo being installed inside the stadium (thanks, Phil). … New midfield logo for Oklahoma's spring game. … Mississippi State will mark the 100th anniversary of Scott Field by wearing this uniform on Aug. 30. And they really will have TNOB — that isn't just for the photo shoot. Meanwhile, several people have asked me how they can get away with using "Hail State" (which they also used for one game last season) when Baylor's "Sic 'Em Bears" got banned, and that's a fair question. Gonna try to find out from the NCAA today.

Hockey News: Mmmm, chocolate Stanley Cups (from John Muir). "¦ Also from John: The tops of Tim Thomas's new pads blend in with his pants. … Frozen Four semifinals featured two color-on-color games: North Dakota vs. Minnesota and Boston College vs. Union (from Rob Liebhart).

Soccer News: New home kit for Liverpool. "Not a fan," says Nile Smith. "The piping on the neck and shoulders doesn't look good. Also odd that the lettering is white but the Liverbird Crest is Yellow. One neat little thing, though: 'LFC' is watermarked into the shirt." "¦ New kit for New Zealand (from Yusuke Toyoda). "¦ Also from Yusuke: "Today is Football Shirt Friday in England, where fans wear soccer jerseys to work and raise money for the Bobby Moore Fund, named in honor of the former England captain who died from bowel cancer." "¦ New kits for Chelsea, Peñarol, Sampdoria, Palmeiras, Hammarby, and Slovenia (all of those from Trevor Williams).

Pro and College Basketball News: Did you know the Jazz's warm-up shirts used to have plaid sleeves? Yikes! (Nice find by Bruce Menard.) … Good shot of WVU basketball's late-1970s untucked jerseys with TNOB (from Brice Wallace).

Grab Bag: I find something hilarious about my supermarket referring to its mini-watermelons as "personal size." … New logo set for Longwood University (from William Bishop). … The unwritten rules of sports media demand that someone must publish an article about the history of the green Masters jacket this week (from Joseph Anderson). … Some folks think the term "Boston Strong" has been overused and over-commercialized. … The House of David is famous for its baseball team, but apparently they also had a basketball squad, which had some killer warm-up threads (another nice auction find by Bruce Menard). … Hey, you know who wears camouflage besides sports teams? The military! So here's a good article on military camo. … Good for Rutgers, which is requiring its apparel licensees to sign an anti-sweatshop agreement. … Here's a nicely produced style guide for Wyoming athletics (big thanks to Bryan Stevens). … Governors State University in Illinois is conducting a vote on its first-ever mascot (from Ron Covert). … A company called Public Safety Advertising is promoting the use of advertising on fire trucks and ambulances. If that's not a scandal, it should be. … A button-front shirt tucked into shorts?! Bjorn Borg, what were you thinking? (Blame Brinke.)