When the King talks, the peasants listen.
That's the takeaway from yesterday's news, first reported by Bleacher Report, that newly minted NBA Commish Adam Silver plans to meet with LeBron James to discuss the players' objections to the league's sleeved jerseys (which James has worn at least three versions of this season). Now, it's true that James used to be the Heat's union rep and has remained active in the union's affairs. But I'm pretty sure Silver's willingness to meet with him has nothing to do with James's union role. It's because James is the most important NBA personage there is. Or to put it another way, he's more important than Silver.
Is there any other athlete who could snap his fingers and get his sport's commissioner to jump? Nobody in baseball comes to mind. In football, Roger Goodell clearly lords over all of his players. In the NHL, the league thought nothing of pissing off one of its highest-profile players with the newly instituted tuck rule (although Wayne Gretzky presumably enjoyed the same status James now does).
Whatever ends up happening with the sleeves, the thing that caught my eye in the Bleacher Report article is the following quote from Silver:
Ultimately, if the players don't like them, we'll move on to something else. I don't regret doing it for this season. But it's intended to be something fun for the fans and the players. And if it becomes a serious issue, as to whether players should be wearing sleeves, we'll likely move on to other things.
Interesting that Silver twice felt the need to say that he'd "move on" to other initiatives if the sleeves are mothballed. Hard to be sure if he means other uni-related initiatives, but here's a radical idea that I offer at no charge: Has the NBA considered, you know, sticking with tank tops? (And for all you conspiracy theorists who are thinking, "Duh, he means ads on the jerseys!," keep in mind that Silver just said the other day that uni ads are still at least five years away, so that's presumably not what he was referring to when he talked about "mov[ing] on to something else.")
Incidentally, it seems to me that Silver has been very visible during his brief commissionership, which isn't yet two months old. Lots of quotes, lots of presence. That strikes me as a positive thing — even if you don't agree with all (or any) of his positions, I like to see a commissioner making his views known and generally setting the tone for his sport. Granted, today's commissioners are essentially just corporate CEO's, not custodians of their respective sports' heritages, but I still like the visibility factor.
+ + + + +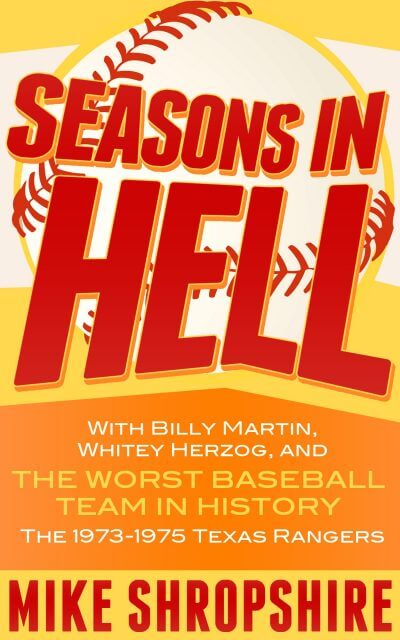 Special deal for Uni Watch readers: Many of you may already be familiar with the book Seasons in Hell, Mike Shropshire's hilarious account of the 1973-75 Texas Rangers, which was arguably the worst team in MLB history. It's great book, very much in the style of Jim Bouton's seminal Ball Four, to which it has often been favorably compared.
The e-version of Seasons in Hell has just been released, and our friends at Diversion Books are making it available to Uni Watch readers at the special price of $1.99. That's a 60% discount off the usual price, and for this week it's a Uni Watch exclusive — there's nowhere else you can buy this e-book at this price. (Don't have an e-reader? You can download one for free here.)
This is the first of two special e-book deals we'll be running with Diversion Books. The second one, The Bill James Guide to Baseball Managers, will be available in the coming weeks. If sales are good, there will likely be more special deals down the road, so you know what to do.
+ + + + +
PermaRec update: Another lost class ring (shown at right) has been found. Get the scoop on Permanent Record.
+ + + + +
Tick-Tock: Today's Ticker was compiled and written by Garrett McGrath, except for 'Skins Watch, which was handled by Paul.

'Skins Watch: Daniel Snyder announced last night that he's starting a foundation to aid Native American tribes. Some observers quickly assessed this as a cynical ploy or a way to buy good PR, but I say good for him. If he's willing to give material assistance to Native people, more power to him. But that doesn't mean he can't also stop misappropriating Native imagery and stop naming his team after an ethnic slur. It's not like the one thing suddenly gives him a free pass on the other things.

Baseball News: The Pirates will honor the recently deceased Hall of Famer Ralph Kiner with a commemorative patch throughout the 2014 season (thanks, Paul). The patch looks pretty great up close (from Harrison Tishler). … Nerdy and Monumental Historical Find: Tom Shieber, using clues from the uniform of the Washington Senators catcher, was able to date rare footage of Babe Ruth at bat against Walter Johnson as June 1st, 1925. More importantly, the footage captured Lou Gehrig on the bench on the very first day he began his famous streak of 2,130 consecutive games. … A beautiful envelope design from the 1945 Chicago Cubs, the last time they were National League champions (from Todd Radom). … Rickey Henderson wore many hats during his career (thanks, Brinke). … The Charleston RiverDogs, the Class Single-A affiliate of the Yankees, will wear seersucker-patterned uniforms for Sunday home games this season (from Alan Poff). … That's no moon, it's the Durham Bulls in Star Wars-themed jerseys for their May 4th game (thanks, Phil). … Great ad featuring a player with sweet swing. … "Don, Why are you breaking Ebbets Field down?" from a blackboard in the clubhouse at Brooklyn Dodgers Ebbets Field in 1960.

College Football News: Miami will be wearing the Speed Flex Helmet this coming season (thanks, Phil). "¦ The complete Miami uniform will be unveiled on April 12th at a Hurricanes Carnival (from Joseph Wingard). … The new Syracuse football iPad app teases the new Nike-designed uniforms. … The College of Idaho is having a Twitter helmet vote by utilizing the RT and Favorite functions. Vote here (from Brad Iverson-Long).

Soccer News: Eithad Airways will announce its sponsorship of the NYC FC today. … The Seattle Sounders debuted their new alternate kits on Sunday. … "I went to the Chicago Fire game on Sunday and noticed fans displaying a sign expressing their displeasure with the elimination of the white strip on the front of the jersey," says Guy Finelli. … The "revolutionary" new football boot from Nike has a built-in ankle collar that covers the bottom of the sock, which may violate FIFA rules (from Kevin Corcoran). "¦ The rest from Yusuke Toyoda: Yesterday's Ticker mentioned that Federico Higuain of the Columbus Crew recently had a misspelled jersey, but we didn't have a photo. Now we do. … Around 3,000 fans protested the change of Cardiff City's team color from blue to red. … Stoke City unveiled their new Warrior-sponsored kits for next season.

NBA News: On Sunday, the Minnesota Timberwolves honored Bob McDonald, the winningest high school basketball coach in Minnesota history, with a specialized jersey with No. 1012 printed on the back (from Jeffrey Bovitz). … "I saw these NBA team-logo finger wraps at a Safeway store in Ft. Lupton, Colorado," says Alex Allen.

Grab Bag: A user on Reddit organized the evolution of every NHL jersey in a neat infographic (thanks, Phil). "¦ The Raiders posted a picture of newly acquired defensive end Justin Tuck's facemask (from William Sour). … Sunday's 182-mile long Milan-San Remo bike race was so cold that Luca Paolini poured hot tea on his hands to keep them warm (from Sean Clancy). … The Road, The Corrections, and other modern classic books imagined as adorable children's books (from Andrew Moeschberger). … "Robert Mitchum going with the rarely used FNSOF (full name stenciled on front) look while visiting the troops in Vietnam in 1967," says Hugh McBride. "¦ The Citrus Bowl — the stadium, not the game — is about to lose the word "Citrus" from its name (from Jim Nedelka).