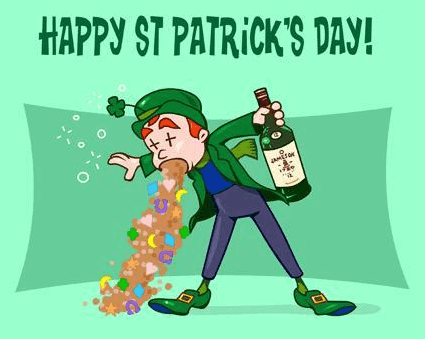 [Editor's Note: Today's lead entry and Ticker were both written by intern Garrett McGrath. Please join me in congratulating him on his first proper Uni Watch byline. "" PL]
By Garrett McGrath
E.B. White said in Here Is New York: "The city makes up for its hazards and its deficiencies by supplying its citizens with massive doses of a supplementary vitamin — the sense of belonging to something unique, cosmopolitan, mighty and unparalleled." I trust that he never took part in a Saint Patrick's Day parade in New York City.
I attended and marched in the parade with my father. We marched with the Cork County Association and had good crack. As a prideful, respectful, and knowledgeable Irishman, I do have an overall problem with the parade itself and what it has come to represent but not with the exposure it gives Ireland and the Irish in America as a whole. Participating in a historic event that is over 250 years old and being able to march — something my parents, grandparents, and great-grandparents have all done — is special. And at least New York doesn't dye its rivers green.
Sports teams don't dye their rivers green either, but that's only because they don't have any rivers. There were plenty of green uniforms yesterday, though. Here's a rundown:
• The Red Sox/Cardinals game found both teams wearing green to varying degrees, although the Cards' catcher cheated by wearing his regular BP cap under his mask. Maybe he didn't want to deal with the adjusta-strap on his forehead. Here's a better look at the shamrock-emblazoned bases.
• I am in 100% agreement with our own Phil Hecken when he says, the Angels had the best Saint Patrick's jerseys. The shamrock on the sleeve and green halo were subtle and fantastic. Their opponents yesterday, the Giants, went with green caps.
• The Pirates would have worn green caps yesterday, but their game was rained out.
• The Los Mets decided to honor their patron saint (not Bill Buckner's legs) by wearing these hats yesterday.
• The Royals went with full green uniforms and Tim Collins went the extra mile by using a green glove.
• The Reds wore these uniforms yesterday.
• Green caps for the Cubs.
• Green caps for the Padres, too.
•  And also for the Rockies.
•  And for the Astros.
• The Tigers had green uniforms and even green-clad grounds crew workers.
• Green jerseys and caps for the Brew Crew, too.
• In the NBA, the Chicago O'Bulls (see that) wore sleeved green jerseys in tribute to Saint Patrick. The O'Bulls also had a sleeved Joakim Noah bobble head giveaway yesterday
• The Celtics continued their extended celebration of the holiday, wearing their sleeved gold-trimmed uniforms for the third game in a row.
• Turning to hockey, several teams wore green warm-ups on Sunday, including the Sabres, Blackhawks, and Penguins.
• And there was also plenty of green on the soccer field.
So that's a good sampling of green in the sports world. If that's too much green for you, there's one category of professionals who can't wear green on Saint Patrick's Day (or any other day): meteorologists.
(Thanks to Phil, Jimbo Huening, and Trevor Williams for their contributions.)
+ + + + +

Baseball News: Headwear shocker: Matt Peachey noticed that longtime double-flapper Shin-Soo Choo was single-flapped the other day. A Rangers spokesman confirms that Choo is experimenting with the single-flappage during spring training, although it's not yet clear what he'll do when the regular season starts. … The Diamondbacks airplane has a logo for the season-opening series in Australia (from Matthew Gunderson). … Nick Swisher 's New Balance cleats honor the Cleveland area code 216 (thanks, Phil). … Lots of Red Sox uni discussion in the first few minutes of this podcast (from Dennis Alpert).

NFL News: The Eagles played a charity basketball game over the weekend. At first Paul thought the very Nike-ish number font might be a hint of things to come on the gridiron, but it turns out that the numbers on last year's charity hoops uni didn't match the football jersey font either, so it probably doesn't mean anything (from Jonathan Temple and Sean-Patrick McAllister). … Two from Phil: Steve Smith will keep No. 89 with Ravens but will wear SrOB because of a baby Smith son on the way, and the Patriots are already selling Darrelle Revis jerseys even though he doesn't yet have a uni.

Hockey News: Some Flyers fans had their custom modified hockey jerseys censored at a Penguins game (from Alan Kreit). … What does everyone think of this list of the Best NHL Alternate Jerseys from the 1990s? Any missing sweaters that should be in consideration?

Basketball News: The Denver Nuggets honored their 1994 team by wearing '94 throwbacks last night. Further info here (thanks, Phil). … The NCAA Division 1 Tournament "Big Dance" is more of a corporate dance-off between Nike and Adidas (thanks, Phil). Here is a bracket by uniform manufacturer to see the match-ups of the brands (from Christopher Hall). … The Minnesota Lynx unveiled their new primary uniform sponsor: the Mayo Clinic (thanks again, Phil).

Grab Bag: The Loyola Lacrosse team wears six different kinds of gloves on their team (from Connor Wilson). … "The football stadium at Woodbridge (NJ) High School was demolished today, and someone posted a photo of it to Facebook," says Gregory Koch. "Since my dad and aunt went there, it showed up on my wall, and I noticed the logo is a complete ripoff of the Wisconson Badgers' logo." … "Change the way you look at logos," says Brinke Guthrie. … What's up with the raised plate on the back of this arena QB's helmet? "Is it a mic box? An impact meter?" asks Nik Streng.
+ + + + +
NCAA Bracket Pool: Paul here. Big thanks to Garrett for handling all of today's content — good stuff!
Now then: I have literally never filled out an NCAA bracket (doesn't interest me), but I know lots of you like to get in on that, so we're once again going to have a bracket pool here on the site. Reader Will Rausch has generously volunteered to set up the pool and tabulate the results, just as he did last year. Take it away, Will:
Hello, lovers of athletics aesthetics. Over the next three weeks, the NCAA will hold a tournament to determine the D-I men's basketball champion. Perhaps you have heard of it? In honor of this, the annual Uni Watch March Madness bracket is back. You can join here (password: stirrups), and if that group fills up as in previous years, you can join the second group here (same password).

Scoring and rules are the same as the past: 1 point for correct picks in the first round, 2 points in the second, 4 in the sweet 16, 8 in the elite eight, 16 in the semis, and 32 for picking the champion. One entry per person, please.
Thanks, Will. The winner will get a prize from my swag bag and a free Uni Watch membership card.