If you know anything about how the poultry industry works (and/or if you've seen the amazing Dirty Jobs segment that's embedded above — if you haven't seen it before, it's definitely worth watching), then you know that baby chicks are separated by gender very soon after being hatched, so that the females can be sent to egg farms. The process of determining girl chick from a boy chick is trickier than you might think, and is called sexing (as in "We will now sex these baby chicks" or "I've been sexing chicks all day long and boy am I exhausted").
I knew about sexing and how it fit into the poultry biz. But I didn't know there was an organization called the American Chick Sexing Association. And I reallyreallyreally didn't know that the American Chick Sexing Association once sponsored local sports teams (for all of these photos, you can click to enlarge):
I found that the other day on eBay. At first I misread "Sexing" as "Sexting" and thought it was something about, you know, sending dirty text messages to hot chicks, or maybe getting dirty text messages from hot chicks. Then I realized it was about chick sexing, like in the poultry industry. Amazing!
The front of the jersey is blank but beautiful:
This was a basketball warm-up top. The unusual thing about it (aside from the chick sexing thing) is that it has a sleeve patch — rare for a warm-up. And that patch is the best thing about the jersey. In fact, it may be the best thing in uni-verse, period. Check it out:
Is that the best thing ever or what?! I love it. Best patch ever — even better than the mysterious Hale America "Pants" patch. (For more info on that one, look here.)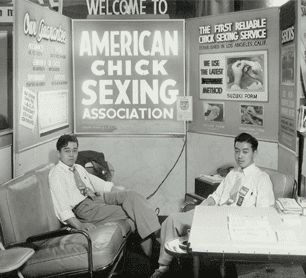 I did a little digging and learned that the American Chick Sexing Association — or Amchick, as it's commonly known — was founded in California in 1937 and then moved to Lansdale, Pennsylvania (the city listed on the sleeve patch) in 1942. The founder was one S. John Nitta — that's him on the far right — who later sold the business to his son, David Nitta, who in turn sold it to an employee. In 2006 Amchick moved to Fayetteville, North Carolina, where it continues to operate today.
I wanted to know more about the jersey, so I began by contacting the eBay seller, but he didn't respond. So then I contacted Amchick, where the organization's executive manager, Lisa Hong, patiently heard me out as I explained the unusual reason for my call. She was intrigued by the jersey — it's part of her company's history, after all — and said she'd try to find out more. After a few days, she emailed me with the following: "The only thing we were able to gather is that the founder of Amchick, Mr. John Nitta, sponsored several local teams and organizations during the 1950s. The jersey was likely from a local sponsorship in Lansdale, Pennsylvania. I wish I could have been able to find out more for you."
I had one other question for Lisa: It seems odd that they put the organization's full, unwieldy name on the back of the jersey (complete with the word "Sex," which must have been fairly scandalous during the period when this jersey was in use) when they could have just put "Amchick" there. Personally, I'm glad they used the full name — it makes the jersey more interesting — but wouldn't the nickname have made more sense? The company even trademarked "Amchick" in 1954, so it wasn't just a slang term. Why not use it on the jersey? Lisa said it was probably a matter of organizational pride — they wanted to use their full name and say it loud, say it proud. Fair enough.
As for the eBay auction, the jersey is too small for me, so I won't be bidding on it. Just as well, because Lisa says she plans to acquire the jersey herself, as a keepsake for the company. Nice!
+ + + + +
Unmasking the Commenters: I recently invited the site's commenters to tell us a bit more about themselves and give us a peek at what they look like, just because I thought it would be fun to pull back the internet's curtain of anonymity. I'll keep showcasing you folks as long as you keep sending in your photos and quick bios.
Big treat today, as one of the site's most active and interesting commenters comes out from behind the mask. Ladies and gents, I give you The Jeff:
Hi. My name is Jeff Provo, and I'm an alco"" er, Uni Watcher. I post as The Jeff primarily because I don't like my last name and because being just Jeff would be boring and a bit confusing since there are multiple Jeffs who comment. I've also posted on other logo/uniform sites as RaiderKtulu. I discovered this blog four or five years ago due to my interest in NFL uniform history, and I've stuck around because I enjoy the daily discussions in the comments section.

I'm about to turn 33. I grew up in Toledo, Ohio, where my high school wore purple and called themselves the Indians, so it's easy to see why I often disagree with Paul. I now live in Columbus. I have a lovable but not very bright cat named Derpy. As a kid, I rooted for the Pistons, Tigers, and Raiders, but the only sport I still actively care about these days is football. I work third shift in retail. It's rather mindless, but it pays the bills. When I'm not working, I spend most of my free time playing video games, listening to heavy metal, watching videos on YouTube, and occasionally creating sports uniform concepts, many of which have been showcased on weekend posts here. My favorite games are Skyrim and Minecraft, my favorite band is Symphony X, and my biggest uniform peeve is the use of gray facemasks by teams that don't wear gray, like the Browns and Colts.
Thanks, Jeff, and happy almost-birthday. Although we often disagree on aesthetic matters, I always appreciate your passion and your contributions to the site. You help make Uni Watch a better place!
Do you want to be featured in "Unmasking the Commenters"? If so, send me a photo and a quick paragraph about yourself. You don't have to reveal your real name, and the photo doesn't have to show your face, but you must include a photo to be considered. Send everything this-a-way.
+ + + + +
PermaRec update: Remember my recent PermaRec piece about old employee I.D. badges? Thanks to some stellar research by a reader, we now know quite a bit about the person shown in one of those badges (shown at right). To get the full scoop, check out the latest entry on the Permanent Record blog.
+ + + + +

'Skins Watch: The Spokane Indians — that's a short-season single-A baseball team — has made some excellent outreach to local Native American tribes in recent years, and one result is that team is poised to become the first baseball team with a Salish-language jersey insignia. See what can happen if a team treats Native imagery with respect instead of as an entitlement? (From Kenny Ocker.) … Good article about the controversies over Native American team names in Idaho high school (from Jamie Galindo). … Protesters held a small rally on Friday night outside a high school basketball game in Wisconsin to protest the name of the Mukwonago High School Indians (thanks, Phil).

Baseball News: Want to make your day? Check out this 1885 children's book called Baseball ABC. Spectacular illustrations and great uniforms! (Great find by Patrick Lasseter.) … Matt Ryburn was watching footage rom the 1988 World Series and noticed that the paint job on Mark McGwire's yellow batting helmet brim was a little different than everyone else's. … In yesterday's Ticker, Phil linked to a photo that showed the Pirates' 1976 pillbox cap, only without the stripes. I mentioned to this Todd Radom, who promptly supplied some additional examples and said it's what the team wore for spring training in '76, which I hadn't been aware of. … Some very colorful Japanese baseball unis from the 1970s are shown on this page. … When I hear the term "baseball pin-ups," I usually think of Rob Ullman's cheesecake artwork. But it turns out that "baseball pin-ups" also applies to this very cool vintage MLB book. … Nice Dave Parker tribute by Evan Longoria (thanks, Phil).

NFL News: Reader Keith Goggin was in a local discount store and found some old Hutch NFL Quarterback Club stuffed footballs, including one for the Oilers and several with the banned Jaguars logo. "They were brand-new," he says. "¦ Bill Kellick was watching some 1979 Bills footage and spotted some inconsistent NOB typography and a huge-ass mic on coach Chuck Knox's headset.

College Football News: "My wife, a Wisconsin alumna, just received this coaster from the Wisconsin Alumni Association showing various iterations of Bucky Badger through the years," says R. Scott Rogers. "Fun stuff, though it neglects to label the year for one of them." "¦ Not sure which team this guy played for, but check out the swoopy serifs at the base of his numerals. Reminds me of the serifs on the A's cap logo (from Brice Wallace). "¦ Also from Brice: Are those buffalo horns on this 1970s Marshall QB's helmet?

Hockey News: Blackhawks did the St. Paddy's thing for pregame warm-ups last night. Sabres, too. I find it fascinating that the NHL — the league that's arguably the most in need of media attention, revenue streams, etc. — restricts its uni gimmickry to pregame. Pink, green, G.I. Joe — they're all worn during warm-ups but never in the game itself. Personally, I prefer it that way, so I applaud the league's restraint, but I also find it surprising (my thanks to Phil for the photos). … "On Saturday, March 2, 1968, my dad and I attended a New York Rangers game at the then-new Madison Square Garden," writes John Adomaitis. "The Rangers played the Flyers that day, and it so happened that the roof of the new Spectrum Arena in Philadelphia had collapsed from snow. As a result, the Flyers stayed in New York and played their next game against the Oakland Seals at MSG the next day. As a bonus for us, they announced during the Rangers/Flyers game that all ticket holders could come back the next day and get in for free with the Ranger/Flyers stub, an offer we could not refuse. Here are the covers and some interior pages from the programs for those games. Man, look at those massive TV numbers the Seals used to wear — looks like they were larger than how they're depicted at the NHL Uniform Database.

Soccer News: "Bundesliga club Borussia Dortmund commissioned students from the Dortmund Technical University to put together an exhibition on the history of Borussia's shirt," says Bernd Wilms. "The exhibition will be shown in the club's museum, the Borusseum, until the end of May. I wish more clubs took such a diligent approach to documenting this stuff!"

NBA News: Here's one observer's open letter to the NBA, asking the league not to put ads on jerseys (from Alan Tompas). … The Cavs did a pretty interesting full-court projection for Zydrunas Igauskas's recent number retirement (from Gordon Blau). … Anything Worth Doing Is Worth Overdoing Dept.: The Celtics are playing tonight, so of course they'll be wearing their new sleeved St. Paddy's Day jerseys — but they apparently couldn't wait until the actual holiday, so they wore them last night. … Meanwhile, Jeff Green and Jared Sullinger wore Irish flag-themed sneakers in that game (thanks, Phil).

College Hoops News: While picking up a six-pack at my corner deli the other night, I saw a Boar's Head ad featuring sandwiches on basketball-patterned buns and a bracket-themed carving board. … "I was watching the a10 championships and saw the 'champions shirts' they got at the end," writes Shane Rupert. "But I don't recognize the logo on the shirts. The best pic I could find is from last year's game (it's the same logo)." I don't know know that logo either — anyone? "¦ "I was intrigued by this NCAA Final Four shirt because it includes the logos of all 68 teams," says Seth Scheving. "But upon further inspection, I noticed Georgetown has accidentally been placed on the shirt in the East region, in place of George Washington. I wonder how long it will take them to notice?"

Grab Bag: "Disney is having a bracket-style competition for its biggest amusement park rides, and they came up with some incredible logos for the attractions," says Ben Hendel. … Ever wonder what a big hit during a football game feels like? You can find out by wearing a new product called the Alert Shirt (from Leo Strawn Jr.). … While looking for something else, I came upon this very cool-looking packet of Coke-sponsored 1980s high school football program covers. Too bad they only show one of them, but it's a beauty. … Nate Silver's 538 site, which is launching on ESPN.com today, has a new logo: a fox. "It's a reference to an Isaiah Berlin essay that contrasts thinkers he calls 'hedgehogs,"'who think the world can be boiled down to one big idea, with 'foxes,' who enjoy complexity and draw on lots of sources and influences," explains Laurence Holland. "¦ Big congrats to the New Girl, who ran yesterday's NYC Half Marathon and looked sharp to boot. Proud of you, sweetie!