[Editor's Note: It's been a very fertile time for DIY projects. Our latest one comes from Mike Cline Jr., who took on a very specific kind of project that I don't think we've seen before. "" PL]
By Mike Cline Jr.
I decided that my air hockey table was missing something, so I decided to build a scoreboard above the playing surface, not unlike what you'd see in a hockey arena. It didn't take me long to decide that it had to be a replica of the scoreboard in the old Buffalo Memorial Auditorium, known locally as "the Aud," which was the home of the Sabres, Braves, and countless minor league and college teams.
My first thought was to make a working scoreboard, but then I realized I know nothing about creating circuits and the cost would get out of hand, so I decided that my best bet would be to stick to a visual replica. For reference, I found some good photos of the Aud's scoreboard and also consulted this scoreboard illustration site.
I went to my local AC Moore craft store and wandered the aisles in search of the right supplies for the project. I ended up using a blue folding presentation board, white letter decals of various sizes, and red and gold rhinestones for the scoreboard lights. In all I probably spent about $15 to $20 on the project.
Once I got all the supplies together, I cut the board to size and applied all the decals and rhinestones, which probably took around 10 hours. After that we glued it together with a hot glue gun and hung it up above my air hockey table. I'm pretty happy with the results (for the first photo, you can click to enlarge):
———
Paul here. Unfortunately, Mike didn't document his step-by-step process, but it's still a really nice project — well done!
+ + + + +
Unmasking the Commenters: I recently invited the site's commenters to tell us a bit more about themselves and give us a peek at what they look like, just because I thought it would be fun to pull back the internet's curtain of anonymity. I'll keep showcasing you folks as long as you keep sending in your photos and quick bios.
Today's commenter is Terence M.K. Here's his photo and self-description (click to enlarge — it's definitely worth it):
My name is Terence M.K. I live here in NYC (the Bronx), very close to Van Cortlandt Park where fellow commenter Jason Bernard thinks The Warriors was filmed. (The film mentioned Van Cortlandt, but those scenes were actually filmed in Riverside Park in Manhattan — sorry, JB.) I was born and raised in the Bronx as a Mets fan, something I inherited that from my Pop, who grew up on Edgecombe Avenue overlooking the Polo Grounds. I comment only occasionally but send in lots of Ticker submissions. I've also been know to stalk a particular uniform columnist at Brooklyn Beefsteaks and Mets fan conventions, to consume too many pepperoni rolls and L.I.T.s on the Strip in Pittsburgh, and to collect $200 polyester shirts. P.S. RyBerto wuz here!
Do you want to be featured in "Unmasking the Commenters"? If so, send me a photo and a quick paragraph about yourself. You don't have to reveal your real name, and the photo doesn't have to show your face, but you must include a photo to be considered. Send everything
this-a-way.
+ + + + +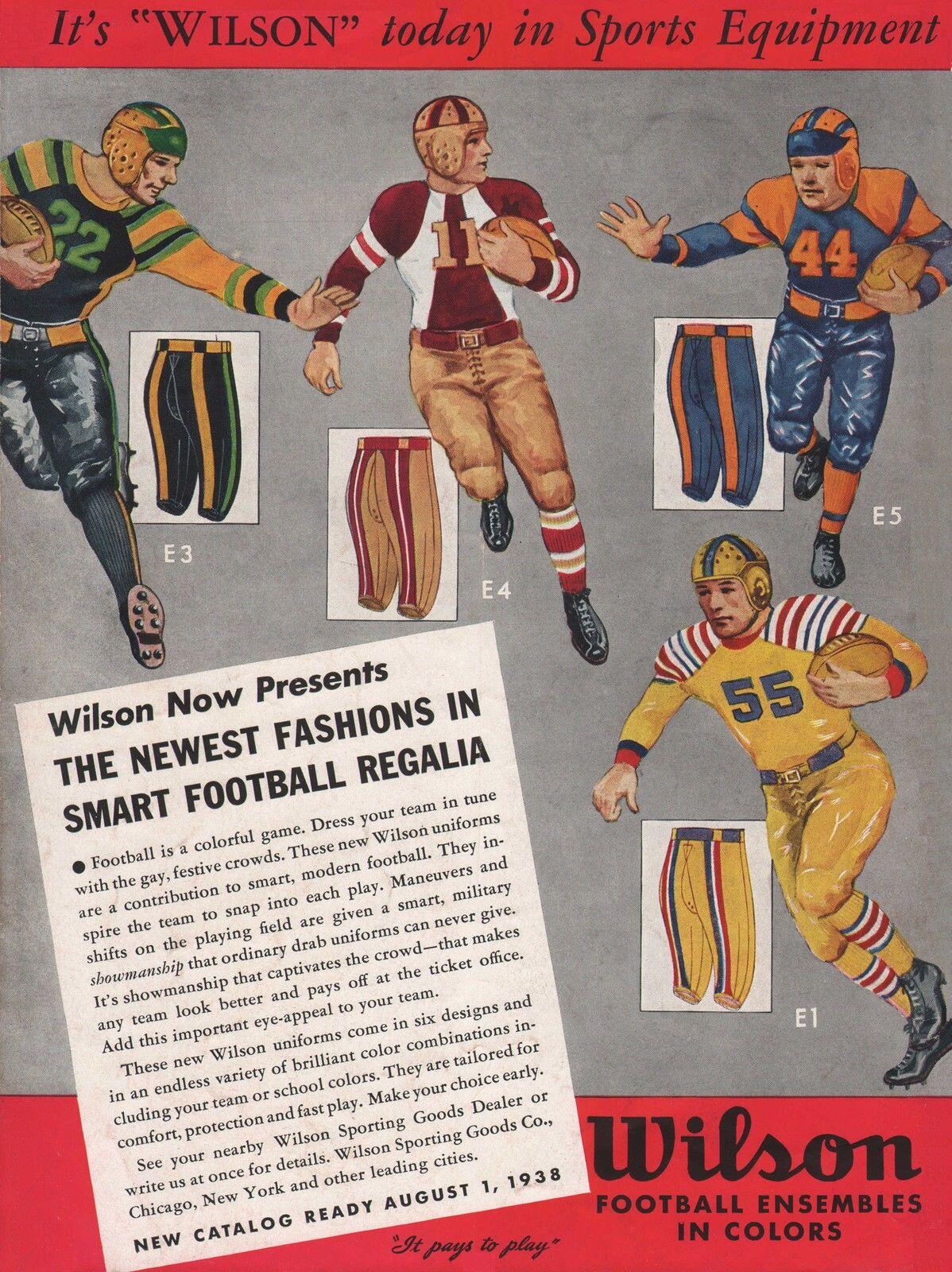 Click to enlarge
Too good for the Ticker: Longtime Uni Watch reader/pal Michael Princip recently scored this 1938 Wilson football uniform ad. Mike thought I'd particularly like the gent on the left, because he's wearing green and mustard, but I actually love all them equally. What a beauty!
It's interesting to see how these designs from three-quarters of a century ago have several elements that we now consider radical or controversial: striping on the back of the pants; monochrome; black; vertical sock striping. And yet they all look classic (at least to me), not futurist. Or, perhaps more accurately, they represent a past version of futurism, and maybe that's what I like so much about them. Also, the full-length sleeves sure do help.
Big thanks to Mike for sharing this super-tasty treat.
+ + + + +

'Skins Watch: Up north of the border, there's now some discussion as to whether the Edmonton Eskimos' name should be changed (from Stephen Coulter). … In a vaguely related item, a CFL team is going to be using the 'Skins training facility in Richmond, Virginia. It would be a perfect convergance if that team happened to be the Eskimos, but no dice (from Tommy Turner).

Baseball News: No photo, but I noticed that Reed Johnson, now with the Marlins, wearing solid socks the other day. In the past, he's always worn stirrups. "¦ In this ad for the new NBC TV series About a Boy, the guy is wearing a San Francisco Seals T-shirt from Ebbets Field Flannels. … Here's another follow-up to Monday's round-up of wire service photos: If you look again at this photo of Pepper Martin sampling gloves during spring training, you can see that the lockers in the background are labeled "Black," which leads Dave Rakowski to wonder, "Given that the photo is from 1950, several years after Jackie Robinson's breakthrough, it it possible that those lockers were part of a segregated locker room in Vero Beach?" Hmmmm. … The rock band the Black Keys are sponsoring jerseys for their childhood Little League in Ohio (from Robert Sanden). … Good to see hosiery hero Rajai Davis is back in stirrups. He also wears one of those sliding mitts while running the bases — more info on that here (from Jeffrey Sak). … The Wilson Tobs — that's a collegiate summer team — have a new logo set, including a stadium anniversary logo (from Alan Poff). … It's bad enough that every minor league hockey team on the planet has jumped on the "ugly Christmas sweater-themed jersey" bandwagon, but now minor league baseball teams are getting in on it. … Mariners pitcher Roenis Elias and minor leaguer Ketel Marte were both wearing No. 81 in yesterday's Cactus League game against the Angels (screen shot by L.M. Grismer). … The Cubs' throwback program for this season apparently includes throwback-style T-shirts (thanks, Phil). … Vanderbilt wore nice throwbacks, including striped stirrups, last night (from Jerry Lawless).

NFL News: Check out the guy in the foreground of this photo from Crimea. Is that an Eagles logo? Sure looks like it! (Good spot by Chris Weber.) … In the wake of the rape charges against Darren Sharper, the NFL's online shop stopped selling his jersey but then reinstated it (thanks, Phil). … Not truly NFL-related, but close enough: I wrote a short ESPN piece on those crazy L.A. Kiss uniforms.

College Football News: According to this article about this season's Chicken Sandwich kickoff game, which will feature Alabama and West Virginia, "Alabama is the home team, will be in the visitor's locker room and wear its crimson jerseys. West Virginia will be in the Atlanta Falcons' home locker room and wear its yellow or blue jersey." So, as Phil points out, "it's not only color vs. color — it could be navy vs. crimson." … Back in the early 1940s, Auburn had two twins who wore name tags during practice so the coach could tell them apart. "Isn't this why they have numbers?" asks Jonathon Binet, not unreasonably.

Hockey News: With the Coyotes changing their name affiliation from Phoenix to Arizona, new versions of their logos have been sighted (from John Muir). … Here's a Bernie Parent card — or is it? Lots of problems with it, as Curtis Peddle points out: "The goalie is wearing a 1987 NHL Rendezvous jersey complete with the sleeve patch, while Parent retired in 1979. Also, Bernie Parent never wore the Mike Liut-style mask that is pictured. And he appears to be wearing a No. 66 Mario Lemieux jersey. What's going on here?" Anyone know more?

Soccer News: Here's something I never knew before: Topps once repurposed its baseball card design template for UK soccer cards (interesting find by Alain Nana-Sinkam). "¦ As you know, the NYC FC is letting fans vote on the team's crest. Chance Michaels says, "Some fans (full disclosure: including me) have worked up a new crest featuring the best parts of each choice."

NBA News: You've probably seen the Celtics' St. Paddy's Day jersey by now, but here's the full uniform. Interesting that they removed the shamrock from the waistband for the Irish holiday (thanks for the photo, Phil).

Grab Bag: This is pretty awesome: Marty Hick displayed his vintage tie collection — or about 70% of it, he says — at the school where he teaches. "¦ Did you know that the apostrophe placement in the brand name Lands' End is due to a 1964 printer's error that the company owner couldn't afford to fix? It's true! This and many other eccentricities in brand naming are explained in this super-excellent article (big thanks to my ESPN pal Dave Wilson). "¦. We all know what Interstate highway route signs look like. But here's a great article on what they might have looked like, based on some early design submissions (big thanks to William Yurasko). … This is pretty funny: The Louisiana State high school basketball tournament is called Marsh Madness (from Chris LaHaye). … Here's a map of the United States, as broken down by meat (thanks, Mike). … Speaking of meat, New York Times business reporters recently complained to their union about fumes from a nearby steakhouse. If anyone from the Times and/or the Newspaper Guild is reading this, I'd just like to make it clear that I have no fucking problem working in close proximity to meat cookery. … Reprinted from yesterday's comments: Oh baby, look at these amazing old photos of Detroit! (From R. Scott Rogers.) … Some great old rugby photos available in this article. … New Zealand will soon be voting on a new national flag design (from Tom Mulgrew). … Mike Simmons and the crew at eCollegeFinder have created a cool-looking, logo-rific map showing the largest university, by enrollment, in each state. Further info here. … Aussie football news from Leo Srawn Jr., who reports that the Columbus Jackaroos are have a fan uniform vote. … Here's one of those periodic boilerplate business articles about how the Big Four leagues are facing pressure to adopt jersey advertising. Well-written, but it's the same old crap we've heard a million times before (from Ted Arnold). … Happy to report that I just signed a new two-year contract with ESPN, whoop-whoop.