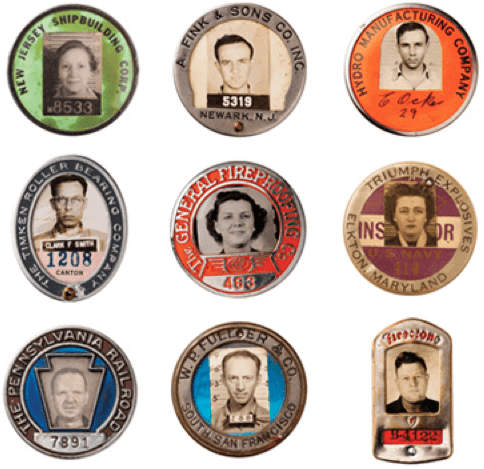 I know most of you don't care about the stuff I post over at Permanent Record. And even those of you who do care (hi Robert, hi James, hi David!) probably prefer it when the PermaRec posts are relatively short, or at least manageable. But every now and then I tap into something that merits a lengthier treatment, and that I think Uni Watch readers ought to take a look at. Today is one of those days.
So: I've recently become mildly obsessed with old employee photo I.D. badges like the ones shown above. They're beautiful, they're evocative, and they have lots of stories to tell. They're also very uni-oriented, because everyone at a given company had to wear the same basic badge design. Maybe that's part of why they appeal to me so much.
You can learn more about the employee badges, how I got obsessed with them, and some stories emanating from a few of them in the latest PermaRec entry. Even if you don't usually look at the PermaRec stuff, I think you'll like this one — please give it a look. Thanks.
+ + + + +
Unmasking the Commenters: I recently invited the site's commenters to tell us a bit more about themselves and to give us a peek at what they look like, just because I thought it would be fun to pull back the internet's curtain of anonymity. I plan to showcase everyone who's responded so far, beginning with DenverGregg — a good choice for the lead-off spot because he's often the first reader to post a comment each morning. Here he is (click to enlarge):
I'm DenverGregg. I've used this pseudonym on a variety of websites since 1995 due to my cumbersome last name and my love for my hometown. I've been reading Uni Watch since it was on Slate [that would have been in 2003 and '04 "" PL]. I'm one of the older commenters — my beard is old enough to legally buy booze or, I suppose, weed. This get-up is explained by Fat Tuesday, an event I both enjoy and resemble. I've worked as an anonymous restaurant reviewer, which was remarkably fun, and in sundry other jobs that have been less fun to varying degrees. These days I work in hospital finance. Most mornings I can be seen walking two exuberantly friendly dogs right after my daily fix of Uni Watch.
Thanks, Gregg — and thanks also for your many worthwhile comments over the years. You help make Uni Watch a better place.
I'll be featuring more commenters (and, eventually, Ticker contributors and maybe even readers/lurkers) in the days and weeks to come. If you're a semi-regular commenter on the site and want to be featured here, send me a photo and a quick paragraph about yourself. You don't have to reveal your real name, and the photo doesn't have to show your face, but you must include a photo to be considered. Send everything here.
+ + + + +

'Skins Watch: Although the Indians appear to be phasing out Wahoo for most applications, he's still being worn by Slider the mascot, and also by the female hot dog mascot and some other food mascots (as noted by Brady Phelps).

Baseball News: Before he got into broadcasting, Keith Olbermann spent some time in the 1970s as a baseball photographer. He was recently going through some of his old photos when he came across this shot of Jim Fregosi wearing the Rangers' 1975 jersey in 1976. That all-caps "TEXAS" jersey was only worn in '75 — the next year they went to this design. But Olbermann says the photo is definitely from '76. For one thing, it was clearly taken at Yankee Stadium, which was closed for renovations in '75. For another, Olbermann says he wasn't yet working as a shutterbug in '75, so the photo couldn't have been from that year. And if you look in background, it appears that Fregosi's teammate was wearing the'76 jersey with the '76 sleeve patch. It's not clear why Fregosi was wearing the '75 jersey, but maybe it was just a batting practice thing (BP jerseys hadn't been invented yet). …Speaking of 1976, I remember how A's owner Charley Finley sold Rollie Fingers and Joe Rudi to the Bosox for $1 million apiece that year, and I remember how MLB Commissioner Bowie Kuhn quickly nullified the deal before Fingers and Rudi could play for Boston. What I don't remember is seeing this great photo of Rudi and Fingers in Bosox gear (big thanks to Doug Keklak). … A Manhattan resident is suing his landlord because his apartment, which featured a ton of MLB bobbleheads and other baseball trinks, was mistakenly cleaned out (from Bruce Menard). … Yeesh, look what Georgia Tech was wearing the other day. "School colors don't mean much anymore," says Mike Raymer. Meanwhile, note the now-outdated logo on the umps Reebok footwear. … Check out this great 1962 shot of the Mets' relievers huddling under Mets blankets on a cold Polo Grounds day. … Speaking of the Amazin's, I was watching yesterday afternoon's Mets/Marlins game and was struck by the sight of new Mets OF Chris Young wearing No. 1. Young is 6'2″, 190, which seems kinda big to be wearing No. 1, no? I'm used to that number being worn by little fellas! Young wore 24 and 25 with the D-Backs and A's, so I don't know why he switched to 1 this season. "¦ Check out this clip from the old Jimmy Piersall biopic Fear Strikes Out. "Piersall's Red Sox teammates are wearing high-number, non-baseball jersey numbers, and Piersall himself is shown wearing double-striping on his jersey sleeves," notes Jake Elwell. "I wonder if the former was done so the studio wouldn't have to pay any other players for their image rights. And the latter may have been a subtle way of making Jimmy stand out from his teammates in game scenes." "¦ A tequila sunrise jersey and a baseball with a clock embedded in it: two great tastes that taste great together (from Scott Fite). "¦ I'm pretty sure the only people who care about the jerseys for the MLB Futures Game are the players who get to wear them, but here's this year's set anyway (thanks, Phil). "¦ Several Phillies were wearing caps for the Baseball Assistance Team — that's one of MLB's charities — yesterday (from Harrison Tishler). "¦ Also from Harrison: We'd previously seen the St. Paddy's Day jerseys, but I don't think we've seen these St. Paddy's Day caps.

NFL News: The Bills won't be playing their annual game in Toronto in 2014. "¦ Here's the latest on the OKC NFL uni-design contest. "If I've learned anything from this, it's that the average internet user is better at design than whoever approved the new Buccaneers jerseys," says Justin Cliburn. "¦ If changes to the Browns uniforms are inevitable, long-suffering fan Christopher Noice hopes it looks something like this. "There's no purer symbol of football than Paul Brown on the side of your head," he says.

College Football News: Even after the Sandusky/Paterno scandal, the Penn State "brand" still has plenty of value (thanks, Phil). "¦ "Clemson has 'unretired' quarterback Steve Fuller's No. 4 for freshman quarterback Deshaun Watson — apparently with Fuller's permission, although I disagree with the whole unretiring of retired numbers thing," says Austin Pendergast. "But check out these two pictures of Watson at spring practice today. In the first one he just has a plain No. 4 practice jersey, but in the second one there's a commemorative patch honoring Fuller. I guess someone just came and ironed it on mid-practice or something. It will be interesting to see if a patch appears on his game jersey as well."

Hockey News: Martin St. Louis, acquired yesterday by the Rangers, did a pregame interview in a jersey and flip-flops (from Alan Kreit). … Reprinted from yesterday's comments: Predators goalie Pekka Rinne began wearing a new mask during his rehab stint with the Milwaukee Admirals and will continue to wear it with the Preds.

Soccer News: More MLS releases (yes, I realize some of these leaked last week), this time for New York, Philly, L.A., Colorado, Vancouver, and Columbus. "¦ Wanna have a nice massage? Then get yourself one of Italy's World Cup jerseys, which will feature "micro-massage" technology. No word on whether the shorts deliver a micro-hand job. "¦ Brazil switched jerseys at halftime of yesterday's friendly match against South Africa (thanks, Phil). "¦ Fernando Cardenas was in class yesterday and noticed the guy in front of him wearing the new Colombia jersey. "On the back of the neck it says "Unidos por un País" (united for one country), but Adidas didn't included the accent on the 'i,'" he says. "Funny, forgivable mistake." "¦ Why are so many World Cup teams going mono-colored? Because FIFA thinks it will make for better HDTV transmissions (thanks, Phil). "¦ I think we already had this in the Ticker last week, but just in case: FIFA says turbans and yarmulkes = OK, message-emblazoned undershirts = not OK (Phil again). "¦ Kosovo played its first FIFA-sanctioned international match yesterday, and went CNOB — that's country name on back — for the occasion (from Yusuke Toyoda).

College Hoops News: "The Americans on FX usually does a great job re-creating the early '80s, which is the time period in which the show is set," says Preston Feiler. "But in last week's season opener, there was a carnival scene that featured basketballs with modern logos. The UNC ball has a logo and wordmark used from 1999-present. Pitt's ball contains a couple of wordmarks used since 1997. The UGA ball is using a wordmark from 2002. The bulldog-face logo has been used since 1964. Maryland's ball has a wordmark from 1997 and a logo from 2001. Florida State's ball is hard to tell, but the logo and wordmark seem to be the post-1990 version. Finally, the Michigan ball has a 1996 update version of their logo and wordmark."

Grab Bag: Someone is auctioning off Col. Harlan "KFC" Sanders's white cotton suit (big thanks to my pal David Brown). … Interesting infographic on the anatomy of a smart city (from Robert Erickson). … New logo for the Chicago-based investment firm Jones Lang LaSalle. "¦ New logo set for VCU athletics (thanks, Phil). "¦ I don't know what quidditch jerseys are — and I have a feeling I don't want to know — but they're available from the Harry Potter shop (from Yancy Yeater). "¦ A day care center in Kentucky uses a script "C" very similar to the one used in the Chick-fil-A logo (from Josh Claywell). "¦ See you tonight at the "Baseball as Good Medicine" event. The story I'll be telling isn't uni-related, but I think you'll enjoy it all the same.