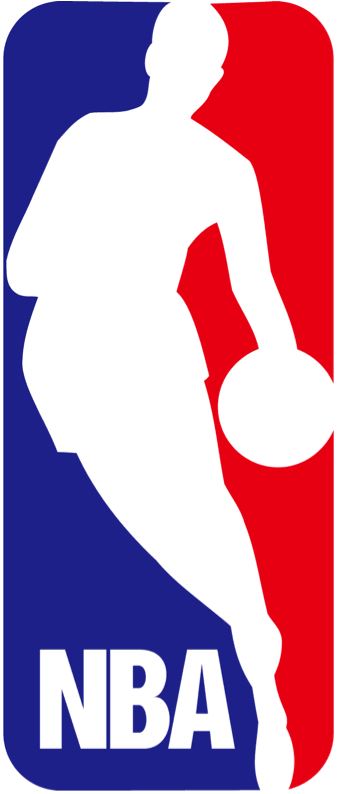 Last month I had exclusive news on new uni designs being developed for the Nets and Hornets. The same source who provided me with that scoop recently got back in touch with more NBA news, this time regarding a bunch of new uniforms to which he's had access.
Just like last time, it's not clear whether these new designs are prototypes, or still in development, or what. No visuals, either — just descriptions. Here's what my source saw:
• There was a sleeved Warriors jersey in very dark gray, with a dark gray logo on the front and yellow numbers.
• There was another sleeved Warriors jersey (Golden State is apparently trying to set some kind of record in this category), this time in black with red and gold trim, and with Chinese characters on the front where the uni number would normally be.
• There was also a Magic jersey that's essentially the same as their current home jersey, but in gray and with sleeves.
• And there was a new edition of the Raptors' original purple uniform — a throwback for next season, perhaps..?
• My source also saw what appeared to be the 2015 All-Star warm-ups. They were black and white, had hoods, and basically had what my source describes as "a boxing look" (which would make sense, because next season's All-Star Game is being played at Madison Square Garden, which still likes to call itself "the Mecca of Boxing," even though it was long ago supplanted by Vegas in that regard). The sleeves had patches on the arms for personal achievements — MVP, Rookie of the Year, etc.
• Related to the above: There was also a Lakers jersey and a Bulls jersey. Standard tank tops, no sleeves. The Lakers design was very dark gray with a white wordmark and numbers, and the Bulls design was a light silver with red letters and numbers. For reasons not worth explaining here, my source thinks these could be the templates for next year's All-Star uniforms. If so, that would mean the league is doing something similar to the All-Star concepts recently proposed by Uni Watch reader Scott Moody (but Scott's color choices for the two conferences were a lot better than dark gray and light silver).
• Finally, my source also saw a bunch of new WNBA uniforms for next season, each with a racer-back design and team names on the back but no uni numbers or NOBs, and also Nobody cares.
That's all we have for now. Further details as they become available.
+ + + + +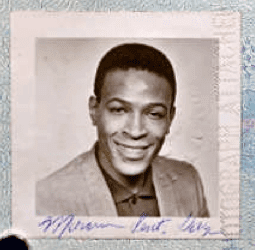 PermaRec update: An old passport that once belonged to Marvin Gaye (the photo from which is shown at right) was recently found inside an LP that someone purchased for 50 cents! More details on that, and some additional thoughts on old passports, in the latest entry on the Permenant Record blog.
+ + + + +

Baseball News: The Reds' Mr. Red character has traditionally been shown wearing No. 27, but no explanation for that has ever been given. Now Todd Radom has found the story behind the story. Great job, Todd! … Speaking of Mr. Red, here's a T-shirt showing him with Pete Rose's head. "Best haircut in baseball history," says Greg Hotopp. … The Hanshin Tigers will wear green for their Ultra Tigers Summer 2014 special campaign (from Jeremy Brahm). … Brian Gross picked up a few old baseball magazines and came up with some good photos, including a Brooklyn Dodgers satin uni shot, a view of an interesting Cardinals jacket, and a a simple but beautiful Indians shot. … Speaking of old photos, Bruce Menard sent in a very nice team portrait of the 1927 Tigers in their tiger-head road uniforms. … Yesterday was the anniversary of the unveiling of the Astros' blue/gold uni set. "A day that shall live in infamy," says David Wilson. … John English saw this Hollywood Stars exhibit at an L.A. farmers' market, of all places. … New logo for the Wilmington Sharks. … Here's one of the best, clearest photos I've ever seen of the Astros' old space-suited grounds crew (big thanks, Brinke). … The good news is that the Rays are outfitting 70 Tampa-area tee ball leagues with uniforms. The bad news is that 12 of the 18 jersey options are either flag-desecration or GI Joe. Tee ball seems a tad young for jingoism, no? "¦ The Royals have a cool new billboard (thanks, Brinke). "¦ Craig MacHenry was at a local Goodwill and found an old cap from the Brisbane Bandits of the Australian Baseball League. "That logo is from '89 but it has a great '70s feel," he says.

NFL News: Former Giants backup QB Jared Lorenzen — aka the Hefty Lefty, the Round Mound of Touchdown, and other weight-related sobriquets — is now playing in an arena league, and the uniform looks pretty weird on him (thanks, Phil). … Yesterday's Seattle Times included a back-page Macy's ad that showed Seahawks WR Golden Tate without any logos or numbers. "Just like the old days," says Scott M.X. Turner. … Gil Neumann spotted this Seahawks-themed semi while driving home from lunch yesterday.

Hockey News: Henrik Lundqvist's Stadium Series mask is up for auction (from Chris Flinn). … The South Carolina Stingrays are going Pink in the Rink (thanks, Phil). "¦ Here's the Canadiens' new acquisition, Dale Weise. "That 22 on his helmet looks weird," says Mike Engle. "They used to use Helvetica for the helmet numbers, and it isn't that. Then they recently switched to a sticker font that matches the jersey number font, and it definitely isn't that either, because they use diagonal 2s. Weird."

Soccer News: Here are some redesign concepts for the Columbus Crew (from Kevin Mueller). … Five Brazilian club teams have new third jerseys honoring the Brazlian national team (thanks, Phil). … New York's new MLS team is having a logo design contest (from Francis Fay). … I'll go out on a limb and say that Iran is probably going to be the first World Cup team to have a cheetah on its jerseys. Can the Cheetos jersey ad be far behind? … New kit for Real Salt Lake (from Karson Kalian). … Color-vs.-color is one thing, but Chelsea and Manchester City went blue-vs.-blue on Monday (from Yusuke Toyoda). … Also from Yusuke: Everton is switching from Nike to Umbro. … "Was looking through some of my old soccer programs from my days of going to Minnesota Kicks games and came across this Pro Keds ad," says Jimmy Lonetti. "If I ever came across a pair of these on eBay or something, I think I'd have to break the bank. Wonder if they made them for other NASL teams?" Hmmmm, anyone know? "¦ Everything from here to the end of the soccer section is from Trevor Williams: Among World Cup nations, new kits for Brazil, Ecuador, and Costa Rica (home and away). For non-Cup nations, new kits for New Zealand, Turkey, Slovenia, Poland, and Zambia. And among club teams, new kits for Liverpool, Real Madrid, Galatasaray, Man U, Ceará Sporting Club, Club Guaraní, Palmeiras, Millonarios, Recreativo de Huelva, and Alianza Lima.

NBA News: Nike has a new line of NBA player caps (from Phil). "¦ Paul Lee was at Target and noticed two NBA basketballs for sale with the same UPC code but different designs.

College Hoops News: Villanova went GFGS on Monday. … Pink uniforms this Saturday for the Colorado State women's team (thanks, Phil).
Olympics News: Nike is bringing the glove-palm salute to the Winter Games. Grrreeeeaaaaat (thanks, Phil). … Also from Phil: Here's one observer's ranking of the 10 best Olympic figure skating costumes. … Excellent piece on Olympic mascots. "¦ Here's a good gallery of Team USA opening ceremony outfits through the years (Phil again).

Grab Bag: What if famous brands used cartoon characters as their mascots? This (from Gordon Blau). … Kenn Tomasch was watching an old episode of Battle of the Network Stars and spotted actor Doug McKeon with a very awkward-looking McNOB. … Aussie football news from Leo Strawn Jr., who writes: "Here's the St. Kilda Saints' new preseason jumper. The club made an open call to designers and then the finalists' designs were voted on by the public. The stick figure was their actual logo in the '70s and '80s, but my understanding is that the club quit using that logo due to a lawsuit over this logo from the 1960s TV series The Saint." … Here's a nice proposal for rebranding the Italian city of Bologna (from Ben Fortney). … Check out the little icons on the New York State Adventure License. Very cool (from the New Girl). … Got a note yesterday from Brinke, with the subject line "This just seems like a Paul story." Sure enough — it's about ketchup packet design! Don't miss. … CNBC set up a curling sheet in their lobby (from Gordon Blau). "¦ New trophy for the World Volleyball Championships (from Jeremy Brahm).