[Editor's Note: Today we have an awesome DIY project from Kevin Tiessen. Enjoy. "" PL]
By Kevin Tiessen
In 1993, everyone in my eighth grade home economics class was supposed to pick a sewing project to work on for the semester. But I convinced my teacher to let me work on a cross-stitching project instead. I had been to crafts stores with my mom, an avid cross-stitcher, and had noticed there were sports-related cross-stitch pattern books available — including an NFL book, which I bought. I figured I'd use the book to cross-stitch an NFL helmet design.
For those who aren't familiar with cross-stitch, think of it as a fabric grid with squares, and there are holes in the fabric at the corners of the squares. The thread is brought from the back side through a hole with a needle, and is then placed through opposite holes to form Xes on the front side of the fabric, like this: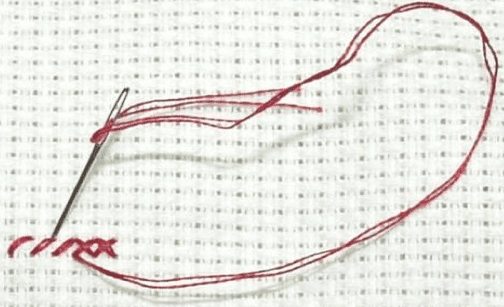 If you look at that picture, you can see that the thread is started from the bottom left to top right, then completed with the bottom right to top left. So the resulting images are actually tiny Xes with various colors of thread.
Although my goal for the home ec project was to complete one helmet, by the end of the semester I had finished four of them, so I decided to keep going to complete the entire AFC [click to enlarge; you can also click the Raiders helmet at the top of the entry to see a really high level of detail]:
The pattern book I'd bought had the Pat Patriot design for New England, but Flying Elvis had just been introduced, so I improvised my own pattern for the Patriots, instead of following the old one in the book.
Just to give you a sense of scale, each helmet is approx 5″ x 4″ and the frame is 28″ x 22″. I don't have the pattern book anymore, but I'm guessing that there are about 2,000 to 3,000 squares per helmet.
I don't recall what grade I received, but I remember that the teacher was impressed.
After doing the helmets, I worked on a few smaller logo projects for my favorite teams:
———
Great stuff. Big thanks to Kevin for sharing it with us.
+ + + + +
Giant mess: The New York Post is reporting this morning that a sports memorabilia collector named Eric Inselberg has filed a lawsuit alleging that Giants personnel — including team brass, quarterback Eli Manning, equipment director Joe Skiba, and others — conspired to create bogus "game-used" jerseys and helmets. According to the suit, Giants personnel took non-game-used gear and essentially beat it up to make it look like it had seen game action, and then passed it off on the memorabilia market — and, in at least one case, to the Pro Football Hall of Fame. You can read the full story here.
I have no idea if any of this is true (and since Joe Skiba is a longtime friend of Uni Watch, I hope it isn't), but it wouldn't be all that surprising. As you may recall, two years ago former Mets equipment manager Charlie Samuels pleaded guilty to stealing millions of dollars' worth of memorabilia, which he was funneling to the collector's market. Seems like there's a lot of fraud on that scene. Too bad.
+ + + + +
Sox sleuthing, continued: Earlier this week I showed a photo of 1966 White Sox manager Eddie Stanky wearing a light blue cap and explained the story behind it.
Now Keith Olbermann, who provided that photo, has come up with another one (click to enlarge):
This photo, like the previous one, was clearly taken at Tiger Stadium (and was therefore presumably taken in May of 1966, just like the other photo). And as you can see, this one shows the true light blue color that the Sox were wearing on the road that season, instead of the more gray-ish tone seen in the other photo. I'm pretty sure that other photo was mistakenly color-corrected to make it appear less blue.
We know that the Sox played a three-game series in Detroit on May 13, 14, and 15 of 1966. Did Stanky wear the blue hat for all three of these games? Only one? Two out of three? Reader Paul Kosman has helped answer that question by finding the following note, which appeared in the May 15 editon of The Chicago Tribune:
That note was referring to the May 14 game, so now we know Stanky wore the cap on that date. And I think we can assume that he wasn't wearing it on the 13th, or the note would have mentioned that. We don't yet know if he wore it again on the 15th. Also, just as importantly, this note suggests that Stanky was the only one to wear the blue cap, at least on the 14th.
(As an aside: As you can see, the Tribune reporter referred to the Sox's 1966 road uni as "sickly looking." Two months earlier, during spring training, that same reporter had written an article in which he referred to the Sox's "light blue denim uniforms, which some unkind critics say look like something in which a prison team might be garbed." Odd that he'd refer to them as denim, which they clearly weren't. In any case, he obviously wasn't a fan of that uni.)
Meanwhile, reader Marc Viquez was looking through the White Sox's 1970 yearbook and spotted two scouts wearing similar but distinct light-colored caps (click to enlarge):
Anyone know more about those caps?
+ + + + +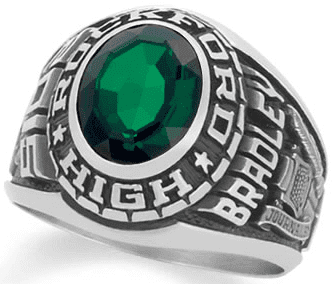 PermaRec update: Class rings that are lost and then found are the subject of the latest entry on the Permanent Record blog.
ESPN reminder: In case you missed it yesterday, my latest ESPN column is about how the weather may affect Super Bowl uniforms and equipment.
Meanwhile, I have another ESPN column today, on 10 uni-related things to watch for in the Super Bowl.
+ + + + +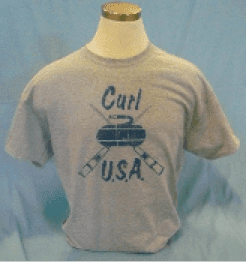 Norwegian pants not included: As longtime readers may recall, four years ago I got into curling and participated in a bonspiel (that's curlingspeak for "tournament") in Minnesota. My team's skip for that event was Craig Brown, a two-time national champion and a super-nice guy. We've stayed in touch over the years, and I'm happy to report that he's an alternate on the U.S. Olympic curling team that will be going to Sochi next week. I'm super-happy for him.
Craig is trying to make back some of his expenses and spread the gospel of curling with this nice line of curling T-shirts. If you're a fan of the sport, or if you just want to help out someone who I can totally vouch for as a swell guy, please consider purchasing one of them. Thanks.
+ + + + +
Tick-Tock: Today's Ticker was compiled and written by Mike Chamernik.

Baseball News: How about this exquisite Padres cap cake with a period-appropriate green underbill? Bradley Ridenour says his wife made it for a friend who loves hats and has the initials S.D. "¦ The Florida Gators have updated their home uniforms. "They have switched from an orange drop shadow to an orange outline," says Dan Wunderlich, "and the number font matches the change the football team made from traditional block to a more angular font."

NFL News: If they NFL is so lucrative, why can't they pay their Super Bowl volunteers? "¦ Paul is quoted several times in this article on Nike and the Super Bowl. "¦ A few readers sent in this gallery of photos from Super Bowl I. Gretchen Mittelstaedt saw that a player (or ref?) wore a wedding band during the game, and Joel Mathwig noticed Bill Curry (No. 50) carrying Jerry Kramer's (No. 64) helmet. "According to the boxscore, both were in the starting lineup," he says. "Not sure what's going on." "¦ Fans will decide which Super Bowl team's colors will light up the top of the Empire State Building (from Aaron McHargue). "¦ An ad for the Super Bowl in a London newspaper depicts Peyton Manning in a Colts jersey (from Chris Taylor). "¦ Former Lions RB Jahvid Best, who retired from the league because of multiple concussions, is suing the NFL, Riddell, and Easton-Bell Sports. "¦ The New York Times has a piece on Madden "stunt players," the guys who mimic football motions for animations in the video game. "¦ Really cool, really old and really expensive football memorabilia is up for auction during Super Bowl weekend (from Tommy Turner). "¦ The Raiders cheerleaders' etiquette handbook has been leaked. It includes tips on handshakes, napkin placement and attending parties hosted by players (from Brinke). "¦ Barry Manilow wore a Terry Bradshaw jersey for a concert in Pittsburgh in 1981 (from Willard Kovacs). "¦ Jeez, what an oddball name for a newborn Seahawks fan. Can you believe it? Cydnee?

College Football News: Notre Dame released its plan for renovations to Notre Dame Stadium (from Warren Junium). "¦ Hey, joke's on you, ignorant Badgers fan (from Don Schauf). "¦ Florida A&M is reportedly toying with some chrome prototype helmets (from Jeremy Avery).

Hockey News: The Rangers and Islanders played their Stadium Series game last night. There are literally hundreds of photos here, but the higlight was definitely Isles goalie Evgeni Nabakov going toque-on-mask, a visual cliché that never gets old. "¦ The AHL Hartford Wolfpack will be wearing these jerseys Saturday for "Pink the Rink" (from Jordan Lazinsk). "¦ The WHL's Tri-City Americans will wear Nuclear Night jerseys Friday (from Greg, who didn't give his last name). "¦ Many readers submitted this: The Phoenix Coyotes will officially become the Arizona Coyotes next season. The team will also have a new shoulder patch for its home and road jerseys. "¦ This striking Dr. Pepper hockey sweater listing is too urgent for the next Collector's Corner. Try to ignore the price tag. (thanks Brinke).

NBA News: LeBron, Kobe and Kevin Durant will have some flashy shoes for the All-Star Game. Not sure how Kobe will wear his since he said he's not playing in the game (from Joseph Andersen). "¦ The Kings released plans for their new arena. "¦ Paul Deaver found a Thunder soda display at a Walmart. "¦ A Jordan Brand fan made a snow angel of the Jumpman logo.

Grab Bag: New overused word to avoid: iconic. "¦ Nevada's Marqueze Coleman wore sunglasses (or some sort of tinted goggles) on the court last night (from Brian Catlett). "¦ Comedian Lewis Black had some thoughts on the USA's opening ceremony outfits and the Sochi Games (from Ed Westfield Jr.). "¦ ESPN made a 30 for 30 short film on the "Great Imposter" Barry Bremen, who from 1979 to 1986 finagled on-field access and impersonated, among other things, a Dallas Cowboy cheerleader and an NBA All-Star (from Paul Deaver). "¦ "Yes, this is the exact headline from Wired.com," Tom Mulgrew says. "Badass Dive Suit Will Make Even Astronauts Jealous." "¦ Very minor tweak to Morton Salt's Umbrella Girl.