Click to enlarge
Several New York-area Uni Watch readers have mentioned to me that they're volunteering for the Super Bowl Host Committee. One of them is Jeffrey Jacobs, who's a volunteer team captain for various events during this week. He asked if I'd be interested in seeing his uniform, and of course I said yes. Jeff, take it away:
All volunteers received a large box. Inside the box were a yellow baseball cap, gloves, headband, mock turtleneck shirt, and three-in-one jacket, along with two gray fleece scarves — one with a New Jersey logo, the other a New York logo [for all of these photos, you can click to enlarge]:
In addition, I am a Volunteer Team Captain, and as such received a gray shirt and gray three-in-one jacket with "Team Captain" printed below the Super Bowl Host Committee logo:
———
Good stuff — thanks, Jeff. The thing I find most interesting is the Visa logo on all the gear. As we reported in the Ticker last week, Visa has just unveiled a new logo, but the logo on the volunteer attire isn't quite the new logo or the old one — it's sort of a hybrid of the two: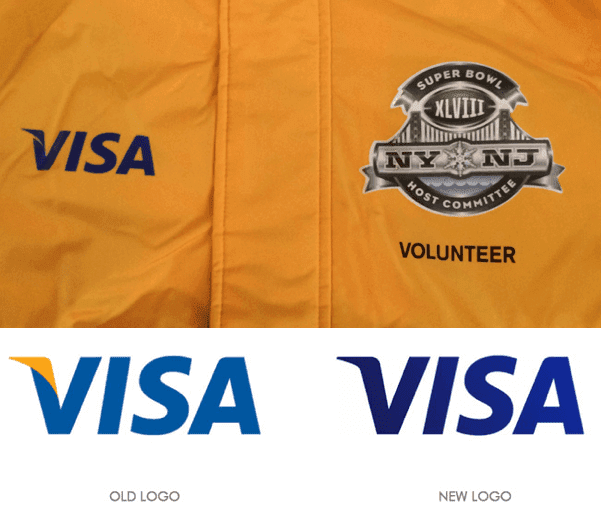 Meanwhile, in case you're wondering: Jeff asked permission to share these photos with us, and that permission was granted, as long as it was clear that he was acting as an individual and not as an official of the Super Bowl Host Committee. So let the record show that that's the case.
Jeff isn't the only Uni Watch reader who's volunteering for the Host Committee. Here's Alan Kreit in his Host Committee (if you can't see the slideshow below, click here):
Alan will have more to say about his Super Bowl Host Committee experience after the game is over — stay tuned.
+ + + + +
Sox sleuthing: Got a note the other night from Keith Olbermann, who wanted to know the story behind this photo of Eddie Stanky (click to enlarge):
A few things about that photo:
1. Stanky managed the Chisox from 1966 through '68. But the Sox only wore that road uniform in '66, so that has to be the year the photo was taken. And as you can also see, the team's road uni was blue-ish in that year, not a true gray as shown in the photo.
2. It would have taken me a little time to figure this out, but Olbermann immediately recognized that dugout as belonging to Tiger Stadium.
3. The big oddity, of course, is the cap. What's up with that?
The first issue is the color of the cap. It matches the color of the uniform, and I'm pretty convinced that the photo was mistakenly color-corrected to make the uni seem less blue and more gray. If that's the case, then the cap was probably light blue, just like the uni.
We already know that the Sox experimented with light blue caps during spring training of 1966. Uni designer/historian Todd Radom uncovered that nugget of info a few months back:
But did the Sox — or at least Stanky — also wear the blue caps during the regular season? After I showed the Stanky photo to Baseball Hall of Fame curator Tom Shieber, he came up with a Boston Globe item from May 19, 1666:
As you can see, Stanky had been razzed by Charlie Dressen for wearing a light blue cap. Dressen was the manager of the Tigers at the time — and the White Sox happen to have played a three-game series at Tiger Stadium on May 13-15 of that year, just a few days prior to that news item appearing the Globe.
Add all of this together and it appears that the Stanky photo was taken in May of '66, and that Stanky wore a light blue cap for at least one game of that series in Detroit. What we don't yet know is whether anyone else wore the blue cap, and/or how often it was worn. But it sure looks like it made the jump from spring training to the regular season, at least on one occasion. Big thanks to Keith, Todd, and Tom for adding this new entry to the MLB uni timeline.
+ + + + +
Collector's Corner
By Brinke Guthrie
With the clock ticking on Candlestick Park's date with the wrecking ball, check out this 1970 Giants program, signed by several big-name players, including Bobby Bonds and Gaylord Perry. Note the cover line — "Candlestick Park of the Future." I believe they are referring to the impending move-in by the Niners, and the enclosure work that would soon be done.
Here's the rest of this week's eBay and Etsy finds:
• Reader Mike Powers sent these two items in — a Toronto Toros ice cleaning sweater, and a 1950s Duncan Yo-Yo Champions wweater. [Wow, that yo-yo sweater is one of the greatest Collector's Corner items ever! "" PL]
• Here's a really nice-looking LA Rams sweater from Cliff Engle.
• Another reader submission, this time from Jacob Sherman, who sent in the listing for this 1934 Diamond Stars Baseball Bubble Gum Wrapper.
• You usually don't see Champion stuff from back in the day with simply the NFL shield.
• I don't know what a picnic flair is, but these are my favorite NFL helmet depictions ever.
• Here's a vintage 1960s Cincinnati Royals duffel bag, sponsored by Marathon Oil.
• Had this! A 1990s Nike/Cowboys pullover. For you kids out there, this item is from the Cowboys first go-round with Nike, when Jerrah went rogue and cut his own deal with 'em. (The Cowboys had to go with no makers mark for one season as a result.) Also found this jacket, which had a bit of a canvas feel to it on the outside.
• The Cowboys Nike stuff was nice, but I do miss the old days of the "NFL Pro Line," like this Russell/Steelers pullover from the 1980s.
• This auction is for a 1970s game-worn Packers polo shirt. Note the mesh-like Sand Knit construction, and the one-bar facemask facing the "wrong" way.
• And we wrap up this week's listings with a nice-looking 1960s Vikings copper plaque.
Seen something on eBay or Etsy that you think would make good Collector's Corner fodder? Send your submissions here.
+ + + + +
Tick-Tock: Today's Ticker was compiled and written by Garrett McGrath.

Baseball News: The Cubs are honoring Wrigley Field's history in their 2014 promotions. It has the good (a replica Chicago Federal jersey day on April 23rd), the bad (Build-A-Bear Plush Doll day on September 7th), and the ugly (Cubs fedora hat day on May 3rd). … Justin Morneau will wear number 33 for the Rockies (move over Larry Walker). … The Astros released this flexi-disc record in their 1982 game programs: Gene Elston's radio broadcast of the ninth inning of Nolan Ryan's fifth no-hitter in the Astrodome on September 26, 1981 (from Chris Perrenot). In more Nolan Ryan news: Matt Cliff made a Groom's cake for his friend Noakes that honors the infamous fight between Ryan and Robin Ventura. … New caps for the Double-A Akron RubberDucks. … South Carolina's batting helmets are logo'd up and ready to go for the new season.

Football News: Who is everyone's favorite crack-smoking mayor rooting for the in Super Bowl? … Even Media Day at the Super Bowl has an official uniform for each team. God bless you, Mr. Goodell (from Matthew Smith). … Another little birdie who claims to have close ties to the Syracuse football team says, "I can bolster your rumor of the new uniforms, and they've been in the works for quite some time." Chrome and platinum are rumored to be part of the design overhaul.

NBA News: The NBA might discontinue sleeved jerseys if enough players complain. … The Blazers might not be altering their home or away jerseys after all. I guess they didn't see any of the great Uni Watch reader redesigns last month.

Grab Bag: Puma and Arsenal have announced a long-term licensing deal (from Ted Arnold). … The US Department of State has advised American athletes against wearing Team USA gear in non-accredited areas in Sochi. … The US Hockey team posted their helmet and skate decals for the games. … Here is a fascinating article on the history and future of camouflage. … Mexico's Olympic skier Prince Hubertus von Hohenlohe wants to be the best-dressed Olympic athlete, so he'll be wearing a mariachi-themed ski suit. … At the Lamont Peterson and Dierry Jean boxing match on Saturday night, challenger Jean wore a Quebec Nordiques jersey with No. 1 and "And the new" stitched on the back. But haberdashery wasn't destiny — Jean lost (from Shane Martin). … Microsoft has renamed its SkyDrive cloud storage to OneDrive due to a lawsuit (from Brinke Guthrie).