The Panthers wore solid-black for yesterday's divisional playoff game against the 49ers. This marked only the second time this season they wore the black pants — a lot less than I would have guessed at the beginning of this season.
After initially hating this combo, I've actually warmed up to it. The blue socks provide a splash of color, and the whole "black panther" thing is a natural. If they went with this as their standard home look, I'd be okay with that. (I'd be even happier if they underwent a complete overhaul, because boy do they need one, but I now think the mono-black look is their best current combo.)
In other notes from yesterday's games:
• Cam Newton wore "Supercam" cleats during pregame warm-ups — a stupid move that looks even stupider when you then go out and lose the game.
• Speaking of Newton, his jersey prompted an interesting Twitter dialogue between ESPN.com's Darren Rovell, Giants equipment director Joe Skiba, and several Uni Watch readers (who did themselves proud). Check it out here.
• Yet another Newtonian observation: At one point he had no mouthpiece and a wad of chewing gum — not exactly a typical look for a quarterback.
• One of the Carolina end zones had a ghosted Cincinnati Bearcats logo, apparently left over from the Department Store Bowl. Shoddy work, Panthers grounds crew!
• During Niners quarterback Colin Kaepernick's postgame press conference appearance, he had headphones around his neck — presumably that brand whose commercials he's been appearing in — but the logos were taped over. I'm not sure which is stupider: making someone tape over his headphone logos, or wearing headphones to a press conference to begin with.
• One other thing I noticed in this game: The 49ers' center briefly looked down between his legs and then brought his head back up just prior to snapping the ball. He did this all game long, whether the quarterback was in shotgun formation or directly under center. Maybe he's been doing it all season long and I just never noticed until now. Seems like this would make it very easy for the defense to avoid encroachment (don't move until the center's head bobs) and time the snap count. As I Niners fan, I hope someone on the coaching staff spotted this and gets it corrected before this Sunday's game in Seattle. … Wait, here's an update on this, as posted in the comments:
The 49ers center's head action is part of their silent count for road games. A few other teams do something similar. When Kaepernick signaled he was ready, the right guard (who was looking back) would tap the center on the side. H ewould then raise his head and snap. You can sometimes vary how long you wait before snapping, but since the 49ers usually go all the way to the end of the play clock anyway, there probably wasn't too much variation. They did the same thing in Green Bay, and likely in most road venues. One of the sacrifices of being on the road is having more predictable snap counts to counter the noise. I guarantee you will see it next week, too.
• Turning to the Broncos/Chargers game, one note: San Diego kicker Nick Novak came out for pregame warm-ups wearing powder blue pants — something I didn't even know they had in their wardrobe. Does this mean they could conceivably go mono-powder at some point? Never mind, Phil says it was just the normal navy pants being distorted by an Instagram filter.
(Big thanks to Andrew Domingo, Brinke Guthrie, Chris Perrenot, and, especially, Phil for their contributions to this section.)
+ + + + +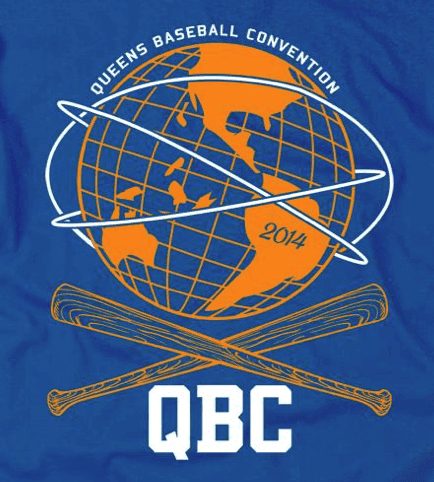 QBC reminder: The Queens Baseball Convention — basically an all-day Mets-apalooza– is coming up this Saturday at McFadden's, and it's shaping up as a great event. Among the highlights:
• There will be a panel discussion on the subject of uniforms in general and Mets uniforms in particular. Panelists will include myself, Phil, uni designer Todd Radom, Jon Springer (who runs the excellent Mets by the Numbers site), Russ Gompers (who runs Stitches, the shop that does all the Mets' sewing and embroidery), and other luminaries. Should be awesome.
• There will be a "jersey parade," in which fans can wear their favorite (or most obscure, or whatever) Mets jerseys. I'll be taking part in the judging to pick the best and most interesting jerseys of the day.
• There will also be lots of non-uni stuff, including autograph sessions with former Mets Ed Kranepool and Ron Darling; presentations by Faith and Fear in Flushing blogger Greg Prince and ESPN.com columnist Mark Simon; a scavenger hunt for kids; and a lot more. The full schedule of events is available here, and you can purchase tickets ($35 for adults, $10 for kids) here.
Shannon Shark, the Mets Police honcho who's putting all of this together, is a smart, can-do guy who makes stuff happen (he pretty much single-handedly convinced the Mets to bring back Banner Day). He also put together this little video clip to help promote the event:
Should be a good time — hope to see a bunch of you there.
+ + + + +

'Skins Watch: That Canadian youth football team that was called the Redskins has changed its name to the Eagles. Lost amidst the name-change controversy is the fact that they've gone from ripping off one NFL logo to ripping off another NFL logo (thanks, Phil).

Baseball News: Man, a guy gets elected to the Hall of Fame and all of a sudden he has his own beer. I know it's his nickname and all, but that seems like an odd choice for a beer name — sounds like it'd give you a major hangover (from Comrade Robert Marshall). … Fascinating find by Jody Michael, who writes: "One of the proposals for replacing Forbes Field in the '50s would have involved building a stadium atop its own bridge over the Monongahela River, the political appeal being that it would avoid eminent-domain issues." "¦ Here's the Royals' new bat knob decal template (thanks, Phil).

NFL News: Concussion Discussion: The NFL's latest youth football safety initiative, Heads Up Tackling, is being described by some critics — including former NFL players as propaganda. "¦ "I recently built a home theatre with a 100-plus-inch HD screen, and my eyes were shocked at uniform details I was missing," says Francis Solomon. "One of the biggest surprises involved the helmet paint colors — there were metallics, really sparkly metallics, flats, semi-glossy, glossies. A couple that really stood out were the old Miami Dolphins (super-sparkly white) and Green Bay (super-sparkly yellow), and of course the regrettable Jacksonville helmet (although the gold part seems kind of cool)."

College Football News: The same little birdie who accurately told me that Notre Dame would likely go with Under Armour now has this to say: "Word is that Notre Dame very close to announcing a more refined redesign of Notre Dame Stadium with updated renderings. One connection said it could come 'as early as Monday'; other said 'within the next two weeks.'"

Hockey News: While looking for something else, I came across an old WHA-era Oilers jersey with an unusual NOB. Look at that lowercase "e" — you don't see that very often. … Tris Wykes has written a great story on why a Dartmouth hockey player has changed his uni number. … Here's a pretty cool DIY table hockey drinking table. Step-by-step photos here (from Jeff Ash). … Jaymo was at Saturday's Binghamton Senators vs. Adirondack Phantoms game and noticed that the Phantoms players, goaltender included, were wearing their pants backwards. Hmmm, is that really backwards, or do they just happen to have the logo on the back instead of the front?

Soccer News: Leeds defender Jason Pearce was apparently wearing a retail jersey from the pro shop the other day. How can you tell? He left the tag on (from Mark Coale). … Here's more about the controversy involving that Chilean team whose jersey uses a map of Palestine to replace the numeral "1" (from Christian Zummer). "¦ Yusuke Toyoda notes that Stoke City manager Mark Hughes was wearing a button on his collar yesterday. Anyone know what it was for?

NBA News: While looking for something else, I came across a photo that showed something unusual: an NBA team using nameplates instead of direct-sewn lettering. Those are the Cavs, circa 1984. … The NBA is selling a line of really bizarre-looking (read: stupid) T-shirts: Look here, here, and here (from Douglas Ford). "¦ Someone on Reddit came up with a pretty good Clippers redesign concept. Further info here (from Jeremy Avery). "¦ "No photo, but referee Ben Taylor was a late scratch from Friday's Jazz/Cavs game and was replaced by Justin Van Duyne," says Brett Crane. "But for whatever reason, Van Duyne wore Taylor's No. 46 referee jersey. Very odd, never seen that before."

College Hoops News: Oregon State and Cal went color vs. color on Saturday (from Eric Fisk). … Several South Carolina players were wearing silver shoes against LSU on Saturday. "Of course, the Gamecocks lost and, therefore, looked utterly ridiculous in their flashy kicks," says Jeremy Baker.

Grab Bag: We've seen TNOB, which is team name on back. But look at this: TOB — "Team" on back! That's Banks County High School in Georgia (great one from Blake Pass). "¦ Andrew Harrington has designed a T-shirt that should appeal to Pittsburgh people. "¦ Eight designers have come up with proposals for a new Toronto city logo (from Dave Kuruc). … Can't make it up: A pimp who beat the crap out of someone with his Nike Jordans is now suing Nike for not warning consumers that the shoes can be dangerous weapons. "Hard to know who to root for in that one," notes Jerry Nitzh. "¦ David Firestone has compiled some Daytona Thunder preseason uni notes. "¦ Jason Johnson's dad collects team logo-stamped golf balls. "¦ Here's an assessment of Under Armour from a business/investment standpoint (from Tommy Turner).