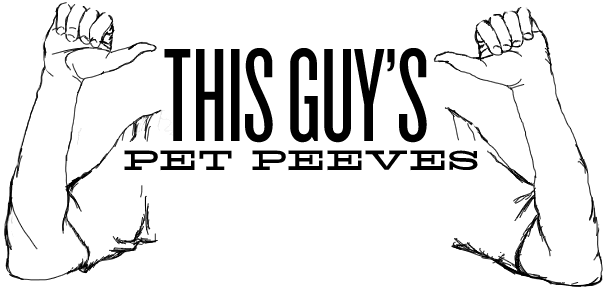 A few weeks ago I invited readers to list up to 10 uni-related pet peeves (or gripes, or complaints, or whatever) in the comments. About 200 of you responded, and reader David Gratt then volunteered to sift through the data and compile some stats for us.
David's task was a difficult one. In addition to the drudgery of slogging through all the data, he had to make some tricky judgment calls. For example, if someone listed "baseball pajama pants" as a peeve and someone else listed "lack of stirrups," do those count as the same thing? (For our purposes, I'd say yes.) And if someone listed "UCLA football team's stripes not gong far enough around" and someone else had "Colts' stripes not going far enough around," do those count as the same thing? (Again, I'd say yes.)
There were many, many situations like this, and it's therefore entirely possible — maybe even probable — that someone else might comb through the data and come up with different results than David did. Still, I'm very confident that David's results are a good representation of the data because he clearly took the job seriously, as you can tell from these comments he provided for us:
There were 832 data points (i.e., 832 individual peeves), which I "narrowed down" to 344 categories.

If we put the peeves on a curve, we see that there were:

• Six peeves mentioned by 20 or more people

• Six peeves mentioned by 10 to 19 people

• 26 peeves mentioned by five to nine people

• 36 peeves mentioned by three or four people

• 48 peeves mentioned by two people

• 222 peeves only mentioned once

For each point, I tried to assign an appropriate category, the offending party, the sport (if indicated), and any notes, all of which helped me to review the data by sorting it and then looking at the sub-categories.

The next step would be to review and decide how to handle something like Nike's new NFL uniforms. Dislike of the new football unis could be a general category, but a number of people specifically pointed out the sweatbox, too many panels, theNnikelace, the neck roll, etc. Not sure whether it makes sense to combine all these things or leave them separate.

If we set up nested categories — using "new Nike NFL uni" as the control category and then using the different elements of that as sub-categories — it would provide more information, but it would be very labor-intensive. [Given the work involved, I didn't ask David to do this. "" PL]
Okay, enough preliminaries. Can you guess what the top peeve was? You can see that, along with the rest of David's results (which were delivered on a spreadsheet file that I then uploaded to Google Drive) here.
Interesting stuff, right? Frankly, 832 data points is a really small sample (especially when more than 25% of them are individual peeves mentioned by only one person apiece), but it still provides some good food for thought.
Feel free to respond to all of this in today's comments, but please don't just start listing more peeves — we can do that another day. For today, let's stick to assessing the data in David's report. And of course you're free to comment on stuff in today's Ticker, or on other developing uni-related news — but let's not list new peeves today. Thanks.
+ + + + +

'Skins Watch: According to a newly released poll by Public Policy Polling — a group with a reputation for progressivism and accuracy — an overwhelming majority of Americans want the 'Skins to keep their name.

NFL News: Former Vikings punter Chris Kluwe's account of how he suspects he was blackballed out of the NFL includes the following tidbit: "On Dec. 9, [2012,] I wore on my jersey a small patch made out of athletic tape on which I'd written, 'Vote Ray Guy' "" a small protest against punter Ray Guy's exclusion from the Pro Football Hall of Fame. … On Dec. 13, during his weekly media session, [Vikings special teams coach] Mike Priefer was asked about the patch in a joking manner. He responded tersely: 'I don't even want to talk about it. Those distractions are getting old for me, to be honest with you.'" … The Chargers' official team store doesn't know how to spell Ryan Mathews's name. … Some research is showing that NFL concussions would be a lot easier to prevent if the human head worked more like a woodpecker's or a bighorn sheep's.

College Football News: Louisville QB Teddy Bridgewater managed to wear three different school logos at once (aside from his helmet logo) in this photo. There's the "L" on his nose bumper, the cardinal on his chinstrap, and the cardinal doing a Heisman pose on his play-calling wristband (from John Annino).

Hockey News: Here's Martin Brodeur's Stadium Series mask (from Kevin Clark). … And here's Henrik Lundqvist's mask for the Rangers' game at Yankee Stadium (from Alan Kreit). … Tom Glanzer notes that the Winter Classic looked a lot like a bubble hockey game. … Speaking of the Winter Classic, Nick Schiavo points out that Bauer made special sticks to look like old school wood graphics on the composite sticks. "¦ Great spot by Casey B, who noticed that the Canadiens changed their helmet numbers to match the font and outlining on their jerseys in the middle of last month. "It appears that the white road helmets started featuring the new numbers on Dec. 19, and the blue home helmets made the changeover for the Dec. 17 game against Phoenix," he says. "Definitely an upgrade."

NBA News: The Magic will wear these throwbacks on Saturday. Further info here (thanks, Phil). … Jayson Young did a little DIY alternation to one of his Raptors jerseys. … Speaking of the Raptors, I'm a few days late with this, but there's talk of the team's colors changing to black and gold (from Nigel Mills). "¦ Jarded Sullinger of the Celtics was wearing a wrap on his injured hand, but he aggravated the injury earlier this week is now wearing a padded fingerless glove (thanks, Phil).

College Hoops News: Holy moly, look at Albany's road shorts — purple in the front, gold in the back! (Blame Jeff Flynn Jr.) "¦ Here's an unusual JrOB format — and a McNOB to boot! That's Mike McCall Jr. of Saint Louis University during Monday night's game against Vanderbilt (from Will Edge).

Grab Bag: The San Jose Earthquakes (MLS) will unveil a new logo and uni set on Jan. 30 (thanks, Phil). … Two Massachusetts high schools — Watertown and Belmont — have merged their girls' hockey teams and are using a familiar logo that features both schools' initials (from Ilana Hardesty). … Cycling news from Sean Clancy, who writes: "This is 2014 world road race champion Rui Costa's new rainbow kit from his Lampre-Merida team (who seem to have forgotten that the most important rule in cycling is that friends don't let friends wear white shorts), and here is Lampre-Merida's regular team jersey for 2014." … "In Chicagoland high school football, the Catholic league champ used play the city champ in the Mayor Daley Prep Bowl," says Andy Paschen. "The 1966 game at Soldier Field, which pitted the Loyola Ramblers against Chicago Vocational School, featured the Chicago flag painted in the end zone." … Speaking of high school football, yesterday's Under Armour All-America Game featured really annoying reflective/branded visors (thanks, Phil).
+ + + + +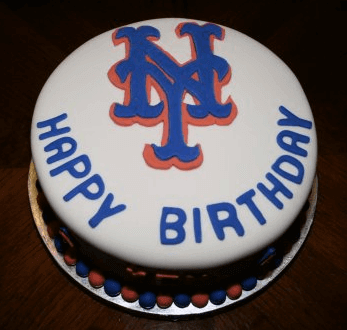 Birthday Boy: Please join me in wishing the happiest of birthdays to the best bench coach a fella could ever wish for, L.I. Phil Hecken.
By now you know the backstory: Phil was born in a log cabin (that he helped build!), supported his family from an early age, worked his way through Harvard, and won the Nobel Peace Prize soon thereafter. The amazing thing is that he's been able to do all of this in only 29 years. Remarkable.
In all seriousness: Phil is uber-integral to Uni Watch's success. I'm proud to have him on board and even prouder to call him my friend. Enjoy your day, buddy — hope the snowstorm makes them close your office so you get the day off!