So what'dja think of the new Oregon uniforms in last night's Petroleum Bowl? Naturally, I liked the green socks, but I thought the silver feathers across the shoulders were a bit too busy. In any case, get used to this design template, because it's what they'll be wearing for the next few seasons. Lots of additional photos here.
Meanwhile, over at the We Don't Even Have a Football Team but Somehow We're Sponsoring This Bowl, Texas Tech went GFGS and debuted a new helmet, which had a red raider on horseback (or at least I think that's what it was) on one side and TV numbers on the other. Their opponent, Arizona State, also showed up with a new helmet — big pitchfork on one side, gigantic TV numbers on the other.
+ + + + +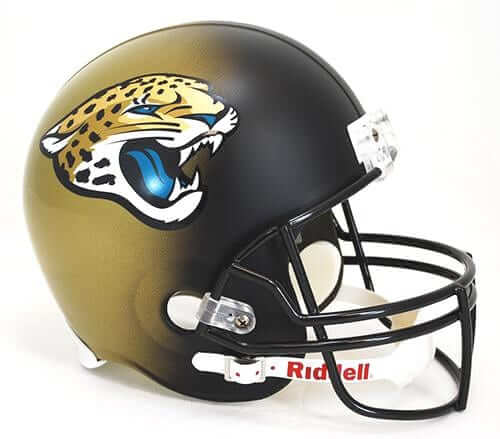 Trickle up, trickle down: Got an interesting note regarding the Jags' two-tone helmet from reader David Lassen, as follows:
This helmet is a rare case of a design feature moving up the sports food chain, as it were. Here in southen California, we've had a number of high school helmets with that two-tone fade job for several years now. I assume they exist in other parts of the country as well.

Normally, things flow down "" think of all the team logos "borrowed" from pro and college teams by high schools "" but not so much the other way. A lot of the Nike/Oregon design excesses have been copied at the high school level but haven't really moved into the pros.

Can you or your readers can think of other examples of design features moving from the more grass-roots levels to college and/or the pros?
That's a good question. After searching my mental databases, I haven't come up with any comparable examples. Anyone..?
+ + + + +
Click to enlarge
Collector's Corner
By Brinke Guthrie
We're featuring the NFL playoff teams this week here at Collector's Corner. Leading off with Seattle Seahawks, who'll likely be facing the Denver Peytons in the Super Bowl (I'm a Niners fan, but I am also realistic). Here's their first-season yearbook from 1976. Notice how no one bothered to crop the navy from the negative space within the Seahawks facemask in the center. You say you're not an NFC fan? Then this Broncos pennant has the old bucking horsey.
Here's the rest of this week's eBay roundup:
• Now this is a classic-looking vintage Boston Patriots helmet, my friends.
• Really nice-looking 1960s 49ers bobblehead.
• Does this plain white Chiefs T-shirt look like it's worth almost a grand? No.
• Er, I think someone was asleep on the manufacturing line when this Chargers helmet plaque came rolling by for decal application.
• For you kids out there, before Boomer Esiason hosted the CBS pregame, he was the Bengals' QB. Here's what the first generation of striped Bengals jersey tops looked like.
• Your 1960s New Orleans Saints came marchin' in to this record album.
• Be a Packer Backer with this 1960s seat cushion. While you're sitting on your cushion, drape this stadium blanket over the rest of you. (This auction already ended, but take a look at this retro jacket, eh?)
• Ah, 1990s Russell NFL Pro Line hoodie goodness, featuring your Carolina Panthers.
Seen something on eBay or Etsy that you think would make good Collector's Corner fodder? Send your submissions here.
+ + + + +
Click to enlarge
One of the nicest pieces of design I've seen lately is the package for these small chocolates (I included the pen to provide scale), which Heather picked up somewhere in Manhattan. There's something about the design and shape that reminds me of a flash drive — like, are you sure it doesn't have a built-in USB jack? Plenty tasty, too.
+ + + + +
Tick-Tock: Today's Ticker was compiled and written by Garrett McGrath.

NFL News: While lamenting the Dolphins loss to Rex's Jets during the post-game press conference, Ryan Tannehill wore a shirt with the old Dolphins logo. It is really noticeable with the background and microphone new logos and the Elmo off-screen (from Marc Burgess).

College Football News: Here are LSU's shoes for the Steakhouse Bowl (from Patrick O'Neill). … Missouri's wearing black-gold-black for the Telecom Bowl, and Baylor's wearing black for the Tortilla Chip Bowl (thanks, Phil). … Mizzou will wear helmets with an alternate logo for the Telecom Bowl. … No photo but John Barnes says: "Previous UNLV coach Mike Sanford stopped the practice of putting players' names on the backs of their jerseys, saying he wanted to emphasize team over individuals."

Soccer News: New kits for Italy, Ghana, and South Korea, plus new third kits for Brazil and Recreativo (scroll down to see the great socks), a new crest for AC Milan, and Plymouth Argyle is having a fan vote on a new jersey (all this from Trevor Williams).

Grab Bag: Yesterday Paul asked about Gemini Athletic Wear. The company does outfit a lot of college and high school hockey teams (from Jeffrey Metzdorff). … Our friends at SportsLogos.net have issued their "Best and Worst New Logos of the Year" awards. … Another awesome bowling uniform: The 1912-1913 Champion Bowlers from Wick Piano Factory of North Saint Paul, Minnesota (from Gary Olson). … "Michael Carberry has been playing with the England Cricket team during their current tour of Australia," says reader Graham Clayton. "He is the first international player to use the Ayrtek helmet, which looks totally different to all previous helmets."
+ + + + +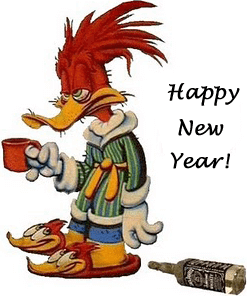 It's fairly axiomatic that New Year's Eve is for amateurs. The crowds, the inflated prices, the vomiting douchebags, the assorted nonsense — it's a nightmare. And yet there's that instinctive tug to, you know, do something on Dec. 31. Is there any way to resolve these conflicting impulses?
Years ago my friends Karen and Jon came up with an excellent solution. They invited a bunch of friends to join them for a 2pm lunch at an old-school-ish Manhattan eatery (most NYCers either have the day off or have a shortened workday). After lunch, they and their friends would decamp for drinks at a few nearby bars, perhaps detouring along the way for a quick walk through a portion of Central Park. By 6pm, everyone would be on their way home. They called this little routine New Year's Eve-ternoon, and it was such a hit that they decided to make it an annual ritual.
Today will mark my seventh time participating in New Year's Eve-ternoon, and I couldn't be happier. I'll get to see well over a dozen of my favorite people, have a nice meal, raise a glass (okay, several glasses), ring out the old, ring in the new, and be home before all the bullshit starts. I've found it to be a remarkably pleasant way to punch my Dec. 31 ticket, and I heartily recommend it to one and all.
As for the evening, I'm planning on something small and quiet. With luck, I'll be asleep before midnight, and that suits me just fine. Whatever your plans are for today and tonight, I hope they turn out well. Thanks for a swell 2013, and let's do even better next year. Peace. "" Paul