For all images in today's entry, you can click to enlarge
Sporting goods maven/historian Terry Proctor got me an early Christmas gift this year — a 1950-51 uniform catalog from Central States Basketball Headquarters, a now-defunct Indiana company I'd never heard of before. If I had seen this catalog on eBay, I probably wouldn't have bid on it, because the interior pages are all in black-and-white and the cover uses one of those generic stock illustrations more typically found on high school game programs — pretty low-grade. But once I started flipping through the catalog, I spotted lots of interesting stuff. Let's take a look, beginning with this page:
Love that football official's jacket. If you look at the fine print, you can see that the accompanying shirt was zebra-striped, but what's the point of wearing zebra stripes if nobody can see them? Meanwhile, down at the bottom of the page, I don't think I've ever seen those "shorty" tees listed before — very cool!
This page has something else I've never seen before:
A coach's cap? That's a new one on me. I guess the idea was to make the coach easier to spot on the sidelines..? Also: Unbreakable peak!
I've written many times about my love of varsity jackets, but this catalog has several styles and templates that are new to me — see the ones I've circled here:
Several of those look like they're highlighting the player's lungs!
Moving on the world of basketball, it's interesting to see that the catalog offered two completely different styles of referee jerseys, one of which is new to me:
Really wish this next page had been in color. But even in black-and-white, it's a doozy of a gallery. A few of these styles are new to me, including the one on the bottom row, second from left — I like how the partial stripes extend from the belt loops:
Nothing earthshaking on this next page, but I love how the headline has those quote marks around "On Earth":
I'm always creeped out by the way these old catalogs tended to depict female athletes with freakishly tiny waists. That was common in most of the fashion illustrations of the day, but it's still kinda disturbing:
Speaking of women's athletic attire, I like how the gym suit on the right side of this next page has little bloomers sewn into it:
Remember when I wrote about college beanies? I was surprised to see that style of headwear described in the catalog as "Eton Caps":
So then I Googled "Eton Caps" and discovered that they're totally a thing, although I didn't find the derivation of the name. Anyone know more?
Totally digging the bowling award pendants at the top of this next page:
Finally, it's always more fun when an old catalog still has its original order blank and the envelope in which to mail it:
———
That's it. Thanks so much to Terry Proctor for this excellent gift, which makes a great addition to the Uni Watch library.
+ + + + +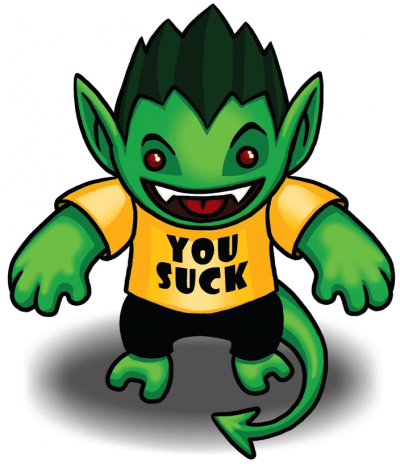 Big Cock Johnson update: As you may recall, back in April I published the transcript of an interview I had conducted with Uni Watch's most notorious troll, Joe "Big Cock" Johnson. The interview garnered a fair amount of buzz in media circles (although probably not as much as it would have gotten if it hadn't been published the same day as the Boston Marathon bombings) and was the subject of a segment on the public radio show On the Media.
In late June, for reasons not worth explaining here, I had to take down the Joe Johnson interview entry. As I explained to the many of you who inquired over the ensuing months ("Why I can't I find the troll interview?"), the entry's disappearance was necessary but temporary, and I was planning to restore it to the site.
Now it turns out I won't be restoring it to Uni Watch after all. Instead, I've created a new site that will serve as the repository for the Joe Johnson story. It's called My Pet Troll. Because so much of Joe's commentary was scabrous and then some, I've flagged the new site as having "adult content," which means you'll have to click on a buffer page before accessing the site. But don't worry, there's no nudity or anything else NSFW on the site "" just Joe's over-the-top crudity.
Before I put the new site together a few days ago, I hadn't looked at any of the Joe Johnson material in about six months. I think it's held up pretty well. If you saw it the first time around, go ahead and take another look. And if you have no idea what any of this is about, I urge you to check out this odd but compelling chapter in Uni Watch history. Enjoy.
+ + + + +
ESPN reminder: In case you missed it yesterday, my latest ESPN column is an assessment of the NBA's Christmas Day uniforms.
+ + + + +

'Skins Watch: As you know, lots of newspapers are boycotting the 'Skins name — and not just in their sports sections. Still, this is new, at least to me: Last week the Virginian Pilot ran an obituary, noting that the deceased "did take on the passion of his new family for the Washington NFL football team." First obit I've seen where the 'Skins boycott has come into play (from Andrew Lockett).

Baseball News: Remember how I reported that MLB caps might be switching to the BP cap fabric next season? JP, who didn't give his full name, sent me a lengthy diatribe on that subject that would likely be very entertaining if performed onstage. My favorite bit: "While not quite up there with the death of my pet hermit crab 'Hermie' back in summer '89, [the fabric switch] would mark a dark day in the history of the sport and its association with quite possibly the most rich, most beautiful, and most well-respected uniform history in the history of rich, beautiful, and well-respected uniform histories." Author, author!

NFL News: The NFL Network ran a Vince Lombardi special that included two shots of Bart Starr wearing numbers other than his usual 15 (from Jerry Peterson). … Chris Flinn reports that the tables at his local McDonald's are adorned with uni-numbered Giants and Jets helmets.

College Football News: How much does it cost to field the U. of Minnesota's football team? Too much (from Brett Stone). … UNC football has had a different uni combination for every game this year (from Dave Garabedian). … Utah State wore "HydroSkin" helmets, whatever the fuck that means, in last night's Credit Union Bowl (thanks, Phil). … Cincinnati is adding a "77" memorial to its helmets for the Department Store Bowl, in honor of former offensive lineman Ben Flick, who died back in September (Phil again). "¦ Here's a look at the field for the Baseball Cap Bowl.

Hockey News: Reader Mark Gillingham checks in from the UK with the following: "Every year around this time we get the Spengler Cup broadcast across Europe, which is a hockey tournament from Davos in Switzerland, and this year the AHL's Rochester Americans are one of the teams competing. (It's usually only European club teams and a team made up of Canadians playing in Europe.) As such, they're wearing 'Euro-fied' jerseys, which are, of course, covered in sponsors. Is this the first time we've seen an AHL/NHL team in a jersey like this?" I suspect so. Anyone know more? "¦ Is anyone else as completely sick of the ugly sweater thing as I am? "¦ Penguins head coach Dan Bylsma wore his old Bowling Green jersey while delivering the keynote address at the Three Rivers Classic. I'm not quite sure why two-day hockey tournament needs a keynote address, but whatever — cool jersey (from Aaron McHargue).

Soccer News: J-League news from Jeremy Brahm, who reports that there are new kits for the Kashima Antlers, Matsumoto Yamaga, and Avispa Fukuoka (who also have a wall of their uniforms from 1995 to 2013).

NBA News: Yahoo Sports has created a fun, if somewhat limited, NBA uniform timeline (from Nate Rischall). … Mavs owner Mark Cuban didn't like the Xmas jerseys. Given that he's been the most vocal proponent of adding advertising to NBA jerseys, you'd think he'd like the idea of putting ad patches on the sleeves, no? (Thanks, Phil.)

Grab Bag: The Keihoku High School basketball team in Tokyo has an unusual chest lettering design (from Jeremy Brahm). … "I love photos at from cycling team camps this time of year because of the mixture of team kits," says Sean Clancy. "For example, the Radio Shack pro cycling team will cease to be at the end of this year, becoming TrekFactory Racing in 2014. Until then, the team must train in its 2013 kit (and new addition Fumiyuki Beppu is still in his Orica GreenEdge gear)." … "Here's a ton of pictures of a mockup of Maryland lacrosse's headwrapz for this year," says Jared Buccola. "I love the matte and the flag design, but I think the two mohawk stripes should be switched to create that alternate flag design look." … Neglected to speak out yesterday against something that's long been troubling me: the war on Boxing Day. Seems like the true meaning of Boxing Day has gotten lost over the years and is now under attack by intolerant fringe elements who simply can't stand to see anyone else enjoying a traditional holiday. Boxing Day, people: Don't forget the reason for the season.