What you see above is one of the more interesting design submissions to my recent "Let's Redesign the Trail Blazers!" contest. This one was submitted by Aaron Vaubel, and it's one of the featured designs in my latest ESPN column, which was posted yesterday afternoon. (I thought it was going to be posted today, but then my editors decided to run it yesterday, which is why I didn't initially have a "New ESPN column today" notice in yesterday's blog entry.)
When I posted a link to the design contest results on Facebook yesterday, reader Worthy Evans immediately commented, "They should have put a bird on it." Sure enough, that would've been a genius design, and I would have named it the winner based on clevertude alone, and now the whole project feels like a failure because nobody thought of that, hrmmmph. For those who don't know what I'm talking about, look here:
+ + + + +
Raffle reminder: In case you missed it, yesterday's entry was our annual year-end reader-appreciation raffle. Lotsa good stuff this year — check it out. Deadline for entering is next Monday.
+ + + + +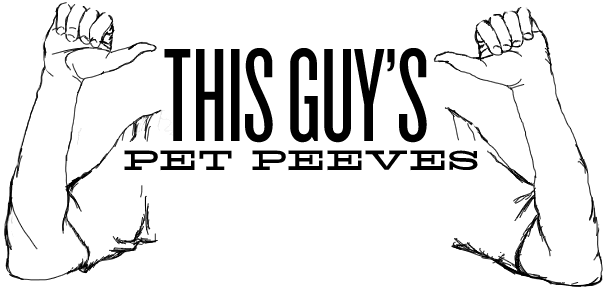 Pet(ulent) Peeves: Got a note last night from reader Anthony Bruno, who felt the need to share his top-10 list of uni-related peeves:
1. Fans who are older, wearing a shirt of a younger athlete. I recently saw a 50-something man in a Sydney Crosby jersey — creepy. My rule that I live by: Fans should only wear game jerseys of players who are older than them (their own children notwithstanding).

2. People who buy an authentic jersey and have it lettered and numbered with the wrong font and/or material. This happens often with soccer kits.

3. NBA and MLB Latin Nights. The unis have "Los" or "El" in front of the team name. During regular games, the jerseys do not have "The" in front of the team names.

4. Pajama pants and flat-brimmed caps in baseball.

5. College football players on the same team wearing the same number (offense and defense). It's usually the starting QB and a star DB wearing the same number.

6. Championship T-shirts and caps for winning a division in the NFL. Wow, you finished first out of four.

7. Colored alternate jerseys on both teams in an MLB game. (Color vs. color looks good in other sports, though.)

8. Turning on an NHL game and not knowing who the home team is. White at home?

9. The three different stripes on the Detroit Lions' uniforms (helmet, sleeve and pants).

10. All Under Armour uniforms, in any sport. Too much on every uniform. As I tell my children, sometimes less is more.
A few of these strike me as transparently absurd, but whatever — I get to have my daily say about my uni-related peeves (you surely know what they are by now), so why not let someone else have his turn? In fact, why not let all of you have your turn: At the risk of opening a great big can of stupid, I'm hereby encouraging everyone to list your top 10 uni peeves in today's comments. Go ahead, knock yourselves out.
A few ground rules: Please do not email your peeve lists to me; please restrict your lists to 10 items; please stick to uni-related issues; please do not include things like "peeve lists" or "websites that publish peeve lists" or other things you think are clever (they're not). Thanks.
+ + + + +

'Skins Watch: "Wapakoneta High School in Ohio uses "˜Redskins' as its nickname," says Kyle Shaner. "What makes Wapak unique, and could make a name change appealing to a national audience, is that Neil Armstrong was from Wapakoneta. With the 50-year anniversary of Armstrong becoming the first man to walk on the moon is approaching in 2019, the school might be open to changing its nickname if it was done in the framework of honoring Armstrong." "¦ Wisconsin Gov. Scott Walker has until tomorrow to sign, veto, or ignore (and thus allow to pass into law without his signature) a bill that would make it easier for the state's schools to retain their Native American mascots, and now it's looking like he may sign it. Wisconsin native Chance Michaels offers some personal context:
My own high school — Wauwatosa East High, from which I graduated in 1990 — was at the center of such a controversy. We were known as the Red Raiders and this was our mascot:
Just to give you a sense of scale, that particular version was painted on the cinderblock lunchroom wall. Huge. Loomed over us.

When I was a sophomore, we started a campaign to ditch the logo. I don't know who among the students first realized that this was an issue, only that it wasn't me. We were ultimately unsuccessful, and we graduated with the name and logo plastered all over our commemorative stuff.

My brother entered as a freshman the year after I graduated, and his class took up the fight. They were able to get something done. They might have been helped by Marquette's decision to drop its native mascot right around this time, which raised awareness. Anyway, the administration agreed to change the logo, but not the name, and a contest was held to choose a new logo from a group of student submissions. This was the winner — a halfway step at best. There were non-Native-themed submissions, but my brother called the process "totally political and doomed to fail" because of the insistence on "improving," rather than scrapping, Native imagery.

I haven't kept up with the old place, but I do know that around 2006 the school rebranded again, this time moving away from Natives and toward some sort of swashbuckling or knight-themed imagery. Finally solved the issue.

So it only took 20 years and a half-hearted compromise to effect real change. I wonder if Marquette would have their lingering resentments if they had just said "From now on, 'Warriors' means Spartans," or pirates, or something similar. These names are generic enough that they can stand without the Native iconography.

Baseball News: I just won this very nice vintage jersey for literally next to nothing. More info once I get it in the mail from the seller. "¦ Fun news out of San Diego, where the Padres will be wearing 1984 throwbacks for a four-game series against the Cubs. "Not sure I've seen a team wear throwbacks for an entire series, but they really seem to love wearing their '84 jerseys against the Cubs to rub in their NLCS victory," says David Linder. "¦ What if Santa and his crew had their own baseball team? Might look like this, and Rudolph the Crimson-Schnozzed Reindeer would get his own entry at Baseball-Reference.com. Note the first line of his career stats (from Duncan Wilson). … The Richmond Flying Squirrels have partnered with a local brewery to create Chin Music Beer (from Tommy Turner).

NFL News: Here's a good series of charts and infographics on NFL penalties since 2009. … Concussion discussion: All those NFL concussions are tough on the players (duh), but they also take a heavy toll on the players' wives (thanks, Phil).

College Football News: "There's an Xfinity/Comcast commercial that features Michigan State," writes Zach Conrad. "During the player huddle, most of the players have the correct B1G patch on their jerseys but one player has the patch that belongs on the away jersey." … Here's UNC's patch for the Department Store Bowl. Man, does that logo look like it belongs on a 1970s roll-on deodorant dispenser or what? Meanwhile, the school is letting fans vote on the helmet and pants for that game. "¦ Here's Duke's patch for the Chicken Sandwich Bowl, and Clemson's patch for the Credit Card Bowl. "¦ Planning on buying a game-used jersey to support the Wounded Warrior Project? Might wanna think again: According to Veterans Today, the WWP has a top-heavy management structure that results in most donations and contributions staying within the organization (from Caleb Borchers).

Hockey News: The Flyers are saluting the Philadelphia Police Dept. by wearing a patch during pregame warm-ups tomorrow (from Chris Flinn). It's interesting that the NHL always restricts this type of stuff to warm-ups and keeps its uniforms relatively pure for the actual games — a good approach.

Soccer News: New pink jersey for Real Madrid, and new kits for Roma as well (both of those from Trevor Williams). … DC United is letting fans vote on a team-branded beer can design (from John Muir).

NBA News: We already knew the NBA was planning several games — all involving the Heat — with nickNOBs. What we didn't know was that at least one of the nickNOBs will also include FIOB. Details here. "And just in time for Xmas," notes Phil.

Grab Bag: The Chisholm High School basketball team in Minnesota still wears old-school striped socks (from Barry Brite). … Apparently there's some commercial for Jared — the jewelry people — in which a guy gives his galpal a blinged-out jersey instead of a ring (screen shot by Chris Flinn).
+ + + + +

What Paul did last night: Late yesterday afternoon I went to a Manhattan radio studio and sat down for a lengthy interview about Uni Watch in general and baseball hosiery in particular. The interview will end up being part of a segment on the excellent design/architecture radio show and podcast 99% Invisible. The unusual thing is that the guy interviewing me wasn't 99% Invisible host Roman Mars — it was Jesse Thorn, who's a radio/podcast star in his own right (he's the guy who does the pop culture show Bullseye, formerly known as The Sound of Young America). Turns out Thorn is doing some work for 99% Invisible now. Anyway, the interview went really, really well — I left the studio in a great mood, and that was only partly due to all the free Christmas cupcakes they had in the reception area. I'm excited to hear how it all turns out. Not sure when it'll run — will advise when I know more.
After the interview, I walked to a movie theater and saw Inside Llewyn Davis. It's very, very beautiful — tons of gorgeously lighted and framed scenes. A few very funny moments, too. But the characters and narrative left me cold. Bummer.