.
I should have had this for yesterday's entry, but nobody had brought it to my attention: Right at the start of Monday night's 76ers/Clippers game, Sixers guard Tony Wroten grabbed onto Clippers center DeAndre Jordan's jersey and pulled the "Los Angeles" insignia right off of it. During the next stoppage of play, Jordan was provided with a new jersey. You can see all of this in the video clip above.
Two thoughts about this:
1) I guess this would qualify as an argument in favor of distinct-lettered chest marks, instead of interconnected scripts. If the same thing had happened to a player on, say, the Spurs, he would have lost only one letter instead of the whole insignia.
2) Interesting to see that they had another jersey with Jordan's number and NOB at the ready. Is this standard? Do players routinely change into new jerseys at halftime? If so, why does anyone ever end up in a blood jersey? I've emailed the Clippers and a few other NBA teams to see if they can answer those questions — no response yet. If any NBA team staffers are reading this, please fill us in. … Update: Just heard back from the Clippers: "Yes, we always have extra jerseys available for all players." So there you go.
Meanwhile, speaking of in-game mishaps, there was a weird situation in last night's Red Wings/Panthers game in Florida, as a pane of Plexiglass broke and had to be replaced. But for some reason the repair crew couldn't remove the protective wrap from the new pane of glass:
Contrary to what the broadcasters said (and what hordes of fans then began parroting on Twitter), that isn't plywood — it's a standard Plexiglass pane, but they couldn't remove the protective wrap. This created a very odd spectacle (photo courtesy of Phil, click to enlarge):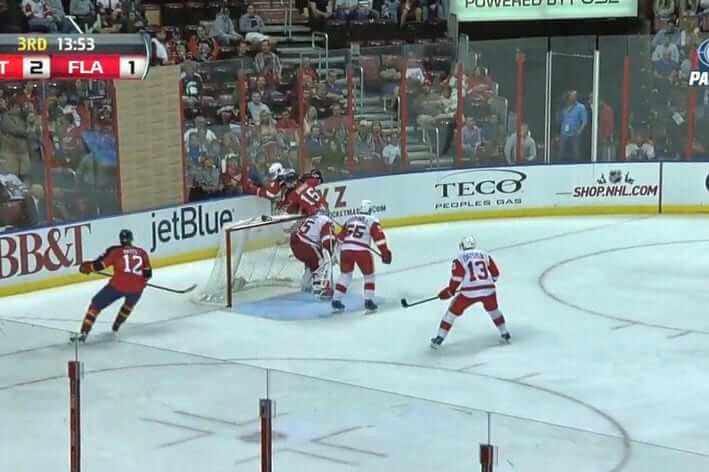 I'm told that they were finally able to remove the wrap in between the third period and overtime.
Meanwhile: I have a new ESPN column today (which I thought was going to run tomorrow) about the unusually large concentration of uni-centric events on the upcoming calendar.
+ + + + +
'Tis the Season: College football's bowl season is now upon us. Unfortunately, almost all of the bowl games either have names that have been modified by corporate sponsors (the Franklin American Mortgage Music City Bowl) or have names that are exclusively corporate-sponsored (the Buffalo Wild Wings Bowl).
In past years, I've sporadically mocked the bowl naming process by referring to, say, the Chicken Sandwich Bowl (instead of the Chick-fil-A Bowl), or whatever. But I haven't been thorough or consistent about it. That will change this year, as I've established a new name for each of this season's corporate-named bowl games. Here's the full list, in chronological order:
.
[table id=19 /]
The names shown in the right column are the names that I (and all other Uni Watch writers) will be using when referring to this year's bowl games. If you want to keep the names handy for future reference, I invite you to print out the full list.
I can already anticipate some of your reactions to this, so let's shift into FAQ mode:
These alternate names are really annoying.
I agree — but they're not nearly as annoying as the bowl-naming process. As you can see on my list, games without corporate naming sponsors, like the Texas Bowl and the Fight Hunger Bowl, will be referred to by their proper names. If and when other games go that route, we'll be happy to refer to them by their proper names as well.
You're taking it too far. Instead of referring to the Allstate Sugar Bowl as the Insurance Bowl, just call it the Sugar Bowl.
True, that approach would stick it to the corporate sponsor, but it would also allow the game and its organizers to maintain a certain degree of dignity — a dignity that they forfeited when they sold out their name to the highest bidder. My intent here is not just to mock the sponsors but to mock the entire bowl-naming process.
If that's the case, then how come your Naming Wrongs T-shirts said things like "I Still Call It Comiskey" and "I Still Call It Mile High"? Shouldn't they have said, "I'm Calling It Cell Phone Stadium" and "I'm Calling It Car Insurance Field"?
Fair point. But stadiums and their names are local civic assets that mean a lot to local fans. Our intent with the Naming Wrongs series wasn't just to mock the system of corporate naming rights but to provide hometown fans with a way of reclaiming what had been taken from them. I don't see bowl game names as the same kind of thing. Well, maybe they're the same kind of thing for the community where the game takes place, but not for the schools that will be participating in the games or the national audience that will be watching. You may disagree, and that's fine.
+ + + + +
Special One-Day Raffle: I am occasionally on the receiving end of free jerseys, T-shirts, and the like. Last month, unsurprisingly, one of those items was camouflage-patterned. Here, take a look (and click to enlarge):
I'm not going to wear it myself, for obvious reasons (plus it's too big), and I don't feel comfortable giving it away in our annual year-end raffle. So I was going to drop it off at our local fabric recycling depot, but then I had a better idea.
So here's the deal: I will raffle off this jersey today, provided that the winner is willing to make (and can show proof of having made) a $25 donation to the Peace Corps, thereby symbolizing that not all soldiers are heroes and not all heroes are soldiers. (And yes, the apostrophe catastrophe on that page is disappointing, but I'm willing to cut the Peace Corps some slack.)
Jersey specs: Made of lightweight nylon/polyester/Spandex mesh; tagged as a large; measures 24″ from pit to pit and 34″ from the top of the back collar to the bottom hem; has No. 1 on the back; all graphics are sublimated, except for the American flag patch on the front, which is sewn on. (Sorry, I don't have the matching shorts.)
If you want to enter the raffle and are willing to make the Peace Corps donation if you win, send a blank email with your name in the subject line to the raffle address by 10pm Eastern tonight. One entry per person. I'll announce the winner tomorrow.
+ + + + +
Baseball News: Looks like Rajai Davis, who usually wears stirrups, may be headed to Motown. Who was the last Tiger to wear stirrups? (From Matt Hoffman.) … Tyler Kepner is down at the MLB winter meetings, where he saw a socks/stirrups display by Twin City Knitting. … Who's that in the Little League uni? None other than indie-rocker and Mountain Goats frontman John Darnielle. "That's from Claremont, California, circa 1979, when I actually made a decent play or two," he says. "The magic of that Mets name, no doubt. The team was coached by Robert Mezey, a poet of some note and the man who, many years later, taught me poetry at college level. Without his tutelage I would not have become the writer I became; huge figure in my life." Jeez — my Little League coaches were all plumbers and electricians. … Curtis Granderson, newly acquired by the Mets, had a pinstriped No. 3 jersey for his introductory press conference yesterday. … Speaking of the Mets, can someone please explain to me why 64-year-old skipper Terry Collins was wearing this godawful purple outfit at the winter meetings? Sheesh! "¦ Tim Hudson, recently acquired by the Giants, will be wearing No. 17. "¦ The logo for the Twins' annual TwinsFest event features the mascot characters on their logo wearing earmuffs and shaking hands above a frozen Mississippi River (from Mike Klug). … Crummy image quality but still cool: an old Salt Lake City team with a bee chest logo (big thanks to Bill Francis). … Patrick Walsh DIY'd himself this awesome St. Looey Cards Christmas stocking, complete with stripes! Nicely done. "¦ This is pretty awesome: As the Royals celebrated Steve Busby's no-hitter in 1974, a scuzzy-looking fan ran onto the field, grabbed KC catcher Fran Healy's cap right off his head, and tucked it into his jacket with a shifty look on his face. But then a KC coach (or player..?) confronted him and retrieved the cap. You can see the whole thing unfold in the first 35 seconds of this video (big thanks to Matthew Prigge):
Lots of other good stuff in that clip, too — the photographer with the cigarette dangling from his lip, the other photographer with the loud-patterned slacks, etc. Ah, the '70s! "¦ And speaking of video, here's a major find: Jerry Wolper came across the official year-end highlight movie for the 1956 Kansas City A's. "Lots of uni goodness, some All-Star Game footage, and some 1956 Americana too," says Jerry. Here, check it out:

NFL News: Back on Monday I mentioned Andrew McKillop's database of NFL snow games. Scott M.X. Turner was poking around on that page and found a link to a newspaper account of a 1950 Eagles/Giants game with the headline "Eagle Fans Chase Ref." Yowza! "Sounds like the greatest game we never saw," says Scott. … With the Super Bowl coming to NYC, the Transit Authority has designed a special transit map for the occasion (from Dave Rakowski).

College Football News: Here's how Yankee Stadium is shaping up for the Baseball Cap Bowl. Additional view here (from Warren Junium). … In a related item, the head coaches of the two schools participating in that game — Rutgers and Notre Dame — posed for a very unfortunate photo-op yesterday. But hey, given A-Rod's legal troubles, those may be the only No. 13 jerseys we see at Yankee Stadium for a while (from Dave Rakowski). … North Texas will wear black for the Heart of Dallas Bowl (from Chris Mycoskie). … Some great vintage college football program covers here (from Sean Clancy).

Hockey News: Reader Brian Thompson wondered what the story was behind the patch in this old Red Wings photo. So I went to the excellent NHL Patches site — a great and underappreciated resource — and found the answer. … Totally NSFW (or at least not for the squeamish): A player in a minor league game in Quebec took a skate blade to the cheek and suffered a seriously gruesome facial injury. Yikes! "¦ Here are the very nice throwback jerseys for this week's AHL Frozen Frontier game in Rochester (from Patrick Mackin).

Soccer News: Cerezo Osaka from the J-League will wear an all-pink jersey next year (from Thomas Fiers). … Not sure how many of these we may have covered already, but Trevor Williams sent along a batch of World Cup away kits (for all of these, scroll down to see the away kit): Spain, Germany, Argentina, Russia, and Japan. Also: New away kit for Sweden, although they aren't in the Cup. … Several Turkish players are in hot water for wearing and displaying pro-Mandela undershirts the other day (thanks, Phil).

Basketball News: The Bobcats will unveil next season's Hornets logos on Dec. 21. No mention of uniforms in that story, though. … I think we've seen this old photo of Oscar Robertson wearing a mask before. What we haven't seen, I'm pretty sure, is this shot of the mask itself (great find by Jared Wheeler). … Here's the logo for the D-League All-Star Game (from Conrad Burry). … Kansas player Andrew White III has RNOB (from Coleman Mullins).

Grab Bag: Here's an article on unlucky uniforms (from Rob S.). … The magazine industry is bad and the bowling industry is worse, but the venerable Bowlers Journal just marked its 100th anniversary and is still going strong. … The Fruit Stripe trend has reached the world of high school basketball. That's Albertville High School in Alabama. "Trust me, they're just as ugly in person," says Jonathan Lancaster. … Not sports-related, but thought-provoking and very entertaining: The Gawker brain trust had a length debate about whether the city of Detroit should sell its art collection. Good reader-posted comments, too. Recommended reading. … Ever wonder what Santa would look like if he got a brand makeover? Right, me neither, but here it is anyway (from Bernie Langer). "¦ Here's a good case for a new concept for ticket designs (from Sean Clancy). "¦ New logo for Wrestlemania, if you're into that kinda thing (from Trey Ashby). "¦ Interesting cross-sport news from Leo Strawn Jr.: Melbourne FC — that's an Aussie rules football team — will have "MCC" on its 2014 jerseys. "That stands for 'Melbourne Cricket Club,'" explains Leo. "The footy team was spawned from the MCC, and to this day they share (along with other clubs) the Melbourne Cricket Ground."