Click to enlarge
Protesters in the Ukrainian city of Kiev clashed with police yesterday and, as you can see above, it looks like one of the policemen — or maybe one of the protesters? — was a Browns fan. When I tweeted that photo last night, lots of people responded with "I'd protest too if my team lost to the Jags," or words to that effect.
That was arguably the most uni-notable moment of the day yesterday, as it was a fairly uni-unventful day in the NFL. Here's the very short rundown:
• The Eagles wore their black alts.
• Speaking of the Iggles, f you're going to put an old player's name on a contemporary jersey, you could at leastspell his name correctly. (Should be "Bednarik," don'tcha know.)
• The Chargers wore their powder blues. They also had throwbacks end zones, to mark the 50th anniversary of the 1963 AFL champions.
• The Bills played a "home" game in Toronto. They used this coin for the coin toss but didn't wear the "Hey, we're playing this one in Toronto!" patch that they've worn in previous seasons. (Rumors that Toronto mayor Rob Ford smoked the patches are almost completely untrue, although he was in attendance.)
• Panthers quarterback Cam Newton warmed up in a pair of Batman cleats, but that's not what he wore in the game. (He pulled a similarly meaningless stunt last year with Superman cleats.)
Turning to Saturday's college action, Phil and his contributors had good coverage in Sunday's post, so start there. In one additional tidbit, Grambling State had its logo plastered all over its uni numbers for the Bayou Classic. Ewwww.
(My thanks to JJ Sledge, and Phil for their contributions.)
+ + + + +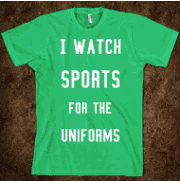 New sponsor shout-out: As you may have noticed in the right sidebar, we have a new ad for Forward Progress Tees, which is run by longtime Uni Watch reader/contributor the Hungry Hungry Hipster. He has the following message for Uni Watch readers:
Forward Progress Tees is now has a ton of new vintage-inspired sports T-shirts. For example, we redesigned a bunch of baseball teams' cap logos to see what they'd look like if they adopted the old English font that Detroit uses. All the various shirts we offer are organized into different categories on the left-hand side of our main page, and you can go back to seeing all the different shirts by clicking on the "Everything" link at the top. Any design can be put on any color or style of mens/unisex T-shirts, hoodies, and sweatshirts, in addition to T-shirts made to fit women, kids, and babies — click on the "More Styles…" link on each design's page for the full range of options. Changing the shirt style can sometimes lower the price, so play around with the different options and you may be pleasantly surprised. We're constantly coming up with new designs, so like us on Facebook to stay updated.
While we're at it, the onset of the holiday shopping season makes this a good time to remind everyone about our other fine advertisers:
• Retro College Cuts sells very cool throwback college basketball shorts and warm-up jackets.
• The Qalo ring is the wedding band designed for an active lifestyle, and they're offering a 15% discount to readers who used the code "UNIWATCH" when checking out. (I recently talked about the Qalo and other wedding ring-related issues with Bears quarterback Jordan Palmer.)
• Left Field Cards sells super-cool baseball-themed cards, T-shirts, and prints, all designed by the fabulous Amelie Mancini (who I featured in an ESPN column last year).
• ShirtWhiz is the hanger specifically designed to display your jersey collection.
• Longtime Uni Watch partner No Mas sells very smart, very cool sports-related apparel, much of it with a boxing slant.
• And Grey Flannel Auctions is currently in the midst of their latest catalog auction (my favorite selections from which were recently featured in this post).
I'm grateful to all of these advertisers for their support of Uni Watch. Please consider their products when doing your holiday shopping. Thanks.
+ + + + +
Too good for the Ticker: Phil had this in Saturday's Ticker, but I like it so much that it's worth repeating: Every year in Massachusetts, Attleboro High and North Attleboro High square off on Thanksgiving. As part of the game, the players are given blank helmets and are free to design them however they want as long as they use the proper school colors (blue and white for Attleboro, red and white for North Attleboro). Some of the results look cool, others are somewhat regrettable, but all of them are interesting. There's a good backgrounder on this here, and you can see 10 of the best designs from this year's game here.
+ + + + +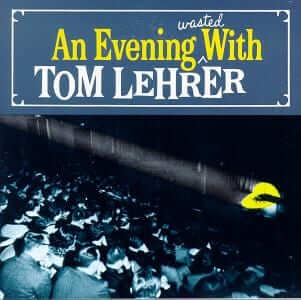 I never quibbled if it was ribald: My friend Ted runs the excellent music blog Boogie Woogie Flu. Each year he marks the eight days of Hanukkah by having Jewish writers write about eight Jewish musicians, and this year he asked me to participate. Most the obvious choices had already been covered in previous years, so I chose the great satirist/pianist Tom Lehrer. You can see the piece I wrote here.
+ + + + +
Blazers contest reminder: In case you missed it last week, I'm soliciting entries for a Blazers redesign contest on ESPN. The deadline is Dec. 9, and the results will be published on ESPN soon after that. I look forward to seeing your designs.
+ + + + +

'Skins Watch: Wisconsin Gov. Scott Walker still hasn't decided whether to sign, veto, or ignore a bill that would make it easier for schools to retain their Native American mascots (thanks, Phil). … The Navajo woman who's the lead petitioner in the trademark case against the 'Skins isn't too thrilled with the team's recent use of Navajo Code Talkers as human shields (Philagain). … "I was watching the broadcast of the Thanksgiving parade in Montgomery County, Maryland, just outside of DC," says Andrew Hoenig. "The 'Skins marching band came down the street, and neither the announcers nor the graphics ever referred to the band by its official team name." "¦ A 'Skins fan was planning to take this sign to last night's game. I like how the "o" is shaped like a pentagon — a nice DC-related touch, if probably unintentional. Meanwhile, another fan had a pithy comment for Bob Costas (Phil again).

NFL News: Reader Brian Carroll has been doing some digging into wide receiver uni numbers. According to his talles, 137 WRs wear Nos. 10-19, and 78 WRs wear Nos. 80-89. Other tidbits: All Cardinals WRs wear 10-19; the least popular number was 86, worn by only two players (David Nelson of the Jets and Vincent Brown of the Chargers); and the most popular number is 11, worn by 20 players. … Speaking of uni numbers, Paul Kovacs notes that Tom Day wore five different numbers with the Bills. … There's been a lot of chatter about that famous old Life magazine photo of NFL QBs, but David Feigenbaum noticed a good detail: Y.A. Tittle of the Giants, who's shown at lower-right, was wearing the team's home blue jersey but the road red socks. … Here's something we're not often privy to: radio-equipped helmets being tested prior to a game (thanks, Phil). Also from Phil: No, I don't think the sports world has gone off the deep end with this superhero stuff, do you? "¦ An enterprising Bears fan made this QB jersey, which Joseph LaFerla spotted at the Mall of America. "He said he had two custom-made and is thinking about making more to sell," says Joseph.

Hockey News: The South Carolina Stingrays of the ECHL will be wearing Clemson-themed jerseys on Dec. 14 (from Gorden Cromer). … . Chris Conner of the Penguins took a puck to the head the other night that knocked one of the logo decals off the helmet (from Brian Skokowski).

Soccer News: Arsenal's "sleevegate" controversy is over, as Mathieu Flamini wore long sleeves like everyone else on the team (from Yusuke Toyoda).

Basketball News: Michigan's warm-ups have the players' Twitter handles on the back. "So much for 'student-athlete,'" says Drew Arnson. "¦ Middle Tennessee State will be wearing BFBS jerseys with SOB tomorrow night (thanks, Phil). "¦ A player in France has the best NOB ever (from Yusuke Toyoda).

Grab Bag: Check out this awesome softball uni with a seam/stitching theme. That's East Union High School in Blue Springs, Mississippi (big thanks to Dustin Semore). … A rugby website is giving away some really ugly jerseys (from Josh Jacobs). "¦ West Catholic High in Michigan has an unusual helmet design, tone-on-tone jersey lettering, Polamalu-style crosses at the rear neckline. A modified wishbone-C on the back of the helmet, too. Lots of additional photos here (big thanks to Casey Siereveld). "¦ Based on yesterday's installment of Beetle Bailey, you'd think football players still wear single-bar facemasks (from Alex Allen). "¦ Yusuke Toyoda reports that the latest episode of Parks and Recreation had lots of uni-related stuff: " First, the gang did a cross-promo with NFL's Play 60, so there was Colts and Play 60 gear galore. And Rob Lowe's character appeared in a basketball/football/not-soccer referee jersey but, oddly, wielded red and yellow cards and even had a UEFA Champions League sleeve patch." … Everyone knows the Yankees aren't allowed to wear beards, but apparently Santa didn't get the memo (you made me smile with that, one, Phil).