When White Sox owner Bill Veeck pioneered the placement of players' names on uniforms in 1960, he was probably too busy misspelling Big Klu's name to wonder how his innovation might play out, oh, half a century later. Veeck was, among other things, an absurdist, so he probably would have enjoyed seeing the slogans Northern Illinois and Western Michigan wore last night, although I — and, I'm guessing, many of you — take a somewhat dimmer view.
A few other notes from that game:
• WMU's lettering and numbering had this crazy italic slant.
• WMU's pants and undersleeves had the usual GI Joe bullshit. From a distance, though, the pants just looked like heather gray sweats.
• NIU wore this weird combo of shiny numbers and treadmarks.
• The strangest detail of the night was that WMU coach PJ Fleck wore Cincinnati-branded gloves. Reader Peter Kuzdal thinks he knows why: "The equipment managers advertised this as the Adidas Bowl on Twitter. I guess they weren't kidding."
+ + + + +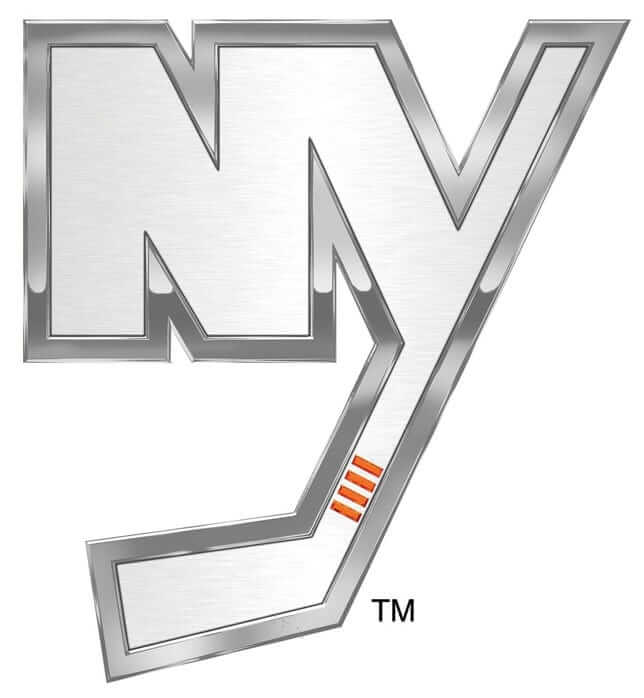 And so it begins: Remember those vaguely metallic-looking team logos for the NHL's Stadium Series, which were released about two weeks ago? One of them has now landed on a jersey, as the Islanders have unveiled their Stadium Series uniform. My initial reaction is that I'm not in love with it, but I'd like to see some better photos before passing judgment.
Bonus points for Newsday's coverage of the new uni, which includes one of history's all-time great photo credits.
+ + + + +
Ho-ho-ho: With the December shopping season approaching, here are a few reminders:
• If you want to buy a Uni Watch Membership for someone as a gift but don't know what that person would want for his or her card design, you can buy a Membership Gift Voucher. For details, look here.
• If you think a certain set of theoretical T-shirt designs might hypothetically find a good home under your tree or in someone's stocking, let's discuss.
• I'm putting the finishing touches on my annual Uni Watch holiday gift guide column, which will appear on ESPN next week. If you have suggestions for uni-related items I should include, now's your last chance. Thanks.
+ + + + +
Blazers contest reminder: In case you missed it yesterday, I'm soliciting entries for a Blazers redesign contest on ESPN. The deadline is Dec. 9, and the results will be published on ESPN soon after that. Get crackin'!
+ + + + +

Baseball News: Oooh, look at this 1931 fold-out uniform catalog, complete with swatches! Very nice. … Never seen a date of manufacture on a bat knob before (from Brady Phelps). … Also from Brady: Donruss baseball cards are back, but without MLB team logos. "¦ The Nats are thinking about adding a roof to their stadium. "It's ugly enough, so why not?" says Andrew Cosentino.

NFL News: Surprising news out of Dallas, where the Cowboys will wear blue on Thanksgiving. Turns out they were forced to do this because they had originally planned to wear their blue throwbacks with the white helmet, but then the NFL put the kibosh on alternate helmet, but Dallas had already committed to wearing a colored jersey, so they switched from the blue throwback to the standard blue. … Meanwhile, the Ravens will wear solid-black for their Thanksgiving game against the Steelers. Festive! … Bears center Kyle Long had a doozy of a jersey tear last Sunday. I like the little uni number on his shoulder pads, too (from Maks Skuz).

College Football News: Good to see that USC and UCLA will once again go color-vs.-color. … Mississippi State will wear their hubris uni and this gold helmet tomorrow. "¦ Here's Arizona State's uni for this Saturday. "¦ Remember the Virginia Tech helmets with the stripes? They were wearing that design in practice yesterday, so they'll probably be wearing it on Saturday (from Andrew Cosentino). "¦ Copper helmets on Saturday for Arizona. … This is pretty interesting: How does Oregon keep track of all that gear? With bar codes (from Jon Springer).

Hockey News: The Adirondack Phantoms are moving to Allentown for next year and will wear these jerseys (from Tom Adjemian). … Here's an article on the Capitals' equipment manager, who recently worked his 2000th game (from Tom Mulgrew).

Soccer News: Sporting KC's third jersey isn't worn very often but is a big seller at retail. "I see it around town in casualwear much more often than their regular jersey," says Alan Bloomquist. "They really made a great fashion move in terms of getting people to wear it (i.e., advertise for the team)." … "In yesterday's Champions League game between Borussia Dortmund and Napoli, Dortmund defender Sven Bender suffered a broken nose on a hard foul at the end of the first half and bled heavily," reports Bern Wilms. "Rules dictate two backup jerseys for each player, but Dortmund used those up in the first half. This led to the equipment manager being dispatched to the team store, where additional jerseys were procured. However, before the half, a UEFA official informed Dortmund that those jerseys wouldn't be permitted because they were missing UEFA's 'Respect' sleeve badge. Apparently they got the problem solved at the half, because Bender played the full 90. No word on whether they ended up applying the additional badges at halftime."

Basketball News: The Suns will wear their new sleeved "Los Suns" jerseys on March 6 (thanks, Phil). "¦ The Timberwolves will unveil a new alternate uni, featuring the sleeved jersey we already know about, today. Here's a teaser (thanks Phil). "¦ Check this out: The 1951 BYU hoops team went on a barnstorming tour of Brazil, where they wore these "Mormons" warm-ups (great find by Benji King).

Grab Bag: A meat scientist has found a new steak lurking in the steer's carcass (from my old buddy Tim Adams). "¦ Here's a good gallery of 1970s Houston sports photos (from Ryan Patrick). … David Firestone recently won this 1929 U. of Maine track and field jersey on eBay. "¦ Also from David: Maker's Mark bourbon is getting in on the ugly Xmas sweater thing. "¦ Subtle logo change for Tumblr (thanks, Brinke).
+ + + + +
Gobble-gobble: Hanukkah and Thanksgiving combined into one? Sure, sign me up. Hell, kosher turkeys taste better anyway, and there's really no excuse not to get one this year.
Seriously: To all those who are celebrating the Festival of Lights tonight, my best wishes for a happy holiday. And to everyone who's traveling today (especially here in the northeast, where the weather is seriously nasty), travel safe.
We'll have light content tomorrow. See you then.