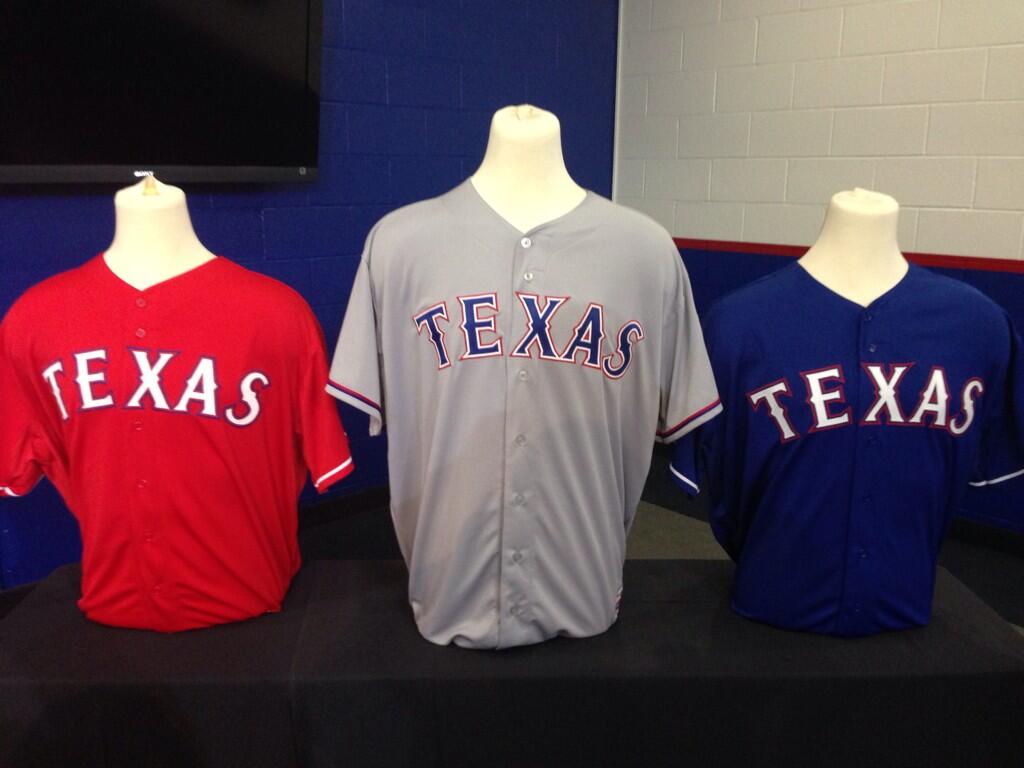 Click to enlarge
The Texas Rangers introduced Prince Fielder to the media yesterday and used the occasion to showcase some jersey tweaks for 2014. The changes are subtle but notable. Let's take a look:
• The new home jersey: Unlike the team's other new jerseys, the new home white is not shown in the photo above, but here's a before and after showing what they've tweaked (for all of these, you can click to enlarge):
Basically, they've scrapped the block drop shadow from the lettering and swapped the sequence of the white and red outlining. Definitely an improvement.
• The new road jersey: They've essentially made the same changes to the road jersey, as you can see here:
While the chest lettering looks better, the real improvement can be found on the back of the jersey. Here's what I had to say about that part of the Rangers' uniform a few months ago in the Uni Watch Power Rankings: "The team's typeface has too many spikes and bumps and color layers, which creates a jumbled mess on the back of the jersey." But that was then — look at it now:
So much better! It's still a ridiculously overdesigned font, but at least the removal of the drop shadow will make it look less clunky than before. You can get a glimpse of the similarly streamlined home whites here. (And yes, Fielder will be wearing No. 84 — based on his birth year — for the Rangers.)
• The new blue alternate: They've removed the beveling from the interior of the letterforms:
• The new red alternate: They've removed the beveling here as well, plus they've added a layer of red between the letters and the blue outlining:
You can get a better sense of the changes to the chest lettering in this graphic that Chris Creamer created. Meanwhile, the backs of these jerseys appear to be unchanged from last season.
These changes don't solve all of the Rangers' uniform problems, of course. It would nice if they'd put their team name on at least one of their jerseys, and even nicer if they'd stop wearing red caps, sleeves, and socks with their blue-lettered home jersey. But these changes, while they don't go far enough, all strike me as net positives. On Uni Watch's patented (read: not patented) good-to-stupid scale, they're solidly good.
(One odd footnote to all this: While the Rangers were ditching the drop shadow yesterday, the triple-A Durham Bulls unveiled their new uni set, which uses the Rangers' font and includes the drop shadow. The weird thing is that the Bulls are not — and have never been — affiliated with the Rangers, so I have no idea why they're using that font.)
The Rangers weren't the only MLB team making news yesterday. The Royals have changed their blue alternate road jersey:
First things first: Yo, Eric Hosmer, you missed a belt loop! As for the jersey, the basic template is fine, but I don't like that all of the white elements — including the placket piping — are rimmed in powder blue. That feels like overdesign. Not a disaster, but ultimately stupid.
+ + + + +
Collector's Corner
By Brinke Guthrie
Never seen these before: MLB Super Star lunch bags, from 1976. Should be perfect for bagging turkey sandwiches made from your Thanksgiving leftovers! You also get a pair of baseball star portraits in each bag, like Rose, Bench, Aaron, and Catfish. But who's the dude on the bag in the ad?
Here's the rest of this week's eBay picks:
• Way back when, the Packers beat the Chiefs in the first Super Bowl. Er, make that, Super Bowl I. David Firestone passed along this dual helmet plaque signed by both starting QBs in the game, Bart Starr and Len Dawson.
• Good-looking set of 1970s-1980s MLB logos in this sticker set.
• Cool vintage artwork on this Jerry Grote/Mets T-shirt.
• This 1972 Chase & Sanborn NFL sticker set looks to be in great shape!
• You can just hear the echos of John Facenda with this set of Music From NFL Films albums! (Turntable not included.)
• Nice graphics in these 1970s NFL sheets. I think the No. 30 shown is Giants RB Ron Johnson, no? Once you have that, go ahead and pair it with these Sears NFL drapes.
• Definitely a 1970s look to this Chicago Bears helmet serving tray.
• Couple of nice Ray-duz posters here and here.
Seen something on eBay or Etsy that you think would make good Collector's Corner fodder? Send your submissions here.
+ + + + +
Blazers contest reminder: In case you missed it yesterday, I'm soliciting entries for a Blazers redesign contest on ESPN. The deadline is Dec. 9, and the results will be published on ESPN soon after that. Get crackin'!
+ + + + +
Tick-tock: Today's Ticker was compiled and written by Garrett McGrath, except for 'Skins Watch, which was handled by Paul.

'Skins Watch: The use of Native American mascots was the subject of a mock trial at Weber State (from Brice Wallace). … Black and Latino groups protested the Skins' name outside of FedEx Field prior to last night's 'Skins/Niners game, thereby proving yet again that only white people care about this issue (from Tony Turner). … Once the game started, the 'Skins figured out a sneaky way to participate in GI Joevember while implicitly pushing back against the movement to change the team's name: by honoring a group of Navajo Code Talkers. But as commenter terriblehuman points out, why didn't Dan Snyder introduce them as "Redskins"? Come on, where's the honor?

Baseball News: Former MLBer Ellis Valentine had his stolen game-used jerseys returned to him by a journalist from Pennsylvania (from Tyler Kepner). … New York City will invest $3 billion in renovating the area around Citi Field in Willets Point, Queens (from Gordon Blau). … Whoa, check out Padres catcher Yasmani Grandal's new mitt (from Andrew Domingo).

NFL News: Chargers will wear powder blue uniforms to honor the 1963 AFL champions this weekend. … Eagles are wearing black jerseys on Sunday when they play the Cardinals. … Philip Johnson notes that several NFL players have raised oval logos on their nose bumpers. Is that the Oakley logo? Something else? … Here's a video of the Chargers' equipment staff preparing Shaun Phillips's equipment for the 2011 Pro Bowl (from Andrew Domingo).

College Football News: Army and Navy will play each other on Dec. 14 and will not be wearing camo. Navy's unis are very similar to the one they wore in their 2012 game against Army. … Winsipedia has a football rivalry ticker. … Baylor will wear 1950's retro throwback uniforms including this Floyd Casey Stadium patch on 12/7. … Here is an admission ticket from the 1926 University of Pennsylvania-Cornell game, 87 years ago yesterday. 65 bucks in 2013 dollars, not bad for Row 8 (from Jim Santel). … We mentioned that Clemson was in purple on Saturday, but we didn't tell you that it was to honor Purple Heart recipients on Veterans Day (from Andrew Pitt). … Texas A&M apparently has something unusual planned for this weekend, and it doesn't look promising (from David Wilson).

Hockey News: Concussion discussion: A group of former NHL players is suing the league over its handling of concussions. Given how concussion-related litigation has affected the NFL's helmet regulations, it'll be interesting to see how the NHL responds. … Dana Heinze, the head equipment manager for the Penguins, has an interesting Twitter account, complete with this look at the Bruins' visitors' locker room floor (from Christopher LaHaye).

Soccer News: No picture but David Raglin says, "DC United is an adidas customer and they won the US Open Cup, run by US Soccer, a Nike customer. Because of that conflict, DC United cannot offer a DC United Open Cup Champions shirt." The DC United Team Store Twitter account confirmed.

Basketball News: Reprinted from yesterday's comments: Yesterday Paul mentioned that the Nets' new blue/gray sleeved alternate jersey might be a Brooklyn Dodgers shout-out. Now it turns out that the Nets are hosting the Knicks on April 15 — Jackie Robinson Day. Seems like a pretty good bet that the new jersey will be worn for that game. … Wyoming wore grey uniforms last night (from Jon Jenspen). … The OSU Beavers will wear turquoise unis tomorrow. … Colorado State wore new gold unis last night (thanks, Phil). … Nathan White notes that Arizona State center Jordan Bachynski started last night's ASU/Marquette game in his usual No. 13 jersey but ended it wearing No. 42. Maybe the latter was a blood jersey..?

Grab Bag: Here are the 15 worst logos of all-time (according to someone on the internet from Jared Buccola). … Check out Extra Innings, a Tumblr highlighting an exhibit called Hometown Teams featuring old footage of the 1929 Bears, Blackhawks and the 1929 Cubs vs. A's World Series (from Carlos Velazquez). … Can you tell which team wears which shade of blue? Here's a site to put your blue knowledge to the test.