Major historical find today, kids. Here's the backstory: I've written several times about Stan the Man wearing the Cardinals' 1956 home whites while displaying a new set of road grays at a press conference. That road uni never made it onto the field (here's what the Cards wore instead in '56), but a slightly different version of it showed up on the auction block a few years back. The auction-listed version had a zipper front and no sleeve patch, while the one Musial was holding in the wire photo had buttons and a Slugger Bird patch. Obviously, there were several prototypes of this design floating around.
Now, as you can see above, we have a new additional to the historical record: a photo of Musial wearing the button-front version. That's a Rawlings promotional photo, and I really like the looks of it. Too bad the Cards didn't go with that design.
That photo was recently sent my way by memorabilia maven Tony Cocchi, to whom I was recently introduced by former Mitchell & Ness impresario and longtime Uni Watch pal Peter Capolino. When Peter was doing the throwback thing with M&N, Tony would often loan him old jerseys from his collection, which Peter would use to help create M&N's throwbacks.
Anyway: I've been getting acquainted with Tony, whose collection apparently includes a huge number of uni-related oddities. For example, Tony also sent me photos of a Washington Senators/Nationals prototype road jersey, circa 1950, from his collection (if the slideshow below doesn't work for you, click here):
As you probably know, the Sens officially changed their name to the Nationals in 1905, and wore that name on their jerseys for two seasons. (In fact, they were the first MLB team ever to wear their team name on their chest.) After 1906, though, they just wore a "W," which may explain why many fans ignored the new name and continued to call them the Senators.
So this prototype, had it been worn, would have been the first instance of the Nats calling themselves the Nats in 44 years. It's a nice-looking script, too — too bad they didn't wear it. Instead, they wore this.
As for the number on the back, Tony says, "It could have been for the year 1950, or for Manager Bucky Harris, who wore number 50."
Tony says he has lots of these types of things — so many, in fact, that sometimes he'll be going through bins of jerseys that he keeps out in his garage and will stumble across something he'd forgotten about. So there's more where this came from. Stay tuned.
+ + + + +
College hoops update: Remember my college basketball season preview column from last week? Today I have a follow-up column, covering 30 more schools — enjoy.
+ + + + +
IMPORTANT! Annoying video ads: Some of you have reported that the ad box in between the first and second blog entries on our home page (and/or the box in between the blog entry and the comments) has recently been auto-playing video ads. I encountered this a few times myself yesterday, and I agree that it's very annoying.
I contacted our ad-serving rep, who told me this shouldn't be happening. But if it happens again, you can help by doing one of two things: (1) Take a screen shot of the video ad and send it to me. (2) Try the following (I'm copying and pasting the instrux I got from our ad rep):
Hit F12 on your keyboard (or, if you're using a Mac, right-click on the page and select "Inspect Element"), type ctrl+f and enter "https://vap" in the search field. There will likely be a few results within the code, so as you click through the results hover your mouse over the line of html code until you see img 0px x 0px pop up over the bad ad unit. Once you've located that, right-click on the entire line and copy/paste it into a notepad file.
Then send that file to me (assuming you understand all of that).
Sorry for the hassle, and thanks for any help you can offer.
+ + + + +
This has nothing to do with uniforms: I've been a fan of Marcellus Hall's work since 1990, when I first saw the punk-blues band he fronted, Railroad Jerk. I immediately became a big Railroad Jerk fan — like, a really big Railroad Jerk fan (for the uninitiated, I strongly recommend starting with this album and then this album) — and later became a fan of his next band, White Hassle.
Along the way, I started seeing Hall's illustration work in various publications (including the New Yorker, where he's occasionally gotten to do the cover), and I found I liked his illustration style almost as much as I liked his music. The guy is a dual threat.
Last Saturday I saw Hall and his current band, the Hostages, play a great set at Union Pool. After the show, I ended up chatting with him for a bit. After admiring his work for more than two decades, it was a treat to finally meet him, and I was happy to learn that he appears to be a swell guy.
I was telling Kirsten about this afterward, and she poked around on the web and found a really, really special project that's the reason I'm writing this section to begin with: "Letters from Uncle Marce," which is a series of letters Hall has written to his young nieces and nephew. They are super-duper-wonderful! Ever since I discovered them, I haven't been able to stop looking at them, telling people about them, etc. Just clicking through them puts a big, goofy grin on my face. Here are two reasons why (click to enlarge):
.


.
.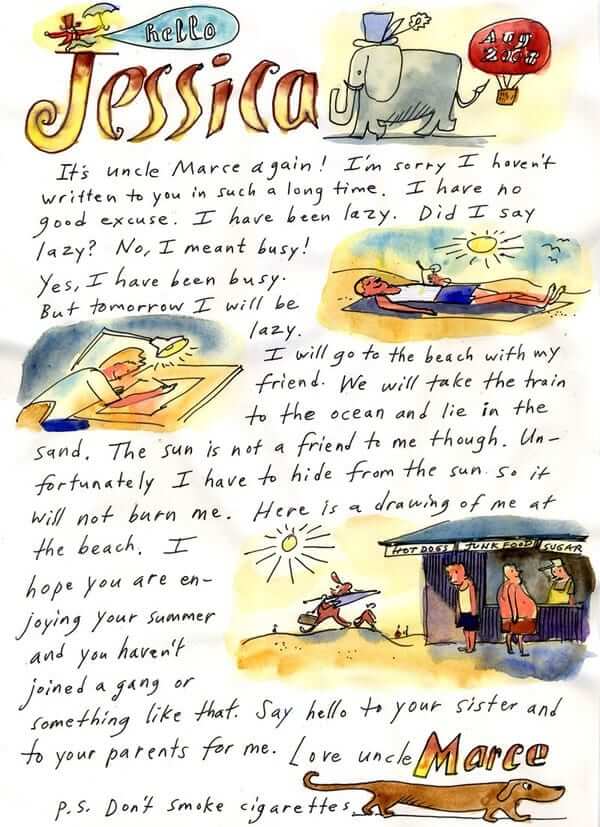 .
Pretty awesome, right? I was originally going to link to "Letters From Uncle Marce" as a Catch of the Day, but then I decided it's too special for that. Seriously, check out the whole batch of letters now — you won't be sorry. Moreover, you'll probably starting thinking the same thing I've been thinking, which is that someone should compile these letters into a children's book.
I asked Hall about that, and he said, "All the children's book publishers love them, but no one can conceive of a way to publish them. They all want me to shoehorn them into some kind of formulaic narrative."
Arrggh! So short-sighted. If Hall were a famous artist like Maira Kalman, nobody would care about imposing a narrative onto the letters — the work would be allowed to stand on its own. Hall isn't famous, but his work is strong enough to deserve the same treatment. If any publishing people are out there, please check out "Letters From Uncle Marce" and do what needs to be done. Otherwise, I may have to publish this project myself.
+ + + + +
This isn't about uniforms either: I've been a huge fan of the eccentric kitchen-sink band The Scene Is Now ever since I mail-ordered their first LP, 1985's Burn All Your Records, while I was in college. Over the next decade or so I reviewed their records in various publications, saw them live every chance I got, and at some point in the 1990s became friendly with them. (By this point I was pretty sure I was their biggest fan, but that was before this kid from Iowa moved to NYC and demonstrated such an amazing fluency in their back catalog that he became their new guitarist. But I digress.) Over the years they've become some of my favorite people, every bit as warm and interesting as their music.
The Scene will be celebrating their 30th anniversary this Saturday night at the Bowery Electric. I've been asked to introduce the band and say a few words prior to the second of their three sets that night, and I couldn't be more honored. Not sure what I'm going to say, but I'm thinking I may need a few props or visual aids. Maybe see some of you there? Hope so.
+ + + + +

'Skins Watch: A group of Native American leaders visited the White House yesterday and thanked President Obama for speaking out on the 'Skins issue, thereby proving yet again that white people are the only ones who want the team's name changed. … The teams at Neshaminy High School in Pennsylvania are called the Redskins. The student newspaper wants to stop using the team name, but the paper's staff has been overruled by the school's administration. … Here's the best article I've seen so far about that California school whose teams are called the Arabs. Good info, doesn't take sides, solid reporting (thanks, Phil). … There's pink for Breast Cancer Awareness month, camouflage for Veterans Day Month, and now, right on schedule, there's turquoise for Native American Heritage Month.

Baseball News: Back in the summer I showed some screen shots of Willie Mays wearing a Reds helmet in the 1965 All-Star Game. Now Bruce Menard has provided us with a much better view. Pure gold! … Oooh, check this out: It's like striped socks for your bat (from Brady Phelps). … More logo-makeover suggestions from Braves fans (thanks, Phil). … My buddy Rex Doane is a serious minor league cap collector. He just mail-ordered a new set of Rochester Red Wings caps and was surprised to find that the package included a personal note from the team's mascot, Spikes. "The red feathers that were also included suggest that Spikes is either working feverishly to meet consumer demand for the new logo merch or that he is merely molting for a brighter tomorrow," says Rex. … As you may recall, back in September I appeared on Keith Olbermann's show and talked about nickNOBs. As I was leaving the set after my segment, Olbermann handed me a printout of an old article about A's nickNOBs that his staff had come up with. I folded up the printout, stuck it in my pocket, and forgot about it until the other day, when I discovered it in that same pocket. Then I waited another coupla days until finally scanning it for you. … Speaking of old uni-centric articles, here's a great 1972 Sporting News piece about the unveiling of the Braves' "feather" uniforms (killer find by Todd Radom, who also put together a good graphic how much the Braves' road jersey typography changed in the course of a couple of seasons). … Also from Todd: The 1914 Yankees' uniforms were sent to Sing Sing Prison, where they were used by inmates (who, according to the article, were encouraged to play baseball as "a commenable means of giving the prisoners something pleasant and interesting to think about"). "¦ New logo set for the Inland Empire 66ers.

NFL News: Good spot by Steve Monforto, who noticed that a sideline worker at Monday night's Dolphins/Bucs game was wearing a shirt with an outdated Marlins logo. … The Steelers will wear their bumblebee throwbacks this weekend.

College Football News: How did kickers used to guarantee good distance on a kickoff? By tying the toe of their kicking shoe in an upright position. That's from the 1975 Air Force/Navy game (thanks, Phil). … Here's a look at the beautiful Hawaii throwbacks for this weekend. … Nico Bollini notes that USC's helmet logo appears to be larger this season. … GFGS on tap this weekend for Cal. "¦ Toledo wore a retro helmet design last night, apparently based on the design in the center of this page (thanks, Phil).

Hockey News: New mask for Panthers goalie Scott Clemmensen (from John Muir). … " I was watching a video about the NHL lockout and it focused on players heading to the American Hockey League, and especially the Springfield Falcons," writes Josh Tremblay. "At one point they showed two Falcons players wearing two different team logos during practice — one from the team's current Columbus Blue Jackets affiliation (left) and one from the former Edmonton Oilers affiliation (right). The Falcons were affiliated with Edmonton three years ago. Is it common for teams, minor league in particular, to hold onto jerseys that old?" … The NHL has released metallic-style logos for the teams participating in the Stadium Series games (from Tore McCarthy). … Here's a look at the best and worst jerseys in Coyotes history. … New mask for Preds/Admirals goalie Magnus Hellberg (from Daniel Lavender). … A little birdie tells me the Devils will be wearing their red/green throwbacks on March 18.

Soccer News: New away kit for Arsenal? Maybe (from Patrick Runge). … Barcelona has extended its sponsorship deal with UNICEF (from George Chilvers). … According to page 44 of this list of World Cup regulations, FIFA is urging the national federations to submit one "predominately light" kit and one "predominately dark" kit. "So all that corporate marketing talk by Adidas on how Germany's white shorts are resembling the 'freshness' of German soccer is basically corporate marketing bullshit," says Tim Ruschkowski. "What a surprise."

NBA News: The Jazz wore flag-desecration socks on Monday. You know, to honor the veterans (thanks, Phil). … The Spurs' GI Joe uniforms will make their on-court debut tonight. … The Pelicans acquired Lou Amundson and Josh Childress yesterday. Apparently they didn't' have time to get Amundson a proper jersey, because he went NNOB when checking into the game during the second quarter (from Andrew Lopez).

College Hoops News: Pitt and Savannah State went white vs. gray the other day. Not a lot of contrast there, eh? Is that really kosher under current NCAA regs? Additional photos here (from Michael Plunkett). … Josh Claywell says the contrasting shoulder straps being worn this season by Louisville, Kansas, and a few other Adidas-outfitted schools remind him of Duke's uni from the early 1990s.

Grab Bag: Garrett had this in yesterday's Ticker, but it's worth listing again: Salon has published the best analysis I've seen of the sports world's "U! S! A!" trope. Highly recommended. … New uniforms for the North Korean airline Air Koryo (from Blair Thompson). … Cory Gibson-Bath has started a discussion thread devoted to archiving press releases and media reports about logo and jersey unveilings. … New Gaelic football uniform for Dublin (from Harrison Thomas). … Unisex uniforms reportedly in the works for the U.S. Navy. … Lots of rugby teams wore Remembrance Day poppies last weekend, including Wales, South Africa, England, and New Zealand (the black armband was a tribute to the former player Peter Fatialofa, who also got the armband treatment from Samoa). France wore a Bleuet de France on their right sleeve instead of a poppy. Notable poppy-free teams included Scotland and Australia (all this from Patrick Fleming). … Portland's new arena football team will be called the Thunder (from Jay Francis).