I've been saying for years that the Giants' gray pants look a bit too blah and that they should switch them to white. Yesterday they finally did just that, breaking out the white alternate pants that they had unveiled during the off-season. Personally, I thought it looked great — the pants really popped, and everything on the field looked a bit brighter. The Giants will wear these pants again in two weeks against the Cowboys, and I for one can't wait.
Speaking of the Giants: See that design on Mathias Kiwanuka's visor tab? That was the team's stadium/passer logo, which equipment director Joe Skiba added to the team's visor tabs for yesterday's game.
In other developments from around the league yesterday:
• Lots of strong, contrasting colors in the Bengals/Ravens game (lots of additional photos here). While I wouldn't call this a good-looking game, there's no denying that it was an interesting-looking game.
• The Cardinals wore their black alts.
• The Titans went mono-navy.
•  The Saints wore their black unitards.
• Back in Week 7, Bears quarterback Jay Cutler was wearing a Schutt Air XP helmet. Yesterday he had switched to a Rawlings model. So much for the NFL's "one shell per player" rule, eh? (Bears backup QB Josh McCown appears to have made a similar switcheroo: Schutt in Week 7, Rawlings in Week 9.)
•  You've heard of concussion sensors in helmets, but did you know a sensor could also be applied directly to a player's head? That's a Falcons player from yesterday. Further details and explanation in this thread.
• As you can see in a lot of the game photos from yesterday, GI Joevember is continuing apace. The idiocy reached new heights — or maybe depths — in Atlanta, where the Falcons' cheerleaders played their own version of dress-up soldier. What a beautifully dignified gesture for Veterans Day.
•  Just in case anyone was missing the point, the NFL put together a subtle message. This same stunt, which looks like a parody scene out of The Simpsons, was repeated at stadiums around the league. Stay classy, NFL.
Turning to Saturday's college action, Phil and his contributors had good coverage in yesterday's post, so start there. But here are a few additional items:
• Have I mentioned lately that football entails repeated head impacts? That's Fresno State backup quarterback Brian Burrell, who lost some part of his decal and some underlying paint while scoring a touchdown.
• Speaking of helmet decals, Wyoming defensive end Richie Yarborough lost part of his.
• Arizona State cornerback Damarious Randall suffered a small tear in his pants, so he removed his pants on the sidelines and stood around in his base-layer tights until they found new pants for him.
(My thanks to all contributors, including John Enriquez, Peter Evans, Trent Knaphus, Stan Olechowski, Rich Paloma, and of course Phil.)
+ + + + +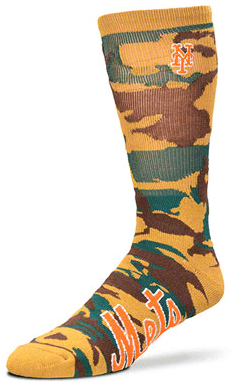 Another turn of the ratchet: The pull of GI Joevember is apparently so strong that it can even affect sports that aren't currently being played. That became apparent on Saturday, as the Mets announced (although sotto voce, buried within this hodgepodge of news bulletins) that they'll be wearing camouflage jerseys for Monday-night home games in 2014. (Update: Here's how it will look. Note that they used Gil Hodges's retired number, 14. They never use his number for promotions — but they did here.)
The Mets, like many MLB teams, haven't yet listed their game times for the 2014 season, but their schedule calls for eight Monday home games. At least five of them will almost certainly be night games (the other three include Memorial Day and two wraparound/getaway games at the conclusion of four-game series, any or all of which could possibly end up as day games). On the other hand, there are lots of Monday off-days, some of which will likely be used to make up rainouts. Add it all up and I'd say it's reasonable to assume that the Mets will end up with seven or eight Monday-night games in 2014. That means they'll be wearing camouflage for about 10 percent of their home schedule.
The Padres introduced camouflage jerseys to MLB in 2000. Since then, a handful of other MLB teams have worn camouflage jerseys, including the Reds, White Sox, and Pirates. There were also those camouflage-lettered jerseys that everyone wore last season on Memorial Day.
But all of those non-Padres examples were worn only once or twice, while the Mets will be wearing their camouflage design multiple times throughout the season. The only precedent for this is the Padres, and their excuse has always been that San Diego is a "military town" with a "strong military culture." Even if you accept that as a good reason to wear camo (which I most assuredly do not, for reasons I've explained many times and won't bother repeating here), what exactly is the Mets' excuse? Does New York have a "strong military culture" that I've been overlooking during the quarter-century I've been living here? Or are the Mets just pandering, because that's what everyone does now with these GI Joe-isms?
I think we all know the answer to that question. While I haven't exactly been in love with all the other GI Joe nonsense that's infected the uni-verse up until now, at least I've had the comfort of knowing that none of my favorite teams had engaged in it (except as part of a league-wide thing). Now that the Mets are doing it, I find it difficult to express how angry it makes me. Like, very angry.
On the plus side, at least now I know in advance that I can make other plans on Monday nights next year.
+ + + + +
Gift Guide reminder: If you have suggestions for uni- or logo-related products or services for me to include in the annual Uni Watch Holiday Gift Guide, let's hear whatcha got.
+ + + + +

'Skins Watch: The Orange County Register has become the latest newspaper to stop referring to the 'Skins by name. … Washington Post columnist Colbert King thinks Dan Snyder is at risk of going down in history as the next George Preston Marshall (from Tommy Turner). … NFL execs met on Friday with an Oneida Indian who supports keeping the 'Skins name unchanged (from Tommy Dodson). … Jim Vance, who anchors the NBC local news in DC, has described the 'Skins name as "vulgar,", but that didn't stop him from wearing a garish 'Skins jacket for the team's recent game in Minnesota. "¦ The University of Utah is allowed to use the Ute name and the drum/feather logo because it has permission to do so from the Ute Tribe. Now the tribe, dissatisfied with how the university is holding up its end of the agreement, has requested a meeting with university officials to discuss the arrangement. The tribe has apparently been mulling this request for some time.

Baseball News: My buddy Ken Davidoff did an interview with Cardinals third base coach Jose Oquendo and, to his credit, asked Oquendo about his hoodie protocol during the World Series. See, that's why Ken's my buddy — he Gets Itâ"¢. "¦ Dennis Hasty sent along a bunch of photos from the Reds Hall of Fame & Museum. "You'll never see so many old Reds unis together like this!" he says.

NFL News: Spirit Airlines has come out with the most tasteless ad of the year. Okay, so we all understand why they couldn't put a Dolphins logo on the helmet. But if they're gonna use the current striping, shouldn't they have also used the current facemask color? (From Yusuke Toyoda.)

College Football News: This Thursday marks the anniversary of the 1970 Marshall football team plane crash that claimed 75 lives. It's the first time since the crash that the team will be playing a road game on the exact anniversary of the tragedy, so they've decided to wear a memorial helmet for the occasion. I think that's going to be a tense and emotional plane ride on the way to that game (from Coleman Mullins). "¦ UCLA going BFBS this Friday. "¦ Excellent interview with CMU's equipment/branding supervisor (from Jason Axel).

Hockey News: The Ducks went GI Joevember for pregame warm-ups last night. "¦ Lots of CHL teams wore Rembembrance Day jerseys yesterday — some with poppies, others with military imagery. You can see a bunch of them here (thanks, Phil).

Soccer News: Remembrance Day poppies were everywhere in the EPL this past weekend. "¦ There was a bit of controversy about Wigan winger James McClean, who didn't play in Sunday's match. Some observers thought maybe he was benched for not wearing a poppy (he's refused to wear one in the past), but it turns out he was injured. "¦ Sporting Kansas City's Benny Feilhaber didn't get the memo about Pinktober being over (all of the preceding from Yusuke Toyoda). "¦ Red Hot Chili Peppers drummer Chad Smith has received death threats after pretending to wipe his ass with a Brazil jersey (from Chris Flinn).

NBA News: Ladies and gents, your Knicks Xmas Day jersey (major thanks to Micah Joselow). "¦ Looks like the real Xmas jerseys — as opposed to the retail replicas — won't have Adidas logo creep. "¦ The 76ers have added a black memorial band for longtime equipment manager Jeff Millman, who passed away on Tuesday. They'll wear the band for the rest of this month, which is an interesting time frame. We've all seen season-long memorials, along with the occasional one-game memorial, but "for the rest of this month" is a new one, at least to me (from James Ashby). "¦ In case you missed it in yesterday's Ticker, it looks like the first of the nickNOB games will be in January.

College Hoops News: Check out the jersey lettering used by Duquesne in the early 1980s. "¦ Virginia Tech forward Cadarian Raines was wearing some very cool socks on Saturday (big thanks to Andrew Cosentino).

Grab Bag: Jimmie Johnson wore an odd looking visor on his helmet at Phoenix yesterday (from David Firestone). "¦ Cool infographic showing how almost everything you buy is produced by 10 corporations (from Jim Walaitis). … This is pretty bizarre: The CFL's Saskatchewan Roughriders have some sort of little thingies on their goalposts. "They are pyrotechnic canisters that are set off when the 'Riders score," says Seth Moorman.