As you've probably noticed, we've recently been running a rotating series of ads from JacketShop.com at the top of the right sidebar. I've been particularly happy to have them on board because I've always loved varsity jackets. I have a bunch of vintage varsity-style jackets myself, and I'm always searching for more of them on eBay.
It was during one such search that I recently came across a 1965 catalog for a Winnipeg company called Sportswear Specialties. Picked it up for just $8 and change (including shipping!). Most of the vintage catalogs in my collection have lots of uniforms and maybe a page or two of jackets, but this one is the other way around, with page after page of spectacular varsity jacket designs. Let's take a little look-see, shall we?
Let's begin with this page, which has a good sizing chart (for all of these images, including the one shown above, you can click to enlarge):
.
The four jackets on this next page are so beautiful that it's easy to overlook a small detail: The four jackets have four different pocket styles! Check it out:
.
I love the little schematic drawings at the top of these next two pages, showing all the collar, cuff, shoulder, pocket, and waistline style options:
.
Things really kick into high gear with the designs on these next few pages — check out these gorgeous designs:
.
One thing I really like about varsity jackets is that they're designed to hit you at the hips, which is my preferred jacket length. But if you like a slightly longer jacket, you can also order one of these "5/8 Length" designs:
.
Want an even
longer
jacket? Then maybe you'd like to check out some of these "Bench Coat" models:
.
That's the end of the jacket segment of the catalog. Given how many pages in the catalog are devoted to varsity jackets, I'm surprised there's only one page for varsity sweaters:
.
And hey, speaking of sweaters, what would a Canadian catalog be without some curling sweaters? Dig:
.
There are also three pages relating to hockey jerseys (made of Rayosheen!) and socks. As you'll see, a couple of the designs on the first page are a bit unusual:
.
I love it when a vintage catalog still has its original order blank. Usually they've already been removed, but the one for this catalog was still intact:
.
.
Finally, almost as an afterthought, there are some basketball uniforms listed on the back cover, which also shows us the name and location of the sporting goods shop to which the catalog was originally mailed:
.
Unfortunately, some quick Googling indicates that that sporting goods shop — Gray's Store of Merlin — no longer exists.
As for Sportswear Specialties — the company whose catalog we just explored — it's apparently no longer in existence either, but their factory, shown on the cover of the catalog, is still standing.
Anyway: varsity jackets! They're cool. And if this entry leaves you hankering for one, please consider getting one from our fine sponsor.
+ + + + +
ESPN reminder: In case you missed it yesterday, my latest ESPN column is the annual college hoops season preview.
+ + + + +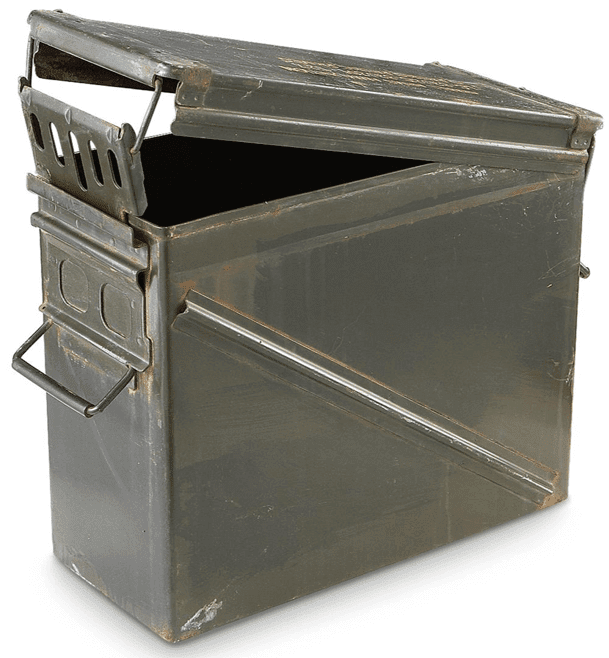 Pandora's munitions box: Do you know what military ammo boxes look like? Apparently they look like the photo you see at right, with lots of additional examples available here.
I confess that I had no idea what military ammo boxes looked like until last night, when I learned that Adidas had sent some promotional Robert Griffin III cleats to a bunch of journalists. The cleats are the same ones Griffin will be wearing for tonight's 'Skins/Vikings game in Minnesota, and they were sent to the journalists in boxes like this one (click to enlarge):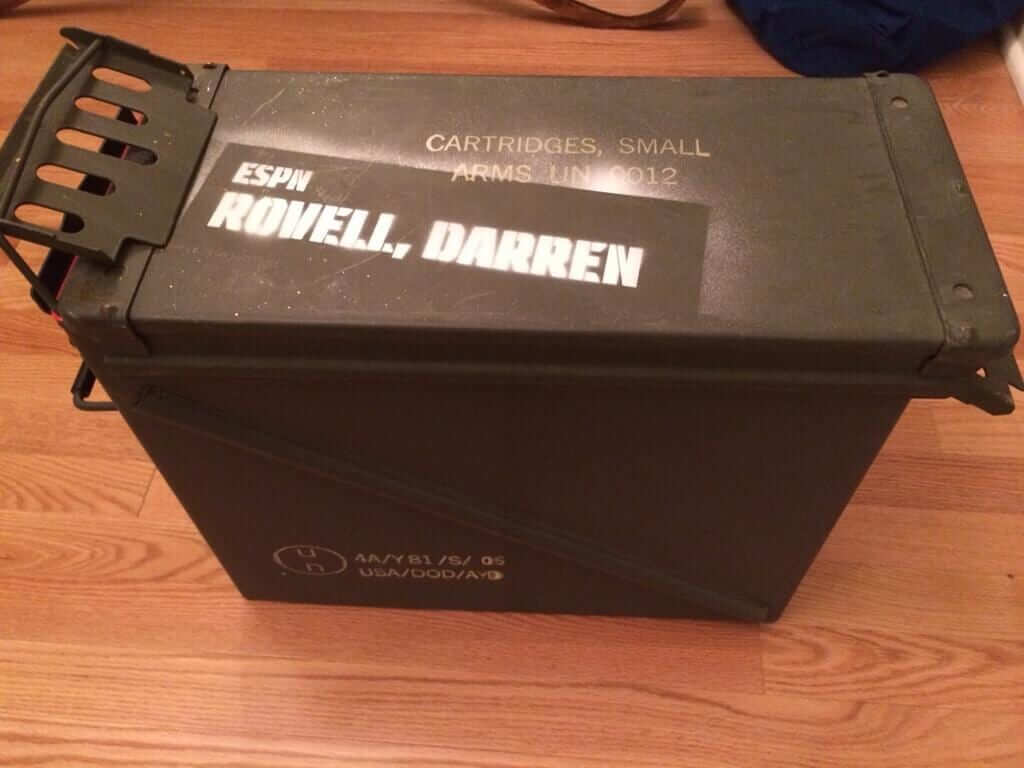 How nauseating is that? We've seen this kind of nonsense before, of course, like the Nike flash drive designed to look like military dog tags back in 2010. What I said back then still applies: This stuff is vulgar. It is vulgar for a sportswear company to equate football with armed military conflict. It is vulgar to compare football players to soldiers, especially when we have real soldiers dying in real armed conflicts. It is vulgar to use the trappings of military imagery, including ammo boxes, to promote and sell athleticwear. It is vulgar to invoke one military metaphor after another for a bunch of privileged athletes, the overwhelming majority of whom will never serve in the military.
On the plus side, I'd like to thank Adidas for not including me on the distribution list for this particular promotion.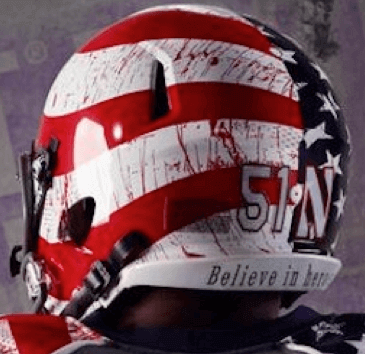 In a related item, the kerfuffle over Northwestern's flag-desecration costume continued yesterday. I'll have more to say about this in an ESPN piece, which I hope will be posted this morning. Link coming soon. which is up now. (As always, the best way to keep up with my ESPN work is to follow my Twitter feed, where I post all my ESPN links, and/or to ask to be added to my email list.)
+ + + + +
Tick-tock: Today's Ticker was compiled by intern Mike Chamernik, except for 'Skins Watch, which was compiled by me.
+ + + + +

'Skins Watch: Most past and present NFL players who've been asked about the 'Skins issue have been too chickenshit to go on the record either way. But former Viking Joey Browner has come out in favor of changing the name. He'll be participating in a "conscience walk" organized by the American Indian Movement prior to tonight's 'Skins/Vikes game in Minnesota (from Joshua Kramer). … Despite the objections of 11 Indian tribes, the Wisconsin State Senate passed a bill that will make it harder to make schools change their Native American mascots or logos. The governor has not yet said whether he'll sign it (thanks, Phil). … What happens when you go to a 'Skins bar and ask fans if they think the team's name should be changed? Guess (from Barry Brite). … I swear, if it's not the Injuns looking for a reason to be offended these days, it's the Arabs, am I right? (Thanks, Phil.)

Baseball News: Grantland has a short documentary on the husband and wife duo that managed the MLB schedule for more than two decades. But a graphic in the video shows outdated Blue Jays and Astros logos (good spot by Matt Harris). "¦ The NCAA will start juicing their baseballs in 2015. "¦ Japan's national baseball team has new uniforms, partially based on their 1931 uniforms when the team played against MLB stars (from Dan Kurtz). "¦ Big names like George Steinbrenner, Marvin Miller, Billy Martin, Tony LaRussa and Joe Torre are on the Expansion Era ballot for the Baseball Hall of Fame, and Cooperstown loves it (thanks, Tommy Turner). "¦ A few pairs of Stan Musial's stirrups and sanitaries from an old-timers game are up for auction. They're as marvelous as you can imagine (from Anthony Giaccone).

NFL News: Toronto Mayor Rob Ford's NFL logo tie, featured here on Uni Watch yesterday, reminded Jake Kessler of his own neckwear. "The MLB logo tie is my crack smoking tie, made by Surrey. The baseball tie is a Ralph Marlin my grandparents got me at the Baseball HOF circa '95." "¦ Also in Rob Ford news, Tom Gronek owned the same NFL tie, and wore it for his high school graduation. "Back in the early to mid 90's, I used to live in Etobicoke which is Rob Ford's hometown so chances are that we purchased the tie at the same location," Gronek says. "If I remember correctly, the store it was purchased at was a BiWay, which was a Canadian discount chain." "¦ A few readers noted that Tuesday night's World Series of Poker champion was a guy wearing a Calvin Johnson jersey (and one that might be counterfeit). As Lions fan, I was rooting for him much harder than I should have. "¦ "This is the Falcons' Rookie Club," writes Kevin Poss. "Interesting that most of the jerseys appear to have the NFL shield blanked out, but the player on the right's is visible." "¦ Eagle-eyed Matt Brown noticed that Adrian Peterson must have changed his cleats sometime during the first half of Sunday's game against Dallas. "¦ If Richard Sherman was the commissioner of the NFL (and I hope he is someday just for entertainment's sake), he says he would scrap knee and thigh pads, be lenient on sock lengths and cleat colors, and allow players to promote their own merchandise brands anywhere except on the field (from Kurt Esposito).

College Football News: Nike! Adidas! This is College Football on ABC! "¦ Eric Johnston noticed that Purdue wore last year's pants this past Saturday. "As you can tell from this article, Nike altered Purdue's logo about a year ago. The logo on the collar is the new logo, and the logo on the pants is the old one." "¦ Georgia Southern is wearing throwback uniforms and helmets this Saturday against Western Carolina. "¦ Notre Dame awarded some classy monogram jackets this week (from Warren Junium). "¦ Next three items are from Phil: Extra Mustard ranked the top-10 college football alternates for this year so far. "¦ The University of Wyoming is trying hard to escape mediocrity, even down to their uniforms. Key passage: ""˜I don't think Wyoming can survive being Penn State, and just wearing the same uniform we wore in 1967 when we went to the Sugar Bowl. But I also don't believe we can discard it completely,' Burman said. "˜There has to be a balance.'""¦ Lastly, "It's not enough that College coaches earn more than the guy who may someday find the cure for cancer or the University President." Phil writes, "Now they're picking up some extra scratch by trademarking their names and phrases."

Soccer News: Some upcoming World Cup kits have been leaked. Here are the looks for Japan, Germany, Russia, Brazil and Spain (with thanks to Trevor Williams). "¦ Gaelic Football is introducing a black card, which is in-between the red and yellow cards. If issued a black card, the player leaves the field but gets a replacement. The real gem in that link is in the video on the page, where "you'll be treated to the host (Marty Morrissey) who looks like a creepy Irish doppelganger of Jackie Mason with dyed hair and exquisite eyebrows," says Michael Clary. "¦ Madureira, a Brazilian soccer club, is honoring Che Guevara by putting his iconic face on their jerseys. In 1963, the club played five games in Cuba during a tour of the island, and Guevara met with the club. "¦ Yusuke Toyoda with two soccer items: Wales has new football kits, and The Guardian has a quiz on Manchester United's official sponsors.

NBA News: "This is weird," says Paul. "The NBA told Derrick Rose to stop wearing kinesio tape but now says players can wear the tape 'on an experimental basis.' The weird part is that several NBA players, mostly on the Celtics, were wearing kinesio tape back in 2009. You can see photos from that season here and here. Did the league ban the stuff at some point between then and now, or did they just forget that players had already worn it?" "¦ ESPN fantasy basketball is still using the old Nets logo on Brooklyn player cards.

College Hoops News: Two items from Phil: No photos yet, but a few Nike-outfitted schools, including Duke and Ohio State, will be wearing throwbacks this season (from Phil); and, USC has two new mascots, both very cartoonish. "¦ The George Mason men's and women's basketball teams will enter the court by running through a creepy inflated patriot head (from Yusuke Toyoda). "¦ Oregon will wear camo uniforms for Friday's Armed Forces Classic against Georgetown.

Grab Bag: "John Marshall School of Law (in Atlanta) is offering $50 (yes, $50) to design its new logo," says Kevin Mueller. "Logo must include a coat of arms, must "˜have something to do with Law and Atlanta' and the name of the school. Prospective designers are helpfully encouraged to "˜Google University of Pennsylvania Law, or Yale Law or Harvard Law' for inspiration (the logos for all of which are just a coat of arms next the school name in a very boring font)." "¦ Finland released their flag-themed Olympic hockey uniforms. "¦ The Australian Football League's Adelaide Crows will have new jumpers next season (from Leo Strawn). "¦ Westhill (CT) High School uses NFL-style captaincy patches on their own jerseys. "I've never seen this before on any team not at the professional level," says Joe Bonaddio. "¦ A Kentucky high school cross country runner dropped out of a regional race because she was assigned the bib number 666. She felt it went against her religious beliefs, and she and her coach were unsuccessful in getting a number change (from Joseph Gerard). "¦ How important is color in a logo? Check out a few hypothetical logo color swaps and see for yourself (thanks, Brinke). "¦ Also about logos: What would some corporate logos look like with a heavy metal design? (Thanks, James Ashby). "¦ Don Gale stumbled upon Pro Combat tortillas. "No comment," he says. "¦ France has a new rugby kit (from Adam Ingle). "¦ The Astrodome is headed for destruction. "¦ From Trick Daddy to Hell Rell, here are 1,000 hip-hop monikers on one chart. If Trillville is on there I might pony up the $72 for the poster. "¦ If you're a male cyclist, this is probably the second-worst place to have a fabric tear (thanks, Roger Faso). "¦ Last week, I was talking with my girlfriend about those "Peeing Calvin" decals, the unlicensed take-offs from the cartoon strip "Calvin and Hobbes." (Yeah, we talk about some pretty high-brow stuff.) My girlfriend didn't really know what I was talking about, so I did a Google search to find an example. I stumbled upon Calvin peeing on a Utah Jazz logo. It's really one of my favorite things on the internet, just because I'm so mystified by it. Does anyone out there really dislike the Jazz that much? What could possibly make the Jazz that unlikeable? It's really, in my estimation, the most random thing Calvin could ever pee on.