In late August I mentioned how a certain uniform manufacturer had threatened to sue me over a uniform leak. With that in mind, here's a related story for your consideration.
I recently met a guy who writes for the website of one of the Big Four pro leagues. He and I have emailed from time to time over the years — he likes my work, I like his, he's occasionally contributed Ticker items, etc. — but this was the first time we'd met in person. Let's call him John Doe.
As John and I were kibitzing, he told me something very interesting: At one point he had been contacted by someone who identified himself as an "investigator" for the league whose website John writes for. The investigator wanted to know the extent of John's communications with me, apparently because they were trying to find the source of some leaked uniform designs I had posted. John thinks the investigator must have singled him out by searching for league email accounts that had been in contact with my email address.
John — who has never leaked anything to me — told the investigator the truth, which is that he and I had emailed a handful of times about mostly trivial matters, and that was that. The investigator then presumably moved on to the next name on his list of league employees who had communicated with me. (The league never did figure out my source for that particular leak, and they never will.)
First a threat of a lawsuit, now an "investigator" combing through email records and shaking down league employees. Can you fucking imagine? All this cloak-and-dagger nonsense is beneath the dignity of a professional operation — or at least it should be. It all brings to mind something I wrote in the Ticker about a month ago. In case you missed it, here it is again:
As I've tried (mostly unsuccessfully) to impress upon the leagues, teams, and uni manufacturers, it's in their best interests to show me stuff in advance on an embargoed basis [i.e., I promise not to disclose or discuss the design until a specified date], because that would serve to inoculate them against leaks. For example, let's say the NBA shows me a bunch of upcoming new designs on an embargoed basis, and then someone "" a retailer, say "" leaks me those same designs to me a few weeks later. If I've already promised the NBA that I won't talk about the new designs, then I can't do anything with the leak, because I'll always keep my word regarding embargoed content. But if the NBA doesn't show me anything, then I'm free to write about leaks whenever they come my way.
All you league personnel who are reading this right now might want to take that last graf to heart. You'd be better off working with me than engaging in this long-form game of Whac-A-Mole that you've been playing (and losing) for years now. You'd save on legal fees and investigators' salaries, too. Think about it.
+ + + + +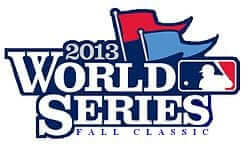 ESPN reminder: In case you missed it yesterday, my latest ESPN column is the annual Uni Watch World Series Preview. Enjoy.
Meanwhile, two follow-ups on that column:
• Several readers have pointed out that I left out an interesting nugget: If the Series goes at least five games with no rainouts — in other words, if all three games in St. Louis are played on their currently scheduled dates — then the Cards will wear three different uni combos for those three games: Saturday alternates, home whites with the Sunday cap, and home whites with the standard cap. Has that ever happened before in World Series history?
• I mentioned in the column that umpire Augie Donatelli stole Cardinals infielder Julian Javier's cap right off his head at the conclusion of the 1967 Series. That prompted the following from reader Brice Wallace:
I was only six years old when the 1967 World Series rolled around, but we had some World Book Encyclopedia "yearbooks," and I remember that the 1968 edition, looking back on 1967, featured a photo of Augie Donatelli snagging the caps.

Also: I wish I could remember where I read it, but in the early '70s I came across information indicating that Donatelli collected caps from some of his games, and I believe he especially tried to get those of the third basemen. I distinctly remember that in the case of the '67 World Series, it said that he told the third baseman that he wanted his cap and would get it after the final out if the Cards won. I don't know if he had the same deal with the Red Sox third baseman. Unfortunately, I can't remember where I read that.
As it happens, that World Book yearbook can be had almost for free on eBay. I'll snap it up later today.
+ + + + +

'Skins Watch: A coalition of advocacy groups is demanding that people stop using the 'Skins name and misappropriate Native American imagery on Nov. 7. That's also the date the 'Skins are playing in Minnesota, where a protest is being planned (thanks, Phil). … Lancaster High School in upstate New York calls its teams the Redskins, and at least one local resident thinks they should never change the name (from Drew Celestino). … A weekly paper In Richmond — which happens to be where the 'Skins train — has become the latest media outlet to boycott the team's name. … Former 'Skins QB Joe Theismann says the team's name is a tribute to Native Americans (from Ryan Deitchler). …

Baseball News: Here's a sensational slideshow of aerial photos of old baseball stadiums. … This article about how to choose which World Series team to root for says, among other things, "[T]he Red Sox have a great uniform. … But the Cardinals have the best uniform in baseball … If you like uniforms, cheer for the Cardinals" (thanks, Phil). … Tons of great old-timey baseball photos here (big thanks to Jm Wagner). … Lots of sensational early Astrodome imagery in this video clip (from Douglas Ford). … Reprinted from yesterday's comments: Here's a good slideshow on the bats that will be used in the World Series, and here's an article about two Buffalo-area companies — New Era and Delaware North — that figure prominently in the Series. Interesting quote: "New Era understands players might be looking for an edge this time of year. If a player wants to keep wearing the same hat he wore in the playoffs, either because it fits right or brings good luck, New Era will remove the Postseason patch from the side and replace it with the World Series patch." "¦ Ladies and gents, your El Paso Chihuahuas. That's the name of the city's new triple-A team. The other four names under consideration were Aardvarks, Buckaroos, Desert Gators, Sand Dogs (from Andres Portillo). … Wow, look what the Phoenix Giants were wearing back in the early '80s! (Thanks, Phil.)

NFL News: Don Shula, sock model extraordinaire! (From Chris Flinn.) … Sam Montgomery, one of the Texans who were cut this week, was one of the handful of NFL players who don't wear gloves. … Very good article about different helmet brands in the NFL. By coincidence, later today I'll be attending a Riddell event in Manhattan, where the company will be presenting some of its latest helmet technology.

College Football News: "Rivalry" uni plus Pinktober accessories possibly on tap this weekend for Ohio State (thanks, Phil). … Check out Colgate's helmets. "The dumbest/worst helmets in football," says my old ESPN editor Mike Philbrick. "Honestly, I would have preferred a tube of toothpaste." Yeah, but at least the apostrophe is facing the right way! That alone makes me like the design. … Matt Hyde reports that Utah State wore a new helmet last Saturday. … Blackout uniforms on tap for Middle Tennessee State tomorrow night. … Now that's a rivalry uniform (big thanks to Robert Marshall). … Pinktober helmet logo this weekend for Rice, and solid gray for Cal.

Hockey News: Pinktober pads for Red Wings goalie Jimmy Howard (thanks, Phil). "¦ There were lavender dasher board ads last night in Minnesota, as part of the "Hockey Fights Cancer" initiative (from Dustin Kalis).

Soccer News: A Colombian soccer team brought the wrong uniforms to a recent match and had to wear counterfeit knock-offs purchased from local vendors (from Simon Farrow).

Grab Bag: If you like varsity jackets as much as I do, you'll want to know about JacketShop.com is letting you design your own high-quality jacket for only $99. Good stuff. … Check this out: a basketball net that's truly a basket! That's from this page of old high school gym photos (from Ben Fortney). … Martin Hick was watching an old episode of The Andy Griffith Show and captured a priceless shot of Opie in a makeshift football uni. … A California high school may have to change its logo due to a copyright-infringement claim from the U. of Nevada (from Rich Paloma). … Pinktober has spread to wiper blades (from Richard Savickas). … Here are more photos of that high school with the crazy snake-themed football field (from Gordon Blau). … Whatever costume you're planning for Halloween, it probably isn't as good as this one. "¦ Black River Rising, the new album by Uni Watch membership card designer Scott M.X. Turner's band, RebelMart, is now available from iTunes and Amazon, among other places. You know what to do. "¦ Here's what Android's robot logo might look like if he dressed up for Halloween (thanks, Brinke). "¦ Also from Brinke: A designer has undertaken the unusual task of trying to redesign all 50 state flags based on a common visual style. An interesting exercise, I guess, but why ruin the flags' individual styles? Sure, some are better than others, but that's part of the charm. "¦ "We've all seen throwback schemes in NASCAR, but rarely does a throwback number get used," says David Firestone. "Aric Almirola will do so on Sunday, using No. 41 as a tribute to Maurice Petty." "¦ The Vatican now has a cricket team, and its colors are powder blue and white. "That's surprising, as the colors for the Vatican soccer team are yellow and white," says Stefan Schubert. "¦ Biked over to my doctor's office yesterday morning to get a flu shot. After giving me the vaccination, the doc applied a sparkly, star-shaped Band-Aid to the injection site. I might just leave that on for a few days.
+ + + + +

What Paul did last night: For the second straight night, I saw a movie set at sea. On Monday it was Captain Phillips, and last night it was the new Robert Redford vehicle, All Is Lost. Superficially, at least, the two films are pretty similar: They both involve nautical isolation, and they both make prominent use of shipping containers (which is why the next book I read will probably be this one). But Captain Phillips is all man against man, while All Is Lost is man against nature (well, and a shipping container). The former has a big cast and constant dialogue, while the latter has a cast of one and almost no spoken lines.
Anyway: I liked All Is Lost, but not as much as I liked Captain Phillips. No more movies for me tonight, because the World Series is starting.