We already knew the Ravens had dropped the neck roll collar on their purple and white jerseys, and yesterday we learned that they've done likewise on their black alternate
jerseys. That isn't particularly surprising, but it's still interesting to see. Several readers suggested that they should have dropped the purple trim on the sleeve cuffs, as if you can't have contrasting cuffs unless you also have a contrasting collar (like on a ringer T-shirt), but I don't mind the extra splash of color, even if it is purple. What do you think?
In other NFL news from yesterday:
• As you know, the Titans are wearing a 15th-anniversary patch this season. But CBS ran a player profile video of Chris Johnson wearing the team's old 10th-anniversary patch.
• Chiefs linebacker Tamba Hali tore both of the sleeves on his base-layer undershirt.
• Pats quarterback Tom Brady had to change helmets after his helmet radio malfunctioned, which prompted several readers to say, "Hey, I thought the NFL had banned helmet switcheroos!" People, I know it's fun to play gotcha, but the NFL's stated goal has never been to eliminate helmet switches; it's to minimize helmet switches. A case of a malfunctioning radio is definitely among the situations they already allowed for. (I'll have more to say about all this in a new ESPN column later this week.)
• I haven't been able to find a photo, but I noticed several Saints players wearing a Pinktober accessory I hadn't seen (or maybe just hadn't noticed) before: pink visor clips.
• Speaking Pinktober, if you look at photos of the Browns/Lions game, you'll find not a single pink accessory. The teams weren't even wearing the pink ribbon helmet decal.
•  No pink in the Cowboys/'Skins game either, except for Robert Griffin III.
• In a related item, a Jags fan came up with a unique Pinktober gesture.
Turning to Saturday's NCAA action, Phil and his contributors had lots of good coverage in yesterday's entry, so start there. Once you're caught up with that, here are some additional items:
• The Kentucky/Alabama game had something I've never seen before: an official with a tattoo! And not just any tattoo, but the Playboy bunny logo. I can recall any official in any sport having a visible tattoo before. Seems very unprofessional somehow — shouldn't he have used cover-up cream or something?
• Interesting to see that Johnny Football was wearing Under Armour underwear. The Adidas folks can't be happy about that.
• One of Washington's running backs had some NOB issues.
(My thanks to all contributors, including Zack Bennett, Matt Brown, Dustin Cook, John Enriquez, David Keel, Brendan Slattery, JJ Sledge, and of course Phil.)
+ + + + +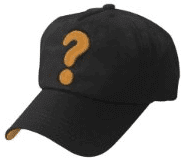 MLB cap update: Remember my story last week about a possible change in MLB cap fabrics? On Friday I heard from a source who said he had spoken with someone highly placed in the world of MLB caps. We'll call him Source No. 2, whereas my source for last Thursday's piece was Source No. 1.
Let's go one thing at a time:
• Regarding the change of cap fabrics for next season, Source No. 2 says one team is definitely on board for that — the Dodgers — with a second unnamed team close to pulling the trigger. But contrary to what Source No. 1 had told me, Source No. 2 says there's no indication yet that it will be an MLB-wide thing. I've done some additional checking to see if I can figure out which source is right (or if neither of them is right), but so far no dice.
• Source No. 1 had told me that Nike was trying to wrest the MLB cap contract from New Era, whose MLB deal expires at the end of 2014. Source No. 2 says New Era does indeed have competition for the cap contract after 2014, but from Under Armour, not Nike. Still, No. 2 says his connection in the cap world believes New Era will end up retaining the contract, and that the new deal may be wrapped up very soon.
Keep in mind that this is all hearsay (i.e., both of my sources are getting their info from professionals in the cap world — they do not work in that world themselves). That doesn't mean the info is wrong, of course, but details sometimes get lost or distorted in translation. One reason I haven't written about this for ESPN yet is that there's no way I'd base a breaking news story on a hearsay source (and even if I wanted to, there's no way my editors would let me). It's fine for a blog post, though, especially when I'm giving you a caveat like this. My hope is that it will lead to a primary source. If that's you, don't be shy.
+ + + + +

'Skins Watch: Here's a good, thoughtful piece on how 'Skins fans liked the letter that Daniel Snyder recently sent to them regarding the team's name. … Speaking of Snyder's letter, officials at the Red Cloud Indian School in South Dakota are disputing a key part of the letter and denouncing the 'Skins name (from Tommy Turner). … A Native American group is asking the Minnesota Sports Facilities Authority to refrain from printing or broadcasting the 'Skins logo or name during the Nov. 7 'Skins/Vikings game at the Metrodome, on the grounds that doing so would violate Federal labor laws, hate-speech protections, and the civil rights of Native Americans. If the group's request is turned down, they may take legal action (from Greg Fedio). … DC sports radio guy Eric Bickel has written a defense of Dan Snyder's position (thanks, Phil). … Students at a DC high school are going to hold a debate on the 'Skins name (from David Goodfriend). … One common refrain from Dan Snyder defenders is that "only white people" care about the 'Skins name. That's a silly argument on its face (I suppose white people weren't allowed to care about civil rights either?), but it's also demonstrably untrue. Aside from the many Native American groups who are protesting the team's name, the movement also includes quite a few black sportswriters, the most recent one being longtimes New York Times sports columnist William C. Rhoden. "¦ Here's the winning design in 99desisns's "Rebrand the 'Skins" contest. … Bob Costas weighed in on the 'Skins name, and on the larger Native American issue, during halftime of last night's Dallas/Washington game. I strongly disagree with much of what he said (he thinks "Braves" is essentially the same as "Vikings"), but we agree on one thing: The 'Skins name is highly problematic.

Baseball News: I see Big Papi was wearing Day Glo-trimmed batting gloves last night. Is that the first time he's done that? "¦ Speaking of the Bosox and batting gloves, see this Franklin glove? Jacoby Ellsbury wears that same model (in a different color), only his version has a Nike logo. "He is also contract with Nike, so he drew a Nike logo on the glove," says Adam Volk. "¦ Great story about how Mickey Cochrane restored the old English "D" to the Tigers' uniforms in 1934 (good job by Todd Radom). … Here's something I've never seen before: a flocked Mets batting helmet (good find by Bruce Menard). … If you look at Bob Gibson striking out George Scott for the final out of the 1967 World Series, you can see third base ump Augie Donatelli running toward the ensuing crowd of celebratory Cards and stealing a St. Louis player's cap right off his head (if the video doesn't auto-forward to the correct spot, skip to the 4:20 mark). "They talked about that during the pregame show for Saturday afternoon's Dodgers/Cards game," says Brian Derrick. "Super-interesting story. They mentioned this ump did this more than once." There's a little more info here. Donatelli, alas, passed away years ago, so we can't ask him to tell us more about all this. … Tigers pitcher Max Scherzer, a Missouri alum, showed up in the ALCS interview room on Saturday wearing a sweatshirt with the score of Mizzou's upset win over UGA from earlier that day (thanks, Phil). "¦ Interesting story about Bill Mazeroski and other former MLB stars selling their old uniforms and other memorabilia. "¦ Here's something you rarely see up for sale: an old jersey with detachable sleeves.

NFL News: Here's a good photo I haven't see before of the Steelers' Batman uniform (from Yancy Yeater). "¦ Lots of readers forwarded me the promo email for these "drenched" jerseys yesterday. Idiotic stuff, natch, but it's just fashion merch, so who cares? "¦ Rick Friedel notes that Packers kicker Mason Crosby's nose bumper has an unusual clip for his facemask. Here's another photo, and in this one you can see that someone else on the team — probably Crosby's holder — has the same thing. Last season Crosby had conventional clips on his nose bumper. "¦ Okay, so this isn't technically an NFL item, but this has got to be the most amazing football jersey I've ever seen. Wow!

College Football News: What's up with this horseshoe? According to this story, "While walking down an interior hall in the Osborne Complex toward the field, the Huskers are led by Head Coach Bo Pelini, and all raise their hands to touch the lucky horseshoe that hangs above the door as the Huskers leave the North Stadium. The same horseshoe hung in the South Stadium tunnel, and before that the horseshoe hung above Nebraska's locker room entrance in the original North Stadium." "¦ I put this in the MLB Ticker, but it's worth putting here too: Detroit Tigers pitcher Max Scherzer, a Missouri alum, showed up in the ALCS interview room on Saturday wearing a sweatshirt with the score of Mizzou's upset win over UGA from earlier that day (thanks, Phil). "¦ Baylor RB Glasco Martin IV has RNOB (from Matthiew Mitchell).

Hockey News: The Mighty Ducks live! Additional pics from last night's throwback game in Anaheim here. Everyone seems to agree that this one was a big, big success. "¦ Yesterday's edition of CBS Sunday Morning included a segment on Bobby Orr. The show's reporter was wearing a Bruins-style jersey with the show's logo. Also, note the Orr's gloves are monogrammed with his name (from Gordon Cromer). "¦ There are times when a GI Joe uni is justified (from Terry Duroncelet).

Soccer News: Mexico wore their new World Cup kits in their World Cup qualifier match against Panama. Why? According to this story, "Before beating Panama, Mexico's World Cup future was so uncertain that Adidas decided to have them wear their World Cup kit now "" long before any other Adidas team even shows their new kit "" just to be sure the thing was put to use" (from Britton Jackson). … Saturday's Southern Counties East League Premier Division game on between Canterbury City and Whyteleafe was called off when the visitors (Whyteleafe) turned up in a kit identical to the home side's and failed to in a desperate attempt to replace it (from Graham Clayton).

Basketball News: While taking a tour of the completely amazing Brooklyn Army Terminal on Saturday afternoon, I saw a guy wearing an amusing Celtics T-shirt. "¦ Whoa, look at this amazing harlequin-patterned hoops uni. Would love to see the jersey and shorts together on a mannequin (or a human!).

Grab Bag: There's a pretty awesome-looking new book about an infographics pioneer (from Heather McCabe). … New logo for the city of Kansas City. "Personally, I'll always have a nostalgic attachment to the old one, but I like the shout-out to the Monarchs," says Joe Nguyen. "¦ Willard Kovacs has taken some creative license to show us how sports history might have looked if Pinktober had existed decades ago. "¦ I just won this cool-looking 1965 uni catalog for a song. More details once I receive it from the seller.