When I was maybe 13 or 14 years old, my much older brother went up to our parents' attic, poked around in an old box, and came out with a treasure: a copy of the Mets' 1962 yearbook, which he gave to me on the condition that I never sell it (a condition I've always honored).
The yearbook's cover illustration wasn't exactly my idea of a baseball image, but I understood the symbolism — the '62 Mets were a newborn team, a team in its infancy. But what were these diagonal lines near the baby's foot? "Oh," said my brother, adopting the very specific tone of voice he used when he was about to impart a life lesson to me, "that's the artist's signature. Willard Mullin. You'll learn about him."
Thirty-five years later, I have indeed learned a lot about Willard Mullin. Mullin, who was already in the latter stages of his career when he did that Mets yearbook cover, was probably the greatest sports cartoonist who ever lived. And now Fantagraphics, the comics publisher, has put out a gorgeous compendium of his mid-century baseball cartoons. It's a great book. You should own it.
The book is too big to fit on my scanner, but I photographed some of my favorite pieces, beginning with this caricature of Babe Ruth heading down to Florida for the first spring training of his retirement (for all of these, you can click to enlarge):
Mullin was particularly intrigued by contractual negotiations between teams and their players. Here's a good one about Joe DiMaggio preparing for his latest contractual wrangling with Yankees GM George Weiss:
Here's another contract-based piece, this time showing how Weiss was weighing Don Larsen's unremarkable 1956 season against Larsen's perfect game in that year's World Series:
Mullin's most famous creation was the Brooklyn Bum, who personified the Brooklyn Dodgers' downtrodden, "Wait 'Til Next Year" mentality. Here's the bum expressing his displeasure over Larsen's perfect game in the '56 World Series:
When the Giants left New York for San Francisco, Mullin used the names of assorted Giants players to create this beautiful piece:
Mullin used that same approach for his annual holiday cards, which incorporated the names of assorted athletes. Imagine receiving something like this every year:
Are you the kind of baseball fan who thinks Opening Day is like Christmas and your birthday and winning the lottery all rolled into one? Mullin understands:
Yogi Berra was famously known as a bad-ball hitter, and Eddie Lopat was known as a junkballer. Mullin played off of those clichés in these two pieces:
Mullin had already done lots of Dodgers and Giants yearbook covers by the time he did that '62 Mets yearbook that served as my introduction to his work. Here are some of his Dodgers and Giants covers, along with some of the subsequent work he did for the Mets:
I could go on, but you get the idea. Mullin was a great artist, and this is a great book. Don't miss.
+ + + + +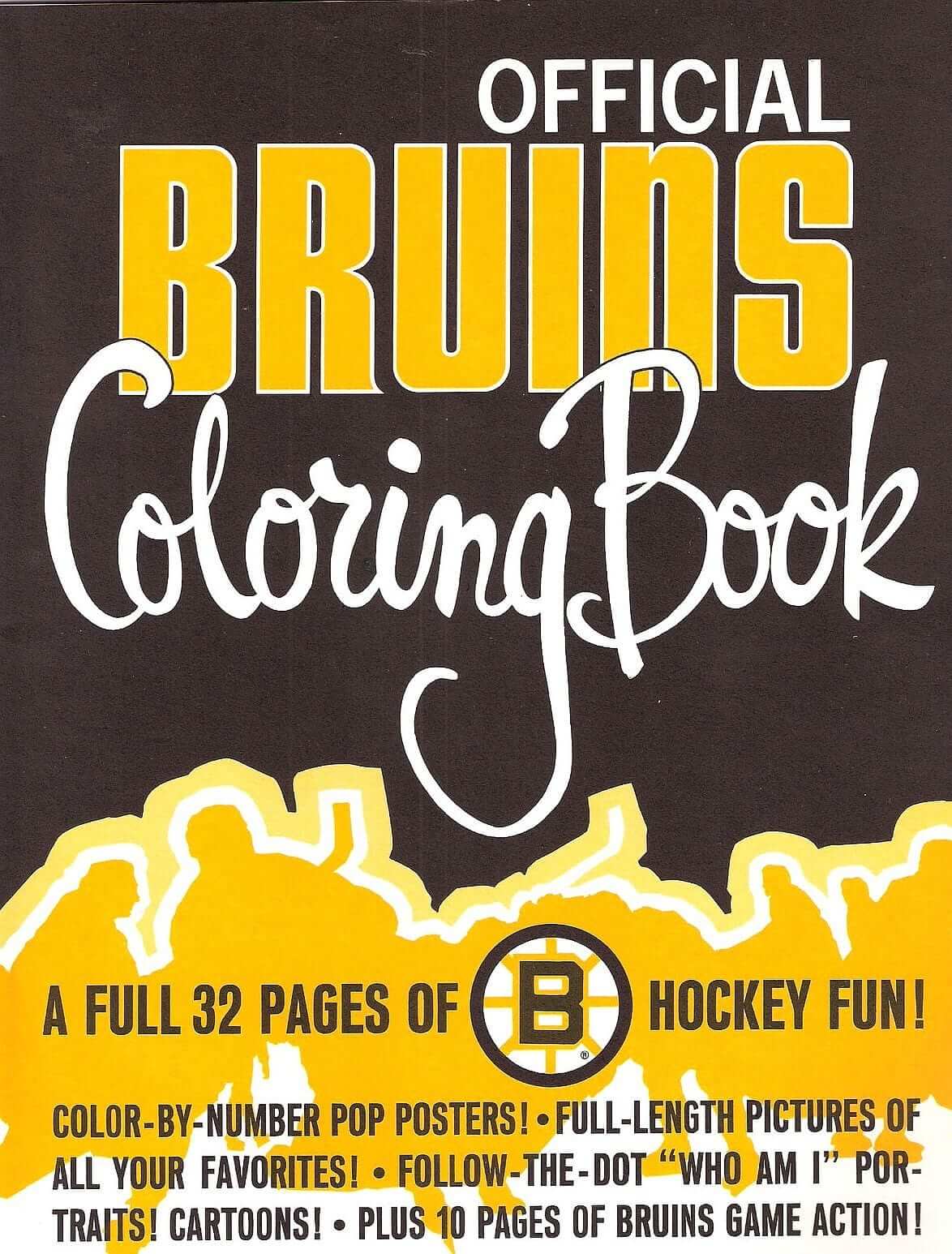 Click to enlarge
Collector's Corner
By Brinke Guthrie
We don't often lead off with hockey here at CC, but who can resist a full 32 pages of Bruins hockey fun? That's what you get with this 1970s Bruins coloring book, complete with cartoons! Posters! And more!
As for the rest of this week's finds:
• DeLong alert! Nothing beats the classic varsity look of this Bears jacket. Here's another one in maybe better shape. Not a Bears fan? Check out this really nice-looking NY Giants varsity jacket, or this heavyweight Browns pullover shell, and another pullover that's league-branded.
• Here's an unopened NY Giants helmet pencil sharpener from the 1970s.
• What sports stuff did you collect growing up? I collected lots of stickers, but I never saw these early-'70s NFL helmet stickers from Chase & Sanborn.
• Classic look to this 1980s Islanders crewneck sweater from Cliff Engle.
• Will Scheibler sent in a couple of items: a 1914 Spalding guide on "How to Run the Bases," and a Toronto Toros "Ice Cleaning Sweater," although I'm not sure what that really means. A sweater to wear just to clean ice? Who knew?
• Ah, one of those clothing catch-words from back in the day. A vintage Niners "Naugalite" varsity jacket.
• Great design on this 1970s Patriots poster.
(Quick note: In case you missed it last week, I posted a link for Music From NFL Films. Those audio downloads are available for another week. Don't miss 'em!)
Seen something on eBay or Etsy that you think would make good Collector's Corner fodder? Send your submissions here.
+ + + + +

'Skins Watch: ESPN ombudsman Robert Lipsyte has written a fascinating piece about the worldwide leader's use of the 'Skins name. Really interesting stuff, and highly recommended. … Forbes writer Marc Edelman feels the NFL's backing of the 'Skins name amounts to hypocrisy on the issue of hate speech, and another Forbes writer, Monte Burke, thinks Daniel Snyder should change the team's name right now (from Phil and Tommy Turner, respectively). … Washington Post sports columnist Tom Boswell, who happens to be a lifelong 'Skins fan, did a Q&A sessionyesterday in which he addressed the 'Skins controversy in very smart, measured terms. Recommended (from David Goodfriend). "¦ Lots of complicated legal-ese here, but a Wisconsin attorney thinks the state law that led to the state's schools removing their Native American nicknames is unconstitutional. Of course, he's a bit biased, since he's representing a school that's appealing the law's provisions (thanks, Phil). "¦ Also from Phil: "So, someone on Twitter said, 'Ask Siri who her favorite football team is.' So I did, and, well, see for yourself." "¦ Meanwhile, there's this, which pretty much speaks for itself:
This kiss between Redskins fans… (Toni L. Sandys – TWP) pic.twitter.com/tflAH2VTpj

— Dan Steinberg (@dcsportsbog) September 10, 2013

Baseball News: I've written a few times about Sean Kane and his great hand-painted baseball gloves. A bunch of his gloves will be featured at an art show at the Bergino Baseball Clubhouse in Manhattan's East Village. Kane will be there for the opening reception on Oct. 4, 6pm. I expect to be there too. … Interesting to see that the 1992 Brewers had NNOB jerseys but NOBs on their dugout ackets (good one from Michael Blake). … Very unusual to see a horizontal chest mark and vertical placket lettering combined on the same jersey. That's the company team from the T.S. Martin Co. department store of Sioux City, Iowa, circa 1920s. The guy in the center is Mike Johnson's grandfather. … Ebbets Field Flannels is looking into the purchase of an antique sock-knitting machine, so they can make old-school stirrups (from Rand Martin).

NFL News: Robert Griffin III wasn't wearing knee pads in his pants last night — but he was wearing them under his socks! I guess that counts as compliance with the new rule. "¦ Meanwhile, Eagles coach Chip Kelly used these awesome play-calling cards with Philly-centric graphics (from Mario Carr). "¦ Yesterday I mentioned that Calvin Johnson jerseys with JrOB are available for sale and wondered if he had added "Jr." to his jersey this season. The answer: nope. Oddly, though, he's shown wearing JrOB in Madden 25 (from Mako Mameli). … I've been saying for years that one of the biggest and most underrated changes in the NFL over the past generation is the rise of super-sticky gloves. What I hadn't thought about until now was how those gloves can aid defenders who are trying to strip the ball. When Giants RB David Wilson fumbled in the first quarter of Sunday night's Giants/Cowboys game, a Dallas defender grabbed the ball with both hands and wrenched it out of Wilson's grasp — standard defensive technique, but I'm sure you can get a lot more leverage with those super-tacky gloves. Hmmmmm. … Hey look, Joe Montana is left-handed! Not only that, but he wears his wedding band on his right hand. Pretty obvious that they flopped the image (good spot by Jason Hilyer). … Julius Peppers's captaincy patch was either upside-down or falling off on Sunday. "Also, no knee pads!" notes Adam Grad. … Yesterday I mentioned the Packers' inconsistent pants striping. Longtime reader Jeff Ash, who works for the Green Bay Press Gazette, posted that on the paper's "Packers News" Facebook page, where some of the reactions were priceless. A good reminder that most sports fans don't look at this stuff like we do. … Another follow-up from yesterday: Remember how Niners coach Jim Harbaugh wore a Reebok pullover in the first half of Sunday's game, before switching to Nike in the second half? Brinke is friends with 49ers beat reporter Mark Purdy of the San Jose Mercury News, so Brinke asked Purdy to find out more. Purdy's report: "[Harbaugh] said at his press conference [Monday] that it was a 'mistake' and there was 'no malice intended.' He's so loopy-intense about football on game day, I don't think he pays attention to minor stuff like that, just reaches in and puts on his outfit, whatever's hanging there. Didn't say if he'd been fined. I would bet not, especially since he changed at halftime when he was notified. [On Monday] he was wearing one of his dark tops with the 49ers logo and it had the Super Bowl logo on the sleeve. My colleague Tim Kawakami asked if that meant anything special, what with the Seattle game coming up, and Harbaugh said no, it was just the one of four or five he has in his closet and he pulled it out today. 'It's in the rotation,' Harbaugh explained. So there you go. And you know, despite all this, Harbaugh is a detail guy, so despite his words, there's a chance none of it is an accident. But he really is football, football, football all the time. One reason he dresses the same all the time, he's said, is so that he doesn't spend 'drag time' trying to figure out to wear on any given day." … The Rams' end zones are about as plain as can be (from Joe Mueller). … Eric Stangel says last night was the first time the Chargers ever wore captaincy patches. Can anyone confirm or refute that? "¦ "In a couple of the new NFL fantasy football commercials that feature players literally carrying fantasy owners on their shoulders, Trent Richardson and Kyle Rudolph both feature uniform inconsistencies," says Charles Noerenberg. "Richardson is wearing home brown-topped socks with stripes, which I don't believe we've seen the team wear more than once, a few years ago with a throwback (a shame). Also, his jersey still has the 'AL' on the sleeve. In Rudolph's spot, he's wearing the Vikings' new jersey (sort of) with last year's pants. The jersey is odd because the number font is correct but the sleeve stripe doesn't feature the 'Viking ship curve' toward the back." "¦ Buncha other stuff from Charles: (1) Steve McNair used to wear Nike earrings. (2) The Cardinals had some weird lines in their end zones during the preseason. "Maybe it had something to do with their retractable grass field?" speculates Charles. "They were on the road this past weekend, so I'm not sure if they've updated or erased the markings." (3) Also from the preseason: Washington defensive lineman Trent Williams wore solid white socks and white shoes. (4) Two of the worst logo cover-ups ever in this furniture ad. The one on the collar is bad enough, but look at the sleeve — the black tape is extending off of the fabric! Best of all, they forgot to cover up the jock tag, which includes the NFL logo and the swoosh. "¦ Did you notice that all NFL fields this past weekend had this "Back to Football" logo? I didn't, until Phil pointed it out. "¦ Odd that the continuous horizontal line running across the letters in the Chargers' end zone logo has now been broken up into separate pieces. Downgrade, methinks (from Mike Davis). "¦ While we're at it, the Chargers still have outdated logos for the Panthers and Cardinals hanging in their stadium (from Jon Solomonson). "¦ Don Sauberan doesn't like the shade of blue that ESPN used for the Chargers' down/distance graphics last night. "The Chargers weren't wearing a stitch of the powder blue, and the blue ESPN was using looked more teal-y anyway. It looked like the Jaguars were playing. They should have just went with the Chargers' navy blue and yellow."

College Football News: Texas Tech has added a memorial decal for Jess Stiles (thanks, Phil). … Nevada wore a throwback helmet last Saturday in honor of former coach Chris Ault, who retired last year (Brian Catlett). … Interesting to see UNC-Charlotte wearing a Conference USA jersey patch when they won't actually join the conference until 2015 (from Stanton Foster Smith). … Here's a doozy: Arkansas State coach Bryan Harsin, whose team was penalized for wearing non-contrasting uniforms on Saturday, later said, "I knew about it. That was my decision. I think it was something for our team and that decision I made and I would not change it." Wow. Not just bright, but articulate too! (From Dave Wilson.) … Alan Miller says LSU will be wearing its seldom-seen purple jerseys this Saturday against Kent State, and again against Furman in November. … Akron wore a new helmet with a "zipper stripe" (cuz they're the Zips, get it?) on Saturday (from Peter Parker, and the first person to make a Spider-Man quip gets tossed from the site). … Last graf of this article that UCLA and Nebraska, which play each other on Saturday, will both wear "36" memorials for UCLA receiver Nick Pasquale, who died in a traffic accident over the weekend. UCLA will wear a patch, and Nebraska will wear a helmet decal. "¦ Boise State will wear solid blue on their blue field on Friday. This is the first time they'll have done this while in the Mountain West Conference, which initially banned the practice but later relented (thanks, Phil). "¦ Yesterday I asked if Oklahoma State had ever worn orange-white-orange prior to last weekend. The answer: yes, last year, against Kansas State (from Nicholas Spiva).

Hockey News: The Edmonton Journal isn't happy about the Oilers' assessment in the Uni Watch Power Rankings (from Kevin Dorsey). … Interesting piece on the evolution of the Islanders' marketing now that the Nets have taken over their business ops. "The Isles are now using the Nets' font on their website and other promo materials," says Brian Erni.

Soccer News: The concourse at Fratton Park, home of Portsmouth FC, has a cool jersey mural. "I did a little digging and found it's the work of a local artist, based on photographs from a fan website," writes Yusuke Toyoda. "You can see the progression of the mural here." … Oh man, check out this absolutely sensational USA vs. Mexico poster. "Only 39 will be printed up, and I already got mine!" says Matt Busch.

NBA News: "Beloved" watch: Will Leitch, writing about the Cleveland sports scene, referred to Cavs owner Dan Gilbert as the team's "beloved owner." Grrrrr (from Mark Faron). … This is interesting: The Nets will retire Jason Kidd's number at a preseason game. Seems like a very odd choice of timing, no? Any precedent for this?

College Hoops News: Here's a rare find: video footage of NC State's infamous unitards (big thanks to Kenn Tomasch). … New uniforms for Kansas. … New court design for Cal State Fullerton (from Leo Thornton).

Grab Bag: Politico published a little explainer about its new headline font (from William Yurasko). … Here's a good analysis of what's wrong with the new Yahoo logo (from Yusuke Toyoda). … Meanwhile, Google may be flattening out its logo (thanks, Brinke). "¦ Last week I mentioned how a Muslim cricket player in Australia had been granted a waiver from wearing his team's beer sponsorship. "That led to some Australian public figures and pundits making comments www.theguardian.com/sport/2013/sep/10/david-campese-apologises-fawad-ahmed ">that ranged from insensitive to downright racist, for which some of them later apologized," says John Childers.
+ + + + +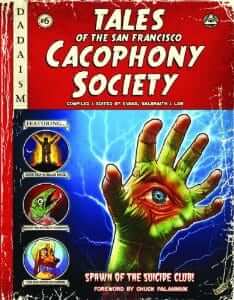 Last night I attended a panel discussion and book party about the Cacophony Society, a SanFran-based group of explorers/anarcho-artists who like to stage odd events, conduct elaborate pranks, explore abandoned buildings, and generally make shit happen. They're directly responsible for Santa Con (which now takes place in many cities) and Burning Man ("We're sorry," said one of the Cacophony guys last night), and they're indirectly responsible for things like the No Pants Subway Ride and loads of other creative urban mischief.
Anyway: One thing that really struck me during last night's event was the Cacophony Society's slogan — "You May Already Be a Member." I really, really like that. It made me think about the slogan I usually use for Uni Watch: For People Who Get Itâ"¢. I like that slogan just fine, but its feel is exclusive, while the Cacophony slogan is inclusive, which seems like a much better approach. Imagine if Uni Watch's slogan were "You May Already Be a Member" (or even "You May Already Get It") — it would still retain the secret-handshake element, but it would have more of an inviting feel. Hmmmmm.