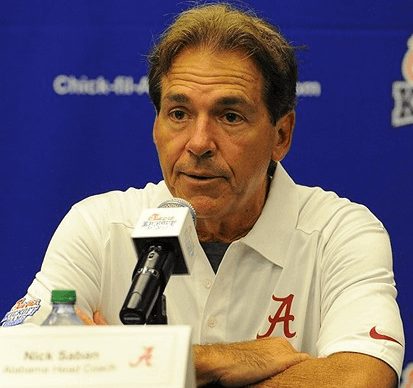 My annual NFL season-preview column is up now on ESPN.
Meanwhile: Got a note yesterday from a source at Alabama, who relayed the following tale:
On Monday afternoon, we received a phone call from our Nike rep, demanding that we send back every gameday polo and pullover as soon as possible. Puzzled, we held off on sending them back until we received a more concrete explanation.

As it turns out, Nike applied their swooshes to the sleeves of their polos and pullovers, not the chest, meaning they were not visible during broadcasts.

So now we're sending them all back so that they can apply a second swoosh to their precious polos. It's a good thing we have a bye this week. I can only imagine the panic in our equipment room if Thursday rolled around and Nike still had all of our gameday gear.

This debacle stretches farther than just Alabama. It's Virginia Tech, UVA, LSU, Florida, TCU, etc.
Faaaaascinating. Sure enough, as you can see in photo above, which was taken at 'Bama coach Nick Saban's postgame press conference on Saturday night, the mark of the beast was on his sleeve, not on his chest. You can also see the sleeve placement in this photo of Saban shaking hands with Virginia Tech coach Frank Beamer at the conclusion of Saturday night's game. (I haven't had time to check for confirming photos for all those other schools my source mentioned. Anyone want to take on that task?)
There's something delicious about the Swooshkateers being too incompetent to get their own branding right, of course. But that obscures the larger issue, which is this: Does it really matter whether the logo is on Saban's sleeve or chest? With every single player on the team already wearing the Nike logo on his jersey, pants, shoes, and, in most cases, multiple accessories, is there anyone in America who could watch an Alabama game without quickly figuring out which company outfits the team, regardless of where Saban and his staff are wearing their logos? The whole thing smacks of typical Nikean hubris.
+ + + + +
'Skins Watch: Dan Snyder isn't the only one who owns a team called the Redskins. An Ottawa man, upset that his five-year-old daughter asked him, "Am I a Redskin?," has filed a discrimination complaint to get the Nepean Redskins Football Club to change its name. That same team is also facing a discrimination complaint from a member of a First Nations-style electronic music group (from Philand Matthew Walthert).

Baseball News: The Expos' uniform — or a rough approximation of it — was the basis of a comic strip the other day (from John Glynn). "¦ Interesting article about how the new titanium catcher's masks may not be as safe as the old steel models (from Erik Autenrieth). "¦ Oooh, dig the team logo on the stirrups for the Gary Southshore Railcats (from Rob Lowe). "¦ There's something weird about a youth baseball team using an NHL team's logo (from Chuck Meisse). "¦ Dustin Pedroia says he went high-cuffed the other day because "it makes me look taller" (from Ben Marciniak). "¦ Wait, more about Andrew McCutchen: Turns out he's an artist! Longtime Uni Watch pal Todd Radom challenged McCutchen to draw this Pirates logo, and he responded with this. Yowza! "¦ Reprinted from yesterday's comments: Maybe it's time for the Braves to start going FiOB (from Marty B). "¦ Check out Tony Lazzeri and Rogers Hornsby as minor league managers in 1939. "That photo was taken before a game between Baltimore and Toronto at Maple Leaf Stadium in Toronto, located at 555 Lakeshore Blvd. West (it's now a gas station/convenience store)," says Terry Proctor. "¦ Twins outfielder Darin Mastroianni broke his belt while making a diving catch last night. "Luckily, he landed right in front of the Twins' bullpen," says Matt Heitkamp, "so he switched belts with a reliever through the bullpen's chain-link fence and kept playing."

NFL News: Here are some videos showing how Nike worked on the new looks for the Dolphins, Vikings, Jags, and Seahawks (from Alan Borock). … "What's better than buying a new $100 Russell Wilson jersey?" asks Thom Armitage. "How about buying a crusty old Rick Mirer jersey for $3.99 on eBay and, with the help of some paint, iron-on letters, and blue thread, turning it into a DIY retro Russell Wilson jersey! Never been more ready for kickoff. Convinced my friend to turn his old #24 Shawn Springs into a Marshawn Lynch jersey, too."

College Football News: UCLA will be going BFBS on Nov. 15. That's more than two months away, but let's beat the rush and start hating it now, shall we? … NC State will be wearing a flag-desecration helmet this Saturday. That's three days away, but let's beat the rush and start hating it now, shall we? "¦ Gold chrome helmets apparently in the works for Washington. "¦ ESPN's Michael Wilbon wore a personalized Northwestern jersey to last weekend's Northwestern game (from Paulie Sumner). … Here's yet another souvenir cup typo. Sam Chandler bought that at last weekend's Missouri game. Jeez. … Ohio will be wearing black this weekend. "¦ "Nebraska opened their remodeled/expanded East Stadium on Saturday," writes Trey Ashby. "Part of the renovation was a new concourse that has some huge pillars, so that the new structure won't compromise the integrity of the old structure. They decorated these pillars with illustrations showing Nebraska's uniform history." "¦ Lots of schools wore those helmets with the center strip of padding in the 1960s, but I hadn't seen Duke going with that style until now (good find by Leo Strawn Jr.).

Hockey News: Minnesota's men's and women's hockey teams will both play outdoors on Jan. 17 (thanks, Phil).
Soccer News: The Chicago Fire are inviting fans to vote on the team's third kit (from Markus Kamp).

NBA News: Okay, here's a weird one: Check out this shot of a Celtics/Bullets game from 1968. At first I thought, "Hmmm, the Celtics forgot to bring their road shorts." But then I realized that the game was color-vs.-color. Something doesn't make sense there — I can't tell if the game was being played in Boston or in Washington, but why didn't the home team wear white? Maybe the game was in Boston and the Celtics' home jerseys were unavailable for some reason, so they were forced to wear their road greens but went with their white home shorts, just to help differentiate themselves from the visiting Bullets..? All very odd (from Warren Humphrey).

College Hoops News: Holy moly, check out the crazy new court design for James Madison. "¦ Erik Morris was poking around in a used books store and found some great shots of UGA wearing sleeved jerseys back in the early 1950s. "And you get a good view of that awesome bulldog patch!" he adds.

Grab Bag: Throwbacks on tap this weekend for the Hamilton Tiger Cats (from Dave Kuruc). "¦ Here's a great piece on the evolution of the spacesuit (from Tommy Turner). "¦ Pretty crazy football uniforms for Glenville High in Ohio (from Randy Thomas). … A key component of Diana Nyad's swim from Cuba to Florida was her jellyfish-proof mask. … Happy Rosh Hashanah to all who'll be observing tonight.