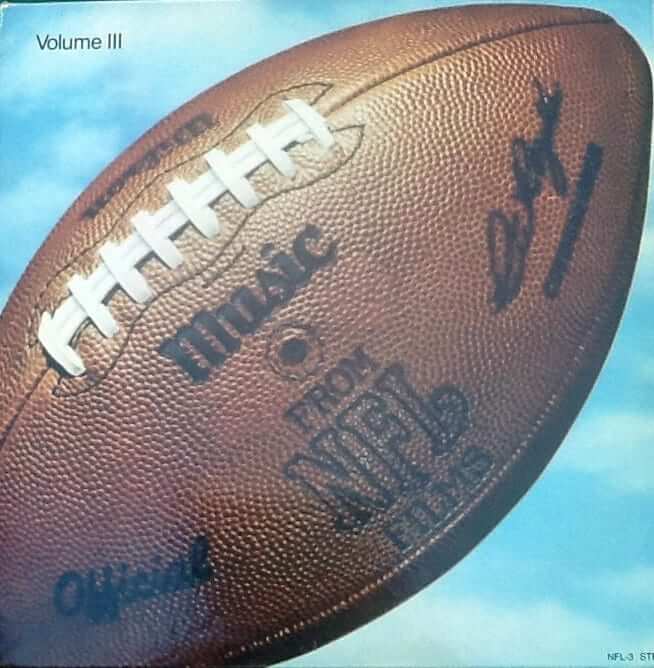 Collector's Corner
By Brinke Guthrie
Got a special edition of CC today, kids. The stuff I feature every week is mostly clothing and memorabilia from the 1970s, and in particular the NFL. If you asked me to name my favorite stuff from the period, I would definitely include Music From NFL Films.
As one iTunes reviewer wrote, "Better than a Delorean, this album takes you back to when This Week in Pro Football had guys dressed in fabric used to cover sofas. What MTV did for our kids, NFL Films music did for us."
With the season kicking off Thursday night, here's a little selection of that music for ya. Just click here to download the sound clips and you're back in 1972. (And if you weren't born yet in '72, well, believe me, this was what the NFL sounded like.)
Now on to other items!
• Did I say NFL 1970s? I believe so! Had one of these — a laminated fiberboard Bengals plaque, made by Kentucky Art Plaques.
• This late-1960s Bengals pennant reminds me of what has to be the cheesiest team fight song in history. Spent many a cold fall/winter Sunday in the red Loge boxes at Riverfront listening to that. But anyone who's grown up in Cincinnati knows it word for word. Frank Bitzer, am I right or am I right?
• Here's a nice 1974 New York Stars (WFL) poster, from Mike Princip.
• Classic-looking Vikings Starter jacket from back in the day. And this Vikes zip-front sweater is absolutely a Sears classic — had the same style for the Bengals. Dig the groovy pull ring, man. Pair that with a white turtleneck and you be stylin'!
• Here's a cool 1970s NBA magnetic standings board set.
• I do not recall Fleer doing Big Signs for the NFL. I've seen this in poster form, but as a Big Sign, don't remember seeing these. Well, they say the memory is the first thing to go.
• Apex always had cool designs and made nice heavy-duty cotton shirts. The template for this Cowboys polo shirt was called "The Dart." Here's the same style for the Patriots. This Dolphins design was called "The Border," I think.
• This 1954 Baseball Soap + Glove Soap Dish looks to be in near-mint condition-and it's closing in on 60 years old!
• And we conclude with a tennis item, since the U.S. Open is into week two: I had the privilege to do the stadium PA announcing for the ATP Championships for four years (one time I got the Stare of Death from Boris Becker, but that's another story). One of the great deals was that you could buy official Adidas ATP tour stuff for really cheap — like 80% off. Had this sweatshirt and this T-shirt.
Seen something on eBay or Etsy that you think would make good Collector's Corner fodder? Send your submissions here.
+ + + + +
Or, well, maybe not: It has apparently become fashionable in certain circles to refer to those of us who oppose of the use of the 'Skins name — and especially those of us who have stopped using it in our writing and discourse — as "Orwellian."
I'm not sure where this started, but it appears to have become a talking point for those on the pro-'Skins side of the debate. It showed up in the Uni Watch comments section on Saturday (hi, Brendan!), and I've also seen it on Twitter and a few other places.
Let's nip this in the bud, shall we?
1. When one invokes the term "Orwellian," one is obviously referring to the novel 1984.
2. 1984 is about the oppressive power of a totalitarian state, personified by the entity known as Big Brother, which exerts a coercive control over all facets of civilian life.
3. Those of us who oppose the use of the 'Skins name neither possess nor claim to possess any governmental authority. We don't have the power to make Daniel Snyder change the team's name — or, for that matter, to make anyone do anything. We are simply making what we hope is a persuasive argument, in an attempt to change hearts and minds.
4. If this situation were truly "Orwellian," the decision regarding the team's name would be made for us by some higher governmental authority. Nobody has the power to do that (well, except maybe Roger Goodell). Indeed, the fact that we are debating this issue in a free and open discourse is, if anything, anti-Orwellian, because such discourse could never take place in the world of 1984.
Think harder, people.
+ + + + +

Baseball News: The Astros will wear NFL jerseys on their next road trip (from Chris Flinn). "¦ Jason Kubel of the Indians still has a D-backs bat knob decal (good spot by Moulden). "¦ Recently acquired Cardinals reliever John Axford tweeted that he was wearing Injured closer Jason Motte's pants (from Ryan Raymond). "¦ As you know, Justin Morneau was just traded to the Pirates, where he's wearing No. 36. But he made his Pittsburgh debut in a No. 66 batting helmet. "What's even weirder is that there is no 66 currently on the Pirates roster," says Brian Jud. But there will be soon, says Hugh McBride — and it'll be Morneau: "According to the Pirates' announcers, Morneau will eventually wear 66 for the Bucs. The number he's worn throughout his career, 33, is retired by the Pirates in honor of Honus Wagner, so Morneau will be doubling it for his Pirate uni. No reason given yet for why the 66 jersey isn't ready yet. "¦ Hugh says the Pirates' broadcasters also mentioned the "fact" that the MLB logo is based on Harmon Killebrew, a myth that I debunked nearly five years ago. "¦ Still more from the Buccos' broadcasters: "On Monday's Pirates broadcast, they said Frank Gifford was the model for the smiling Pirate in the 1970s logo," says Dave Feigenbaum. "Now that I look at it, it seems plausible. Have you ever heard that before?" Nope. Anyone else? "¦ A's outfielder Josh Reddick warmed up in a Georgia football helmet and cycling jersey the other day (thanks, Brinke). "¦ Someone in the Orioles' dugout yesterday was wearing a sweatshirt with the team's old logo (from Joseph Hiley). "¦ Also from Joseph: Derek Holland of the Rangers wears (or at least chews on) a mouthguard. "¦ Check out this great photo of baseball's first professional female umpire. "Love that 'Umps' jersey!" says Leo Strawn, and so do I. "¦ Cross-dressing alert! If you look closely at these photos, apparently taken just a split second apart, you can see that Rays outfielder Sam Fuld was wearing NBA socks back on Aug. 15. Never seen that before! (Great spot by Myles Klein.) "¦ Never seen this spectacular Roberto Clemente photo before. Found it on David Lucas's new uni-focused site. "¦ Andrew McCutchen answered a bunch of questions on Twitter, including queries about his uni number and going high-cuffed (from Jerry Wolper). "¦ Urban Outfitters has turned old sets of MLB team logo bedsheets into shirts (from Jared Peterson).

NFL News: New uni number assignments for the 'Skins (from Tommy Turner). "¦ Last week I asked why Dave Hanner of the Packers would be wearing a Rams visor. The answer comes from Paul Hirsch: "I was a Rams fan growing up in the 1960s. The Packers used to end the season with a road trip to San Francisco and Los Angeles, so they always played at the Coliseum in December. Late in the year the sun would set in the visiting team's eyes during the second half of the games. The Rams would issue visors to the visiting coaches and players with the Rams logo on it. It was a simpler time." "¦ What's this? It's Philip Rivers as a charger, of course. You can see the other NFL starting quarterbacks depicted as their team names here. "¦ Good question from John Gogarty, who asks, "Do NFL players get to keep their gear after they're cut? T-shirts, shorts, game jerseys, that kind of stuff?" I'm pretty sure they don't get to keep game jerseys, but I don't know about the other stuff. Anyone know more?

College Football News: In a move that caught me by surprise, Pitt now has a center helmet stripe (from Brad Susany and Ham). "¦ Some schools are trying out concussion-sensing headwear (from John Dankosky). "¦ Penn State DB Stephen Obeng-Agyapong's nameplate came off in the second half of Saturday's game. "He wears No. 7, and so does a wide receiver, and then the WR caught a touchdown pass and the ABC graphics department mistakenly identified Obeng-Agyapong as the one who caught the pass," says Chris Flinn. "¦ Wait, check that — he didn't lose his nameplate. He had to switch to a replacement jersey, which didn't have his name, because he had sweat through his regular jersey (from William Yurasko). "¦ Terry Corby notes that Florida A&M's helmets looked pink, instead of orange, the other day. Maybe they were going for a pink grapefruit effect..? "¦ Boston College is now wearing striped socks. I like, natch (from Chris Eidt). "¦ No photo, but Ryan Bertapelle says Arizona LB Sir Thomas Jackson (yes, that is apparently his real name) wears "Sir T Jackson" as his NOB. "Arizona also has a Johnny Jackson on their roster, but no other S. or T. Jackson," says Ryan. "¦ "The big story at the SMU game was the whole whiteout thing they were supposed to do for the fifth straight year didn't happen, because Nike didn't get their jerseys ready in time. SMU wore red instead. What it resulted in was the SMU fans wearing all white in 'support' of Texas Tech, which wore all white." "¦ Not sure why a college football team would need its own "travel shoe," but here's Notre Dame's (from Warren Junium). "¦ Speaking of Notre Dame, Anthony Nuccio was at the Irish/Temple game and spotted this history of the "ND" logo. "¦ Despite near-100 º temperatures at kickoff, Bret Bielema maintained his superstition of always wearing long sleeves during his first game at Arkansas. "Also, his windbreaker was free of any maker's marks," notes Seth Shaw. "¦ Good story about a day in the life of the Mississippi State equipment staff (from Dustin Semore). "¦ ECU will go BFBS this Thursday (from Rick Baietti). "¦ Rutgers will roll out a new white helmet on Saturday, because, you know, they can (thanks, Phil).

Soccer News: New away kit for Bayern Munich. "It is based off of traditional Bavarian lederhosen," says Pat West. "Pretty awesome in that sense, even if it does create a funky aesthetic for a soccer kit."

Grab Bag: Here are some pretty cool minimalistic soccer club logos (thanks, Brinke). "¦ Also from Brinke: a critique of some of the more questionable looks at the U.S. Open. "¦ Manatee High School in Florida has some pretty absurd football uniforms. "Not to sure if this is a one-off deal or their full time uni," says Colby Brock. If you're wondering where to assign blame, the uniforms were made by Under Armour. "¦ Matt Weisenfluh notes that the America's Cup Oracle boat that capsized a while back had an SF Giants logo at the base of the mast. "I watch the sailing and haven't seen that before," he says. "¦ Not uni-related but still fascinating (and shameful): Marvin Miller, arguably the single most important baseball figure of the past half-century, was extensively investigated by the FBI for possibly being "anti-American." "¦ This is pretty awesome: The Canadian Football Hall of Fame has a stained glass window that shows the evolution of the football uniform (from HHH). "¦ Australian cricket player Fawad Ahmed, who's a Muslim, asked to not wear the logo of his team's sponsor — an Aussie beer — due to his religious beliefs. The request was granted (from Murray Conallin). "¦ For reasons that aren't clear, at least to me, a United Nations food-distribution truck in Syria was emblazoned with the mark of the beast (from Brian Schulz).