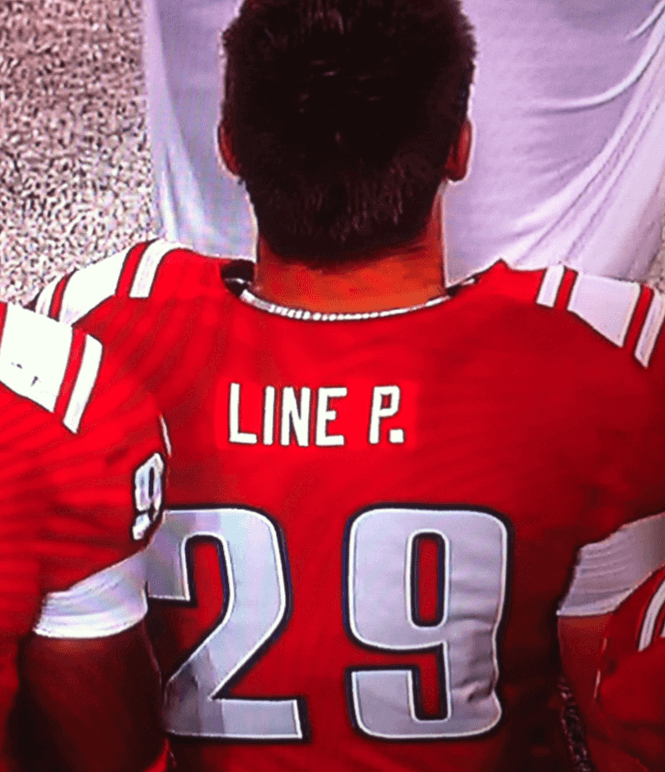 Paul here, serving on weekend duty while Phil takes a well-earned break.
Rare sight at last night's SMU/Texas Tech game, as Mustangs running back Prescott Line was sporting FIOB with the initial appearing after his surname.
Even weirder, there's no other Line on the SMU roster, so why did he have an initial at all, whatever its placement? I contacted the school and was told that Line was wearing his jersey from last season, when his brother Zach was on the team. (Zach has since graduated.)
But some quick photo research reveals that Zach had a conventional FIOB format, as you can see in this shot from last season:
So the mystery of why Prescott Line has his initial after his surname remains.
This FIOB style is rare but not unheard of. The Chargers used it in the mid-1970s (click to enlarge):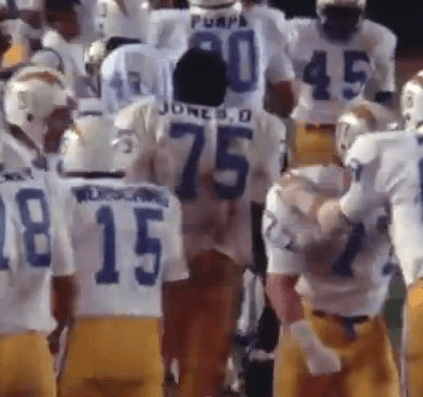 As you can see, the Chargers sometimes, but not always, included a comma after the surname, and they never added a period the initial. But the mid-1970s Browns consistently used a comma and a period (click to enlarge):
I'm not aware of any other teams that have used this FIOB format. Anyone know of any additional examples?
(Big thanks to Ken Tobler for the Prescott Line screen shot.)
+ + + + +
'Skins Watch: In the latest sign that we may be reaching a tipping point, Peter King's new Website won't use the 'Skins name. Slowly but surely, people. … An Illinois high school whose teams are called the Indians and may be getting a new name (thanks, Phil). … Steven Samuels was at an estate sale and spotted these old NFL dolls. "Pretty obvious why the Washington one isn't made anymore," he says.

Baseball News: Good story about all the Mets players with lowercase "d"s in their names. "¦ Check this out: When Yaz came up to bat in the 6th inning of the 1975 All-Star Game, he wasn't wearing a batting helmet (good spot by Sean O'Shea). … Adam Herbst recently saw this painting at the Guggenheim, which reminded him of the old "confetti" panels at Shea Stadium. … "A friend got David Freese to sign my 2012 Cardinals Freese jersey while I was on field for BP at a Cards/Astros game in Houston," says Patrick Walsh. "The friend asked me what Freese should sign, and I just said to say thank you for the 2011 World Series and sign whatever he wants. This is what I got. Love it!" "¦ Marlins pitcher Jose Fernandez dirtied up his jersey while legging out a triple in the 3rd inning last night. But he must have changed jerseys soon thereafter, because by the 5th inning his chest lettering was dirt-free (screen shots by Douglas Ford).

NFL News: Hmmm, why was Dave Hanner of the Packers wearing a Rams visor? (Nice find by Mako Mameli.) … Jerry Wolper found a 1967 article announcing the NFL's adoption of the Y-shaped goalpost, along with the white border outlining the field. … Here's a pretty cool animated gif showing the chronological evolution of the 49ers' uniforms. "It would be even better if it used the Gridiron Uniform Database template," says HHH. "Can imagine if the GUD had uni-evolution animations for every NFL team? That would be amazing!" Indeed. Someone get on that! … If you look at this old This Week in the NFL clip from 1972, you'll see that the yard-line markers at Candlestick were very tight toward the hashmarks, instead of being spaced out wider toward the sidelines. "And this was before the 1974 rule change that would moved the hash marks in," notes Chris Rocco. "If you look at the hashmark placements in the video, it seems to me that they are at, or close to, the placement that they would have had after the change. For some reason, it just looks like they didn't want to mark up the wide sides of the field. Now this was in September, so the Giants still had baseball games to play there. Maybe that had something to do with it..? A higher/wider camera shot would help, but unfortunately that's not included in the video."

College Football News: Lots of chatter about Virginia Tech possibly wearing gray tonight, although there's a fair amount of debate as to whether that photo is legit or Photoshopped. Either way, I still don't get how gray has become a "hot" color. Seriously, can anyone explain the appeal? "¦ Army's helmets this season will be modified versions of the ones worn for last year's Army/Navy game. And instead of wearing different unit patches for each game, the Black Knights will simply wear a U.S. Army patch. They'll pay tribute to a different unit each week by using unit logo decals on the back of the helmets (all this from Christopher Fincham). … Army also has camouflage helmets in the works (from Leo Strawn Jr.). … Fresno State QB Derek Carr wears a tape ring, a style pioneered years ago by older brother and fellow Bulldogs QB David Carr (from Alex Putelo). … Michael Orr found this amazing old photo of the 1893 Portland University football team. Look at those goalposts! "¦ Did you know I'm "beloved and lovingly berated"? That's how I'm described in this interview I did regarding WVU's uniforms, and college football uniforms in general. … Cal is now going with captaincy patches (thanks, Phil). … Also from Phil: New uniforms for UW-Platteville. "¦ Kansas State coach Bill Snyder was wearing a jacket with the Cotton Bowl logo last night (from JJ Sledge). … Miami and FAU went color-vs.-color last night.

Grab Bag: Interesting story about how high school football players can be very particular about their uniform gear. "Gives some insight into the thought processes of high school players and coaches," says Jason Hillyer. … An Ohio man who was being investigated for importing counterfeit jerseys turned out to be a neo-Nazi with a huge stockpile of illegal guns and ammunition (thanks, Phil). … The New York Post apparently didn't get the memo about North and South Carolina being two separate states. … Tennis player Dan Evans had to call a medical timeout at the U.S. Open yesterday because his shirt had given him a nasty case of nipple chafing (thanks, Brinke). … The longstanding story that Kent State's original colors were purple and orange has been debunked (from Mary Lynn Delfino). … The latest safety-related development in football helmets involves a "safety latch," which is designed to keep the helmet from coming off during an impact (from Tris Wykes). … Not sure if this is the world's largest Edmonton Oilers jersey, but it's certainly in the running (from Doug Verb).