By John Ekdahl
TCU unveiled their new "special edition" uniforms in Fort Worth last night. They will be wearing them for their season opener against LSU.
TCU's brand of football is as tough as the school's mascot, the fierce desert-dwelling horned frog. Legendary TCU Coach Dutch Meyer revolutionized football during a run to the 1935 national championship – employing the "Meyer Spread," a formation that allowed his star quarterback Sammy Baugh to revolutionize the forward pass. The success of the 1935 team, built on a fearless and innovative attitude, defines both the mascot and the team today.

Like the horned frog, the TCU football team uses speed, quickness and innovative defense tactics to out play the competition. The frog's scaly body armor serves as inspiration for TCU's new football uniform aesthetic, forming a distinctive pattern on the jersey numbers, sleeves, gloves and helmet.

TCU's all-black uniform features purple highlights and bold white numbers that reflect the new spike design pattern. The uniform also features red accents that harken back to the horned frog's defense mechanism – a shot of blood from the eyes that repels encroaching foes. This visual reminder of the "bloodlines" and brotherhood of the team creates a head to toe aesthetic from cleat to helmet. The color scheme is mirrored in the Nike Pro Combat Hypercool baselayer, socks, Nike Vapor Jet 2.0 Gloves, and Alpha Pro red chrome-plated cleats. The helmet pulls all of these elements together in TCU's traditional purple with a satin metallic metal finish.
Full photo gallery available here.
+ + + + + + + + + + + + + +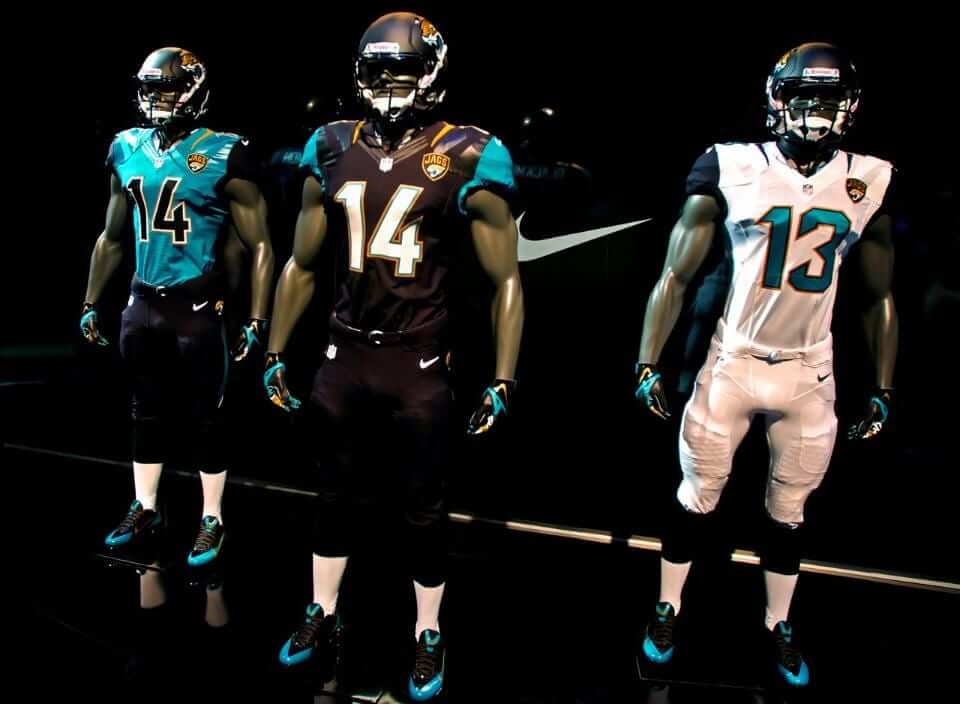 Local Jacksonville.com reporter Gary Mills noticed Uni Watch ranking the Jaguars last among all professional sports teams.
Even before hitting the field to play their third preseason game, the Jacksonville Jaguars are ranked dead last in a new ESPN list.

In his second annual Uni Watch Power Rankings "" an assessment of uniform sets from each of four major professional sports leagues "" ESPN's Paul Lukas knocks the Jaguars new signature black and gold helmet and uniform design, revealed four months ago today, putting them at the bottom of the list of all 32 NFL teams.

And at the bottom of the list of all 122 NFL, MLB, NBA and NHL teams.
When you only have one professional sports team, that probably stings even worse.
+ + + + + + + + + + + + + +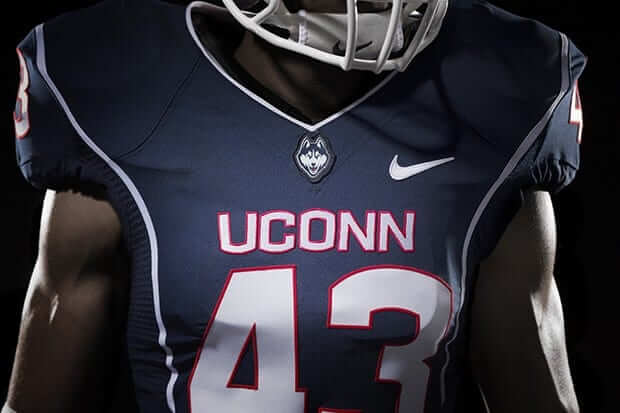 NBC Connecticut reports that not everyone is a fan of UConn's new uniforms.
But not everybody loves the look. Take Michelle Lesniak, the Season 11 winner of Project Runway, and USAToday.com's Jeffrey Martin, who spent way too much time critiquing the new unis.

"Meh," Lesniak said. "The wordmark is important here – with 'UCONN,' there is no mistaking who we're taking about, but now it's official. The Husky Dog logo is a pleasant addition, neither menacing nor intimidating. What works for basketball, volleyball and other sports, though, doesn't seem to translate to football – the gridiron uniform is underwhelming. You'd expect more from a program with such a rich tradition."

Martin added: "I get it – clean and simple. Not too flashy… But if I was the opposing team, I wouldn't be intimidated. In fact, I think this uniform might be better suited for the U.S. Postal Service. I could get into that."