By Phil Hecken
As I conclude my final week filling in for Paul, I'm joined today by one of my favorite Uni Watchers, stalwart Chance Michaels, who is back with another column. The man needs no further introduction, and we have worked on numerous columns over the years. Chance is not only one of our greatest uniform researchers (and part-time Brewers historian!), he also deigned to join me at a Mets game. A true trooper. Chance also runs the nifty Borchert Field and the Wearing of the Green and Gold websites, which are must reads.
So, without further ado, here's Chance to tell you all about…
. . .
"The Secret Legacy of Bill Veeck"
By Chance Michaels
In reviewing the recent Negro League Tribute Game in Milwaukee, I was struck by the choice of the Marlins as opponent. Miami didn't have a particular history of Negro League baseball (then again, neither did Milwaukee), and their 1956 club was an integrated one.
There was apparently a reason given for the choice – Satchel Paige pitched for the Marlins that season. Paige was a longtime veteran of the Negro Leagues who finally came into the bigs as a 42-year-old "rookie" after they were integrated. The man who brought Paige to Miami was the same man who brought him to the Majors in 1948: William Louis "Bill" Veeck, Jr.
Bill Veeck just might be the most colorful character in baseball history, a sport not exactly hurting for them. Nearly thirty years after his death, and more than three decades after he left baseball, his legacy still resonates with baseball fans.
I've published several articles on Veeck, and every time I do my blog sees a spike in readership. His legacy continues to draw, perhaps because of its seeming contradiction; the absurd and the serious. Veeck was at once a carnival barker with a strong sense of progressive social justice, who just wanted to entertain while also wanting to do good. He once sent a little person up to bat and tried to combat segregation by buying the Phillies in 1943 to fill the roster entirely with black players. He played slide whistle before games in a band made up of players and integrated the American League just months after Jackie Robinson first donned Dodger Blue. Veeck was an intensely ambitious man, a workaholic who nonetheless left his ballclub and his family to enlist in the Marines during WWII, coming home with injuries that would eventually cost him his right leg. He let fans manage a game and marched in Dr. Martin Luther King's march on Selma (eschewing his customary crutches).
Now, you probably know all this. There have been books written about his life and career (three of which he wrote himself). There's one aspect of his innovations, however, which seems to have gone largely unnoticed, an element of special interest to us.
That innovation got its first test, as so many of his schemes did, with the Milwaukee Brewers. Although Veeck got his start in baseball as the son of the Chicago Cubs' president, he really came into his own in Milwaukee. Veeck, with Charlie Grimm, bought the struggling Brewers in June of 1941 and immediately began transforming his new club. In 1942, his first full season in charge, the Brewers unveiled a totally new look, including a barrel-chested mascot they called "Owgust". Owgust was soon everywhere, from dugout jackets to letterhead to score cards to tickets to the club's newsletter. Owgust became the symbol of Milwaukee Brewer baseball, in an era where primary logos as we understand them were far less common than they are today, and even the Yankees were making do with just their interlocking "NY". Veeck even had a life-sized version trotted out on at least one location.
Veeck sold the Brewers at the end of the 1945 season, but quickly found himself back in baseball as the head of a new ownership group in Cleveland in the late spring of 1946. Again, he took over a team in June and again, his first full season in charge resulted in a uniform change for the club. This time it was a subtle one; Veeck hired a local patch manufacturer, the J.F. Novak company, to design a mascot emblem for the team's sleeves. They gave him an Indian face with a hook-nose and toothy grin. There's a strange disconnect, this logo on the sleeve of Larry Doby, first African-American player in the American League. It was also on the sleeve of Satchel Paige when he finally got that shot at the Bigs. The original Indian-head design would start evolving the following season until
by 1950 he would become the Chief Wahoo we know today; an unfortunate blot on the legacy of a true champion of equality. Not that Sport Shirt Bill would be around for that step. He sold the team in November of 1949, two years before the revamped Wahoo replaced his version on the uniforms.
Veeck next surfaced in St. Louis, where he bought the Browns in July of 1951. Another mid-season purchase, and again a uniform change in his first full season (and again, he signed Satchel Paige for the Browns' pitching staff). Veeck simplified the Browns' uniforms and tossed out their rather staid logo in favor of a smiling Brownie. As in Cleveland, the smiling face made it onto the team's jerseys and jackets as well as team letterhead, publications, merchandise of all sorts, and pretty much everywhere else Veeck could think of.
Realizing that he couldn't turn the Browns around in St. Louis, Veeck tried to move the team to Milwaukee, but was rebuffed by the other American League owners. Meanwhile, the National League was more than happy to let Boston's Lou Perini take the Braves to Wisconsin, a smashing success that couldn't help but draw the attention of Brooklyn's Walter O'Malley, who would soon arrange a move of his own and change the face of the sport forever. Veeck, meanwhile, was eventually forced to sell his club, which was immediately granted permission to relocate to Maryland as the latest incarnation of the Baltimore Orioles.
Still, you can't keep a good man down, and you can't keep Ole Will out of baseball for long. In December of 1955, he signed on with a group interested in bringing a major league team to Miami. Their first order of business was to buy the Syracuse Chiefs and move them to Florida, renaming them the Marlins. A brand-new team meant designing a brand-new identity, and sure enough you can bet that they had a mascot logo, featured on everything right down to a patch on the jerseys. Again, Bill Veeck was true to form, even bringing Satchel Paige along for the third time. This is the uniform that the current Marlins team threw back to in Milwaukee late last month.
Miami's big league dreams failed to materialize (one wonders if the current Marlins would still be struggling were Sport Shirt Bill in charge), and Veeck moved back to the majors, buying then selling then buying back the Chicago White Sox. Veeck made plenty of notable visual changes to his Sox, although the days of mascot logos seem to have been behind him (unless you count this as a mascot). Perhaps the days of mascot logos had come and gone. Or perhaps he didn't think he could do it any better than he had in Milwaukee, Cleveland, St. Louis and Miami.
Veeck's legacy continues to be "Champion of the Little Guy". He was a pioneer in integration and a fan's advocate. He was also, as we now know, someone who Got Itâ"¢.
. . .
Thanks, Chance — as always, a fantastic article! Readers? Your turn.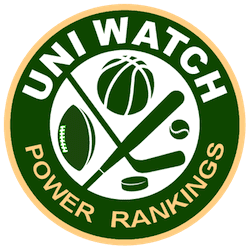 Power Rankings Update
In case you missed it yesterday, the 2013 edition of the Uni Watch Power Rankings began its five-day roll-out. Here's the introduction, and here are the MLB rankings. Today's entry takes a look at the NBA.
The Power Rankings will continue tomorrow with the NFL and on Thursday with the NHL, followed by the master chart of all 122 teams on Friday. (And yes, I'm aware that the audio on the embedded video sounds awful. Long story.) "" Paul
Collector's Corner
By Brinke Guthrie
Being a SF Giants nut, I must now acknowledge a few things. One, we're truly terrible. Two, we're spoiled from the last three years. Fine, I get both of those things. And third, and most painful, the Dodgers are playing out of their minds. OUT OF THEIR MINDS. Winning 40 of 48? They should nearly whack Mattingly more often. Having said all that, it leads me up to this nice find- a "Don Drysdale Dugout" mug from Van Nuys in the 1960s. Don't let the appearance fool you- it's dirty but cleans right up. (Why would seller leave it that way? So you win vintage dirt?)
—
• Used to collect sports team stickers. One ten cent stamp (!!) would get you a ton of stuff in return. The Dolphins sent this one to me, got this one from the Chiefs, this one from the Vikes, and these from the Cubs, O's, and of course, the Reds. PS These vintage 1970s Seahawks stickers make you think of Zorn to Largent, don't they?
• Wake up on time with this 1970s St. Louis Football Cardinals alarm clock.
• Isn't the logo on this 1960s Flyers cereal premium ring…backwards? Or maybe they flipped the photo.
• Cool looking 1960s-1970s game-worn #70 sideline jacket for the KC Chiefs.
• Back in the day, the Vikes and Chiefs were my favorite teams- this was before I moved from Louisville to Dallas and then Cincinnati. So one of my favorite players was the Vikings Jim Lindsay. Why? He wore #21, and I just liked that number. Same for Paul Krause, who wore #22.
• Then…when we moved from Dallas to Cincinnati, I remember going over to Hunter Savings in Kenwood, and my dad opened up a checking account. Scored this helmet bank, just like the Cowboys one I had gotten the previous year.
• Back when mugs were MUGS. Here's a 1976 Reds World Series beer stein. Had one of these for 1975 as well, though I seem to remember both of them having a Cincinnati Enquirer headline screened on the other side—maybe not. Still have one of these for UC- bought it when I graduated.
• The Costacos Bros cranked out some terrific 1990s posters..like this mini-poster with all the then-current MLB logos. UPDATE: daggone, here's an NFL poster from last season. Didn't know they were still in biz.
——
Seen something on eBay or Etsy that you think would make good Collector's Corner fodder? Send your submissions here.
WEEKDAY Uniform Concepts & Tweaks
Longtime and weekend readers know that I frequently run reader submissions for uniform concepts, revisions, or just plain tweaks. Usually they are in sets of three, but sometimes there are more and sometimes there are less. Sometimes they are so good these deserve their own lede.
During Paul's monthlong Blogcation, I'll occasionally run one (or maybe) two of these.
If you have any concept or tweak, and you would like to see it featured here, either during the week while I'm hosting the blog or on the weekends when I return to those, drop me an e-mail. For each particular design, please try to keep your description to ~50 words or so. OK? OK!
And now, here's what we have for today (click any images to enlarge):
. . .
Today's concept comes from Terry Duroncelet, who didn't need long to "fix" the Suns new duds:
Phil,

Well, that didn't take too long. To me, the idea for the new Suns uniforms is good in theory, but bad in execution. They are indeed a step up from their previous set, but so many things need to be addressed, like the total lack of purple in the home uniform, the ass-horns, and lame-as-all-hell black sun on the orange alternate shorts… *sigh*. I'll save the long write-up by linking the same set with the full description from my deviantART account.

Terry
. . .
Thanks! I may back with more weekday tweaks/concepts again — we'll see how the rest of the week goes.
Uni Watch News Ticker: From August 22nd-28th, the 9 KBO teams will wear the following patch (white for home, purple for away) to help bring awareness to the campaign to get baseball back as an Olympic sport in 2020 (thanks to Dan Kurtz). … Some nice CFL history from Leo Strawn: "We know that the Montréal Allouettes had some unusual helmets in 1974 with their triangle logo on front. I ran across an earlier instance in 1948 of a frontal position of the Montréal helmet decal. The Als of the IRFU (pre-CFL) were in their 3rd season, as were the Brooklyn Dodgers of the AAFC, when they played a pre-season game in Montréal, the second instance of an American team playing against a Canadian club north of the border. From the photo it can be seen that this helmet logo is circular. The writer of this particular webpage offers two different images, a graphic and a photo of a pennant, to show what the logo looked like. That discovery (the website, that is) led me to this cool photo of the first game between American and Canadian football teams played in Canada, Third Army Corps Area team from Maryland v Toronto Argonauts in 1923. In this photograph, two of the Argos are wearing newsboy caps instead of helmets, and one appears to be wearing an overcoat! At the bottom of the page with the story of the 1948 Als v Dodgers is a better photo of the helmet." … Temple Football is assigning low jersey numbers as a sign of toughness (nice find by Andrew Hoenig). … Check out the "custom" bat knob on this photo, taken from McCoy Stadium in Pawtucket, RI. Wade Boggs photo from early 80s while playing for Red Sox AAA affiliate. … Rule change to referee uniforms in high school lacrosse: If you scroll to the end of the article, Rule 2-5-2 explains the updated rule for referee hosiery (thanks to Garrett Sumner). … Do alt unis move merch? They do up north, where the BC Lions unveiled new gun metal grey unis Saturday. According to this article, "The third jersey, promised last year by the Lions, was unveiled for some shock value and to stimulate merchandising revenue, and succeeded on both counts. According to one Lions staffer, more new uniforms were sold in the first half Saturday than are sold on the day of a game during an entire home season at B.C. Place Stadium." … Got a couple from Tommy Turner—The Best Facial Hair in the History of Sports – Best Facial Hair for Men (from Esquire) and 'My purse, my choice': Women take a stand against the NFL's no-purse policy. … The gentleman who designed the current Buffalo Bills helmet logo recently passed away – this is a good article about it. … More CFL stuff from Jeff Ingalls: "A poster on the Hamilton Tiger-Cats fan forum posted this pic of the 1957 Grey Cup coin toss at ol' Varsity Stadium in Toronto (Hamilton vs. Winnipeg) and I noticed that the guy on the left – a Winnipeg Blue Bomber – had trousers that were gold on the front and white-ish on the back; separated by a bit of a stripe. I had to dig a little, find some video and figure out which Grey Cup that pic was taken at. But, sure enough, here it is. Strangely, not all the Bombers seem to be wearing white-assed trousers!" … David Brown saw this Atheists shirt (in the style of the Oakland A's) on the street. "It's old, probably old news, but thought of you. No shortage of logo iterations but this works nicely." … And speaking of A's inspired jerseys, here's one from the Beloit Snappers (Thanks, Sully @pal3327). … Here's something we all (apparently) missed — the Angels threw back twice this past weekend. … Here's a look at the 2014 All Star Game logo on a patch (h/t @theemblemsource). … Check out the outlined "H" on this authentic Payton jersey. "Never seen that before," says submitter Matt Lourdeau. … The Minnesota Wild will unveil their new road whites at State Fair (thanks to Paulie Sumner). And here's more (from Sam Bevins). … Much like the Orioles, the Mets are asking fans to design a t-shirt (thanks to Shannon Shark @MetsPolice). … To celebrate Member Appreciation Week, the Melbourne Demons wore "member guernseys" Sunday which featured the names of over 600 members who purchased the opportunity to have their name etched into Melbourne Football Club history. If you look closely, you can also see the club's monogram, most of which is visible in the navy, just under the red yoke (good job by Leo Strawn). … Might be tough to tell with this screen grab, but Jerry Kulig noticed this bad paint/decal job on Manny Machado's cap. … GREAT spot by Rob Holecko who noticed that referee Bill Leavy was wearing shirt with pre-2012 font on it in last night's 'Skins/Stillers game. Which is odd, because last season he had the proper jersey. Laundry screwup? … Last evening, the San Francisco Giants honored victims of the Boston bombings and wore Boston Strong patches (more photos here. … This article isn't too detailed, but the fact about Vizquel's glove being stampless is interesting (thanks to Stetson Pevear).
And there you have it — Tuesday is in the books. Big thanks, of course, to Chance, as well as Brinke & TJ, plus all you fine readers and contributors. Looking forward to Paul's next uni rankings, which will be out later today. Everyone have a fine day and I'll catch you folks on the morrow.
Follow me on Twitter @PhilHecken
Peace.
.. … ..
"As a MN wrestler, I knew the people/state we look down at took their college sports seriously. I didn't know they took their yellow chicken logo so seriously."
–Adam Northenscold