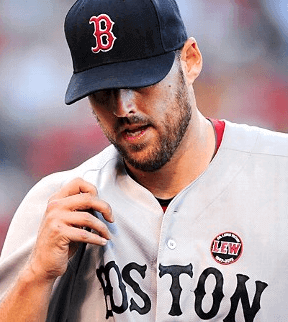 First and foremost: If you've been having any technical trouble with the site, please try clearing your browser's cache. Should solve it. Sorry for the hassle.
Now then: As daily readers are aware, lately I've been following the phenomenon of MLB teams sharing memorial patches. It appears to have started last season, when the Angels wore the Red Sox's Johnny Pesky patch for a game at Fenway on Aug. 21. It has shown up again three times in the past month or so:
• June 20: Felix Hernandez, Raul Ibañez, and Kendrys Morales of the Mariners wore the Angels' Lewis Yocum patch for a game in Ahaheim.
• July 1: The Angels wore the Cardinals' Stan Musial patch on their BP jerseys when the Cards came through Anaheim for an interleague series.
• July 8: John Lackey and Mike Napoli of the Red Sox wore the Angels' Yocum patch for a game in Anaheim.
As you can see, the Angels are the common denominator in all of these examples — sometimes as the patch sharer, sometimes as the sharee. I wanted to know more, so I contacted the Angels and asked to interview their equipment manager, Keith Tarter. Keith declined my request for a phone conversation but consented to an email interview. Here's how it went:
Uni Watch: To my knowledge, the first case of a team wearing another team's memorial patch was last year, when the Angels wore the Red Sox's Johnny Pesky patch. How did that come about?
Keith Tarter: Johnny is a baseball icon, especially in New England. Our team president, John Carpino, felt that wearing the patch would be a nice gesture as a sign of respect to the player and to the entire Red Sox organization.
UW: This season, I've seen several Seattle and Boston players wearing the Angels' patch for Dr. Lewis Yocum. I realize that many of these players are either former Angels or had been treated by Dr. Yocum. Whose idea was it for them to wear the patch? Like, did they contact you, or did you contact them, or what?
KT: Dr. Yocum worked for the Angels for over 36 years. However, he has consulted with, operated on, and extended the careers for countless MLB players — not just Angels players. Those players are very grateful to Lew for what he did for them, and wearing a patch is the least they can do for such a great and gifted man. Those players asked us for a patch to honor Lew.
UW: I've also seen that Torii Hunter of the Tigers has a Yocum patch displayed in his locker. Again, did he contact you and request the patch, or have you made it known that you'll supply the patch to former Angels, or what?
KT: He also asked us for a patch. Torii was with the Angels organization for five seasons and developed a close bond with Lew. Dr. Yocum also helped Torii's son (a Notre Dame football player) when he was injured.
UW: Do you expect to continue sharing the Yocum patch with additional players as other teams pass through Anaheim during the rest of the season? Have you made it known that you're willing to do this for anyone who asks?
KT: Anytime someone wants to honor Dr. Yocum, we will assist in any way possible.
UW: Who applies the Yocum patch to the other teams' jerseys — your staff, or the other team's staff?
KT: We give the patch to the player. I would assume they put it on themselves.
UW: When the Angels wore the Stan Musial patch, why did you choose to wear it on your BP jerseys, rather than on your game jerseys?
KT: We already have a memorial patch on our game jerseys [for Dr. Yocum]. It would have been too much to have multiple memorial patches.
UW: Do you have to get MLB's permission for all of these patch-sharing situations, or do you just go ahead and do it? (If you do have to get permission, have you ever asked to do a patch share that they decided not to allow?)
KT: We get MLB approval for any and all changes to uniforms, including these patch situations. They have never denied us an opportunity to wear a patch.
UW: This whole notion of a teams sharing their patches is a fairly new thing. Do you think it'll spread? Do you think it should spread?
KT: We wear patches to honor someone who passed away, so we never look forward to wearing a patch because it represents a great loss to an organization. As far as "sharing" patches, each case is individual and is dealt with by each team. The MLB family is very close, and when someone from another family passes away, all of us share the loss. Showing respect can also be done in other ways, such as the Yankees did for the Boston community when they played "Sweet Caroline" at Yankee Stadium after the Boston bombing.
———
My thanks to Keith for sharing his time and expertise. I'm intrigued to see if we'll see more patch sharing this season.
+ + + + +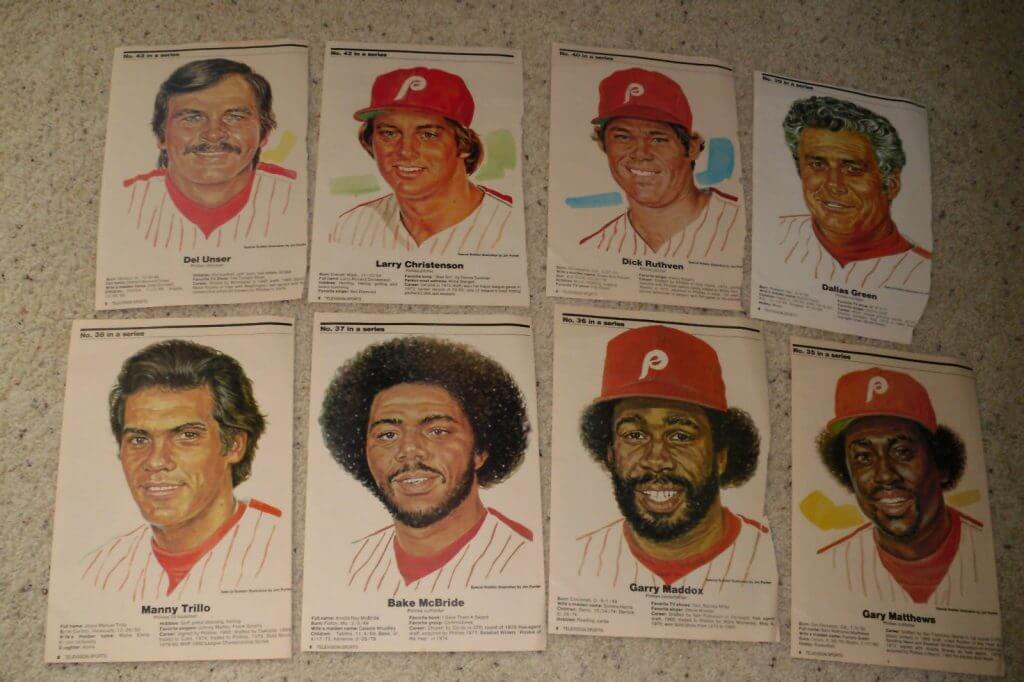 Click to enlarge
Collector's Corner
By Brinke Guthrie
Ever seen these before? Not me. Some really terrific-looking Phillies portraits, circa 1981. It says "Television Sports" at lower left. Were these in a magazine? Or were they a gas station giveaway like Volpe/Marathon's "Pro Star Portraits"? Either way, well done.
Now, more CC stuff for you to consider:
• Check out this set of 11 Dubble Bubble MLB transfers from the 1960s. I like this a LOT.
• Always love these 1970s Sears NFL helmet plaques, but doesn't the Colts horseshoe here look a little off?
• Detroit Tigers fans! Here's a great set of 1966 Volpe thermal cups.
• Nice-looking pair of 1970s NFL standings boards.
• Take a look at this 1968 Redskins/Eagles program. Look at how timeless that Eagles look is. And not a hint of black, either.
• You too can become a Stargazer — a member of the Minnesota North Stars fan club, that is — if you're wearing this pin.
• Here's a 1960s St. Louis Blues pillow, still in the package.
• Who didn't have these NBA team logo magnets back in the day? Between the NFL, NBA, MLB, and NHL, our fridge was crowded!
• From reader Mike Cole: Looking for a Montreal Expos yarmulke? Mazel tov!
Seen something on eBay or Etsy that you think would make good Collector's Corner fodder? Send your submissions here.
+ + + + +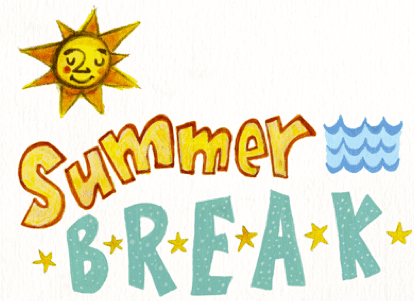 Summer Break reminder: My annual summer break begins on Thursday, which means tomorrow will be my final day on the site for a while. I'll be back on Aug. 26.
Phil will be handling all the site's weekday content while I'm on break, and webmaster Johnny Ek will handle the weekends. The Uni Watch email address will be forwarded to Phil during my break, so all Ticker submissions and such will end up going directly to him. If you have a specific question or issue that only I can deal with, he'll send those emails back to me.
I'll still be writing things for ESPN work during this period (Phil will provide links, of course), including a new edition of the Uni Watch Power Rankings, which will roll out in mid-August.
I'll also be working on my annual college football season-preview column, which will appear on ESPN on Aug. 27-ish. I'll be watching the site (and other sites) for college football news, natch. But if you're submitting any college football Ticker items to Phil while I'm away, it would be great if you could cc me at newcollegeuni at gmail. Can do? Thanks.
+ + + + +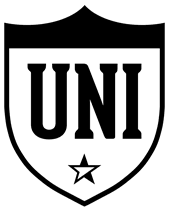 New sponsor shout-out: If you scroll down a bit, you'll see a new ad in the left sidebar, promoting "Unis of the Day." That's from the new site Uniform Critics, which is run by Drew Roberts. I'll let him explain what he's up to:
I've been following Uni Watch for the past few years as my go-to source for news about sports uniforms. I'm a website programmer and enjoy building brands around the world of sports. Uniform Critics, which launched at the end of June, is my latest project. It's designed to complement websites like Uni Watch and other sports sites to meet the need of having a good place to link to when mentioning a specific uniform design.

I've noticed over the years that although there are great databases documenting historical sports uniforms with template sketches, there is no online profile for each uniform design with quality photos and the ability to discuss and rate the uniform like IMDB does for movies. Whenever I have mentioned a uniform in a blog post, I've always been forced to just link to a single online photo of the uniform. With Uniform Critics, we decided to meet that need by licensing photos and have been working over the past six months to create profile pages for individual uniforms. We currently have over 3,500 unis for college football, NFL, NBA, and college basketball (and we've begun indexing uniforms for baseball and hockey). Those links take you to the team profile pages listing their different combinations and designs over the past 10 years. We just finalized a deal to license older photos and are working to index older uniform designs.

One of the interesting things about this project is that after we reach a decent sample size of users rating uniforms, we can do some creative things with that data to create rankings and other popularity metrics. An example of that is the new "Unis of the Day" sidebar section on Uni Watch. We created a formula for selecting three random uniforms each day that exceed a threshold of user engagement for having a more unique and controversial design. Each morning a new set of uniforms will be displayed as the "Unis of the Day," including the "Mystery Uniform" of the day. We hope you find this entertaining and would enjoy having you rate and comment on the profile pages of any of these daily uniforms. It is currently limited to just football uniforms, but other sports will be added to the formula in the coming months.
Pretty cool, right? I've enjoyed getting to know Drew over the past few weeks and am impressed by his entrepreneurship and creativity. I hope you'll check out his site.
+ + + + +
Uni Watch News: Lots of college football news, beginning with new football helmets for Nevada, with new jerseys to follow shortly (from Brian Catlett). … Here's our best look yet at the new Houston football uni (from Blake LeBlanc). … Changes in the works for Tennessee football. And wait, here's a look at the state-outline patch referred to in that article (from Levi Buck). … Mississippi State may have a metallic gold helmet for the Egg Bowl. Or they may not, who knows. … Texas A&M may have a silver helmet in the works. Or they may not, who knows. … New white helmet for Arkansas. Additional changes summarized here. … New jerseys for Louisiana Monroe (from JJ Sledge). … Here are Kentucky's uni combos for 2013, not counting the helmets (from Josh Wren). … Here's how the new Conference USA patch looks on the Marshall jersey (thanks, Phil). "¦ "I rode on an elevator with rookie pitcher Taylor Jordan on Saturday at Nats Park, and I took the opportunity to ask him a few uniform-related questions," says Max Weintraub. "First, what's his favorite Nats' uni? He likes the red jersey, white pants, regular combo. He added that he doesn't like wearing cleats when he doesn't pitch (this came up in the context of "Do you ever hope they bring you in as a pinch-runner or a spot bunter late in a non-start?"). Next, do you wear socks or stirrups? He lifted his pant leg to reveal ankle-length red socks. He disclosed that he doesn't like the constrictive feel of high socks and wears the shorties even when he pitches." "¦ No more dreadlocks for Manny Ramirez, who has a shaved head down in triple-A. "¦ "I was stuck in traffic in New Jersey yesterday and noticed the NJ license plate uses three different fonts, which bugged me," says John Gogarty. "I started thinking our state plates are kind of our car uniform (color and number). Which state has the best plates, and which has the worst? Might be an interesting project to tackle." Indeed. … Team USA a the Inline Hockey World Championships had some pretty brutal uniforms. "Ugh!" says Gretchen Mittelstaedt. … Now that's a Little League uni! (From Dennis, who didn't give his last name). … Here's a pretty bad article — troll bait, methinks — about hockey logos (from CM, who didn't give his real name). … Here's the latest not-very-revealing uniform tease for the Suns (from Keith Winney). … Reprinted from yesterday's comments: New football uniforms for North Dakota. … David Wright has a NY Giants helmet hanging in his locker (from Ben Fortney). … In a move that will likely result in some traffic accidents, the streets of Fairfax, Virginia, will soon be festooned with big, bright George Mason logos (from Tim Haller). … "My nephew played in Wisconsin's all-star prep football game on Saturday," says eff Ash. "Their helmets were all different colors, with decals from teams from throughout Wisconsin. My nephew's helmet is the white one with the blue facemask." Game photos can be seen here. … In case you didn't already know (and you really should by now), public financing of sports stadiums is almost always bad public policy. … Someone has put together Tecmo Bowl-style renderings of the new Dolphins and Jags helmets (from the Hungry Hungry Hipster). … The city of Elizabethtown, Kentucky, is holding an online vote to choose a new logo (from Josh Claywell). "¦ Hmmm, do these UGA pants look more white than silver/gray? Maybe it's just the lighting (from Preston Feiler). "¦ Thanks to what is presumably some very enthusiastic stuffing of the ballot box, the Panthers appear to be poised to win that "Best Uni Ever" contest on NFL.com. "¦ Pretty great "Xmas in July" uniforms last night for the New Britain Rock Cats. "¦ You want your team to have uniforms numbers? Okay, here are your uniform numbers. That's Paul Stave's daughter's volleyball team, from Medical Lake High School in Washington State. "I think the spray painted numbers rock," he says. "¦ This is pretty awesome: color footage from a 1957 soapbox derby (big thanks to Rob MacDonalad). "¦ New away kit for Manchester City. "If Cher had ever done a Vegas revue called 'Sports!,' these are the outfits her dancers would have flounced about in," says a very nonplussed Cort McMurray. "¦ Former Giants RB Joe Morris will be one of the NFL's knee pad cops this season (Phil again). "¦ Dig this old Providence Reds team portrait. You can get a better sense of what the jerseys looked like by checking out this super-cool replica (from Zack Carceau). "¦ Aesthetically pleasing match-up from last night: Ubaldo Jimenez pitching to Brad Miller (screen shot by Kevin Bresnahan). "¦ Several sources, including the Gridiron Uniform Database, say the 1953 Cleveland Browns wore orange jerseys only for preseason games. But Matt Reaser and T.J. Troup say this shot is from the National Pro Highlights film of Week 3 of the 1953 season. If so, it would mean the Browns wore orange in the regular season. … Writer Stefanie Loh attended yesterday's Mountain West Conference Media Day shindig and tweeted several uni-notable photos. I'll just embedded them all here (with an assist to Brady Phelps):
Helmet display at @TheMWC media day pic.twitter.com/tcimvvhUWS

— Stefanie Loh (@StefanieLoh) July 22, 2013
I'm digging Utah State's cool matte black helmet @TheMWC #mwfb pic.twitter.com/386JAYLCe2

— Stefanie Loh (@StefanieLoh) July 22, 2013
Boise state also has a cool looking new helmet #mwfb pic.twitter.com/U59q9XEnV9

— Stefanie Loh (@StefanieLoh) July 22, 2013
Here's a close up of SDSU's new helmet logo, with @TheShowSDSU logo on the back pic.twitter.com/CrlQhTZqCJ

— Stefanie Loh (@StefanieLoh) July 22, 2013
+ + + + +
Bizkit: 2000-2013
The photo at right (which you can click to enlarge) is of Uni Watch weekend editor Phil Hecken and his Jack Russell, Bizkit. It was taken yesterday morning, just before Phil took Bizkit to the vet to have the little guy put down.
This was the end of a long, rough stretch for both of them. Over the past two years, Bizkit has come down with diabetes, suffered three strokes, and endured assorted other maladies. There were times when things looked grim — I've lost track of how many times during this period Phil told me, "I think this is it, I think he's done," only to have him then tell me that Bizkit had rallied and still had some fight in him.
Phil was a great doggie daddy throughout this period, giving Bizkit daily insulin shots, carrying him when he had trouble walking after the strokes, and more. But I know he was always worried about Bizkit being in pain or discomfort. On Sunday night the little fella appeared to have had another stroke and couldn't stand. He hadn't eaten for 24 hours and could only drink water, which he couldn't keep down. Phil knew it was time. I'm sure Bizkit did too.
If you've ever had to put down a pet, as I have, you know how hard it is. So give Phil a big virtual hug today — I'm pretty sure he needs it, and I know he'll appreciate it.