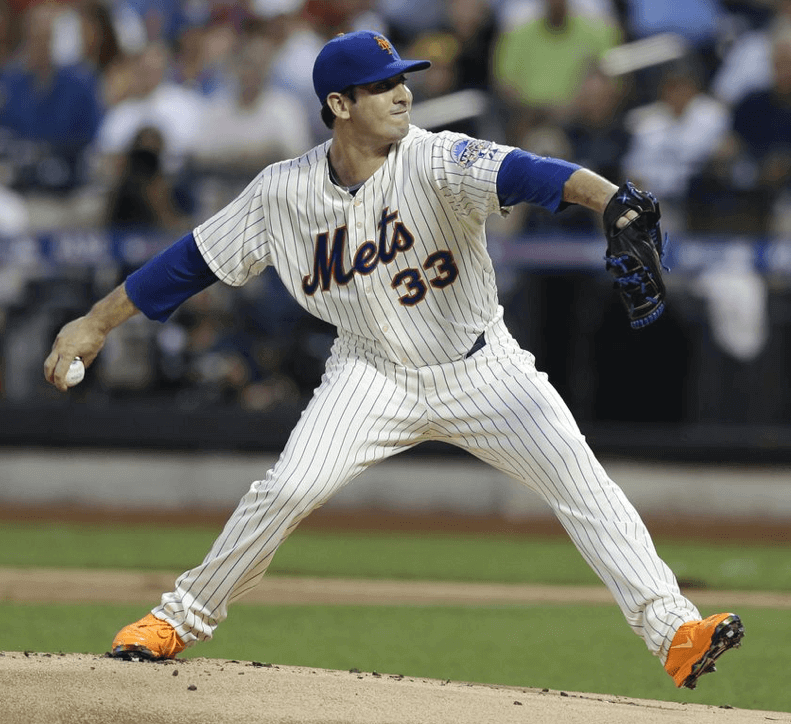 No helmet mix-ups or other uniform eccentricities in last night's MLB All-Star Game (grrrrr), but there was still plenty of uni-watching fodder. Here's a rundown:
• All jerseys and caps had those little stars flanking the MLB logo.
• All caps had an All-Star Game logo patch.
• All helmets had the All-Star logo on the back.
• All players wore an All-Star logo sleeve patch. But the Diamondbacks and Orioles already had a team patch on one sleeve and a memorial patch on the other, so the addition of the All-Star patch forced them to move their memorial patches to the chest.
• Lots and lots of players wore atypical shoe colors, including Max Scherzer (orange); Matt Harvey (orange); Mike Trout (red); David Wright (orange); Craig Kimbrel (red); Bryce Harper (red/gold); Joey Votto (red); Chris Sale (gray/silver); Miguel Cabrera (white); Andrew McCutchen (yellow, definitely my favorite of the night); J.J. Hardy (white); Troy Tulowitzki (can't bring myself to say it); Adam Jones (orange); Brandon Phillips (red/gold); Jose Fernandez (orange/gold); Aroldis Chapman (red/gold); Cliff Lee (red, but not the Phillies' usual red); Jean Segura (navy/gold); Greg Holland (blue); Salvador Perez (blue); Nelson Cruz (white); Prince Fielder (gray); Joe Nathan (white); Torii Hunter (orange): Travis Wood (blue); and some clown who ran onto the field (gray). There were a few additional examples, but I couldn't find photos for everyone.
• Then there was Dustin Pedroia, who entered the game wearing white shoes but later changed to black. Pedroia entered the game suddenly and unexpectedly, pinch-running for Robinson Cano, who left after being hit by a pitch. So maybe Pedroia never intended to wear the white shoes for game use and changed footwear between innings after entering the game. Or maybe he just didn't like the feel of the white shoes.
• Not a single player wore his team's alternate jersey. It was all home whites (or home creams for the Giants and Mets) and road grays. Very nice.
• The American League batboy wore a Mets road jersey. Seems a little weird, since the Mets are, you know, a National League team. But I guess it makes sense. What else would he wear? An A.L. BP jersey?
• The Mets usually put their "NY" logo on the back of the mound. But for this game, they used the All-Star Game logo lettering.
• Our friends at Pro Helmet Decals designed an All-Star Game bat knob decal for David Wright:
"@prohelmetdecals: 2013 MLB @AllStarGame bat knob decals for David Wright. pic.twitter.com/PLRvWiru2k" @InsideUnis @PhilHecken

— Sully (@pal3327) July 16, 2013
I asked PHD honcho David Surlecki if he did this for any other players. His response: "You know, I thought about contacting the other teams to see if they wanted something similar for their players. But everything was pretty much last-minute, so there wasn't enough time to do so."
• In case you were wondering (okay, you probably weren't, but still…), here's a list of the fielding gloves worn by each All-Star starter. Too bad they left out the pitchers, though.
• The American and National League logos used to have 14 and 16 stars, respectively, representing the number of teams in each league. This season they both changed to 15 stars, reflecting the Astros' move from the N.L. to the A.L. But the All-Star Game scorecard had the old logos.
Any other uni-notable developments I missed? Post your observations in the comments.
One final note: I had the pleasure of watching the game with Hall of Fame curator Tom Shieber, and I can't imagine a better, more simpatico sidekick for taking in an All-Star Game. We had fun pointing out uni-notable details, keeping track of shoe colors, yelling at Tim McCarver to shut the fuck up already, etc., all while downing plenty of barbecue and beer. It was a great time, and the capper to a sensational five-day period in which I got to hang out with Tom on three separate occasions. Thanks for everything, Tom — you're the best.
(My thanks to all contributors, including Chris Flinn, Gary Lau, Dave Long, John Okray, Harrison Tishler, and of course Phil.)
+ + + + +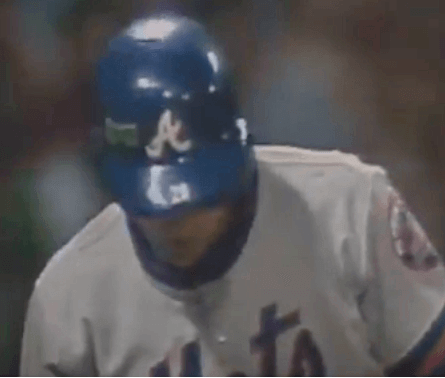 ESPN reminder: In case you missed it yesterday, my latest ESPN column features more All-Star Game helmet mix-ups.
A few footnotes on that column:
• Toward the end of the column, I mentioned that Mets historian Greg Prince thought Tom Seaver had worn a Dodgers helmet in the 1976 ASG but that I didn't have any visual evidence. Not sure why I didn't simply Google "Tom Seaver 1976 All-Star Game," but I didn't. Fortunately, Phil did. I feel foolish for not having included this in yesterday's column. Anyway, judging from the uni number on the brim, it looks like Seaver was wearing Steve Garvey's helmet.
• Later in the day, reader Robert Bluestein tipped me wise to another Met wearing non-Mets headwear: In the 1981 ASG, Joel Youngblood wore Bruce Benedict's Braves helmet. Looks like it had a green ribbon for the Atlanta child murders. (Interestingly, I don't recall the Seaver or the Youngblood helmet switcheroos, even though I definitely watched both of those games and totally lived and died with the Mets in those days.)
• Speaking of Garvey, as we were a minute ago, reader Larry Wiederecht reminded me of something I'd forgotten about: In the 1979 ASG, Garvey wore what appears to have been a spray-painted Dodgers helmet. Wonder which team's lid was underneath that paint!
• Several readers wrote in to tell me that Lou Whitaker wore another team's helmet in the 1985 All-Star Game. Sorry, but I'm pretty sure it ain't so. Here's the dealio: As you may recall, '85 was the year Whitaker forgot his uni and had to wear a replica jersey with the uni number applied via Magic Marker. There are several web pages that say he also had to borrow a helmet, like this page, which says, "Cleveland pitcher Bert Blyleven let Whitaker wear his helmet." But that's demonstrably untrue — the screen shot on that same page shows a "1" (Whitaker's number) on the back of his helmet! You can see a larger version, with the number more clearly visible, here. Although we can't see the front of the helmet, that's almost certainly Whitaker's regular Tigers lid. And it sure isn't Bert Blyleven's.
I'm fascinated by these ASG helmet mix-ups. At the moment I'm trying to find video of the 1962 ASG, because I have it on good authority that Don Drysdale of the Dodgers wore a Pirates lid in that game. So if anyone out there has video of the '62 ASG, and/or if you know of still more ASG helmet oddities, please speak up. Thanks.
+ + + + +
'Skins Watch: Here's something about MLB's All-Star FanFest that I missed: According to the excellent baseball writer (and Uni Watch fan) Rob Neyer, Chief Wahoo was conspicuously absent from the proceedings. Very interesting. Seems to fit with the slow but unmistakable de-emphasizing of Wahoo. Only question now is when de-emphasis will become elimination.
(My thanks to Mike Vamosi for bringing this one to my attention.)
+ + + + + +
Uni Watch News Ticker: Just when you thought the stupid couldn't get any stupider, there's this: Lipton Tea will now sponsor the wave at MLB ballparks. Seriously, it's like the MLB folks are going out of their way to take corporate sponsorship to the lowest, most asinine depths they can think of. How long before they come up with a sponsor for the oxygen in the stadium? And don't try to bring your own oxygen in, or they'll make you remove the label. … In a related item, Alan Kreit was annoyed by the water-branding restriction at the MLB All-Star FanFest, so he snuck a bottle of Poland Spring into the event yesterday and then took it out and drank it with impunity to see if anyone would confiscate it. "Nobody noticed," he says. "¦This is interesting: A Reds/Giants game that was rained out in Cincy is being rescheduled as part of a doubleheader in San Francisco. The Reds will be the designated home team for the make-up game, which means they'll bat last and will wear their home uniforms! I've seen visiting teams designated as the home team before, but usually they just wear their road uniforms. Wonder what Cincy's equipment staff thinks about this, since they'll now have to pack a lot of extra gear just for one game (from Cary O'Reilly) … New orange helmet for Illinois. I like it. "¦ No photo yet, but Alabama football equipment manager Matt Lesser tells me that the Crimson Tide will be wearing "a rather large" memorial decal this season for longtime athletic director Mal Moore, who died back in March. Photo to follow in about two weeks. No other changes to the Tide's uni for 2013. … Here's a video explaining how Brazil got its national soccer kits. "It was through a newspaper contest, and the winner was a Uruguay fan!" says CJ Hague). … Interesting piece on Nebraska football branding (from Chris Bisbee). … The Archbald Little League in Pennsylvania makes good use of the A's colors and script (from Tom Gerrity). … Here's a not-very-revealing teaser of the Suns' new white uni, plus the latest tease for their road uni (from Keith Winney). … A.J. Frey asks a really good question that I'd never thought about before: "Do switch-hitters generally have different bats for when they hit righty versus lefty?" Anyone know? … Michael Clary sent along the link for this Texas Longhorns ice bucket. … Here's an article about New Era's creative director (from Tommy Turner). … LeBron James is buying new uniforms for his former high school (from Michael Lisi). … Every Texans home game this season will have a contrived theme — no, wait, a corporate sponsor — no, wait, a contrived theme and a corporate sponsor. Pathetic (from Ryan Lindemann). … Chicago Fire fans are being invited to design the team's 2014 third jersey (from Phillip Foose). "¦ New basketball court for Boise State (from Brad Iverson-Long). "¦ Got a note yesterday from David Berger, with the subject line "Vital unreported baseball news." The news: The Dodgers have signed a guy named Dimitri Papantonopoulos. That surname is 15 letters long — one longer than Salty's. "Can't wait to see that on a jersey," says Berger. "The Papantonpoulos watch begins NOW!" "¦ New football helmet for Buffalo. "The matte blue looks like it will pair better with the current blue on their jerseys," says Jeff Link. "¦ Nike has finally admitted that it needs remedial geography lessons. "¦ New uniforms for the Japanese women's basketball team (from Jeremy Brahm).