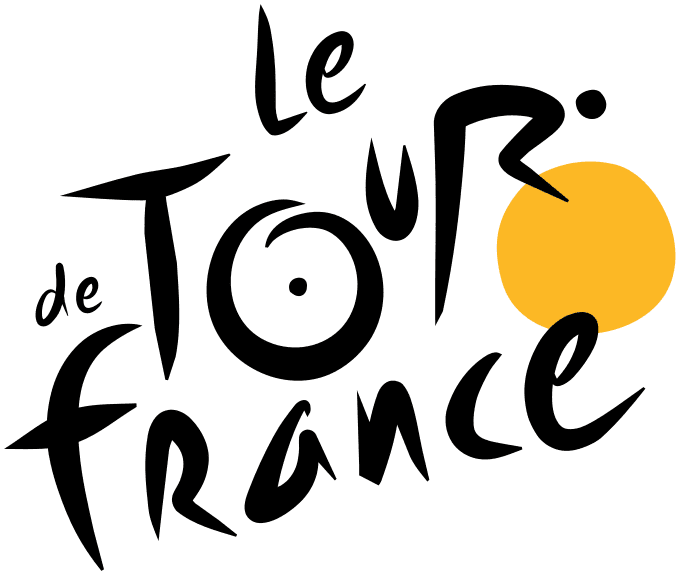 [Editor's Note: Today we have a guest entry from Andrew Engbretson about the uniforms at the Tour de France. "" PL]
By Andrew Engretson
The Tour de France, which just completed its first week, may be one of the most colorful collection of uniforms in professional sports. First off, instead of just two teams competing against each other, there are 22 on the road at once, each with their own unique kit creating a patchwork of nearly 200 riders for 21 days of racing. But there's more to it than that.
Let's start with the teams. Each team has at least one title sponsor and many smaller ones that cover everything from bikes to the stuff they wear after the race. Sponsorships come and go, so the same core of riders can find themselves wearing entirely different kits from year to year, but usually these changes are incremental.
Furthermore, cycling has world and national championship races every year. The reigning world and national champions get to wear a unique kit celebrating their accomplishment. As a side note, these riders can only wear that jersey in their specific discipline. For example, current world road champion Phillippe Gilbert will be wearing his rainbow stripes during "normal" road stages but not during the time trials. Individual time trial champion Tony Martin gets that right in stages "against the clock." (To complicate things a little more, Martin was fined for having a bike and helmet with world champion stripes during Stage 4's Team Time Trial, which is considered a different discipline.) The same goes for national champions in each area. Finally, riders who have won either a world or national championship in previous years "" but not this year "" are entitled to wearstripes on the sleeves and collar of their team's normal jersey, but again only when riding the discipline in which they won it.
Also, some teams actually put the riders' names on the jerseys, but this is not very common. In order to help out the team mechanics, riders have their names on their bikes (or sometimes their Twitter handles). Some of the big names get custom-painted bikes.
Now that we've dispensed with the "normal" kits that riders wear throughout the year, let's move on to the jerseys that are specific to the Tour de France. Nearly everyone knows about the yellow jersey ("malliot jaune" in French), which is worn by the rider who has the lowest overall time after each stage of the race. This is arguably the most prestigious jersey in all of cycling and wearing it for just one day can make a lesser rider's career.
The next most prestigious jersey is the green, or points, jersey ("malliot vert"), which reflects the best sprinter in the race. Riders accumulate points at two designated spots each day. Points at the finish line are awarded on a sliding scale that reflects how difficult the stage is.
The Tour de France is famous for its mountains, so there is also a jersey for that: the polka dot jersey. Riders accumulate points for this classification at the tops of climbs, and the number of points awarded are determined by the difficulty of the climb. The harder the road, the more points available.
Finally, there is the white jersey, awarded to the highest-placed rider who was under 26 years of age at the start of the calendar year.
Often the riders celebrate wearing these jerseys by getting their own custom-painted bikes. Additionally, riders will sometimes deck themselves out in full kits to match their special jerseys, resulting in YFYS, GFGS, WFWS, and a clown costume.
There are also a few other uni-related things that may catch the eye of the keen observer. Each day a jury awards a "combativity" prize to the rider who has done the most to animate the day's stage. This cyclist gets to wear a special race number with a red background the next day. There is also a team classification, determined using the total time of the three best-placed riders on each squad. This is designated by race numbers with yellow backgrounds (and more recently yellow helmets as well).
Finally, if a rider is leading more than one category — overall time and sprint points, for example — he is obligated to wear the more prestigious jersey (seriously — otherwise he gets fined) and the person in second place of the lesser category "borrows" the other jersey for the day.
Got it all? Good. Now go and impress your friends.
+ + + + +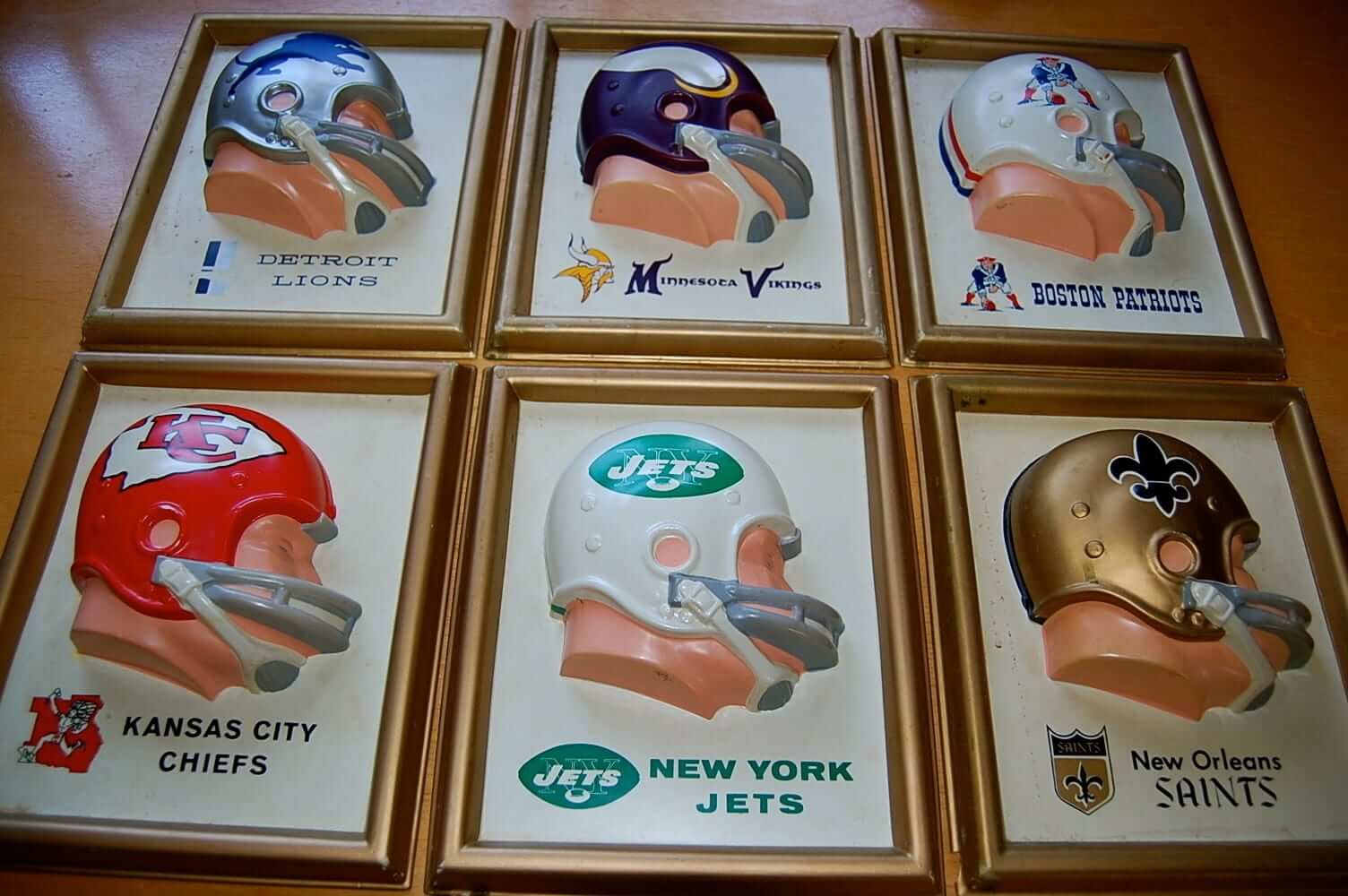 Click to enlarge
Collector's Corner
By Brinke Guthrie
We've featured these Technigraph NFL helmet plaques individually from time to time here on Collector's Corner, but here's a set of six! Would these look great on a football fan's wall? The answer is yes.
Now, on to other business for this week:
• Dave Boss NFL Poster Alert! I would be remiss in my duties if I didn't mention these auctions. Some of the posters are showing their age, though.
• We have complete Chiquita NFL Sticker Set Alert, too! Check it out.
• These NFL helmet banks from the late 1960s and early 1970s are commonly found on eBay, but this is the first Niners example I've seen.
• This 1960s Vikings banner shows a yellow facemask, purely for artistic reasons. Wouldn't that have looked good on the real helmet? [I think it's not so much "artistic reasons" as production reasons. This banner has a two-color design "" purple and yellow. They couldn't use a gray facemask (the proper color for that era) without adding a third color to the banner, which would have increased production costs. And they couldn't use a white facemask because it wouldn't have shown up against the white background. So they had to go with yellow. "" PL]
• Ever seen this 1969 Sports Illustrated football game? I was absolutely killer on this one.
• Here's a late-1960s/early-1970s Chicago Bears poncho that's supposedly never been worn.
• Major League Baseball in Wisconsin! Says so right here on this vintage 1970s Brewers seat cushion.
• And here's one from Paul: an old baseball jersey from a team that must have been called the Milkmen.
Seen something on eBay or Etsy that you think would make good Collector's Corner fodder? Send your submissions here.
+ + + + +
Tryin' to anaesthetise the way that you feel: My 30-minute radio segment yesterday ended up being an hour-long segment, with uni designer Todd Radom and Ebbets Field Flannels honcho Jerry Cohen both on board for parts of that hour. I thought it went really well. You can listen to it here.
+ + + + +
Uni Watch News Ticker: Looks like the Longhorns have switched to a logo-clad Nikelace and moved their TV numbers from the sleeves to the shoulders. … Wait, check that: No Nikelace for the Longhorns after all (but they're definitely moving the TV numbers and adding the collar logo). But you know who is changing to the Nikelace? Ohio State, plus they're adding little buckeye leaves on the back of their collars, although I think we already covered that a week or so ago (from Dan Luther). … The Trail Blazers have changed the color, and I believe the font, of the uni numbers on their red alternate uniforms (from Oliver Sturtevant and Derek Hinatsu). … The Suns have released a teaser image for their new uni set. … Welcome development in St. Looie, where Cards GM John Mozeliak has instructed the grounds crew to stop etching that cross on the Busch Stadium mound. "¦. Neglected to mention yesterday that Mariano Rivera went high-cuffed on Sunday as a way of supporting teammate Dave Robertson's All-Star candidacy. "¦ The Diamondbacks will keep wearing their black "Arizona" jerseys for the balance of their current homestand, but the "19" patch will be moved from the chest to the sleeve (thanks, Phil). … There's a movement to allow Sikhs to wear their traditional beards, long hair, and turbans in the U.S. Army. "¦ Reprinted from yesterday's comments: The "Me too" thing is spreading, as several Red Sox players wore the Angels' memorial patch for Dr. Lewis Yocum on Sunday. That makes three MLB teams that have worn another team's memorial patch in the past few weeks. And all three instances involve the Angels. But as Dwight Fisher points out, the Angels actually got this ball rolling last season, when they wore the Red Sox's Johnny Pesky memorial patch for a game at Fenway. I had completely forgotten about that. "¦ Georgia State will unveil its new football uniforms later this week (from Matt Newhouse). … BJ Lanier came across a retro car company that uses the Wizards logo. … Really good question from Nathan Fiala, who writes: "I opened my newspaper this morning to a picture of Andy Murray kissing the Wimbledon championship trophy. It made me wonder who was the first person to kiss a trophy/medal for his or her respective sport. Have people always done this, or is it a more modern celebration?" The first person I can recall doing it is Bjorn Borg, but I'm sure it predates him. Anyone..? … Check out this photo of Jackie Robinson and one of his Montreal Royals teammates. Alan Tompas thinks they're wearing satin night uniforms, and he's probably right, although they don't look quite as shiny as I'd expect. Maybe only the stripes are satin..? Hmmmm. … Clint Richardson is working on an Auburn basketball uniform database. If you have old photos you'd be willing to share with him, contact him here. … Interesting commentary on Yahoo's use of purple (thanks, Brinke). … New handicapped symbol for New York City (from Tom Mulgrew). … Oh baby, look at the amazing stationery you used to be able to get on board passenger trains (great find by Ben Fortney). … Rare sight: an NFL NOB with a tilde. That's rookie Gilbert Peña of the Packers (from Jeff Ash). "¦ Absolutely killer striped stirrups for the Danbury Westerners, who play in a summer college league. That player, incidentally, is Brandon Bonilla — Bobby's son (from John Dankosky ). "¦ Two death-related items from Tommy Turner: A Browns fan specified that his funeral include Browns-themed pall bearers "so the team could let him down one last time" and a 'Skins fan was buried in a Robert Griffin III jersey. "¦ Check out the NOBs in this photo of the Iraqi soccer team. "Even though they are using the Latin alphabet, periods are to the left of initials," notes Ryan Burns. … Chad Hayes sent along some pics from one of those old-timey "base ball" games, this one from Bay Village, Ohio. … The Toledo Mud Hens wore hot dog-themed uniforms the other day (from Bill Radocy). … According to the No. 15 item on this page, Batman once wore Nike-branded sneakers (from Steve Hudgin). … New kits for Tottenham. … The Big Ten Network asked one football beat writer covering each school to rank the uniforms for the teams in the conference. Here are the results (from Tyler Sajdak). … Coleman Mullins notes that the flag on the 18th green on the final day of the Greenbriar Classic was an American flag. … Todd Radom has put together a characteristically excellent look at the visual history of the Baltimore Bullets. … New football cleats for Louisville. … Holy moly, look at this rad wrestling singlet. … "The All-Star Game patches on the side of this year's MLB caps do not have that faux-felt appearance and feel that the past few years' patches have had," says Adrian Acosta. "Instead, they have a hard vinyl/plastic cheap feel. Poor job," … Here's an excellent interactive infographic on NFL player arrests. Highly recommended (from Kevin Beebe). … Looks like Earl Thomas of the Seahawks is going with RNOB this season (from Thom Armitage). … No photo, but Christopher Hall says Torii Hunter was still wearing his star-spangled July 4th batting gloves last night. "¦ James Ashby found some awesome early-1970s photos of the Philadelphia Warriors rollerderby team.