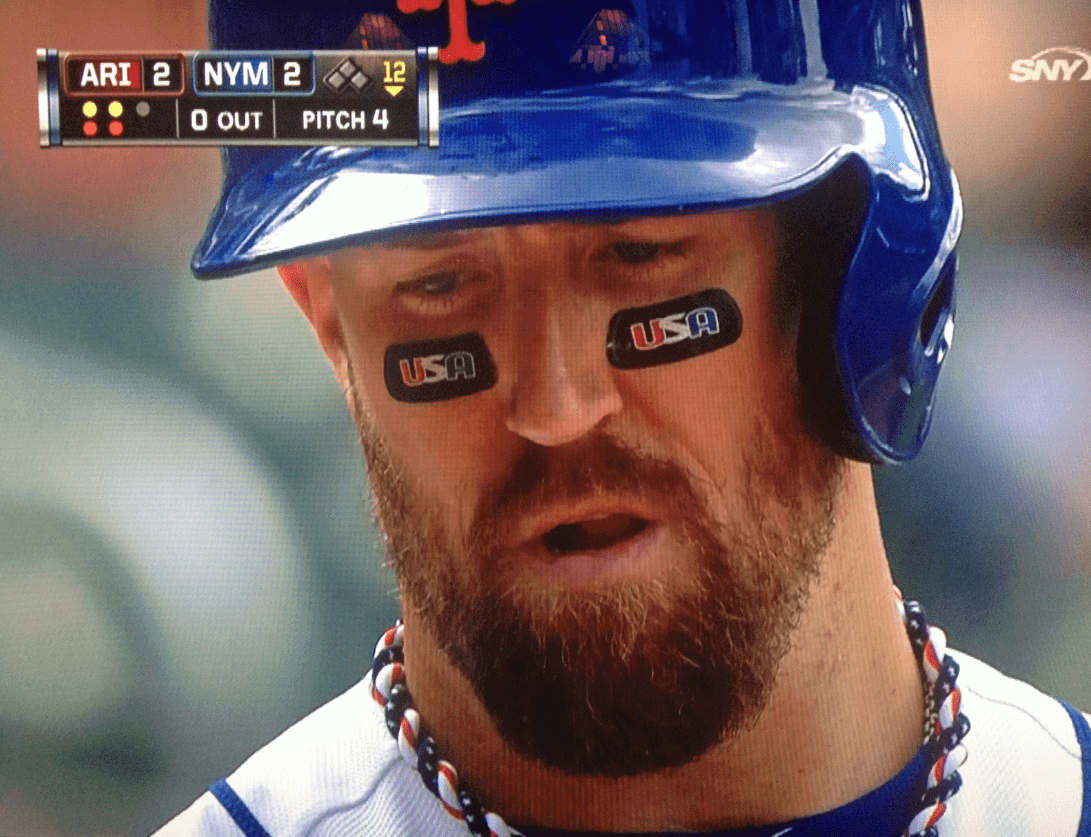 Click to enlarge
Those flag-desecration caps weren't enough for some MLB players yesterday. Case in point: Mets catcher John Buck, who wore a flag-desecration necklace (lots of players wore those) and "patriotic" eye black stickers (I hope nobody else wore those). Buck then honored America by getting tossed from the game for arguing a checked-swing call.
Elsewhere, several teams had players wearing red, white, and blue arm sleeves, and Ryan Zimmerman of the Nationals wore star-spangled batting gloves. I assume there was lots of additional silliness out there, so feel free to post comments about what you spotted.
(My thanks to Diego Bauzá, Mitch Mirsky, and Max Weintraub for their contributions.)
+ + + + +
Uni Watch News Ticker: Absolutely brutal new end zone wordmark for the Patriots. … Some small jersey tweaks for Ohio State football (thanks, Phil). "¦ Of all the retirement gifts Mariano Rivera's received on his farewell tour, the best one so far has been from the Twins, who gave him a rocking chair made of broken bats (from Ed Westfield Jr.). … Here are some thoughts on how to respect the flag if you're a jogger (from Brian Bittner). … Last year, the uni numbers on the Seahawks' white jerseys looked like this. But Scott Smith saw photos of a Seahawks-themed wedding in which the numbers appeared to have a different interior pattern. Not sure if this will be reflected on-field, but I'm trying to find out. … Minor league ump Jim Shawn Hicks tore his pants during Tuesday night's game between the Winnipeg Goldeyes and the St. Paul Saints (screen shots by Daren Landers). … Several readers noted that Matt Garza's pants and jersey appeared to be two different shades of gray on Wednesday night. I checked the game video, and it looked like that right from the first inning, so it wasn't a perspiration thing. Oddly, you can't really see it in the game photos, but it's very apparent in the TV/video feed of the game. Odd. … "Due to some political idiocy, there are two South African rugby teams, the Lions and the Kings, who only have one competition spot," says Caleb Borchers. "Now they are thinking about combining into one team, called the Lion Kings. Disney's legal team is already springing into action, I'm sure." … A teacher in Texas wore the exact same outfit for his school's Photo Day for 40 consecutive years. Further info here. … New bottle design for Evian (thanks, Brinke). … New kit for ACF Fiorentina (from Tom Meyer Klipsch). "¦ Always fun to get a peek at the back of the Tigers' 1928 jersey (from Jude Seymour). "¦ Braves catcher Brian McCann took a foul tip to the mask that sent paint chips flying yesterday (from Chris Wheeler). "¦ New rugby kit for Stade Francais (from Eric Bangeman). "¦ Here's a look at Seahawks uniform history (Phil again). "¦ Although you'll have to go through a short registration process to access it, here's an amusing rant about people who wear replica jerseys to games (Phil yet again). "¦ Nike apparently had some pretty rad ideas for Penn State in the 1990s (from William Yurasko). "¦ I'll be off the grid for most of the day (checking in on my Mom again), so please go easy on the Ticker submissions. Thanks.