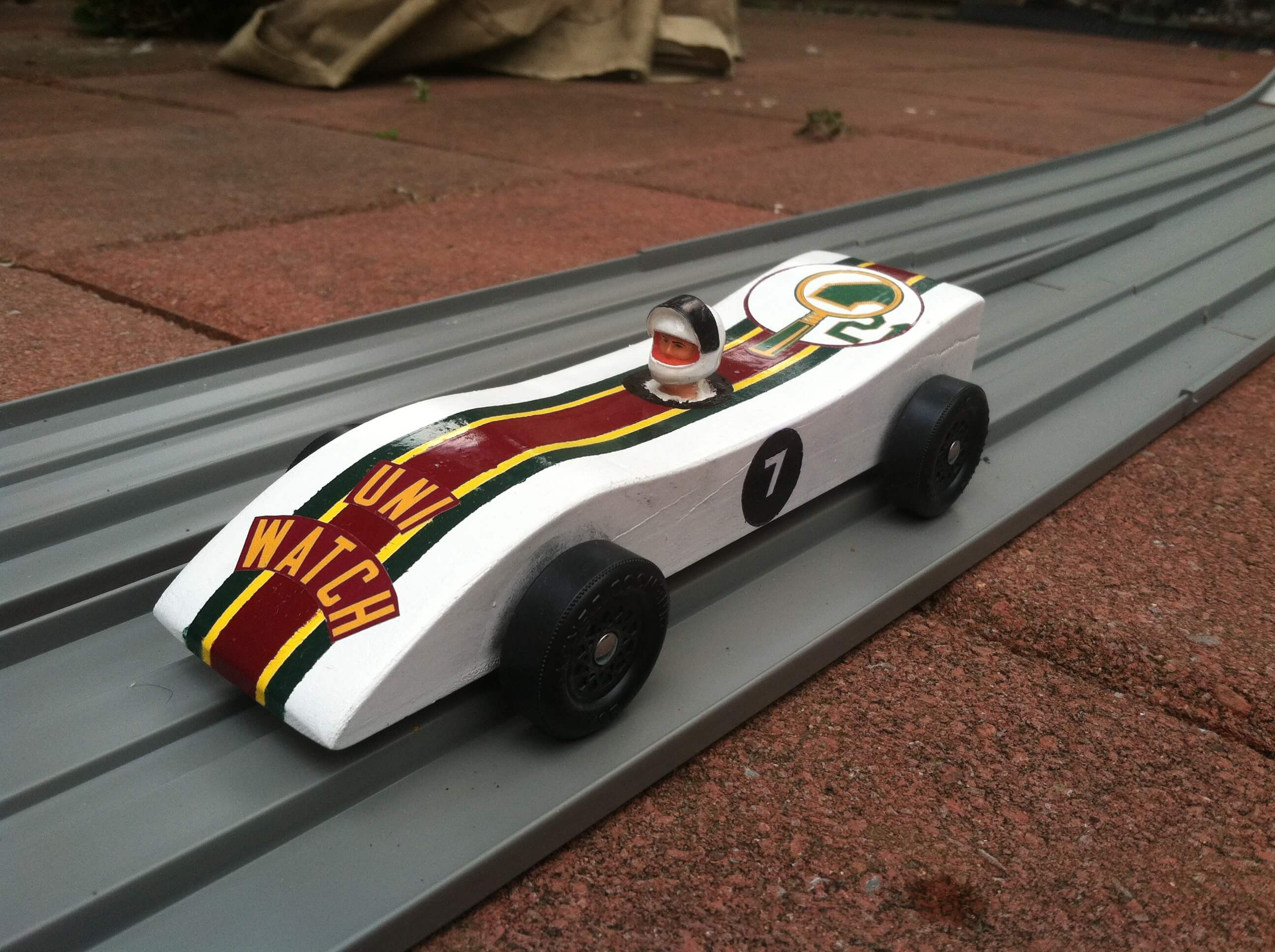 Click to enlarge
A few weeks ago I received an email from reader Marty Hick, who wrote, "Could Uni Watch sponsor my race car? My friend is holding a pinewood derby in his back yard and I would love for Uni Watch to sponsor my car. All it would take is a Uni Watch sticker."
For those who don't recall, Marty is referring to these stickers. I gave away a bunch of them a few winters ago. I had only three left — one of each color — so I mailed all three of them to Marty.
You can see the totally boss results in the photo above. "I didn't want to slap a whole sticker on there," says Marty. "That's why I cut one of them into pieces. The driver (head) came from a Tonka motocross rider I had as a kid. Had to paint the orange helmet white. And for the record, I imagine the driver to be a miniature version of myself. Unfortunately, I wasn't able to be at the races because Holly [Marty's lovely wife] and I had another engagement, so I had to race by proxy."
Despite (or maybe because of..?) the proxy arrangement, Marty's car — excuse me, our car — ended up winning! Here are two shots of the car with the trophy:
Some of the other cars that participated — all of them clearly inferior to the Uni Watch car, of course — can be seen in this slideshow (if the slideshow gives you trouble, you can also see the photos here):
And here's a very short and admittedly not-so-great video of the pinewood derby action:
It occurs to me that we've never covered pinewood derbies or soapbox derbies here on Uni Watch before, but I'm assuming many of you (and/or your children) have participated in them. If you have photos and stories to share, let's see 'em and hear 'em!
+ + + + +
Soccer jersey shout-out: Do you know a lot about soccer jerseys, especially from the 1980s and '90s? Do you have at least some knowledge of South American soccer? If so, then reader Scott Little wants to talk with you. You can contact him directly here. Thanks.
+ + + + +
ESPN reminder: In case you missed it yesterday, my latest ESPN column is a year-by-year look at MLB's stars-and-stripes caps.
+ + + + +
Uni Watch News Ticker: The Pacers will try short-sleeve jerseys during their summer league games (thanks, Phil). … This year's MLB All-Star Game BP jerseys will be the template for a new set of team BP jerseys next season (Phil again). … The NFL is inviting fans to vote for the greatest uniform in league history. … Look at these great old Michigan football postcards. You can see other cool memorabilia by using the menu at the top of the page (from Tommy Turner). … New Era has started selling a pair of Mariano Rivera caps. The patch is interesting — really shows how that TV shot of Rivera coming in from the bullpen has become the definitive image of him. … This is pretty interesting: a history of polka dots (from David Wilson). … Good story about how NFL teams fare after a logo change (from Matt Dubroff). … Check out the 1975 Hawaiian Islanders — sort of a modified tequila sunrise. "Also, for a team based in Hawaii, they sure picked a lousy day for a team photo!" says Bruce Menard. … The Cubs are giving away some very cool wrestling masks on July 30 (from Tom Mulgrew). … Bayern Munich, which is outfitted by Adidas, had a kit unveiling the other day. Just one slight problem: The players at the unveiling wore Nike shirts (from Mark Emge). … Jose Bautista of the Blue Jays has been on a hot streak since borrowing teammate R.A. Dickey's pants (from Mike Styczen). … Someone on a Virginia Tech fan board thinks the Hokies have made some slight football jersey adjustments, although I think it's dangerous to make assumptions based on a retail replica mock-up like that (from Andrew Cosentino). … New training kit for Everton. "Not liking the horizontal and vertical stripes," says Mark Coale. … New logo for the Freedom Tower One World Trade Center (from Dave Rakowski). … New 30th-anniverary logo for Hockey East (from Erik Sundermann). … Recent Astros call-up Brett Oberholtzer has a very nicely arched NOB (from Ryan Dunsmore). "¦ Bit of a uni-number mix-up for the Jazz (from Stephen Vincent). "¦ With Independence Day almost here, the New York Public Library has been exhibiting a copy of the Declaration of Independence and a copy of the Bill of Rights. The New Girl and I went to see them yesterday afternoon. The D of I was particularly interesting — it wasn't anything like the version we're all used to seeing. It was written by Thomas Jefferson on several regular-sized sheets of paper (about 9″ by 12″, I'd say), and without all the big calligraphic flourishes. Although faded, it's actually easier to read than the more famous version, because the penmanship is more conventional. It's less dramatic-looking than the famous version (which is on display at the National Archives, where I've seen it a few times, most recently in 2003), and it doesn't have any signatures at the end, but in some ways it's a more accessible, more intimate rendition. I really enjoyed seeing it. Highly recommended if you happen to be in NYC, although you'll need to move fast — today's the last day it's on display.