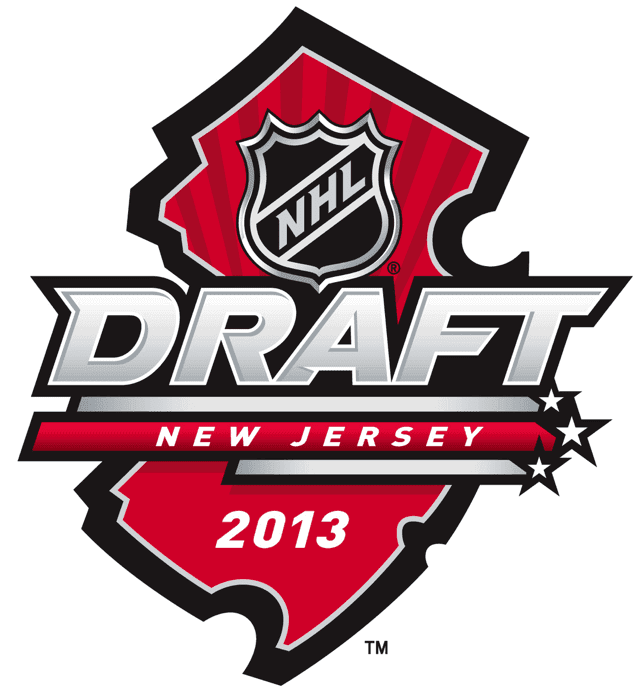 There were lots of patch- and logo-related developments around the sports word yesterday, with several of them coming from the NHL draft. One at a time:
• The Ducks unveiled a 20th-anniversary logo, which will be worn as a jersey patch. Looks solid enough, if not particularly remarkable. (Also: If you go back to the first link in this graf, the press release says, "[T]he club will host a 'Throwback Night' near the start of the 2013-14 regular season, paying homage to the inaugural 1993-94 Mighty Ducks of Anaheim season. The club will have further announcements surrounding the festivities at a later date.)
• The Bruins have a 90th-season logo (people are calling it a 90th-anniversary logo, but that's wrong — do the math). Here's how it looks on their home jersey.
• As you may recall, the Panthers unveiled a 20th-anniversary patch back in late May. Now we can see how it looks on their home jersey.
• We also got our first look at next year's NHL draft logo. The draft will be taking place in Philly, so the logo is shaped like a bell.
• Moving from the NHL to the NFL, the 49ers have come out with a stadium-farewell logo. This is a more fleshed-out version of the logo they've been using for a while now on this website. I like the circular version. No word yet on whether it'll be used on jerseys, but my hunch is that it will be.
• Remember how some of the Mariners recently wore the Angels' memorial patch for Dr. Lewis Yocum? There's another cross-team memorial in the works, as the Angels will be wearing the Cardinals' Stan Musial memorial patch on their BP jerseys when the Halos play the Cards this week.
(My thanks to all contributors, including Skott Daltonic, Chris Flinn, David Kelly, Ryan Raymond, and of course Phil.)
+ + + + +
'Skins Watch: Here's the latest regarding the 'Skins name and related issues:
• A member of the Bad River Band of Lake Superior Chippewa Indians, writing in the Denver Post, thinks the 'Skins should change their name.
• Deadspin has written a devastatingly effective piece about a name change involving the 'Skins — but not about the team's name.
• If the 'Skins do change their name, here's a good look at what the rebranding effort would entail from a financial and logistical standpoint.
• An economics professor at George Mason University thinks banning the 'Skins name would be the first step on a slippery slope, although his "logic" is a lot slipperier than the slope
• Indian team names and mascots are currently banned in Oregon schools. A bill that would allow them again is moving through the state legislature, but the governor is threatening to veto it.
(My thanks to Ted Bloss, Finley Hamblin, Tommy Turner, and Phil for their contributions to this section.)
+ + + + +
Uni Watch News Ticker: Happy Canada Day to all our Canadian readers. The Blue Jays will be wearing red jerseys for the occasion this afternoon. … Here's the logo patch for the new American Athletic Conference (from Gregory Koch). … Small logo tweak for Firefox (from Jarrod Leder). … New kits for Southampton (from Matt Sisul). … Here's the logo for next year's women's Final Four. "No guitar or music note imagery — rare for Nashville," says Lee David Wilds. … Here's a do-over from Friday (I botched the link coding): Interesting iconographic move by the Metropolitan Museum of Art, which is discontinuing its little admission buttons. … Here's a new one, at least to me: a catcher's chest protector with "Stop" printed on it (from Dennis Hasty). … Another great bit of research by Todd Radom, who's discovered a 1913 game in which the Reds had to wear White Sox uniforms after their own unis were left behind during a road trip. … Oregon baseball doesn't have as many helmet options as Oregon football, but they're getting there (from Chris Flinn). … New fifth-season logo for the Texas Stars. "Looks like someone slapped it together in 20 seconds," says Cory Hoad. … Here's an interview with the guy widely credited with having created the Packers' helmet logo (from Jeff Ash). … The Patriots are offering free exchanges on Aaron Hernandez jerseys (from Eric Juergens). … Very nice striped stirrups for the Harwich Mariners of the Cape Cod League (from Don Montgomery). … Here's a look at the evolution of 15 movie superhero costumes (thanks, Brinke). … The Braves retired Chipper Jones's number on Friday. That makes five seasons in a row that the Braves have retired a number, the previous four having been for Greg Maddux, John Smoltz, Bobby Cox, and Tom Glavine. "¦ Love the diamond pattern on the sleeves of this old Pirates warm-up jacket (from Alan Topolski). "¦ Tons of great old Blackhawks photos here. "I hope the team consults these photos when creating a uniform for their Outdoor Series game next January," says Charles Noerenberg). "¦ Really good story about the scripting of golfers' attire (from Britt Jackson). … Also from Britt: Here are the team jerseys for this year's Tour de France. … Good article on those axe-handled baseball bats (from Tommy Turner). … The Timberwolves did a photo shoot with their new draft picks, including Shabazz Muhammad, who wore Karl Malone socks for the occasion. "That's fun," says Robert Silverman. … Andy Bartsch and Keith Winney both noticed that Miguel Montero of the Diamondbacks appeared to have some sort of straps on his batting helmet earflap. Anyone know what that's about? … In a move sure to go down in the annals of promotional history, the Huntsville Stars — that's the Brewers' double-A affiliate — are hosting "2nd Amendment Night," which will include a chance to win a free gun. … The Bulgarian men's volleyball team sort of has a mullet effect going on: all business in the front, but a party in the back (from Jeremy Brahm). … Oh baby, feast your eyes on the 1960 Wausau High Lumberjacks. And dig the great patch they used for their varsity jackets! (Great stuff from Jeff Ash.) … "This isn't exactly uni-related, but I've seen a bunch of these garbage cans with a New Jersey logo around Canandaigua Lake, which is in upstate New York, a good five hours from New Jersey," says Joe Johansen. … Here's a little Tumblr on sports-themed food (from Steve Mandich). … "My 19-year-old daughter, who cares nothing for sports, wandered into the living room, where we watching Serena's post-match press conference on Saturday," says Cort McMurray. "Five seconds in, she said, 'Boy, Evian really wants you to see that's one of their water bottles. How stupid' and walked out. That's the kind of moment that makes you proud to be a dad." … "Recently ran across a new league I'd never heard of, called the Professional Developmental Football League," says Leo Strawn Jr. "I'm not certain if there was some arrangement made, but the league's logo is very reminiscent of the old Columbus Destroyers logo from the arena league." … Dolphins WR Brian Hartline likes the team's new uniforms (Phil again). … Marlon Byrd wore Mets logo eye black stickers yesterday (Phil yet again). … Texas State Senator Wendy Davis's pink Mizuno sneakers have become an iconic symbol. … Ooooh, look how cool the Phillies' ushers looked in 1975 (great find by Avi Miller). "¦ While attending last night's all-star extravaganza for Big Star's Third — which, incidentally, was amazing, beautiful, special, and just about every other superlative you can imagine — I spotted a guy wearing very cool striped socks. "¦ Have I mentioned lately how much I love Joe Maddon? He's sporting the Rays' latest travel-theme look: "accidental preppie." Additional examples here, here, and here (from Mike Edgerley). "¦ Serena Williams's current 15-month run of success began when she changed the strings in her racket.