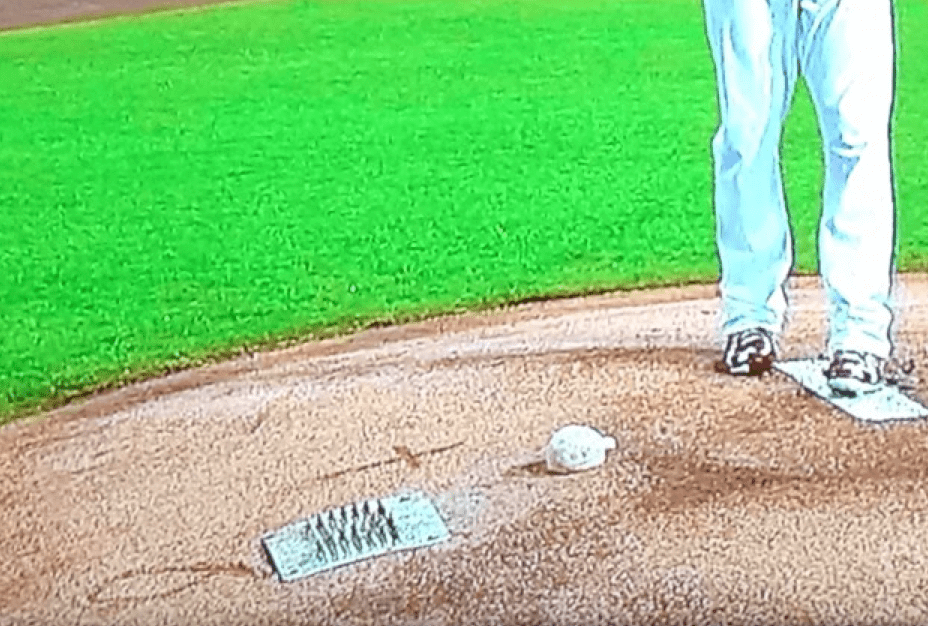 Reader James Poisso posted something in yesterday's comments that I hadn't been aware of. It involves a storyline that began with this St. Louis Post-Dispatch sports item from last Sunday, which included the following passage:
Several times this season the Cardinals starter has gone to the mound to find subtle symbols scratched on its backside, near the rubber spikes used to scrub off dirt. "They've been there every time for me," ace Adam Wainwright said. To the left of the spikes is a Christian cross and just below it is a looped figure. It's a "6" for Stan Musial, the Cardinals great who died in January. A member of the grounds crew puts the symbols on the mound for most home games.
That prompted a piece on Tuesday on the website of the St. Looey alt-weekly the Riverfront Times, which described the cross symbol as being inappropriate (and also suggested that the "6" might actually be an ichthys, or "Jesus fish," although I don't see it that way myself). That in turn inspired a column yesterday by Post-Dispatch columnist Bill McClellan, who said he's "not very religious" himself but that the cross on the mound makes him feel "uneasy."
A few thoughts on all of this:
• The Sunday Post-Dispatch item first says the cross and the "6" have been on the mound "several times" and then says a grounds crew member has put them there "for most home games." That sounds a bit contradictory — like, is it an occasional thing or a default thing? So I went and checked the video for about half a dozen Cardinals home games randomly scattered throughout this season. The cross and the "6" were there on the mound for all of them. So unless I just randomly managed to pick the right half-dozen games (in which case I should probably go buy Powerball tickets), this appears to have been going on all season long and nobody noticed it or mentioned it until now. Here's how it typically looks from the centerfield camera shot (click to enlarge):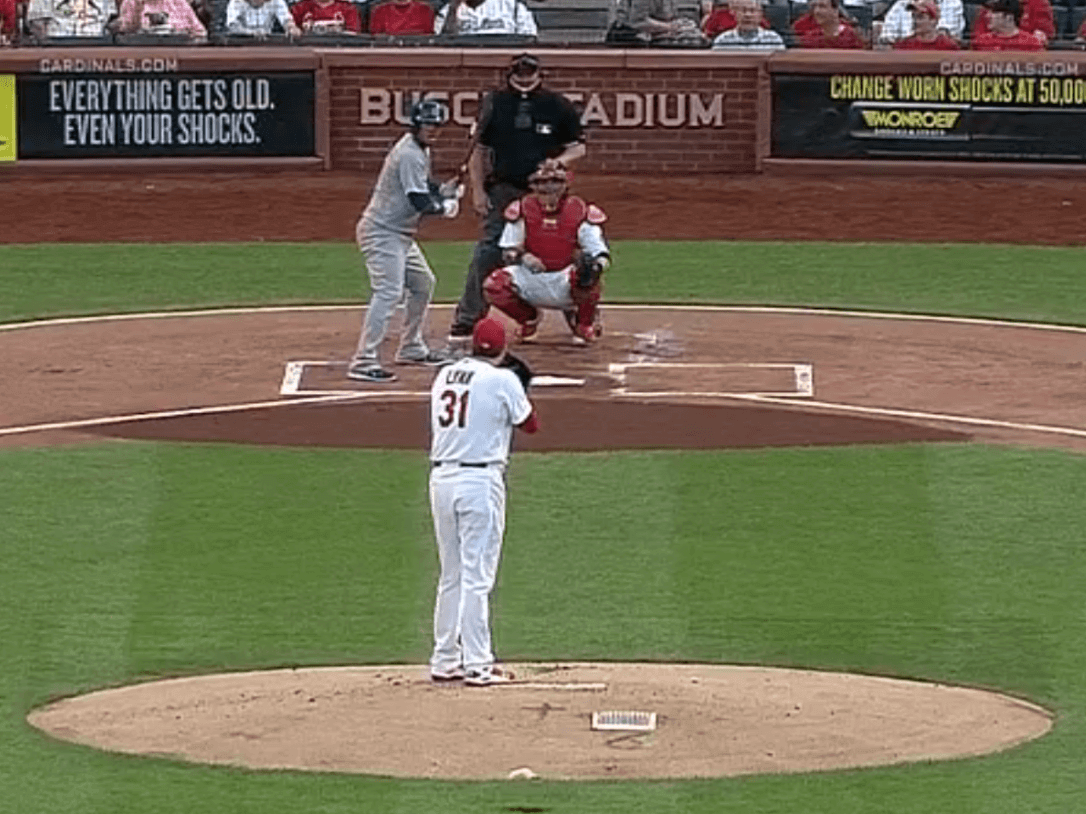 • The Riverfront Times piece is pretty good, but I think McClellan's Post-Dispatch column is fairly ridiculous on several different levels. Not a good piece of writing or a good argument for anything. I linked to it because it's part of the developing storyline, but let's not treat it as a definitive statement or analysis. We can all discuss this at a higher level than McClellan did.
• That said, a cross on a mound makes me uneasy too. Part of it is that I don't think the mound should be used as a billboard, period. But if that's how it's going to be used, it should only be for team- or league-oriented messages or symbols (like, say, the "6" for Musial, which at least is a Cardinals-oriented thing). Putting a religious symbol there seems like a particularly bad idea, especially when it's being done by a rogue groundskeeper. What if the groundskeeper were Jewish, Muslim, Hindu, Sikh, or pagan, and had inscribed one of those symbols on the mound? For that matter, what if he had inscribed a political symbol, like a Democratic donkey, a Republican elephant, or a Nazi swastika? All of these strike me as equally inappropriate. For one thing, endorsing a specific message or agenda sends the implicit signal that you're excluding all co-existing messages and agendas. How is a non-Christian Cardinals fan supposed to feel when he or she sees that symbol on the mound? Also, the mound is where a couple of specific players work. Why should a non-Christian pitcher (whether he has a different faith or no faith at all) have to pitch on a mound with a Christian symbol?
It's worth noting that there's no shortage of religious symbolism in sports. Players routinely cross themselves, point heavenward to give thanks, wear religious pendants on their necklaces (or on other jewelry), and have religious-themed tattoos, all of which strikes me as fine.
Somewhat more problematically, Billy Martin wore a cross pin on his cap while managing, and so did his protégé Bucky Dent — not good, because you shouldn't be adding symbols to your uniform. Same goes for that cross symbol on Troy Polamalo's jersey. And don't get me started on "God Bless America."
I'm sure some of you will think I'm being anti-religion here. But this isn't about being for or against religion; it's about whether certain categories of messaging are appropriate on the field of play. I think the cross on the mound fails that test. Now that it's been brought to light, I hope the Cards instruct the groundskeeper to stop doing it.
+ + + + +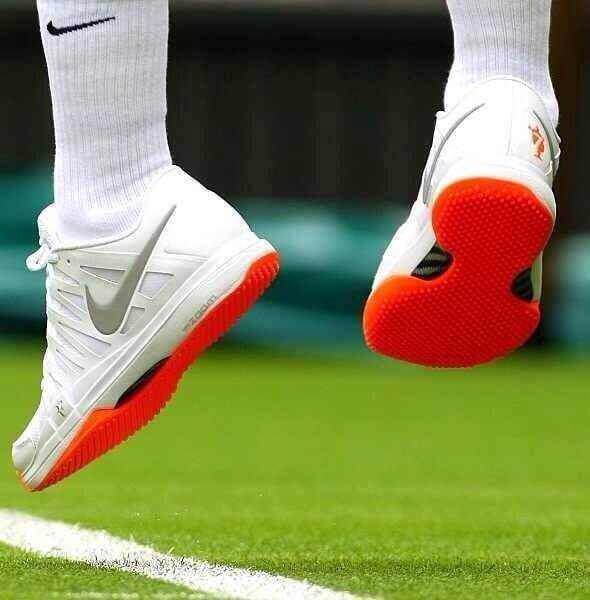 Because you can't spell "marketing genius" without a swoosh: An interesting story unfolded at Wimbledon yesterday. It began when tournament officials told Roger Federer not to wear the orange-soled Nike sneakers he had worn in his first-round match, because they ran afoul of the All-England Club's notorious rules mandating all-white clothing. Seems ridiculous to invoke that rule over the soles, but whatever — he can just switch to another pair of sneakers, right?
Several people immediately wondered aloud if Nike had known all along that the sneakers wouldn't pass muster with All-England officials and was actually trying to provoke the ban as a way to get some free publicity. That notion was reinforced yesterday afternoon, when Nike sent out this tweet:
One Match Wonder. pic.twitter.com/rbDBu8SWil

— Nike Tennis (@niketennis) June 26, 2013
Several readers pointed out this tweet to me, all with the general sentiment, "You've gotta hand it to Nike, they can turn anything into a marketing campaign." USA Today took a similar stance, referring to the Nike tweet as "a brilliant promo."
It didn't look so brilliant a few hours later, when Federer was ousted from the tournament in the second round. One-match wonder, indeed. In his post-match press conference, Federer was asked if the change of sneakers had any effect on his performance, and he said no. To my knowledge, nobody asked him how he feels about his sponsor's brilliant marketing department turning him into the punchline to a joke. But hey, it's just business, right? Justifies everything, or so I hear.
+ + + + +
'Skins Watch: Here's the latest regarding the 'Skins name and related issues:
• A school district board in Washington has voted to stop using "Redskins" and associated imagery for its teams.
(That's it for today. Thanks to Jonathan Thrush for the submission.)
+ + + + +
Theoretically speaking: The 4th of July is a week from today, which means many of you will be firing up the grill. Just speaking hypothetically here, but wouldn't it be cool if you had something meat-themed to wear for the occasion? Sure it would.
And if you prefer Uni Watch stylings, don't forget this popular number.
+ + + + +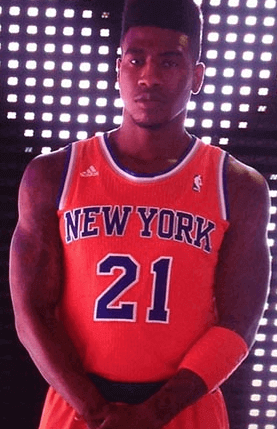 Uni Watch News Ticker: Looks like the Knicks will have an orange alternate uni next season. I can tell you they're gonna have at least one additional alternate besides that, but I can't say more, at least not yet. … Worst of both worlds: Mississippi State showcased a pink football jersey with G.I. Joe pants. Fortunately, it's just a concept, not for on-field use (from Christopher Hall). "¦ Matthew Walthert points out that the podium ceremony at last Sunday's 24 Hours of Le Mans featured the German flag being flown upside-down. "¦ "I went to the doctor and noticed the Bears/Packers scene at the bottom of this 'Hip and Knee' poster," says Jake Kessler. "Says it was made in Skokie, Illinois, so it's strange that it's the Bears player who's about to have his career ended." … "Back in April, my daughter graduated from Pitt," says Jeff Jacobs. "I passed by a concession stand and saw a pin that looked like an old-fashioned bobblehead doll. If you take a look at the back of the pin, you'll see a small spring attaching the head to the body, allowing the head to move like a real bobblehead doll!" … Wanna get a 'Skins pin? All you have to do is work for the team for free (from Tommy Turner). … Also from Tommy: Bills fans are upset about no longer being able to bring seat cushions to games. … New gold alternate helmet for Southern Miss. Further info here. … The New Girl collects old pins, and the other night she proudly showed me her latest acquisition. "Hey," I said, "Elmer Layden! He was the NFL commissioner who instituted the rule requiring players to wear high socks! And before that he was one of Notre Dame's Four Horsemen, who posed on horseback! And…" The New Girl's eyes were starting to glaze over by this point. Anyway, the pin was apparently part of a full "Safety Club Kit." Cool. … The Mets now have a new Mrs. Met mascot, and she looks, well, kinda dowdy. … The logo for Euro 2016 has been revealed (from Bill Radocy). … Todd Radom has uncovered some new wrinkles in Seattle Pilots uniform history. … A trade group called the Headwear Association is giving away a bunch of wide-brimmed hats to highlight the benefits of sun protection (from Tom Mulgrew). … The city of Philadelphia is calling on local artists to redesign the city's bike racks (from Scott Lederer). "¦ Here's a site that specializes in 1990s NBA jerseys. "¦ "At cycling stage races, daily winners are given special jerseys with their team's logos on them," says Sean Clancy. "Here's a video clip about the guy who printed those jerseys at this year's Giro d'Italia." "¦ Gordon Donovan has been tracking all the All-Star apples around NYC. "¦ New matte white helmets for Louisville (thanks, Phil). "¦ Here's a good slideshow on the evolution of the tennis racket (thanks, Brinke). … Further confirmation that the Broncos are ditching the neck roll (from Brandon Becar). "¦ Tired of all the chatter about Christian symbols, Native American imagery, and all the rest? Forget all of that and feast your eyes on this magnificent photo from 1972. How sweet is that?! Okay, let that soak in and then go start your day (and give a big thanks to Phil for finding it).