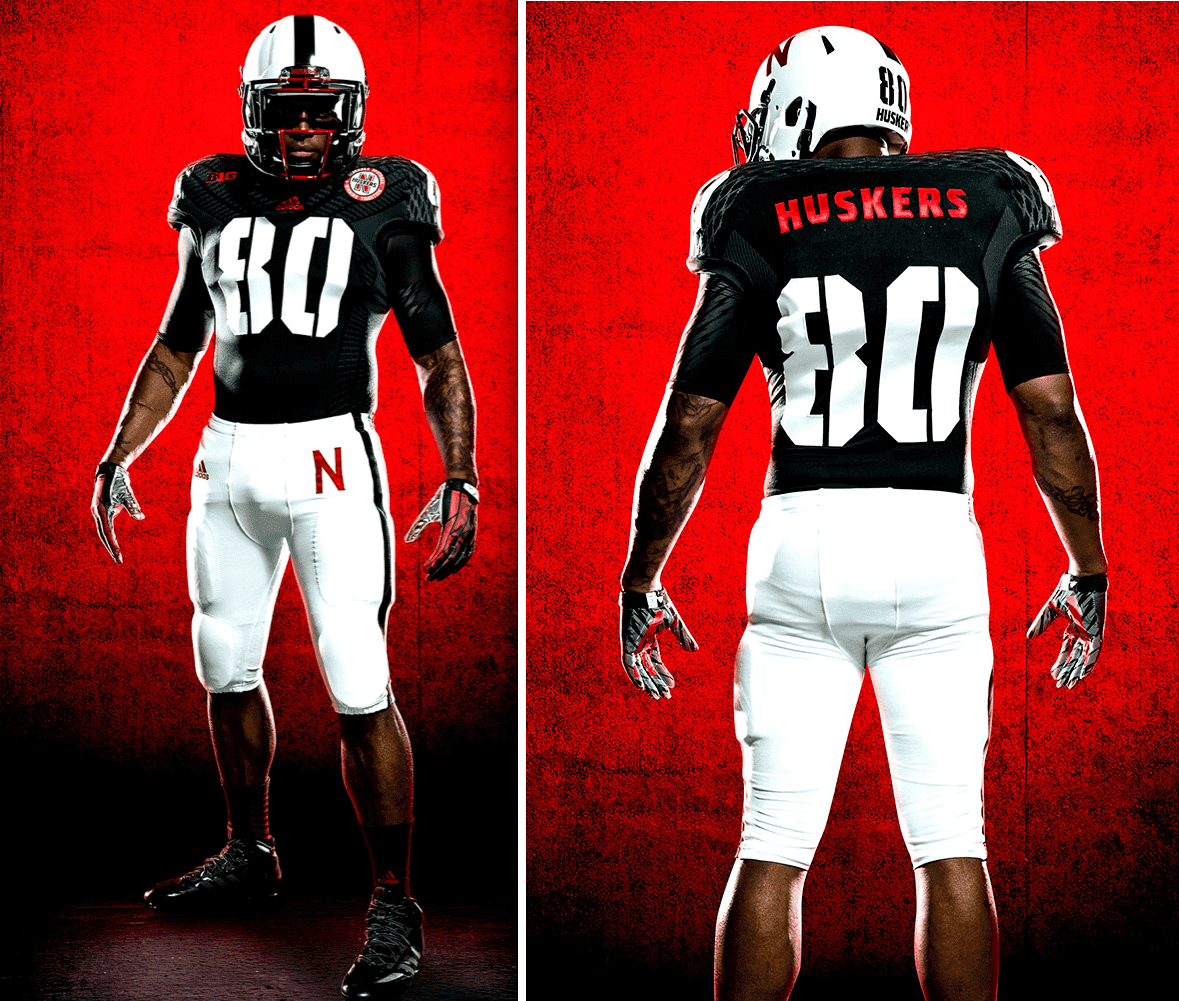 Click to enlarge
Several college football developments yesterday, beginning with this BFBS alternate uni that Nebraska will be wearing for its game against UCLA on Sept. 14. As you can see, the jersey has the same stretch marks that we saw yesterday in the new UCLA home jersey, so that's what Adidas's latest generation of jerseys will look like. Here's a closer look at the fabric — ugh.
Just to clarify: The UCLA uni I linked to in the last graf is not what UCLA will be wearing for the Sept. 14 game against Nebraska. At first I thought UCLA would have a "special" alternate uni for that game, to go along with Nebraska's BFBS alt, but Adidas has told me that UCLA will just be wearing their standard white road jerseys for that game.
Speaking of UCLA, you may recall that Bruins coach Jim Mora had a few things to say about the team's uniforms back in April, when he tweeted the following:
More on the UCLA Stripe; it is part of the fabric of the jersey, not an insert, but it takes a 2nd layer to include it. Not functional or comfortable to have 2nd layer under armpit. Adidas working on technology to include a rubberized paint that will allow us to extend UCLA Stripe. We all know how important it is to our fans and we promise to keep pushing. Adidas has been great.
As I said at the time, I give Mora credit for addressing uniform details like this. Unfortunately, it looks like Adidas hasn't yet perfected the "rubberized paint" Mora referred to, because the striping is still woefully truncated.
Meanwhile, an Oregon recruit named Brady Bergan tweeted a photo of what he claims to be a pair of new apple-green chrome helmets for the Ducks:

OREGONS NEW FOOTBALL HELMETS FOR 2013-2014 SEASON @Uniformswag pic.twitter.com/ULRCiajMTd

— Brady Bergan (@ALLDAY_03) June 25, 2013
At first I wasn't sure if these were legit or just for display. But then reader Brett Nieves pointed out to me that the helmets are shown at the 1:30 mark of this Oregon hype video, which was posted a few days ago:
So that leads me to believe that these helmets will indeed be part of the mix for the Ducks this season.
Meanwhile, there's also a small change for Arkansas, whose uni numbers have changed from a white-gray fade to solid white — an obvious improvement. Looks like they may also have changed the shoulder graphics, but I can't be sure. Additional photos here.
+ + + + +
'Skins Watch: Here's the latest regarding the 'Skins name and related issues:
• A Washington Post poll has found that a large majority of DC-area sports fans are in favor of the 'Skins keeping their name.
• A Chicago writer says the Blackhawks, despite their Stanley Cup win, are tainted by racism.
(Thanks to Tommy Turner and Phil for their contributions to this section.)
+ + + + +
ESPN reminder: In case you missed it yesterday, my latest ESPN column features the results of the Hornets redesign contest.
+ + + + +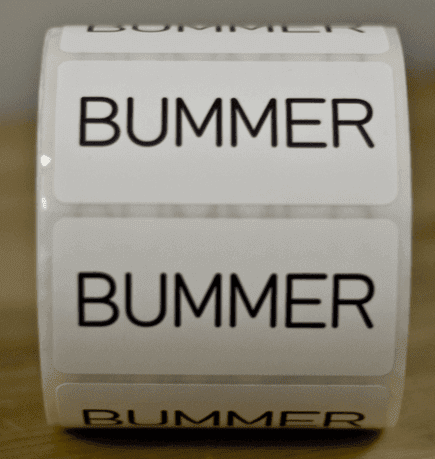 OMFG, RIP — for now: Got some sad news this week, as budget cuts have forced The New Republic to stop publishing my "One-Man Focus Group" column. If you're one of the many people who've had kind things to say about OMFG over the past six months, thank you — I've appreciated the support and enthusiasm.
I'm hoping this is just a speed bump for OMFG, not a dead end. I've already made some inquiries about finding a new home for the column. If you're an editor and are looking for a ready-made project to plug into your media venue, give a shout this-a-way. Thanks.
+ + + + +
Uni Watch News Ticker: Oooh, check this out: a Cleveland Browns basketball jersey (from Bruce Menard). … Drew Roberts has launched a new site called Uniform Critics, which tracks new uni releases and invites readers to rate them. I wish him good luck with this project. … Here's another view of Darnell Dockett's new facemask. He won't be able to wear that rainbow/mirror visor in a game, though (from Brady Phelps). … I love Bethanie Mattek-Sands's socks from Wimbledon yesterday, although most people were more interested in her hair (thanks, Brinke). … Buried within these NCAA basketball rules changes is the following: "Allow other words or names besides a player or institutional name/mascot on the back of the game jersey. No commercial advertising will be allowed. Rationale: To allow institutions more latitude to celebrate or memorialize persons, events or other worthy causes" (good spot by Ryan Burns). … Good story on the company that helped engineer the new MLB batting helmets (from Mark Medinger). … A color-on-color game was the source of an NBA controversy in 1970. It's an interesting story, but it doesn't mention why the Hawks were wearing color at home (good find by Todd Radom). … The guy on the right in this photo is Cornell football coach Bob Blackman. See the unusual striping on the Cornell helmets in the background? That's a variation on the striping style Blackman originally used when he coached at Dartmouth. He also used the off-center striping when he coached at Illinois (I learned all this from Tris Wykes). … Here's a quiz on athletes' personal logos. "Many are surprisingly well designed," says Jim Wagner. … "A friend and I have, for over a dozen years now, painstakingly painted the uniforms of every player on our bubble hockey teams," says Mike Monaghan. "Not sure why I've never thought to send you the pictures until now. We have a complete set of six players for every single team — home and away, and throwback jerseys mixed in. There are about 65 total teams and growing." You can see the results of this excellent project by looking here. … Mariners infielder Nick Franklin is wearing the same double-flapped helmet he wore in the minors (from Patrick Fleming). "¦ Check out the crazy Union Jack kit worn by Chesterfield Town in 1892 (from Trevor Williams). … Just noticed that Alejandro De Aza has some seriously loose kerning on his NOB. "¦ Chuck Spina was too late to get in on my Hornets redesign contest, but he sent along a pretty cool concept for their court design. I like! "¦ Aside from sporting events, I watch network television approximately never. Part of it is that I'm too busy; part of it is that I already spend most of my days at home staring at a screen, so I'm not really looking to do more of that; and part of it is that I get the general impression that most network TV isn't very good. But I read several very positive things about that Under the Dome mini-series that debuted on CBS the other night, so I checked out the first episode (and apparently I wasn't the only one). Holy moly, was it awful. Seriously, is this what now passes for "good" network TV? Miserable acting + cringe-inducing dialogue + one formulaic cliché after another = unwatchable. And people, if a live cow gets sliced in half, it's gonna bleed. Like, A LOT. Jeez.