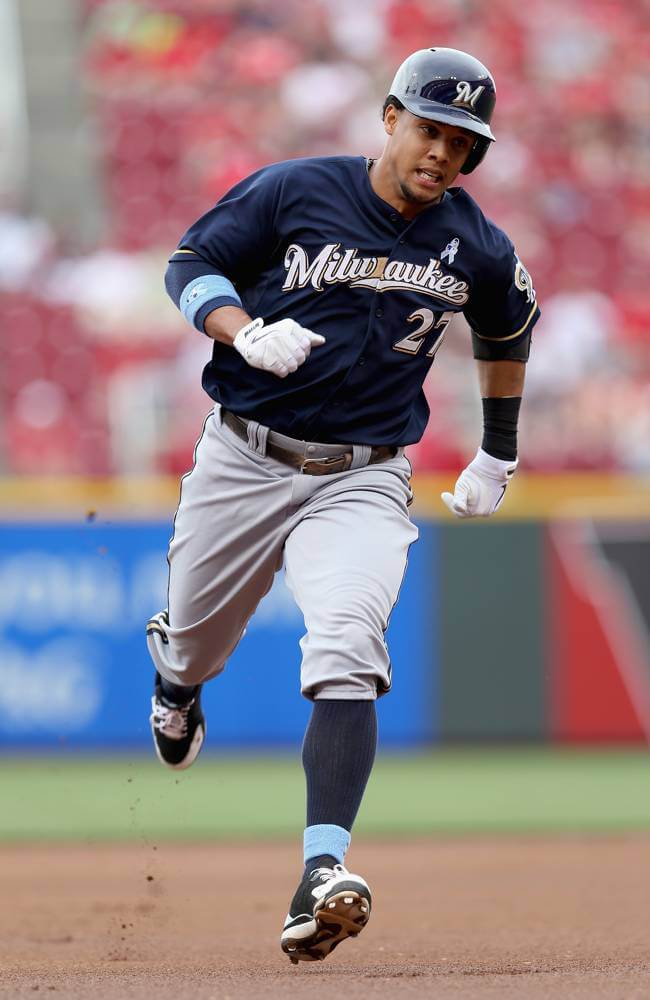 Yesterday, of course, was Father's Day. In case you missed it, Phil used the occasion to post something very, very special, which I strongly recommend to one and all. I'm very proud to have had it on the site yesterday.
Meanwhile, MLB players once again wore blue chest ribbons and, in many cases, blue wristbands and other accessories. Most of it was pretty straightforward, but reader Randy Allemann points out that Carlos Gomez of the Brewers, shown above, got a bit creative — or maybe just a bit stupid — by wearing his wristband down around his ankle. Has this ever happened before with a pink or blue wristband? Probably, but I can't recall any specific instances. (The one case of an MLB ankleband that I do recall had nothing to do with Father's or Mother's Day. It was when Cards pitcher Jason Simontacchi wore a memorial ankleband for Darryl Kile in 2002.)
A few other notes regarding the blue ribbons and accessories:
• The Angels are already wearing a left-chest memorial patch for Dr. Lewis Yocum, so their blue ribbon patch sort of stacked up next to the memorial patch.
• The blue ribbons on the Nats' jerseys were inside the space of the curly W.
• The Astros' blue ribbons were positioned really high, because of the point of their star logo.
• As usual, the umpires wore the ribbons and wristbands too.
Meanwhile, as many of you have probably heard by now, there was a bit of a snafu at the College World Series, where the word "College" was misspelled on one of the dugouts: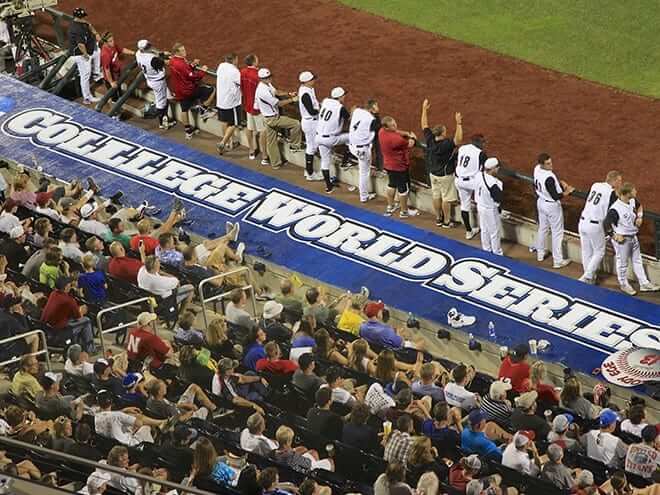 Lots of people have already suggested that the extra "L" stands for "learning." But here at Uni Watch, we know it stands for "greatness."
Anyway, they eventually fixed it, as seen in this photo by reader Scott Ingalsbe: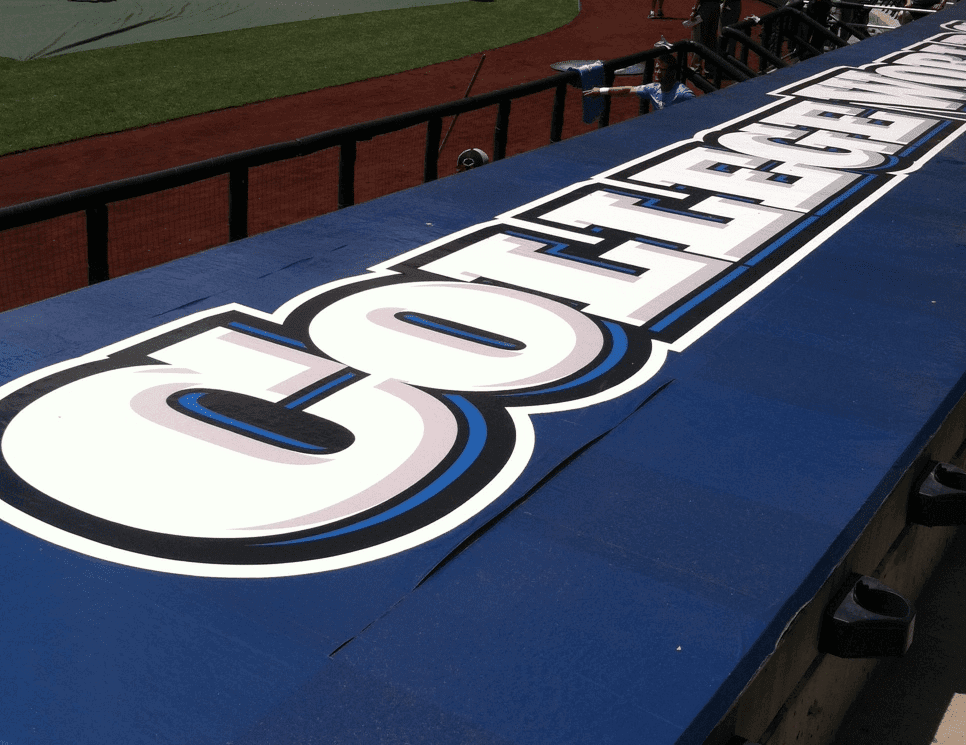 + + + + +
Uni Watch News Ticker: Phil Jackson and a host of others have come out in favor of the 'Skins changing their name (from Tommy Turner). … Meanwhile, more sportswriters are announcing that they will no longer refer to the 'Skins by their name (from Andrew Gladstone). … No confirmation on this, but a plausible-seeming source reports that Navy will be switching from Nike to Under Armour in 2014. "¦ Absolutely brutal new third kit for Liverpool (from Michelle Martinez). … The Idaho high school that was going to stop calling its teams the Redskins has now put that plan on hold, pending further input from the public and the Native American community. … Memphis is inviting fans to vote on a new basketball court design. … Literature and Uni Watch collide in this note from Gregory Koch: "According to my high school English teacher, one of the many symbolisms of the title of Catcher in the Rye is that baseball catchers wear their hats backward when they catch, and so did Holden in the novel. Is this true?" I read Catcher in the Rye in high school like everyone else, but I don't recall Holden wearing his cap backwards, and I doubt I'd have made the connection anyway. Anyone know more? … Under Armour's presence on the golf course is increasing (from Tommy Turner). … Here's something I didn't realize (or maybe just forgot): In 1951, the Braves moved their Indian head sleeve patch from the left sleeve, where it was normally worn, to the right sleeve, in order to accommodate the National League 75th-anniversary patch (from Brian Codagnone). … The Canucks have a new farm team — the Utica Comets. Here's an slideshow about their logo and uniforms (from Andy Bronson). … Here's a slideshow from this year's Congressional Baseball Game, with additional pics here (from Sean Walsh and Joseph Williams, respectivley). … There's bunch of Bills fans on Twitter who call themselves the Bills Mafia (yes, very original). They've now come up with a patch to sew onto their jerseys (from Michael Sullivan). … Lots of readers are freaking out over the Eugene Emeralds' new uniforms. … Here's a breakdown of which bats are being used by the College World Series teams. … The Rays gave away jersey-styled aprons on Friday night. "Easily one of the best giveaways I've received at the Trop," says Kevin Kleinhans. … Here's former Chicago guitarist Terry Kath wearing a Chicago Cougars jersey in a 1977 performance (from Peter Fredrickson). … If you have to wear flag uniforms, I guess Flag Day is the day to do it. That's what the Pensacola Blue Wahoos did on Friday. … Barry Zito was wearing last year's BP cap for a recent TV interview (from Patrick Karraker). "¦ Oregon State is wearing an awful lot of patches in the CWS, including separate patches for the Pac-12 and the Pac-12 championship. Also, as you can see, there's a memorial patch that some players have and others don't (from Trey Ashby). "¦ What would you call this — a BroncGator? (From Jon Solomonson.) "¦ Jay Heiple notes that Giants closer Sergio Romo stopped wearing his signature orange-striped socks a few weeks ago and is now going with solid black. Disappointing. "¦ Munenori Kawasaki of the Blue Jays lost an eye black sticker during Saturday's game against the Rangers (from Stephen Sickles). "¦ Josephy Hiley's 12u team got throwbacks and very nice Northwestern-striped stirrups. "¦ Here's a really good article about how players on the Browns don't like the new NFL rule requiring thigh and knee pads. Recommended reading (from Liberty Bowman). "¦ Reebok has come out with a sensor-equipped cap that can indicate when someone's taken a strong blow to the head (from Tommy Turner). "¦ Interesting combination of a gradient shell and a plaid helmet logo for Alma College, a D3 school. "¦ New third kit for the L.A. Galaxy. "BFBS strikes again," says Trevor Williams. "¦ " Went to the Custer Street Art Festival in Evanston, Illinois, and the White Sox had this display featuring some classic logos," says David Firestone. "Also, they were giving away these White Sox Rubik's cubes." "¦ "I saw a note from the local historical society that there would be a WWII military encampment that would include a women's baseball game this past weekend," says Nicole Haase. "We went to check it out and it was amazing — so much so that I'm already signing up to join a team. Here are the photos I took. The uniforms, which are gorgeous, are made by K&P Weaver. They have guidelines and suggestions for uniforms, gloves, and equipment (including how to black out manufacturers' logos). And since a new uniform can take eight to 12 weeks to make, they have apparel suggestions for rookies."
Uni Watch's Highest Rating: Over the weekend I saw the new film Far Out Isn't Far Enough, a documentary about the illustrator Tomi Ungerer. It was easily the best movie I've seen so far this year. If you're familiar with Ungerer's work, you know how important he is; if you're not familiar with him, the short version is that he's charted a highly improbable career path as one of history's most important children's book authors, a scathingly effective political posterist, and a great erotic illustrator. Turns out he's also really charming on film. There's a good review here, and here's the trailer: