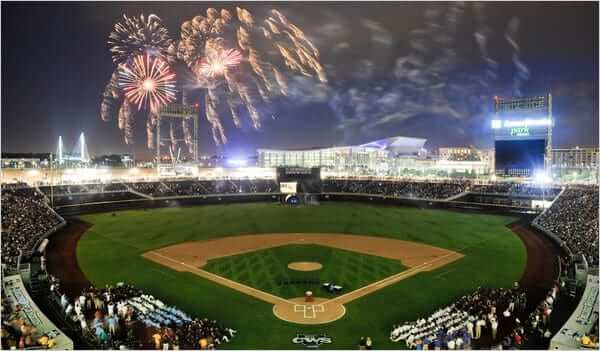 [Editor's Note: With the College World Series set to start tomorrow, Uni Watch bench coach emeritus Bryan Redemske, who lives in Omaha, is back with his annual CWS preview. Enjoy. "" PL]
By Bryan Redemske
This spring, I returned to coaching for the first time since 2001. Rather than diving back into the ever-more-competitive high school baseball ranks, I have instead been herding cats: 5- and 6-year-olds in a coach-pitch league.
When my son, Jack, got his uniform, I taught him how to put it on and how to look like a ballplayer.
"Don't look like a hobo," I said. "That's really all I'm asking. Also, please stop digging holes in the dirt with your spikes."
Though I should expect more out of the eight schools playing in the College World Series, beginning here in Omaha on Saturday, I'm really hoping nobody ends up looking like a hobo. And I'm talking about you, Louisville.
As is now the standard drill, no "" I'm not going to detail every single thing you may or may not see here in Omaha. Schools like North Carolina and Oregon State could wear something different every day for a couple of weeks. And, anyway, I believe each team only gets to bring three different jerseys to Omaha. (I don't have anything official to reference, but I remember that being a point of discussion within the last couple of years.) Instead, we'll take a look at each program's on-field identity to get a glimpse of what we might see when the CWS gets underway.
Mississippi State
Much like in every other college sport, there are traditional powers in baseball. Mississippi State is making its ninth visit to Omaha. Along with the "traditional power" tag comes a pretty traditional look. There's nothing crazy going on here, which is actually pretty nice. I really like the white pinstripes, though the logo seems like it should be bigger. There's a second white uniform set, as well, though that's a bit much to try to fit on the front of a jersey (it has a road version, too).
I really dig the simpler maroon jersey, because it's clean and still fairly traditional-looking. The black jersey, however, should probably go find a hole and stay there for a while.
Probably the most interesting thing about Mississippi State, though, is that it doesn't use the same logo as the rest of the athletic department. The interlocking MS logo on the caps looks better than this, anyway. Oh, and those retro-style jerseys for the postseason? Haven't seen them on the field yet. Nobody would complain if it stayed that way.
Oregon State
Back when Oregon State was on its back-to-back title run in 2006 and 2007, it was using uniforms from all over the damn place. Huge OSU logos on the chest, or maybe a script "Beavers." Or, maybe the new interlocking OU logo. All at once. And clearly not designed to go together.
But since Nike "unified" Oregon State's identity, the Beavers are actually looking pretty good. You could argue about the typeface used on the jerseys for days, but at least it's consistent. Well, except for this hat, which feels like it's hung around about 20 years too long.
I like the home whites a lot, and the black jersey is fine for an alternate (though the pants stripes there are reminiscent of the 1980s Detroit Tigers). It's worn with a black hat or a white-crowned hat. Oregon State has traditionally had an orange jersey as well, though it hasn't been seen lately.
Indiana
Being here in Omaha, I'm fairly deep into Nebraska Cornhuskers territory. While it at first grated on me, I'm OK with it now. It's been nine years; I've adapted. (No, Mom, I'm not a Husker fan now.) When Nebraska moved to the Big Ten in 2011, many predicted a runaway conference baseball championship, merely because winter here can't possibly be as bad as it is in, say, Ann Arbor, Mich. That easy-breezy walk through the Big Ten hasn't happened, largely because of the rise of teams like Indiana.
Welcome to Omaha, Hoosiers. It's Indiana's first trip to the College World Series, and as far as I can tell, the team's look is about as clean as that of the vaunted basketball team: maroon and white. That's pretty much it. You get home, away and alternate.
Note the jerseys "" old-school pullover, like Stanford. Though clean and classic is certainly OK by me, this almost feels too plain. It's a difficult target to hit "" classic doesn't automatically mean boring "" but I can't help but wonder what the interlocking IU logo would look like on a white, button-up jersey with piping. OK, I'd have to believe.
Louisville
Phil covered the initial threat of Louisville's "postseason uniforms" last weekend, though we dodged a bullet "" those red pants haven't made an appearance (yet). But, unfortunately, the retro-style jersey did get worn. And the photos commemorating a return trip to Omaha will forever be proof that we have not learned from our mistakes.
The postseason jerseys are shown here with three different caps in play. (Also, the two guys to the right don't have belts.) Even before you take that debacle into account, there's this. Get used to those outlined pits. You'll be seeing them again before this is all said and done.
There's a standard white vest that's not too bad, though it would be awesome if there was some sort of mandate on shoes. There are wordmark-front jerseys in white, red, black and gray. Basically, there are a lot of choices and none of them are really very good. But they're all first-round picks compared to that postseason special.
North Carolina
I feel like I've been reporting on North Carolina uniforms pretty much the entire time I've been doing this wrap-up. You can count on a few things when the Tar Heels are in the tournament: Carolina blue, a jersey or two that just says "Carolina" on it, and one reasonably unique alternate jersey. That's the case again this year.
Most regular CWS viewers will recognize this setup right away. With a typography tweak here and there, it's been the team's standard look in Omaha for a while now. No complaints here. The navy alternate looks good, too, even though it's strange to see a UNC team in such a dark shade.
There's a retro-styled uniform that works better than anything Adidas cooked up for its CWS teams. And then there's the blue camouflage. Yes, that's correct.
While the blue camo thing is regrettable, there's really only one bit of UNC's recent wardrobe that's truly off-putting (to me, at least): This. The Nike pits from 2009 are, somehow, not dead. Or not donated to a Legion team or something.
NC State
Yes, NC State got Adidas postseason uniforms, too. I think the problem with all of these isn't just that they're ugly, it's that they're half-assed ripoffs of old MLB designs. If you want to trip back into the past, why not base it on something the school actually wore?
Prior to being remodeled for the CWS, NC State didn't really look too bad. The home whites are fine, as are the red alternates. Road gray? Of course. Well done. This black jersey makes no sense in the context of the previous three uniforms, though.
But this white vest came straight from the "stock jersey fonts" book. This looks like kind of jersey you order when your equipment manager forgot to get things lined up for the first homestand and you have to get something done NOW. "Just make it say NC State and it'll be fine. I need them in five hours."
LSU
We can thank LSU for an opportunity to cleanse the palate a little bit. We know the deal with Paul and purple, but LSU baseball gets a walk from me. Why? Because LSU has looked like this forever. This is Warren Morris after hitting a home run to win the 1997 College World Series.
And this is LSU's current yellow jersey. Yep, pretty much the same. And so is the purple jersey. The white uniform and interlocking LSU logo on the caps is a college classic. One of my favorites. I hope LSU sticks around for a while, if only to save us from Louisville.
UCLA
Remember those highlighted armpit panels from a few teams ago? Here's more. UCLA has all of the elements of a classic design, and some actual history to go along with it. Like, Jackie Robinson-style history. And instead we see this.
Adidas is the culprit, again. In this case, the mesh-vented underarms flare out and around to the front and back of the jerseys. While there may well be a cooling benefit to the design, it encroaches on the space available for a logo. Should this logo be that small? Probably not. But it has to be, thanks to the pits. They're present here and here, complete with outlines, so you don't miss them.
The Bruins could look so much better, given space on the uniform to actually do something. Instead, you have triple-layered logos crammed into tiny spaces. There's really no way to make that work.
+ + + + +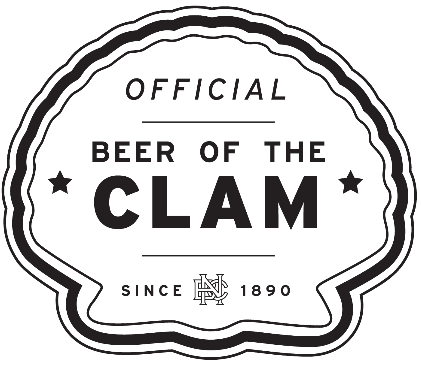 Very Uni Watch-ish: Paul here. An eyebrow-raising sponsorship and a questionable logo are at the heart of a new piece I've written for Grub Street (that's New York magazine's food blog). There's even a small sports-related angle. I'm pretty sure all Uni Watch readers will like this one — check it out here.
And speaking of logos…: In case you missed it yesterday, my latest One-Man Focus Group column is about the logo for the newly disclosed PRISM surveillance program. (As an aside, my ESPN colleague Dave Wilson pointed me toward this piece on how the PRISM slideshow could be improved by a redesign.)
+ + + + +
Uni Watch News Ticker: Grantland has published a fairly devastating open letter to Daniel Snyder regarding the 'Skins name (from Nicole Haase). … Meanwhile, PTI co-host Michael WIlbon says NFL commish Roger Goodell's support of the team's current name is "gutless" (from David Goodfriend). … And what should the 'Skins name change to? A top branding firm has some suggestions (from Janet Paskin). … Newcastle United player Papiss Cisse is expressing concerns about the team's new jersey sponsor, Wonga, a payday loan company, because he is a Muslim. Interestingly, the team has signaled a willingness to compromise (from Laurence Holland). … The Mets have circulated a survey in which they ask fans about, among other things, their favorite Mets colors and logos. … MLB's Home Run Derby app has a circular Pirates logo I haven't seen before. In case you can't read it, the type says, "Pittsburgh Pirates Baseball, Since 1887" (from Ryan Hare). … The Islanders will have alternate jerseys for their Stadium Series game and may get a third jersey when they move to Brooklyn (from Anthony Nuccio). … The Fort Wayne TinCaps wore jerseys featuring the Twitter handles of their fans last night. Here's an interactive page that lets you zoom in on the names. … Today is Flag Day. If a team has to wear a flag-based jersey, you'd think today would be the day, right? But the New Jersey Jackals are going G.I. Joe instead. Go figure (from Adam Herbst). … You know the whole black uni thing has gotten out of hand when NikeBlog, of all places, is invoking the term "BFBS" (from Geoff Holm). … Some historical background and great photos from the annual Congressional Baseball Game here (thanks, Phil). … Jeff Whitener says the cross-country team at Herculaneum High School in Missouri has worn these striped shorts for 40 years, although they frequently redesign their tops. … This is odd: a baseball undershirt that includes a faux jersey. Yes, it's also really ugly. "The player is from the Martha's Vineyard Sharks of the Futures Baseball League," says Tom Arnel). … Check this out: a 1987 Braves jersey with a front uni number! Must've been something they were considering doing and then scrapped. That image comes from an excellent piece that Todd Radom has written about 1987 MLB uniforms. Recommended reading. … Dolphins defensive coordinator Kevin Coyle was wearing a mix of old and new logos the other day (from Bob Gassel). … More G.I. Joe silliness, this time for the Iowa Barnstormers (from Luke Meredith). "¦ Construction workers at the 49ers' new stadium have added a memorial decal to their hardhats for a worker who died at the site earlier this week (thanks, Brinke). "¦ A few days ago I raved about Chris Archer's striped stirrups. Now Archer's hosiery stylings have inspired a Twitter hashtag (from Kyle Speicher). "¦ Several 49ers are wearing visors with the team's "SF" logo in the center. Here's another example. That'll never fly for game use, though (from Pinch Santos). "¦ The Lehigh Valley Iron Pigs wore "summer beach" jerseys last night (from Jeff R. Vervlied). "¦ Clemson football has added an ACC patch (from Benji Boyter). "¦ New soccer kits for Atletico Madrid (from Walter Ford). "¦ Jacoby Ellsbury tore his pants last night, revealing that he wears high red socks. Just goes to show what I've said all along: Players already wear high socks; what we need to encourage is high cuffing (screen shots by Dave Rakowski). "¦ Good slideshow on the evolution of the Superman logo (thanks, Brinke). "¦ Very interesting interview with the creator of digital camouflage (from Robert Silverman). "¦ The Harrisburg Senators — that's a minor league baseball team — honored their neighbors, the Hershey Bears — a minor league hockey team — by wearing hockey-themed uniforms the other day (from Emily Bennett).