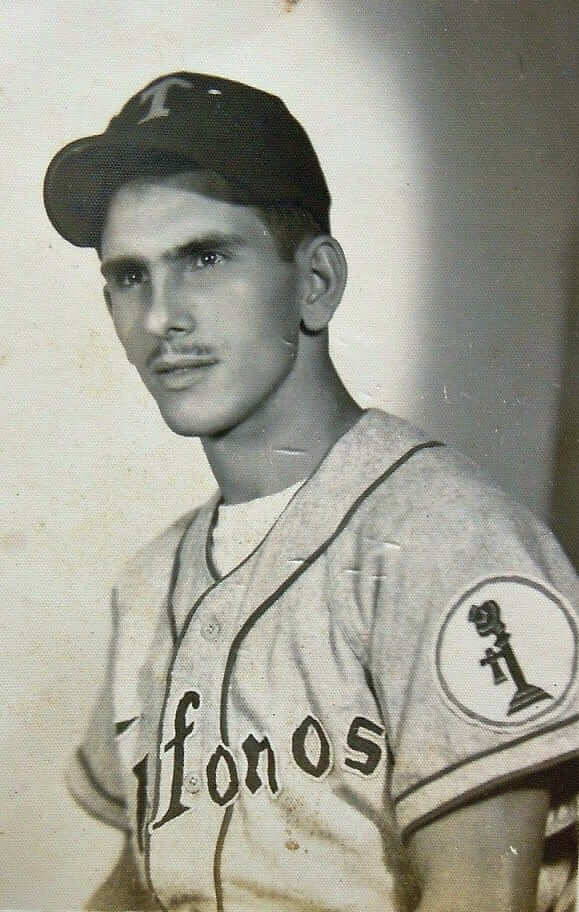 Reader Dennis Hasty sent me something completely awesome the other day: an old photo of a Cuban baseball player who played for a team owned by the local phone company — complete with a totally cool telephone sleeve patch!
I immediately forwarded the photo to uniform designer Todd Radom and Baseball Hall of Fame curator Tom Shieber, the latter of whom promptly quipped: "It immediately joins the list of top ten baseball patches. Actually, that might be a fun Uni Watch survey: What is your favorite baseball patch? Or: What is your favorite obscure baseball patch?"
Not bad. I have to say, this telephone patch ranks pretty high. I also love the chain-stitched rose patch on this florist's team's jersey, which I'm lucky enough to have in my personal collection.
As for MLB patches, I've always liked the Boston tricentennial patch, the Illinois sesquicentennial patch (here's a close-up in color), and of course the trylon and perisphere World's Fair patch. The St. Louis Browns' Brownie patch is nice, too.
Memorial patches are trickier, because a simple black circle with the deceased's number or initials is often enough. But if you're gonna get creative, you could do a lot worse than the Harry Caray memorial patch.
I realize I'm just scratching the surface here. Care to nominate some favorites of your own? The floor is open.
+ + + + +
OMFG: My latest One-Man Focus Group column is about the logo for the newly disclosed PRISM surveillance program. Enjoy.
+ + + + +
Uni Watch News Ticker: NFL commish Roger Goodell has offered a qualified defense of the 'Skins name (from Brian Mazmanian). … Goodell's remarks were quickly labeled as a "statement of absurdity" by a Congresswoman (thanks Phil). … Meanwhile, there's an excellent piece about high schools that use the Redskins moniker here. … And here's more about the Republican political consultant who'se been hired to assess the palatability of the 'Skins name, which I first mentioned yesterday (from Matt Shepardson). "¦ Wanna see just how bad every MLBer's taste in music is every MLBer's walk-up music? Look here. … Someone on the Diamondbacks — it's not clear who, at least to me — is wearing a wedding band on the field (from John Sheehan). … Adam Garrettson is interested in batter's eyes. "A Philly friend told me they used to remove the batter's eye when a potential sellout was going to occur, especially if the Reds or Dodgers were in town," he says. "Then I came across this 1980s picture of Tiger Stadium — again, no batter's eye." This sounds like a subject for further investigation. … MLB All-Star Game apple sculptures are showing up around NYC. … Hu's on first! (Thanks, Ricko.) … You've heard of playoff beards? Here's a playoff lawn (from Alan Kreit). … A race car driver has an Ohio State-themed helmet. … Someone out there wants to create a line of "ergonomically correct" baseball bats, which look a lot like those axe-handled bats we've already seen (thanks, Phil). … The NBA's draft caps are here (Phil again). … Also from Phil: New 75th-anniversary logo for the Baseball Hall of Fame. … Here's approximately the worst of all possible worlds: G.I. Joe with purple trim. That's Christian Brothers College High School in Missouri (from Joe Nguyen). … Here's a story about Gatorade's sponsorship of the NBA Finals. Of course, it neglects to mention that many of the cups, bottles, coolers, and other Gatorade-branded receptacles on view during the games may actually contain something other than Gatorade (rare non-DC-centric contribution from Tommy Turner). … Excellent illustrated history of the College World Series here (from John F. Jacobsen). … A reader who prefers to remain anonymous offers this story about Kentucky basketball: "My boss served as a UK basketball manager in the mid-'90s. I asked him why UK was willing to go with the infamous denim uniforms, and his response was simply that Converse was willing to pay to have UK wear them. Then he said Nike had been trying to get UK to wear black uniforms as early as the mid-'90s, but Bill Keightley flat-out refused. Mr. Keightley told Nike that black wasn't a school color and therefore the Wildcats weren't going to wear black uniforms on his watch. The story is even more appalling/ironic when you consider that UK finally broke down and wore black uniforms in 2008 specifically to honor Mr. Keightley." … New logo for the Minnesota Wilderness (from Dan Schneeman). … The NFL Players Association has begun selling a line of LGBT pride T-shirts. Good for them. … I think we already knew this, but just in case: The Angels and A's will wear 1969 throwbacks on July 27 (from Rich Paloma). … Here's a closer look at Darnell Dockett's rather intense-looking facemask. Keep in mind that he won't be able to wear that rainbow visor in a game — only during practice (thanks, Phil). … Check out the design that the Boston Globe sports section cooked up for last night's Stanley Cup Final opener (from Charles Noerenberg). … Think you know how to cook a steak? Maybe you do — or maybe you're buying into a bunch of myths and falsehoods. Highly recommended reading (thanks, Kirsten). … Twins pitcher Brian Duensing is sponsoring an American Legion baseball team in Nebraska, so they've named the team after his uniform number (from David Westfall). … Looks like the Ravens may be going without the neck roll and without the Nikelace this season. Yes, I realize that's a practice jersey, but the Ravens have traditionally used game jerseys for practices, because coach John Harbaugh wants to duplicate gameday conditions as much as possible (from Michael Strittmatter). … Check this out: a tequila sunrise, logo-creeped socks, and eye black on a pitcher — all in one player (from Cort McMurray). … Gabe Ortiz notes that Pirates 3B Pedro Alvarez wears his cap over his ears. "¦ The Twins' scoreboard "action" shot for Oswaldo Arcia is from Jackie Day, which is an odd choice (as noted by Brett Stone). "¦ Patrick Corbin of the D-Backs has been wearing a mouthguard (good spot by Matthew Gunderson). "¦ Mick Jagger had a Blackhawks jersey for one of the Rolling Stones' recent Chicago shows (from Steve Mandich).