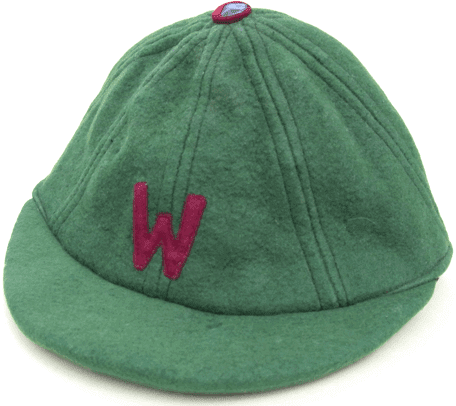 A little while back I ran an entry about a vintage uniform catalog that included a listing for beanies. That led reader Larry Bodnovich to point me toward a fantastic web project devoted to a phenomenon I hadn't previously known about: Beanies of the Big 10.
The basic story is this: At many schools (not just including those in the Big 10), freshman students in the early 1900s — and sometimes earlier — were required to acknowledge their underclass status by wearing beanies, mainly as a way to identify potential hazing prospects. Or as a 1907 article in the Wisconsin student paper put it, the caps were not for "humiliating the first year men but to make it possible to identify them for the purpose of assisting them in every possible way." Uh, right.
Sometimes the beanies — which were often called "pots" or "pods" — were in school colors. But frequently they were green, regardless of the school, to indicate the freshmen's "greenness." Toward the end of the school year, froshes would often mark their impending ascension to the sophomore ranks by gathering and burning their beanies (one unfortunate result of which is that few of the old beanies have survived). The whole thing had mostly died out by the late 1930s, presumably because upperclassmen found more aggressive ways of hazing freshmen.
Clicking through the Big 10 beanie site, I came across some interesting factoids. One example: The burning of the caps was suspended at several schools during World War I, when the caps were instead sent to war refugees in Belgium and elsewhere in Europe. And at Michigan State, freshmen were exempt from wearing the beanies on Sundays or if they were married. There's plenty of additional good info in there — I encourage you to click around on the site.
This is all pretty new to me, because I attended SUNY-Binghamton, which doesn't have a deep WASP-y heritage like the Big 10 schools. What about you folks — were you aware of this tradition? Did you see or experience anything like it while you attended college?
+ + + + +
Accursed color update: Of the 21 membership orders that came in on Purple Amnesty Day, my favorite was the order Travis McGuire, who asked for a card (shown at right) based on his old Portland Rockies batboy jersey, although I also liked Mark Graban's Northwestern football jersey, Adam Garrettson's Clemson helmet, and Dusty Kalis's new Vikings jersey (the nesting numerals look nice on a card, right?). Dealing with all that purple has been a harrowing experience, but I got all my shots beforehand, so I should be good.
These and many other new designs are now available for your perusal in the membership card gallery. The printed and laminated versions of these new cards should mail out either on Saturday or next Tuesday. And if you want to sign up for your own card, you can do so in the usual place. But remember, no more purple until May 17, 2014.
+ + + + +
Candela update: The former World's Fair pavilions colloquially and erroneously known as the Candela Structures, which I've been periodically researching and writing about for the past four and a half years (sometimes on Uni Watch, sometimes elsewhere), are about to get a nice showcase, because Kirsten and I have written an article about them for the Metropolitan section of this Sunday's New York Times. The article will summarize everything we've learned about the structures since we first developed a crush on them in the fall of 2008, and will also tell the full story of the family that acquired the "missing" structure after the Fair.
We're really happy with the way the article has turned out, and even happier that it will bring the structures' story to a wider audience. I'll post the link to the article next week.
+ + + + +
Uni Watch News Ticker: June 4 is shaping up as a big day for NHL uniforms. We already knew the Stars were unveiling their new unis on that date, and now it turns out the Hurricanes will also unveil that day. Carolina's event will be at noon, with Dallas's to follow in the evening. Although the new Dallas logo may have already leaked (thanks for that one, Phil). … Meanwhile, the Star's AHL affiliate, the Texas Stars, just had an unveiling of their own (from eff Czuba). … You know what the word really needs? If you said, "G.I. Joe NFL gloves!," then you have no idea what the world really needs, but you have a good sense of what the world is getting anyway. … Someone working on the broadcast of last night's Royals game was either high, messing with us, or looking to get fired (thanks, Phil). "¦ In my recent ESPN column about the Metropolitan Museum of Art's baseball card collection, I mentioned that they'd soon be having an exhibit of cards from the dead-ball era. They've now created a web page for that exhibit — look here. … Reprinted from yesterday's comments: Excellent article about how the NCAA is more concerned with water bottle labels than the big picture. … Uniform designer Todd Radom has written an absolutely superb piece about the Expos' logo. Highly recommended. … Speaking of Todd, he found an entertaining account of how Kareem wore his shorts backwards for a game in 1972. … Ubaldo Jimenez has always worn very low-cut stirrups, but lately they're not quite as low-cut as before (from Ed Hahn). … There's some chatter — only speculation, for now — about a Raptors rebranding. … New uniforms for the Alexandria Blue Anchors. … Purple tequila sunrise — with purple-striped stirrups! That's Brownsburg High School in Indiana. "I'm hoping those unis are phased out by the time my son gets to high school," says Jonathan Daniel. … Here's a page showing the origins of the NFL team names (from Matt Dubroff). … David Firestone spotted a fake Jeff Gordon racing helmet, being presented as real, at the Museum of Science and Industry. … Southern Miss football fans are being invited to vote on the logo for the team's gold helmets (thanks, Phil). … James Pallotta is President of the Italian soccer club A.S. Roma and a minority owner of the Celtics. So on a recent visit to the Vatican, he gave the Pope jerseys from both teams (from Brady Phelps). … Will Leitch wrote a pretty smart analysis of this week's ESPN layoffs (although he's wrong about the part at the end where he says the casualties were all on the sales and tech side — not true). … Who's that in the Penguins uni? None other than Brandon Inge of the Pirates (from Jerry Wolper). "¦ Ooooh, look at this sensational old NFL foot locker! It's part of this Craigslist offering (great find by Jeff Wilk). "¦ I like this SF Giants cycling cap (from Elliott Bueler). "¦ Earlier this week I mentioned that the A's were giving away a jersey with vertically arched NOB lettering. I was wondering if that was just an illustration, but it turns out it's the real deal. Very odd (from Matt Gagnon). "¦ I'm still calling it the UCF Arena (from Tom Van de Kieft). "¦ A while back I posted this photo of Bills WR Andre Reed in a Dolphins T-shirt. "I finally saw Andre at the golf course today and was able to ask him about it," says Drew McClintock. "He laughed when I showed it to him and said it was most likely at the Pro Bowl where, players wear other teams' clothes, but could not remember 100%. He asked me to send it to him and was gonna put it on his Instagram for 'throwback Thursday.'" "¦ Three uni-notable aspects of this shot from a Fresno State/Air Force baseball game: (1) Color vs. color. (2) Air Force wearing camo. (3) Love those Northwestern-striped stirrups (from Holden Sprague). "¦ The Orioles wore a lot of denim for their latest road trip (from Stephen Murphy). "¦ We've documented Alexander Julian's work as a basketball uni designer in recent days, but I didn't realize until now that he also designed racesuits for Michael and Mario Andretti (from Tommy Turner). "¦ Also from Tommy: Robert Griffin III, rehabbing from surgery, participated in some throwing drills yesterday in an Adidas shirt. "¦ You know how Nike loves to make big, splashy announcements about its new uniforms? That hasn't been the case, oddly enough, for the Nike's new unis for the National Women's Soccer League. "¦ Washington Huskies softball pitcher Kaitlin Inglesby was hit in the face by a line drive in 2010, shattering 40 facial bones. So now she wears this mask (from Jim Wagner). "¦ Why the hell does Sharks goalie Antti Niemi still have a jersey with the Reebok vector logo? (Screen shot by Mike Engle.) "¦ "AS Roma have 'updated their brand identity,' which is to say they're going to be using a lot of Trajan from now on," says Bernd Wilms. "Also, the interlocking ASR that had been around, with interruptions, since the 1960s is now gone. Thanks, American owners!" "¦ Oh baby, look at this awesome baseball jersey from a milk deliverymen's team! Too bad about the divot taken out of the back shirttail, or else I'd be all over this one. "¦ This is odd: a gray jersey with white felt lettering and numbering. Unusual design choice!
Holiday schedule: Phil's on duty this weekend, as usual. The site will be open on Monday, although content will likely be light. Everyone have a great holiday weekend. If you're traveling, travel safe; if you're grilling, use charcoal. See you next week.